You guys already know that our playroom is looking kinda rough these days (thanks to this whole house update post from last week):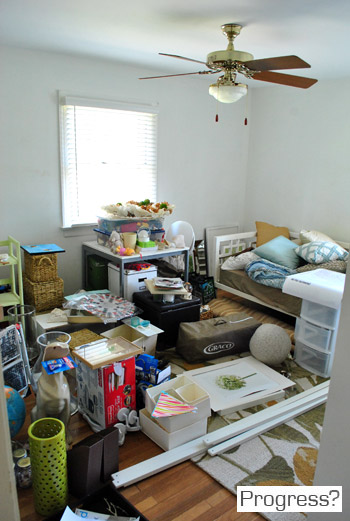 But we've decided that once we clear it out, it'll actually suit our family better as a less traditional space. Burger is a beloved member of our family, so we think he deserves his own little area. And since Clara plays pretty much all over the house (in the office, the living room, the kitchen, and her room – depending wherever we are with her) we won't really need an official "playroom" until baby number two comes along (and we turn the playroom into a bedroom).
And I'll spoil the surprise for all of you folks on bump watch, Clara's brother or sister will probably be about three years younger than her because I've got strict orders from my doc to give my body two full years between pregnancies to heal (thanks to some birth complications with Clara). And since it takes almost a year to bake a human on top of that two year waiting period, that's where we came up with the whole three year approximation.
But back to the playroom. We've decided… drumroll please… to give Burger his own little nautical themed room! Because every pooch deserves some sea faring fun. He always seems to have the best time at the beach, so that jumped out at us as the right environment to really set him at ease. The sea gulls, the warm summer air, the sailboats, an errant pelican. What eight pound chihuahua wouldn't love that? But enough talking, here's our Burger-licious mood board:
Our color palette will be pretty straightforward: navy, red, and white (with some natural wood tones and maybe a few pops of yellow worked in there for fun). The walls will stay white with graphic red & navy accents along with a super cool mural for added pop (more on that later).
How cute would a few of these $33 seagull mobiles be when hung in a flock from the ceiling? Burger should like them since he loves watching real birds flap around outside in real life.
This boat-ish dog bed was the inspiration for the entire nautical theme. At $260 it's not cheap, but what can I say? Burger's like L'Oreal. He's worth it. Plus it's such a room-making detail that we just couldn't pass it up.
Here's the mural that I want to paint on one of the walls. I like that it's obviously sea-inspired without being too over the top (a dock with a single pelican in the foreground feels kind of "understated" compared to some of the other busy and über bold murals that we've seen).
This weathered ship's wheel (for $34) should look cool on one of the mural-less white walls in the room.
No dog room is complete without an on-theme dog toy, so this $7.99 blue anchor chew toy definitely fits the bill.
And since we want to keep Burger looking "cohesive" with the rest of the room, we can't wait to pick up this $27 outfit to help him get into character.
Instead of something more traditional, we thought hanging fisherman's nets (just $17.99 a pop) as "curtains" would add lots of texture and more sea-faring fun. Fingers crossed Burger doesn't get all tangled up in them. Haha.
So that's our vision for the playroom, at least for the next few years. Should be interesting.
Now I'm just putting words here, just to fill up space so that when you're reading the numbered points above your eyes don't skip down the page and notice this next part. You know, because it'll ruin the surprise.
So in case you're wondering if we're totally off our rockers… we might be. But this post is still totally a joke.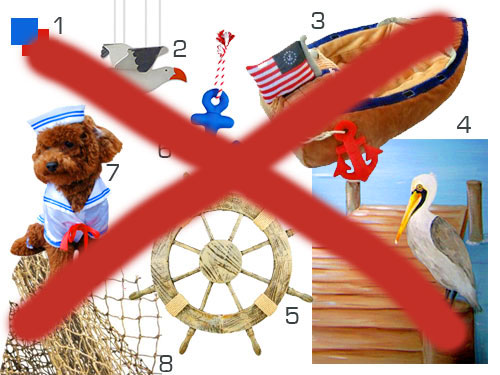 APRIL FOOLS!!!

Did we get you? Did the $260 dog bed tip you off? Or was it our description of the pelican mural as "understated"? Did you really think Burger would be caught dead in that sailor's suit in the name of cohesive design? Or did you all know this was coming given our history of April Fools Day hijinks (like this post and this post)?