So it's been ages since we first introduced (and then seemingly forgot) a two-post feature where we invite you to tackle a house project right along with us. Last July it was cleaning out our garages, and this time we're turning our attention to our closets.
Call it nesting. Call it the spring cleaning bug arriving a bit early. Call it whatever you want, but Sherry and I recently got the urge to purge. With the bean arriving in T-minus 10-ish weeks (and loot from baby showers headed our way even sooner) now's the perfect time for us to donate/toss long forgotten items of clothing and unnecessary doodads that are taking up precious real estate in our closets- and better organize everything else that makes the cut. Plus, my closet has become quite a half-folded mess lately (we men only fold so much…):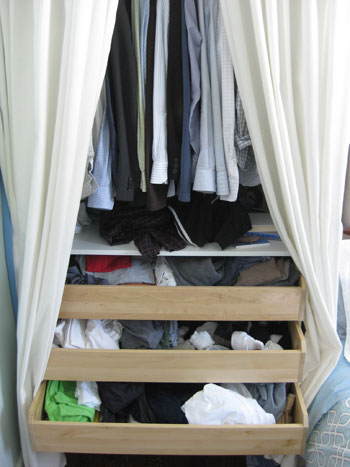 So we're giving in to that urge this weekend, and inviting you to join us. Well, not literally at our house, but to do the same thing in your own home. You get the idea.
And in case you think you're off the hook because your clothes are perfectly pressed and sorted by color, we'd gonna tackle some other closets this weekend too. Like our hall closet that stores all sorts of memories along with a growing collection of "emergency" gift bags and boxes (nobody needs that many).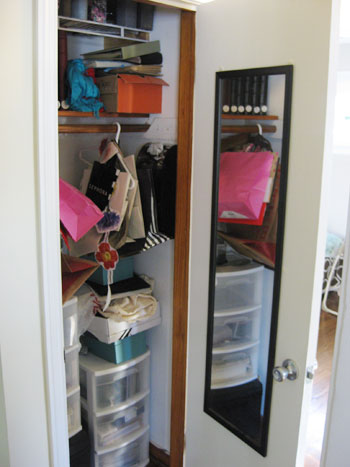 Plus, those bamboo blinds that conveniently cover the shelves over our laundry nook?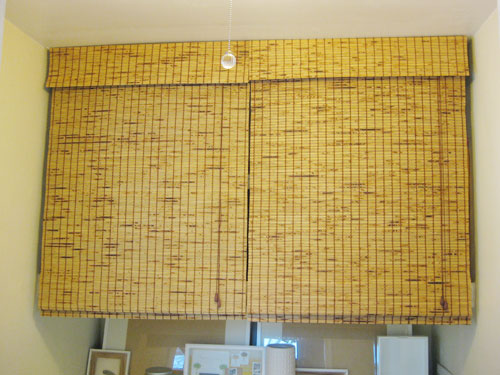 Um yeah… there's a reason we conceal this mish-mash of tools, luggage, wrapping paper and what I can only imagine is a lot of dust too…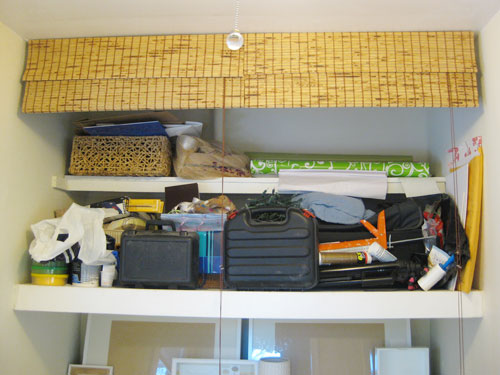 So now that our less organized nooks and crannies are out there for all to see, we've given ourselves a kick in the pants to make it better by Monday. (Do I get 500 bonus points for using nooks, crannies, and pants all in one sentence?). So who's with us? What could use some purging / re-organizing at your house this weekend? Whether it's a junk drawer or an entire floor, we're here to virtually rally your troops and encourage you to take it on. Not only will you gain the satisfaction of a cleaner and more organized place to live, but you'll actually earn extra square footage (for future storage, or just to allow your house to breathe again). And the self satisfaction of a job well done is pretty nice too (we're fans of rewarding ourselves with ice cream). We promise to post our "results" next week along with the process that we used to clean house- and we can't wait to hear how it goes for all of you too. Good luck! And good riddance to all that closet clutter.