You may remember Carla from back when we helped her transform her kitchen with some paint and a few simple switcheroos. So when she sent over her great little DIY chalkboard calendar project we had to share it. Here's her letter:
I had to pass along our latest update – we made a chalkboard wall calendar in our kitchen! We were inspired by none other than Master Crafter Martha Stewart and thought that her chalkboard wall calendar idea would look great in our home. To my surprise, it was fairly simple to do – all you need is black chalkboard paint, a few foam brushes, white paint (which we had plenty of from our kitchen cabinet painting project), unsanded tile grout, lots of blue tape (Frog Tape was out of stock and I was very apprehensive about using the blue stuff, but it actually worked!) and a shoebox lid for mixing (resourceful, right?!). Her directions on How to Make Custom Color Chalkboard Paint were fairly simple to follow and we even conquered the different shaded blocks too! Woot! Woot! It was so funny to see one of your previous posts about Lyzz and her chalkboard painted door because we were in the beginning stages of figuring out the whole thing ourselves, so it was a help and I had to share. We hope you enjoy the pictures! Thanks again for having such a wonderful blog and CONGRATS again on your baby girl news!! -Carla
Here's how things looked once Carla had applied some black chalkboard paint as a base: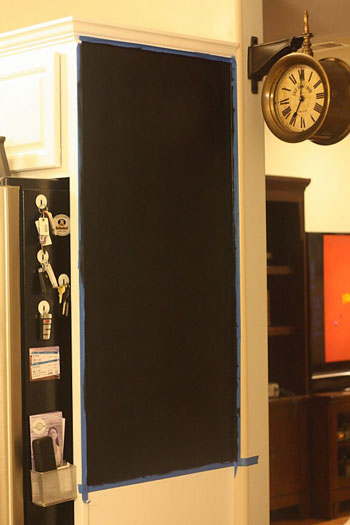 Here's an in-progress shot with a few of Carla's squares taped off and ready for some custom chalk board paint: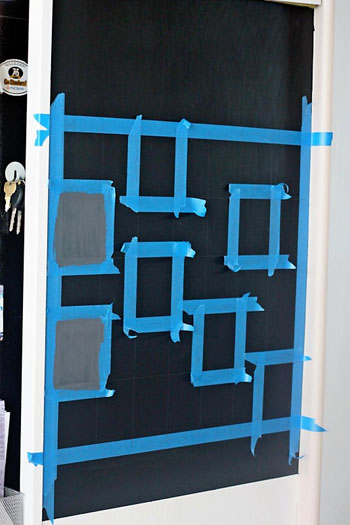 And here's the gorgeous after thanks to her fabulous handiwork: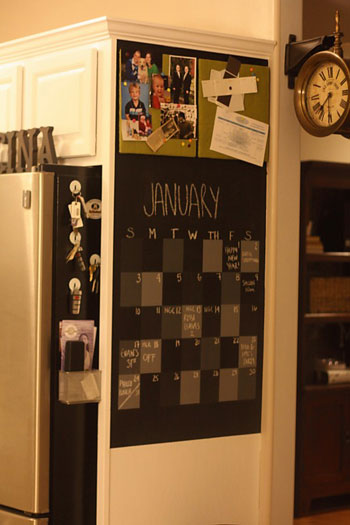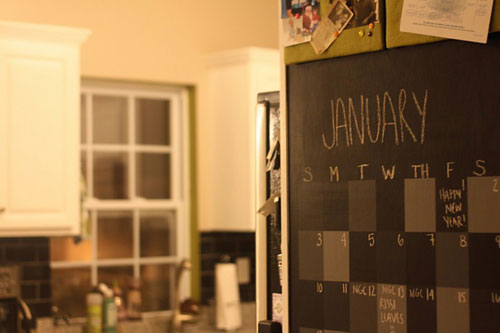 Didn't Carla do a great job? We love the different custom chalk board colors that she whipped up and the fun and functional grid that she created with simple supplies like painter's tape and a shoebox lid. Thanks so much for sending the photos our way Carla! Is there anyone else out there who's thinking of tackling this task now that Carla has demonstrated how great it can look?