Last week I promised a post about all the window shopping slash actual shopping that we did during our week at the beach with the fam. And that includes the two items we actually purchased: the whale sign for Clara's room (made from wood, a five year anniversary material)…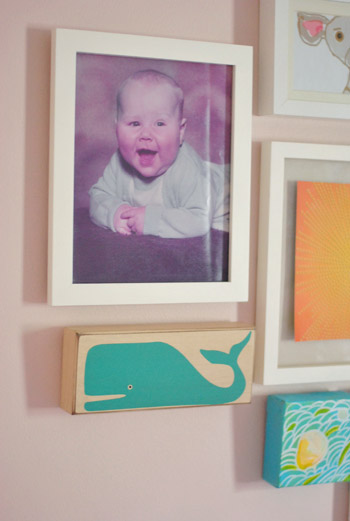 … and the thrift store basket that I'd love to turn into a hanging pendant somewhere in our house (more on those items here).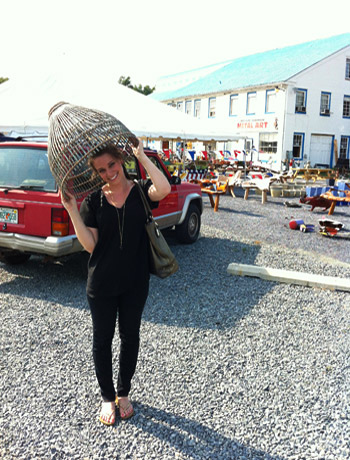 But I owe you guys the rest of the eye candy that we perused, so here we go. As we mentioned, we stopped at the Ole Sale Barn in Maryland where we found the L-turned-7 in our office last Labor Day. And that's where I picked up my little basket-soon-to-be-turned-light.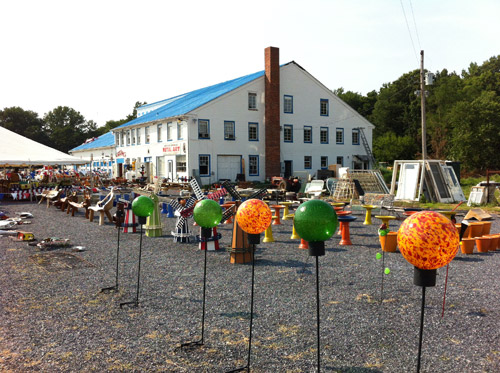 Here's what it looks like inside. Chaos. But the fun kind of chaos that you can't wait to root through.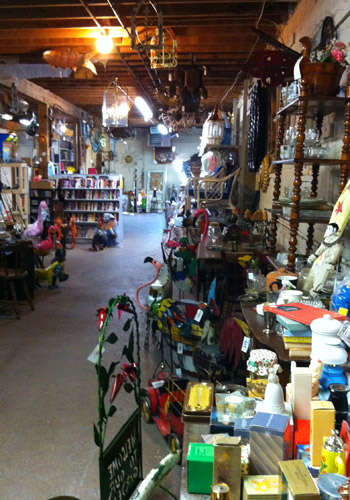 I also spotted this giant metal grate outside that I thought would be an awesome "top" for an outdoor table. Picture it on top of a big ceramic planter. That would be a killer side table, right? Just use some heavy duty adhesive to glue it in place along the top lip of the planter.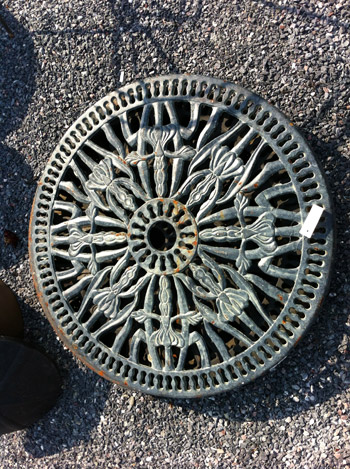 Of course this is also the home of Beyoncé the chicken (and her subsequent children). More on that here.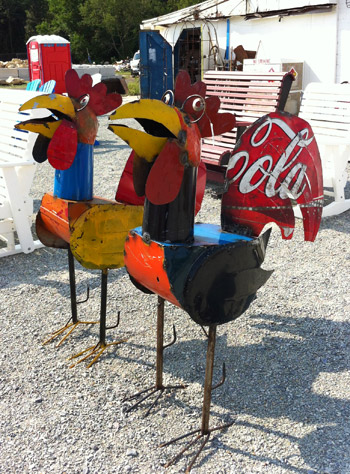 There were other questionable discoveries there, like this little blast from the past. Yes, I totally had about 25 of them standing on all of the windowsills in my bedroom growing up (for so long that the back of their hair got bleached white from the sun). Guilty as charged.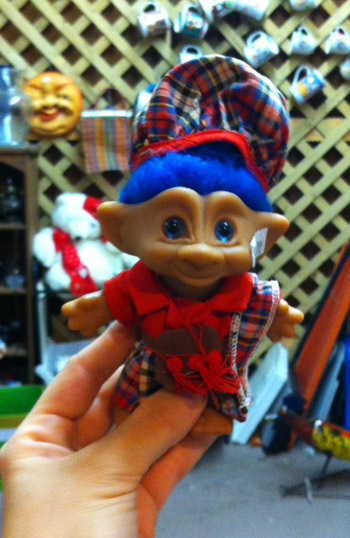 There were these fun guys too. I love the idea of using things like this for towel bars in a bathroom…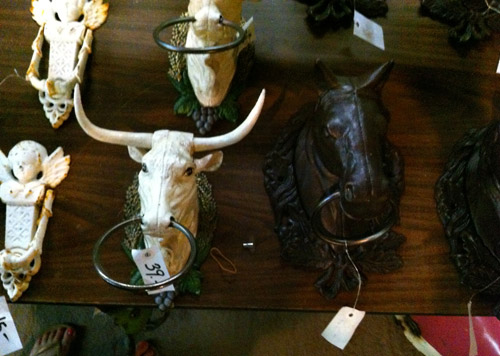 … like we did a while back in our hall bath with a $7 thrift store horse we picked up: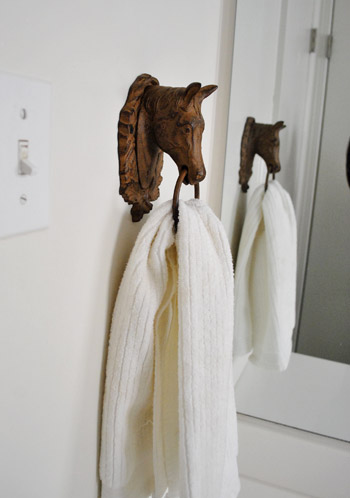 There were also amazingly gorgeous architectural items. Like these awesomely ornate wood panels, screens, windows, etc. Super cool.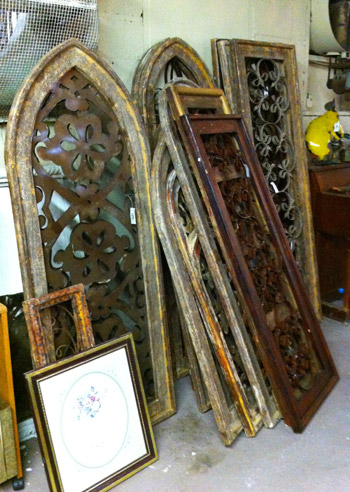 I also loved these little two dollar gold plates because I kept picturing them hung on the wall in a big grouping. There were about 7 of them and I just kept picturing a swarm of them hung with plate holders on the wall in an asymmetrical collection. Could be cute, right?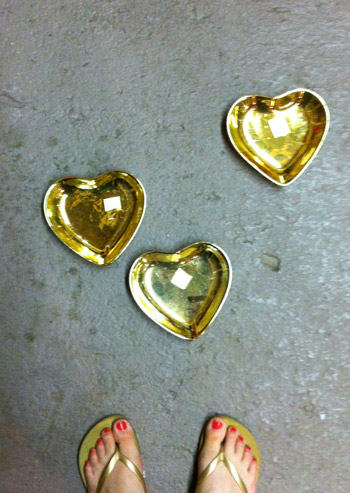 Then we made our way over to Beach Plum Antiques in Bethany, which is always a favorite stop (we've mentioned it a bunch of times here and here).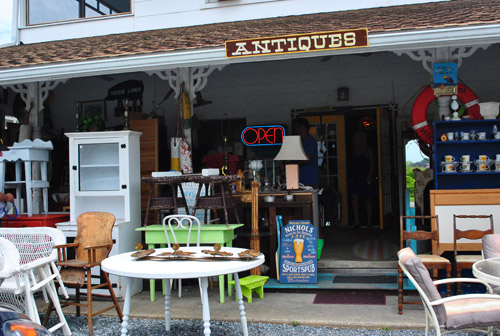 This time my favorite find was this $85 bench. In case it's not obvious, it was super long. As in, twice as long as a normal solid wood bench that might cost around $199 at a big box store. I totally pictured it up on our porch painted a dark matte black color. But alas, it didn't fit in the Altima. Haha. Here's hoping someone else took him home…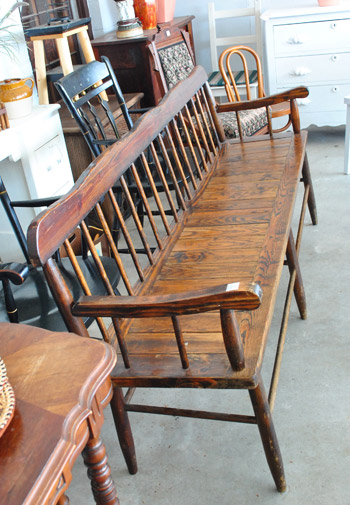 I also was in love with this chunky wood based floor lamp. The stitched rectangular shade felt so "authentic" – like it was right out of Dwell magazine. It was already sold, but that doesn't mean I didn't stand there and stroke it for a while.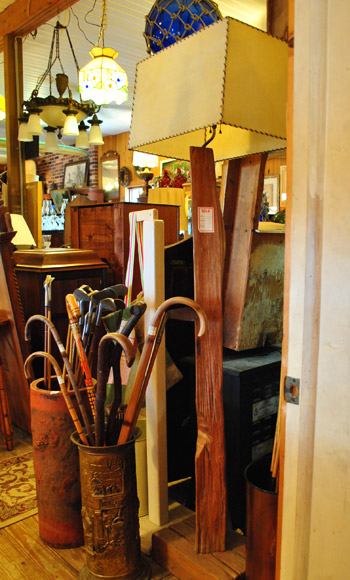 These old suitcases were also pretty darn charming. Especially the pairing of the reddish leather one with the nubby linen-ish brown striped one in front. I like that he looked like he was wearing suspenders.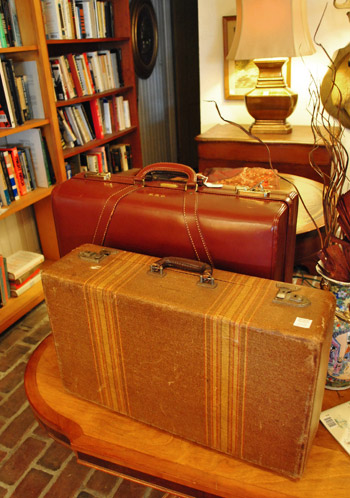 This giant metal pig also could have been fun as random art (picture his entire body painted bright yellow to cheer up an office, or even coated with chalkboard paint and hung in a kitchen as a place to write notes and lists and stuff).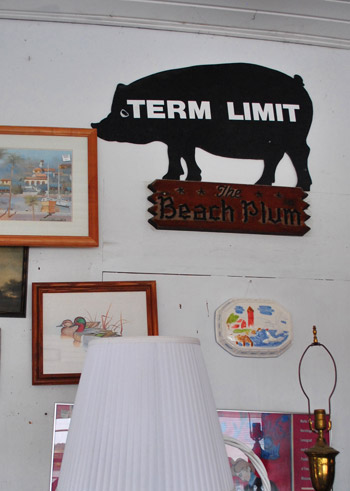 Then there was this house. We biked by it and I thought it was so sweet I had to snap a photo. I love the bright white trim and the navy door (this picture doesn't do it justice).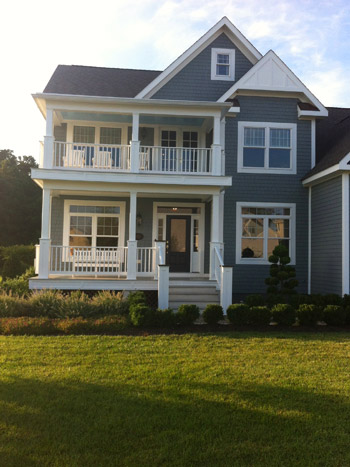 We also made it to Mod Cottage in Rehoboth, which is where we got Clara's wood whale sign for the frame wall in her room. It should also be known as the place Sherry tried to convince John that our kitchen needed at least eight colorful gurgle pots on the floating shelves. John didn't go for it. Total fun hater.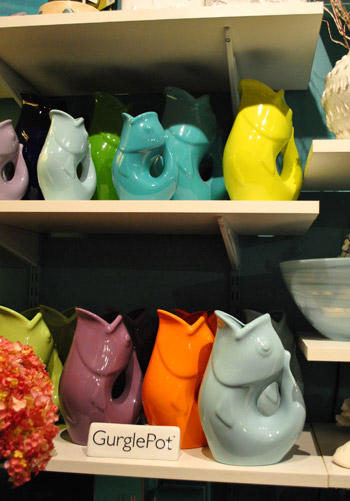 But in his defense we do have one small yellow one already. So I'm not completely gurgle-pot-less.
These pretty vases were so sculptural and geometric. We were hypnotized by their beauty.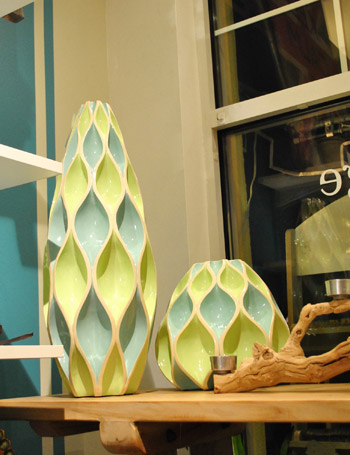 And this giant beachy print was, in the words of Justin Bieber: swag, swag, swag. I wanted it bad but it was out of our budget. Maybe someday it can serve as inspiration for a little DIY watercolor painting though.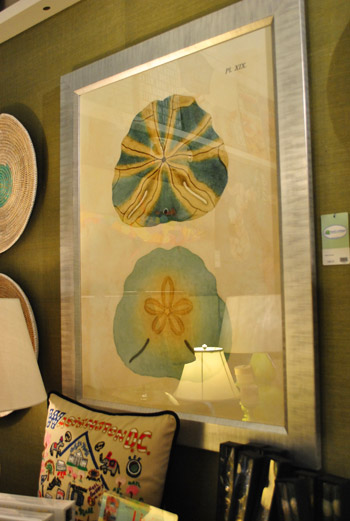 This is just a picture of John holding a pillow with a chihuahua on it…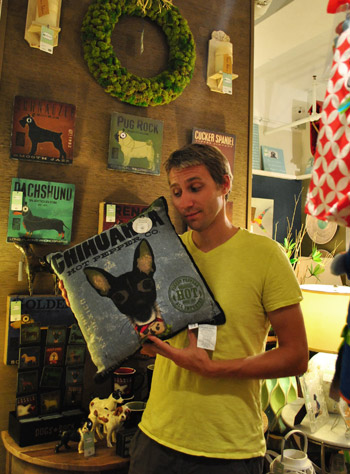 … which is funny because the last time we were in this store (over two years ago when I was still prego with Clara), we snapped this picture of John holding a pillow with a chihuahua on it (more on that excursion here):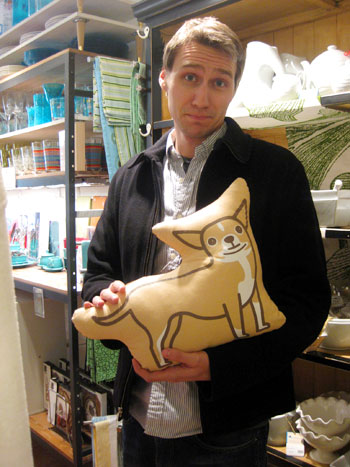 That, my friends, is called Full Circle Chihuahua Pillow Blogging.
Oh and I also loved these cool woven plates that were hung on the wall. I totally felt inspired to dig up some cheap woven platters at a place like HomeGoods and paint them matte white with a pop of color in the middle. So pretty, right?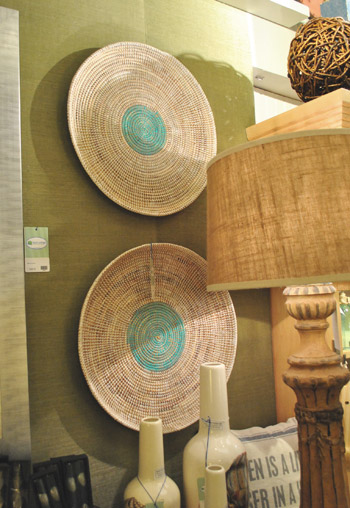 These lights hung over the cash register and while John said they "weren't his thing" I thought they were playful and charming. A nice little splash of quirk for the sliding-your-credit-card experience.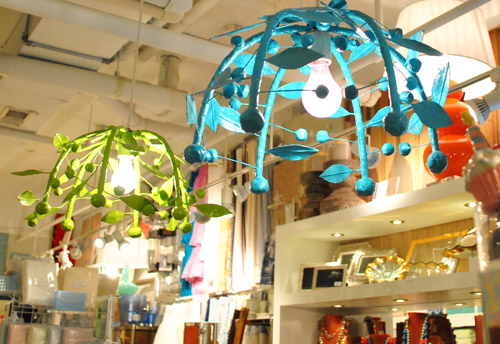 We also stopped at a shop in Rehoboth called Bella Luna (which we stopped at over a year ago as well), which is where I fell in love with these pretty scarves (wouldn't they be sweet table runners, pillows, or even fun cafe curtains for a kitchen? so breezy!).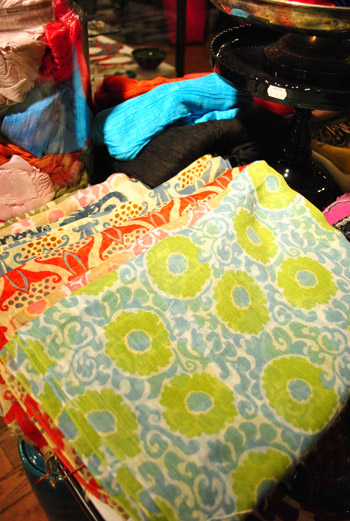 They also had these fun faux animal heads that had a lot of personality. Especially when they were hung together. We voted the deer one as our favorite since he has "a Burger face" as we like to call it.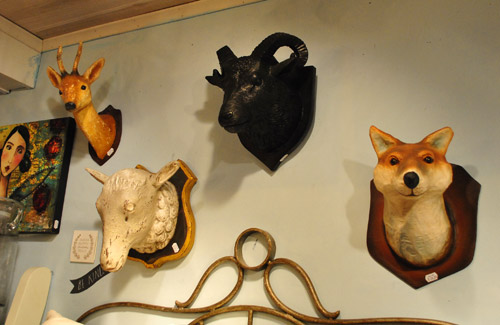 They also had this gorgeous mirror. It was around $300, so it wasn't cheap, but it was mesmerizing. And see the ceiling? I liked that. It was soft wide plank wood with big white chunky beams breaking it up. It was very beachy but not as common as something like beadboard might have been up there, so I liked that it was a little more unexpected.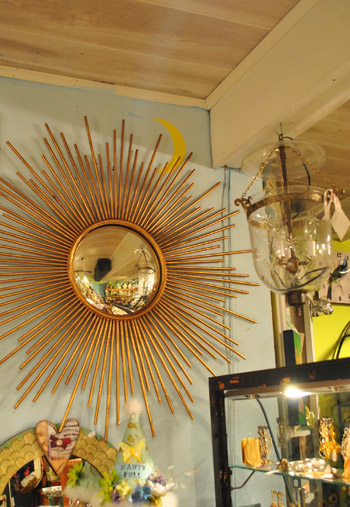 There was also this really pretty bird art. We loved the green one in the top left (he had a long skinny beak like some sort of sandpiper). Looking back at this shot I'm sad that we left without him. Oh well, next time…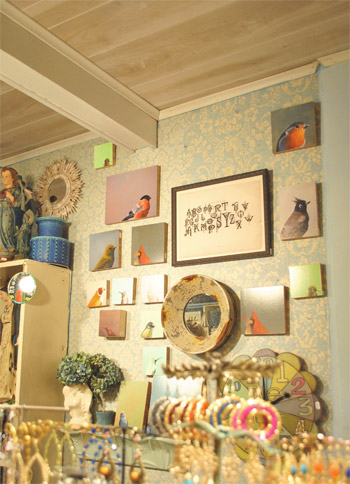 This is also where we instagrammed a shot of the scrabble mugs. So much fun (and such a great, easy personalized gift- especially if you fill them with the person's favorite candy, makeup, gift cards, etc). I totally should have grabbed one for a friend of mine and filled it with her favorite thing ever (bold and inexpensive bottles of nail polish).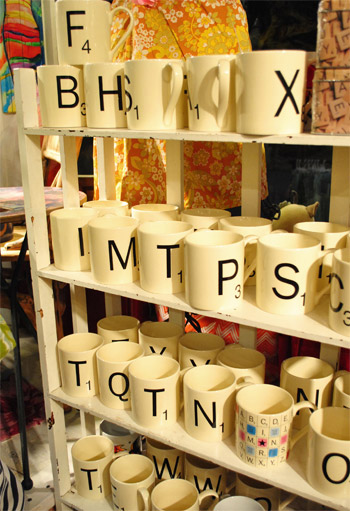 On the way home we also stopped at this random thrift store about 45 minutes out of Bethany off of Rt 113 (yes, I randomly scream "stop the car!" and John dramatically pulls into the parking lot and I hop out to explore).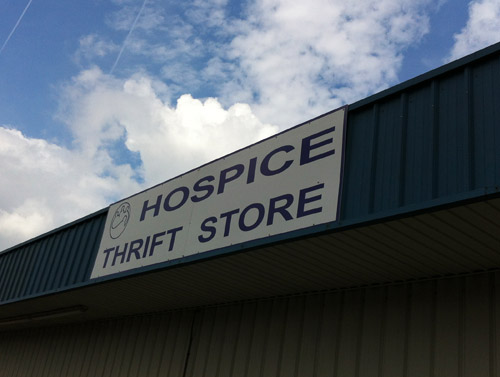 It was pretty small, but had some fun things hidden among the piles. Isn't that chair and ottoman combo totally Emily Henderson-ish. She would reupholster those bad boys in charcoal or emerald or navy and they would be to. die. for.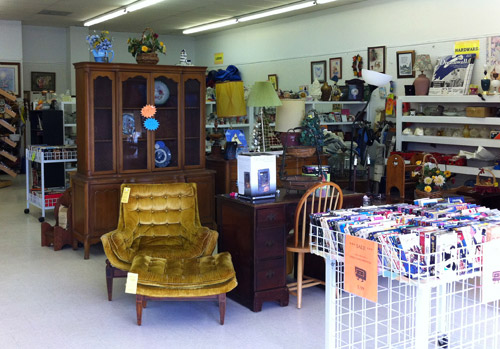 I also liked this pretty green glass container (might be sweet on a kitchen counter full of flour or sugar).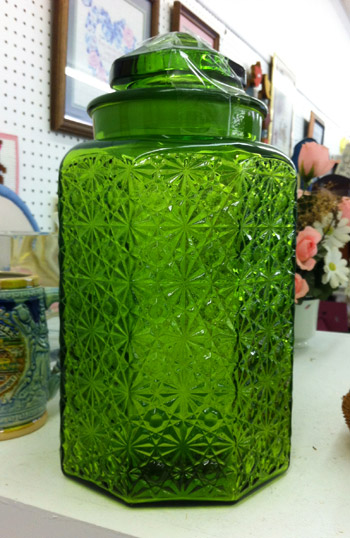 And these trays. Can't you picture them hung in a grouping on the wall? The black owl one (with the owl in the same tone as the other two frames) sealed the deal that someone should totally buy all three of these and use them together somehow. Hope they've already been adopted en masse (let's just say I put them back on the shelves in a group in the hopes that someone else would snatch them up that way).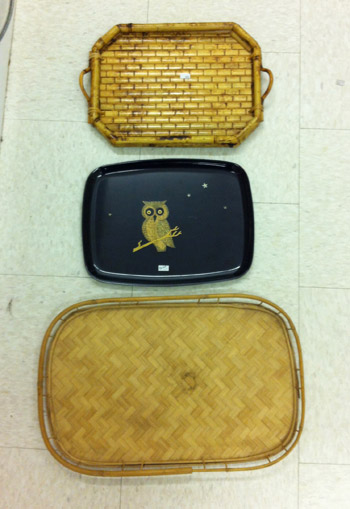 And so ends our latest window shopping slash thrift store spree. Part of me is sad that we only returned home with Clara's wooden whale and the basket-to-be-turned-light, but most of me is relieved since it means we didn't spend too much (leaving the chance that more thrift store goodies could come home with me in the coming months…). What have you guys been loving lately while window shopping? When you go on vacation do you try to stop at a few places on the way in, during your stay, and on the way out? Have you found any cute things?