What's all that stomping you hear? It's just us doing the happy dance. We're super excited to share the second installment of our home makeover in Do It Yourself magazine. They shot our house back in October (here's a fun look behind the scenes) and actually asked us to write a three part series about making over our humble little brick ranch to run in their Spring, Summer, and Fall issues (available everywhere from Target to Home Depot and of course Barnes & Noble). We still can't believe that we're bona fide contributing editors for a national magazine (hence all the dancing).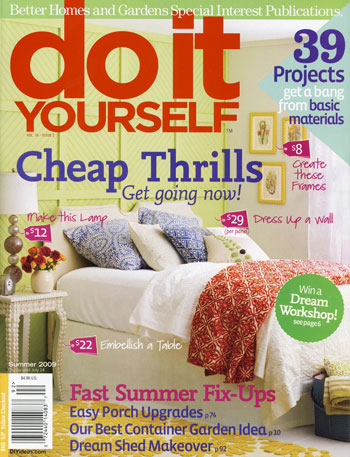 While the last issue was all about the step-by-step transformations that we whipped up in our kitchen and living/dining room, this issue moves on to cover the sunroom, den, laundry nook and mudroom (click to read the text on DIYideas.com). Look here we are relaxing in the sunroom. The funny thing about this shot is that we were actually just sitting there (trying to stay out of the way of the cameras) when the crew decided they should snap a few photos of us enjoying our downtime. Who knew the shot would make the story?! Doesn't Burger look like a zombie with his little arms out? It totally cracks us up.
We were lucky to have two days of great weather to capture our whole house for the story, and we really liked the cute little props that they introduced to cozy things up for the camera. Can you find the tiny touch that they added to the sunroom?
Yup, it's a little glass dish of gummy bears on the coffee table. How freaking cute is that? And guess who got to eat them all before the end of the first day of shooting? Yup, we did. But in our defense, we had a lot of help from the crew!
We also love how they let us write about things in stages. Showing the before picture as "Stage 1" and the midpoint photo as "Stage 2" really helps us demonstrate that nothing was done overnight. We really learned as we went and each room slowly evolved into the finished spaces that we enjoy today (well, no room is ever really finished…).
Look, there I am with my hammer and crowbar going to town on the half wall that used to be above the laundry center that was hidden behind crusty old bi-fold doors. Oh and we have a little behind the scenes secret to share. Before anyone asks me where I got those adorable ribbon shoes in front of our bench in the mudroom, they're actually Beth's (the editor of Do It Yourself magazine, seen here in the left of this photo) so I can't take the shoe-shopping credit this time. That's also her cute little jacket on the hook (but the purse and the scarf as well as the purse on the floor are mine). Talk about a group effort!
So there you have it, part two of our little three part series in one of our favorite shelter mags (thanks again for everything Beth, Cat, Erik and Piper). We had a blast shooting with you guys back in October! Stay tuned for the third installment coming in a few months and a super exciting announcement revealing what we'll be writing about each issue after our last house story hits the presses. It's something that we're unbelievably psyched about and we can't wait to spill the beans! Stomp stomp stomp. Sorry, we just have happy feet about the whole thing.