It's finally here. The first of our three before & after features in BHG's Do It Yourself Magazine just hit the newsstands.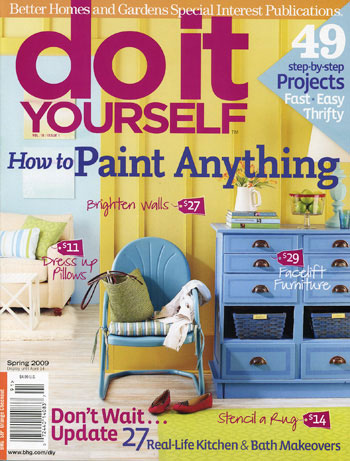 You may remember us mentioning the two day photo shoot back in October, and later passing along all the lessons we learned from watching professional stylists beautify each room in our house. And now we're very excited for you to see the fruits of all that labor – all 10 pages of it!
If you recall, we're especially proud of this feature because we actually got to write it ourselves – marking our first national magazine writing gig (ooh, the pressure!). You can read the text of each page here on DIYideas.com or pick it up in all its glossy glory at Barnes & Noble, Target, Home Depot, or pretty much anywhere else a variety of mags are sold. Oh and just be sure that you're grabbing the Spring 2009 issue since we spotted a few lingering Winter 2008's hanging around.
The before photos may look familiar, but you're sure to dig the fresh way they styled our "afters." Plus there's tons of other good stuff in the rest of the issue, from a pair of amazing bathroom transformations and a Los Angeles cottage makeover to a few invaluable painting tips.
And of course we wanna know what you guys think! Beyond our little write-up we'd love to know what articles are your faves (and which DIY projects you might actually take on). Oh and Part II of our before & after story will be out in a few months, so stay tuned…