Sorry to anyone looking for Weekly Crafty posts on Tuesdays, it seems that they've shifted to Thursdays for the past two weeks! Since my hands are still recovering from staple pulling, more wallpaper peeling, and more painting (we're doing our stair risers today so we can hopefully install the runner this weekend and have that post for you on Monday), I wanted to pick something fun & easy for this week's crafty little endeavor. And here's where I ended up: with a big ol' hand-painted planter full of succulents and colorful cacti.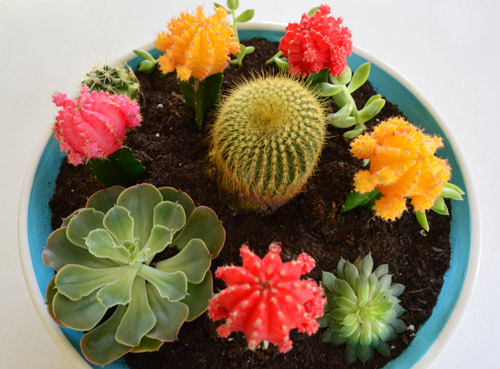 You know I like sharing house plants that we're adding/loving/killing every once in a while (like this and this), and this project all started when I found some glass/ceramic paint on clearance at JoAnn for $1.97…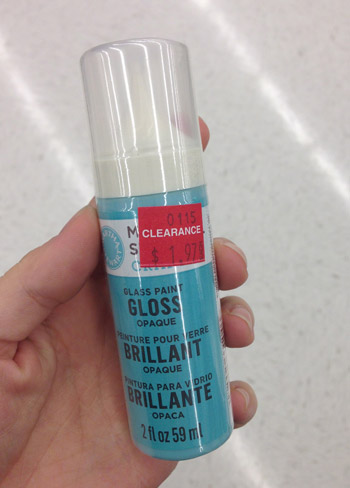 I don't think I've ever used specifically formulated glass or ceramic paint, so a maiden voyage like this is thrilling for a gal like me (seriously, it falls somewhere between finding a five dollar bill in my coat pocket and a new episode of The Walking Dead on my DVR). At first I gave a few other project ideas some consideration – like painting mugs, a vase, or some ceramic candlesticks – and then I saw this amazing planter and said "boom, I'm going planter." Just like that. Out loud and everything.
The reason for a planter was two-fold. Clara had showed some interest in the colorful cacti at Home Depot the last time we walked by, and I'd been meaning to grab her one or two so we could care for them together. The second reason was that about a week ago I was going through our serving bowls and noticed there were some big winners we use all the time, and one shallow bowl that we hardly touched. But when I saw that inspiration planter, I realized the shape of my poor abandoned bowl was similar. And it was nice and big (around 17″ wide) so I thought it would make for a sweet centerpiece at the kitchen table when it was all said and done.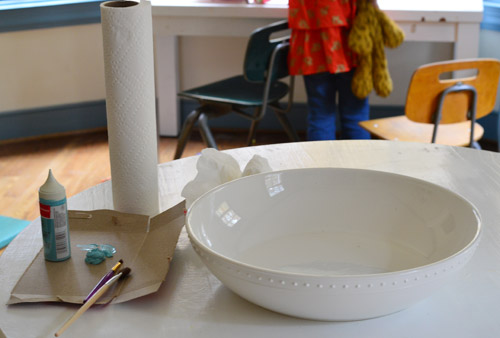 So Clara and I took a trip to Home Depot, where we got a little carried away. We stared at everything, discussed their merits and shortcomings ("I like this one because it's extra pokey!" "I like this one because it's yellow like a lemon!") and ended up grabbing 10 plants. Five of them were colorful cacti and the other five were smaller/cheaper succulents to fill things in. All told, it was around $30 in plants (I told you we got carried away) so I'm pretty dang invested in this project now – but Clara is so excited. Begging: please share your cactus care tips if you have any! I don't want to kill these guys.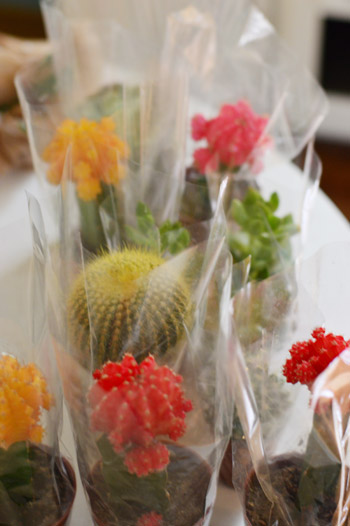 As we were checking out the cashier sweetly told me to mix some sand into the soil when I potted them because they like that and dropped the fact that they actually sell Cactus Sand for a few bucks if I don't have sand on hand to mix. After embracing her with tears in my eyes thanking her profusely, Clara and I grabbed a bag (when you put $30 into plants, $3 for the dirt they like best felt like a nice insurance policy for a black thumb like me).
Once home with our haul, the first step was ceramic painting, which had me torn. If I wanted to be literal about it, I could paint the entire outside of the bowl like the one that inspired me, but I liked the idea of some white with a fun slice of blue around those colorful cacti, so I decided to paint the inner lip of the planter with my teal ceramic paint. The best of both worlds. Kinda like Two Face. Except less gruesome and eye-ball-y.
Applying the paint inside the lip was easy enough…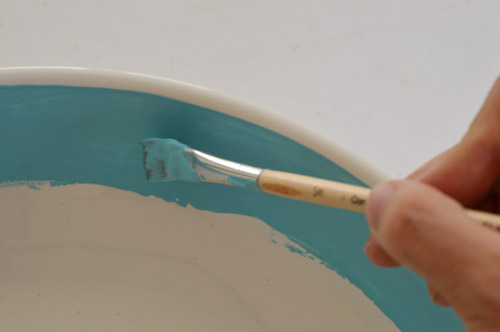 I just followed the instructions: wiping down the part I was going to paint with alcohol, letting it dry, and painting a nice even coat with a small craft brush. I did my best to keep the line around the lip of the bowl even, and since the paint was really slow to dry, if I messed up and got a blob up on the lip, just wiping it with a paper towel left me with a nice clean edge once again. The paint was non-toxic so I could have done it with Clara (I did it right in front of her) but she said "call me when it's time to touch the dirt!" Funny kid.
Oh and the reason I didn't bother painting the entire inside of the bowl was because I figured I'd rather conserve my paint for another project instead of using it on a large part of the planter that wouldn't be seen once the dirt was added.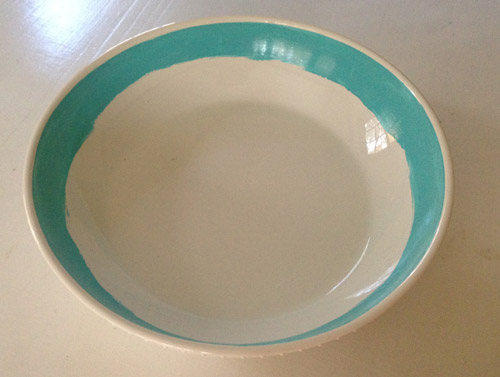 To cure the paint on ceramic and glass surfaces, you can either let it air dry for a while, or you can speed things up by baking it in the oven. Although this was a serving dish, it was only microwave and dishwasher safe – not oven safe – so I skipped that step and just opted for the air drying approach. After a few days it was no longer tacky, so I decided the lip could continue to cure even after the pot was in use and Clara and I could commence the much anticipated Adding Of The Dirt.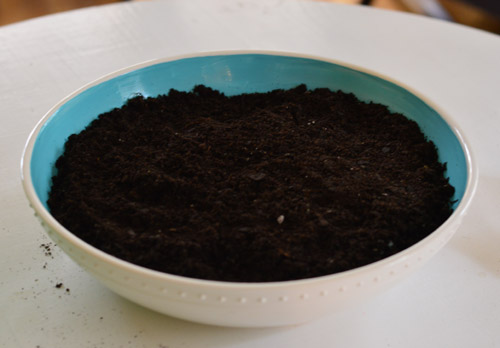 The plants were spikey so we had to be careful, but she had a lot of fun dumping cups of dirt into the bowl and digging little holes for me to drop the plants into.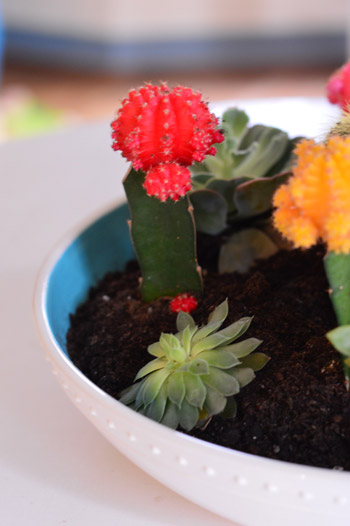 Now every night at dinner Clara and I talk about our favorite plants (they all have names) and check to make sure nothing's giving up on us. So far, so good! Maybe the bean will grow up to be a botanist. Or a paleontologist. The dirt was definitely her favorite part…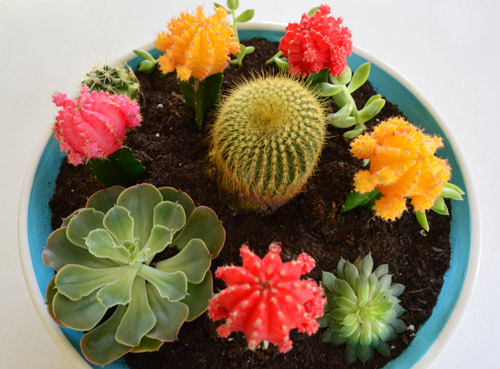 In the end, this project only took about thirty minutes to gather my supplies, and another twenty spent painting that lip, followed by around 15 minutes to pot things with Clara in our special cactus sand, but I hope it's a kitchen centerpiece that lasts for years and makes us smile. I actually really like the bright pot + succulents thing, so I'm thinking I might make a bunch more as holiday gifts and even some little ones for the neighbors (one small cactus and a little brightly painted pot should only be around $7 total – and I can try stripes and dots and a dipped bottom, etc).
Is anyone else out there painting ceramic or glass items? Or planting something inside to add a little life to the house as we head into the colder months? How about homemade holiday gift ideas? I'm flirting with the concept of trying to DIY all of them this year, but it might lead to final-hour hyperventilation, so I'm not sure yet.
Psst – Can't shake the crafty? Check out nearly 50 other craft projects here.