Two weeks ago when John shared this post about the times that we've made bad painting decision, we received a bunch of requests for a follow up post in the comments:
Q: I guess I just have a hard time picking colors because I have a hard time telling which swatches have grey or brown undertones. Maybe you can show some swatches (of say the teal from the built ins). One that has a grey or brown undertone and one that is more saturated? It might be helpful to see them side by side! – Aubrey
Q: Thank you for this! I actually think tip #3 (pick a muddier color) surprised me the most because I'd never heard that or thought of that. But it rings so true in my experience! Although colors don't show up perfectly on monitors, I would *LOVE* to see a post with color samples and explanations like, "We love this peacock blue, but we think it would be too garish on a wall. Instead, we'd try this color, and probably get the effect we're looking for." -Heyruthie
Sounded like a good time to us. Comparative swatches will probably demonstrate more than words ever could. So let's just let the swatches do the talking.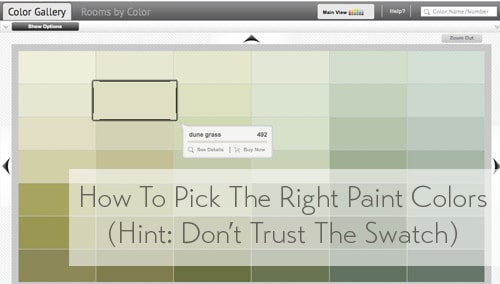 First we have the bold and fun color you might be going for on the left, so if you envision a deep teal tone, you might be tempted to use Classic Teal after seeing the swatch. But on the right, we put the swatch for Plumage, which is actually what we used in our guest room. See how grayed out the swatch looks?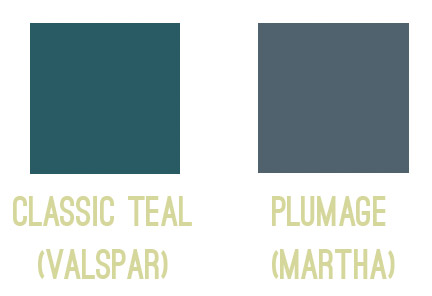 Yet on the walls it's every bit as bold as we hoped!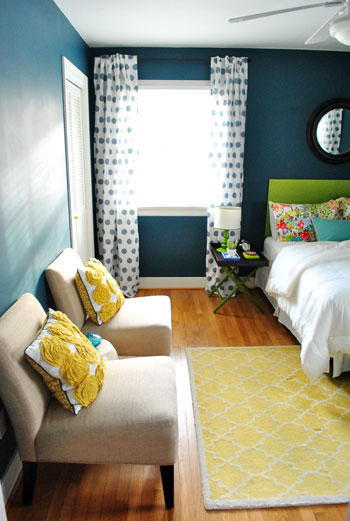 Colors in general – and especially dark ones – seem to amplify by a TON when they're up on the walls, so we've had luck picking the ones that look a bit faded or grayed out, knowing that once they're up on the walls they'll look a lot more clear and bold. You can read more on the guest room here.
Next we have a swatch on the left that you might be tempted to pick if you want a bright and happy accent of pink – perhaps for the door of a kids room, like we used on Clara's closet. But the swatch on the right is actually the one that we picked. A small square of it looks a lot more muted (sort of faded) compared to the bold and happy color on the left…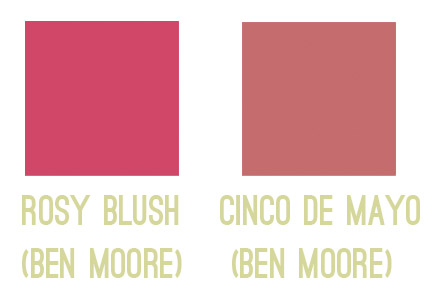 … but once it's on a nice big area in the room (like the door), you can see how bright and clear that color reads. So even though the swatch on the left might be the pure and unfaded one you're initially drawn to, in a nice large chunk it could almost read as neon. You can read more about Clara's closet and those raindrops here.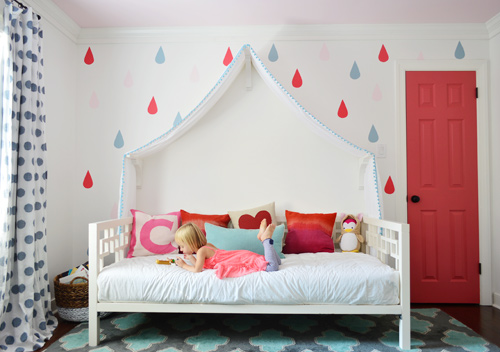 Another coveted color seems to be a cheerful aqua tone, but in our re-painting-riddled experience it can be hard to get right. The color on the left is a peppy Tiffany Box blue… which is actually a color that seduced us when we moved into our first house… but once we had it on the walls of our dining room, well, it was a little overwhelming. Of course it depends on your room (someone with an amazing room full o' light could make it look stunning) but in our experience, that color's just not muddy enough not to get blindingly bright on the walls. So we'd be drawn to something like the swatch on the right, which should still clearly read as a pretty aqua tone in such a large quantity (here it is in a laundry room makeover).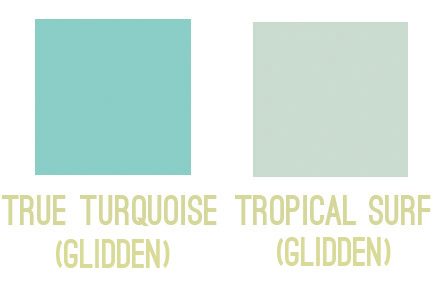 So my general rule is that for painting smaller items (like a tray, side table, accent chair, or lamp base), those more clear/unfaded/unmuted colors can be great. But for larger expanses (doors, walls, ceilings), we tend to prefer muddier tones of the same color – like a softer aqua with more of a gray-green undertone – just so it doesn't go from chic-tiffany-box blue to punch-you-in-the-face-when-you-walk-in blue.
The same thing seems to ring true for greens for us. Something bold and clear can work really well on a piece of furniture or a bathroom vanity (but not necessarily all of them, ha!). But when it comes to the walls, the color on the left would likely turn most rooms into Kermit Theee Frog (I love when he says his name that way). Meanwhile, the one on the right might look dull by comparison, but on the walls it could be really pretty. Sage is always gorgeous with wood trim or cabinetry, so that could be a nice choice for a kitchen with wood cabinets or a den with wood trim.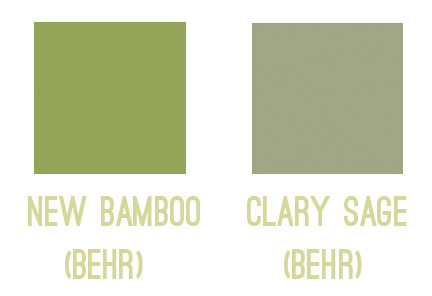 Here's another way I thought I could attempt to illustrate the strange mystery of how a swatch with those muddy/muted undertones can almost look beige in your hand in some instances… but then when it's on a bigger area, it's very clearly a color. See how muted and almost wheat-toned the swatch on the left with the arrow next to it looks below? Yet when it's in a bigger area (that's the exact same color in a larger rectangle on the right) it definitely looks green and not tan or beige anymore.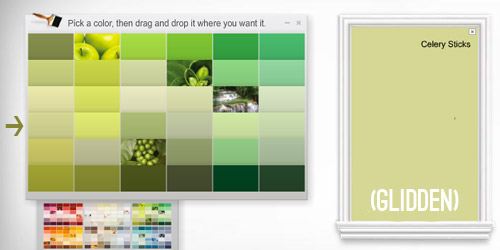 Update: Someone asked if the muddy version of a color would typically be on the same swatch as the bright one (if you slide up or down) or if it's on a different swatch. In our experience, it's almost always on a different swatch, so there might be a whole range of clear tones on one swatch (from bright aqua to a light baby blue) but you'd want to go a few swatches over to the one that has a much grayer or muddier top color (like a deep blue-gray) and slide down to find those muddier counterparts.
One last example would be Dune Grass, which we used in our first house's bathroom. It looks almost completely cream/beige/tan in a small swatch (with just a tiny hint of green) – especially when it's arranged with other green tones that are a lot less muted…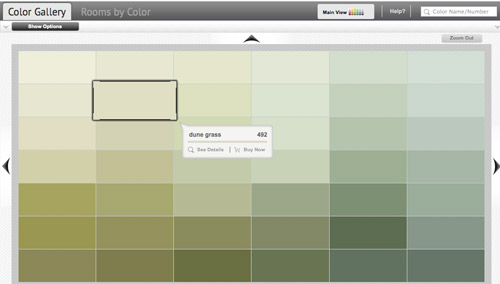 … but in our bathroom it clearly reads as a soft green color. Once again, when it's up on the walls, there's just a lot more of it, and it's definitely amplified from the neutral-looking swatch. So if you're looking for a light or subtly colored wall (be it green, blue, pink, yellow, orange, purple, etc) you might want to consider those lighter wheat or gray toned swatches that almost look like there's just a drop of that color in them. The result can be a room that's clearly that color, but a soft and subtle version of it. You can read more about that big bathroom reno here.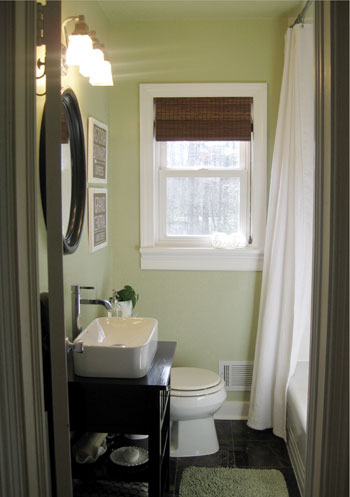 As Heyruthie mentioned, colors aren't always great on monitors, but hopefully just seeing these comparisons might help. And when making a final choice, the best method we've found has just been to bring some swatches home, check them out in our lighting situation throughout the day, and then grab a test pot (or three) of paint if we're still nervous. Those small sample pots are only a few bucks and they can save you a whole lot of re-painting trouble.
It's also amazing how different the same paint color can look in a variety of rooms/lighting situations, so I'm sure there are folks who've used those bolder colors in the left columns above with great results – so it really does depend on your room, how much light it gets, and how you layer stuff in. Like this could-have-been-blinding bright blue paint color, which looks awesome in a lofted and light-filled studio – especially when it's tempered with lots of tan texture in those pin boards and that over-sized mirror.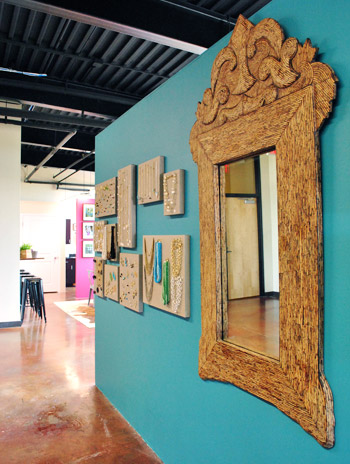 Oh and since we're on the subject of buying paint, here are a few tips we've learned over the years about scoring a discount:
"Oops paint" can be awesome (it's someone else's already-mixed paint that has been returned for some reason, but it's usually extremely marked down as low as $1 for a whole gallon, so you can even get a few cans and mix them in the hopes of creating a color you like for a serious discount).
If you have a favorite paint shop (ours is a local place called Virginia Paint), you might want to pop over to their Facebook page and click the Like button or sign up for their mailing list. By doing that you'll often be alerted if they're running sales or specials, and sometimes you can save $10 or even score 40% off.
If you get paint from a big box store like Home Depot, you can hit up their website and check out their Paint Promotions page.
You can also get 5% off any purchase at Home Depot or Lowe's if you use your store credit card there (Lowe's does it automatically, and you just have to ask for Home Depot to match the 5% off that Lowe's provides when you're checking out and they will).
Sherwin Williams tends to run some great specials. In fact right now they're having their big 40% off sale. And I've heard you can buy untinted gallons (like a whole bunch of them) for 40% off and then bring them back later to get them tinted at no charge (I'd check with your individual store, but that's the rumor). So even if you're not sure what colors you want right now, if you have a bunch of rooms to paint it's a great way to save serious loot.
It never hurts to click around on any paint website for promotion info. Right now Behr is having a $5 off promotion and Benjamin Moore is offering a buy-one-get-one-free deal on a quart of paint.
Do you guys have any other paint undertone tips to share? Or just some stories about going for the wrong swatch? Any other tips for getting paint at a discount?