We're trying a new house plant on for size here at Casa Petersik, which might sound about as newsworthy as "John got a haircut," but it's actually quite a big deal for us. See, we usually stick with what we know in the plant department (read all about the plants that we know and love right here). So who's the new guy in town?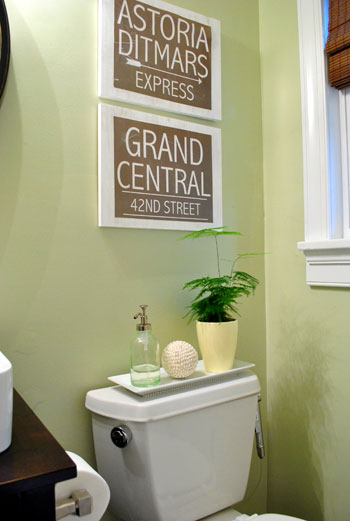 Why this fantastic feathery asparagus fern that we fell in love with at Home Depot (in an already-owned planter that was gifted by a friend a while back). While swooning over our new housemate, we were sure to ask the garden people if it was easy to kill and two separate experts vehemently denied it – and actually referred to it as quite a hardy little thing. It just looks so light and vulnerable. I guess time will tell…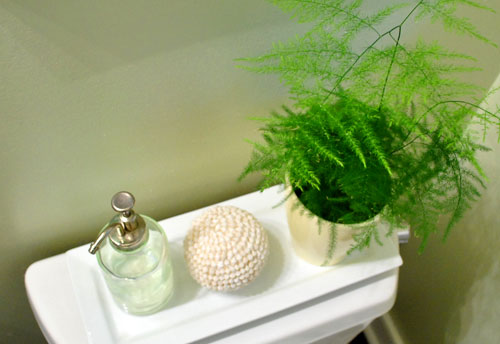 So far we've been enjoying his company for two weeks in the bathroom and he's been looking as happy as a clam in there.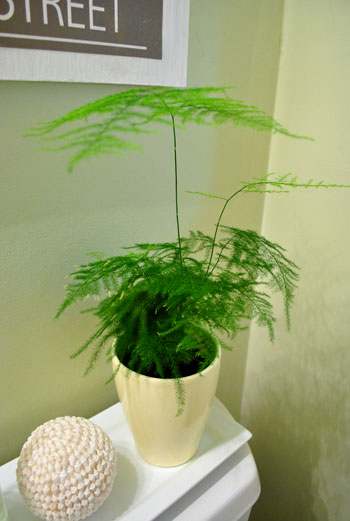 Ferns love moisture so a steamy bathroom fits the bill. And believe it or not we actually haven't watered it once in the last two weeks (even though the tag says "high moisture plant") since the steam from the shower seems to be keeping him happy. We've learned our lesson when it comes to overwatering things, so we wait for plants to look limp or for the soil to feel dry before adding water (and so far this guy has dodged that bullet).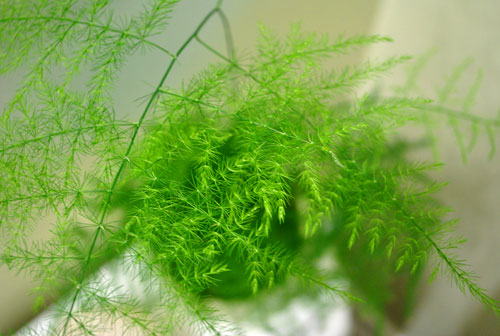 We'll keep you posted on our new house plant's status as time goes by (cross your fingers that it doesn't cross over from "alive " to "not alive"). And while we're on the subject, what kind of house plants are tried and true at your house? Do you have any that you find impossible to kill? Or others that you just can't keep alive? Let's talk about greenery that's super easy and fresh looking… and anything that you think we should avoid for fear of killing it in record time.
Psst- Wanna know about all the other plants that live it up in Casa Petersik? Look no further.