Last fall we featured a redesign that Nancy did for her son Owen. Well, she's back with another awesome room makeover… but this time it was for another family with a great story. Here's her letter:
Hi John and Sherry! A while back, I entered the contest Creating with the Stars hosted by East Coast Creative, and I was teamed up with Kari from U-Create. I had the wonderful opportunity to makeover a space for a couple who have been trying for over ten years to get pregnant. Accepting this may never become a reality, they are in a foster to adopt program and are adopting three siblings. KK is the youngest out of the three and the family will be able to adopt their children in February! I made over one of the couple's guest bedrooms into a space for KK as part of my entry for the contest. I did not let my elimination in Round 3 stop me from finishing Round 4, and I'm so glad I continued on!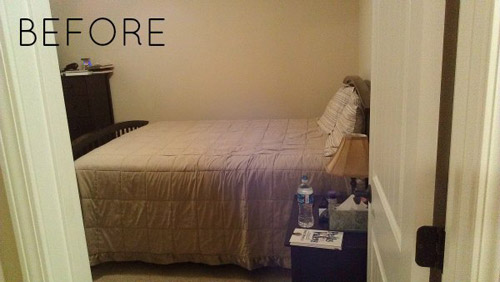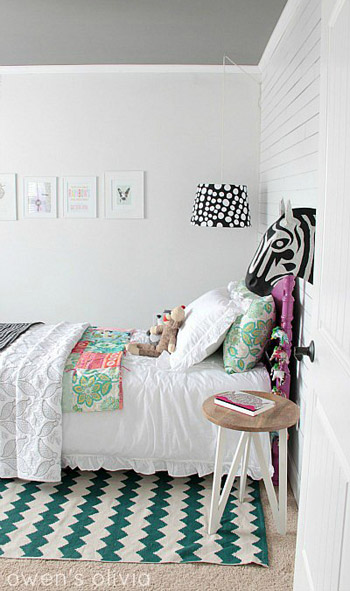 I'm a huge fan of white and black in home decor, but I decided to have some fun and add lots of color and prints! This was such a fun makeover, I didn't want to leave when it was done.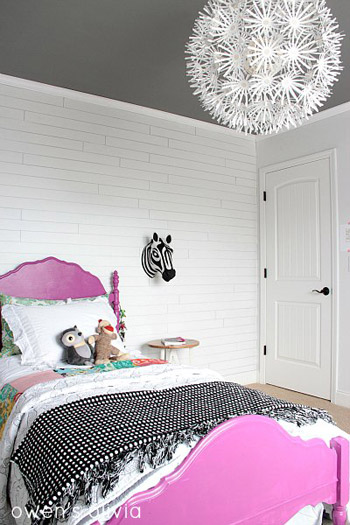 Originally, I wanted to use fabric on the wall. Namely, Ikea's black, white, and green bird print that is no longer sold in stores, but I wasn't aware of that until I went to the store. So I decided to use a projector and six Sharpies instead. I traced some of the pattern on the wall. Instead of copying it exactly the way it was on the yardage, I moved pieces around and traced what I liked where I wanted them to go. It was fairly easy, although it did take a toll on my wrist and shoulder. But the result was completely worth it!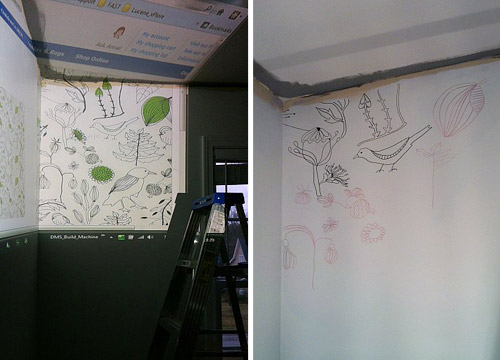 There aren't too many personal touches in the space yet (I'm one who likes to sew and create things with my hands) but leaving room for that allows KK to add her own personality to the space when she comes home.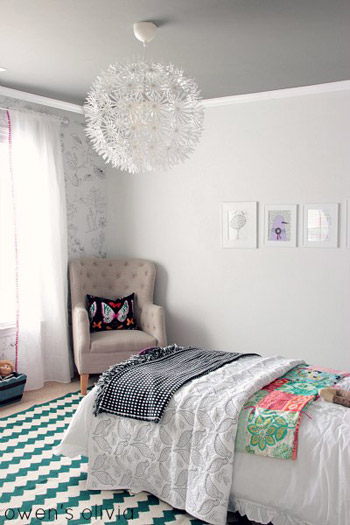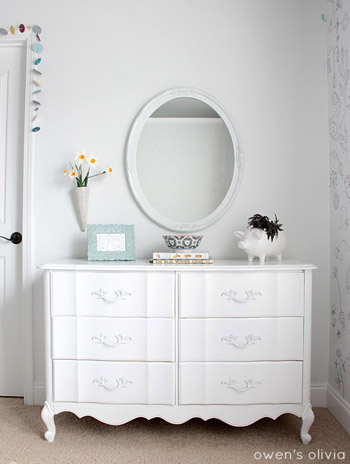 Hope you guys enjoy it too! – xo, Nancy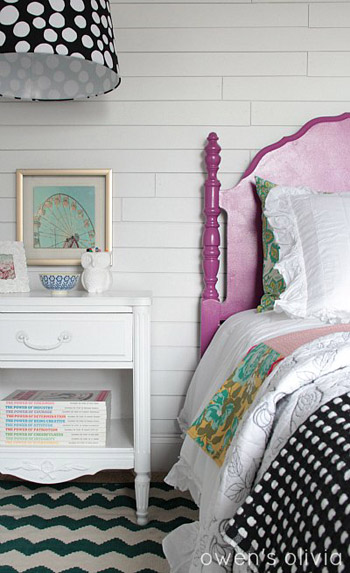 There are tons of pictures of this playful space for KK over on U-Create's blog, but be sure to also swing by Nancy's for a full source list and some more details on the $5 "wallpaper" treatment she created. Thanks for sharing such a sweet room (for a very sweet cause) Nancy! And in the "what's your favorite part?" column, Sherry's loving the homemade wallpaper and the purple bed while I'm all over those planked walls and the painted ceiling.