We've never been more all over the place than we have been lately (Clara's room, the master bath, the kitchen, the sunroom veranda) and we can't believe it has been around a month and a half since we last mentioned our staircase. Several of you have been eager to hear about the new runner that we ordered, and we've been eager to tell you all about it (it was back-ordered and arrived a little behind schedule, but it's finally here). But the last vestiges of the old carpet in this house were standing in our new runner's way…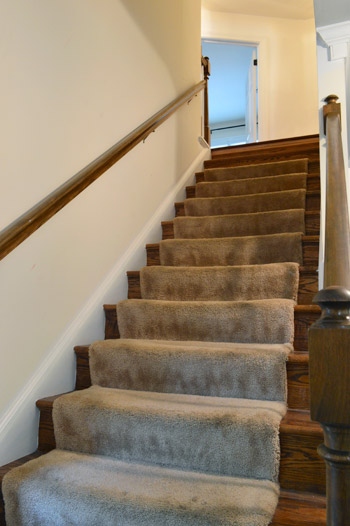 When we finally removed the carpet from our master bath, the stairs became the sole remaining carpet location – even though we had ripped it off the top step in order to install the hardwoods back in May. But between avoiding the tedium of the task and worrying about a small dog and a small human navigating those slick uncarpeted steps, we've just been living with this lovely situation for the last five months.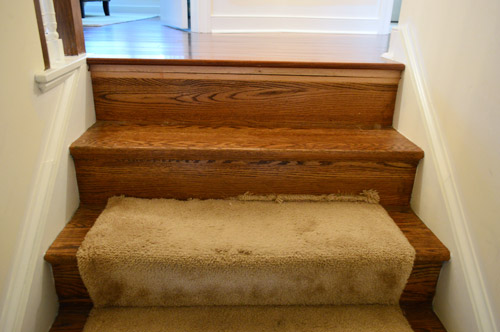 But with our new runner just glaring at us from within its packaging for the last several weeks, we decided to start chipping away at the eyesore once again. You know, for the sake of the puppies.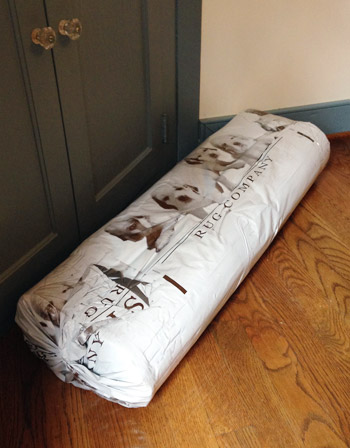 The task really wasn't that hard. It was just boring and meticulous. Here were our weapons of choice, basically all serving the purpose of prying things up (carpet, tack strips, staples) at varying levels of detail and care (crowbar for yanking up carpet, pliers for delicately twisting stuck staples out).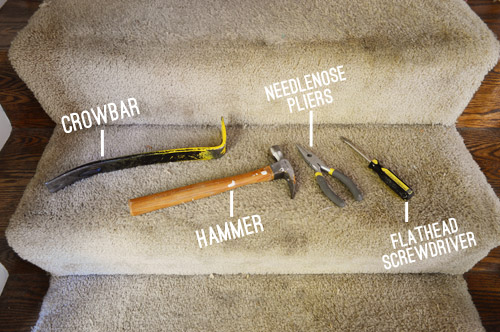 Once the crowbar helped me loosen a corner or two of the carpet, it was fairly easy to just yank it up by hand. Well, by gloved hand since the carpet was rife with staples and other sharp objects determined to pincushion me to death.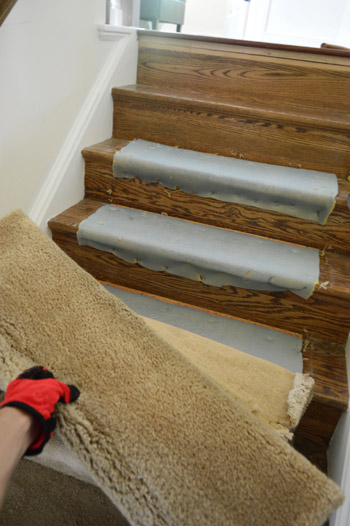 It's what lurked beneath the carpet that was the true joy (italics = heavy sarcasm) of this project. Sure, the blue foam padding was quick to tear up… but the staples. OH THE STAPLES.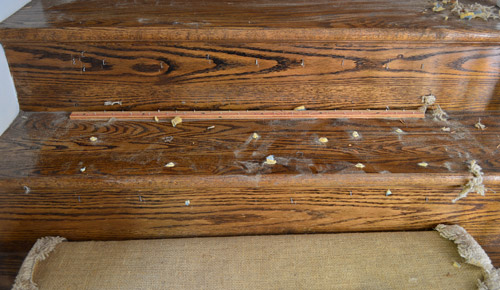 You can't even really tell in these pictures just how many staples there were. So I decided to mark them (along with the nails holding down the tack strip) with yellow dots. I'll save you from counting. There are 49. Multiply that by 12 steps and it's nearly 600 things that Sherry and I had the pleasure of prying up.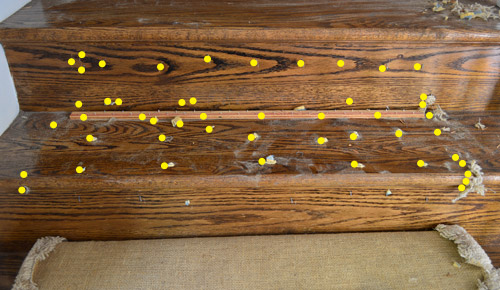 Most of them weren't that hard. We could just stick a flathead screwdriver under and pop them up. Usually only one side came lose from the wood, so we'd have to go back and pluck it out completely with the pliers. But some got stuck. Some broke. And at least one or two made us mutter some not-Clara-approved words under our breath as we went.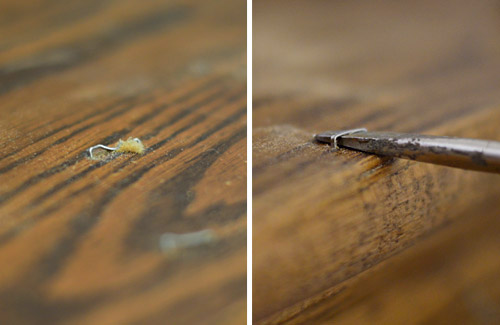 Slowly and steadily, we stripped each step clean of its metal and moved on to the next one.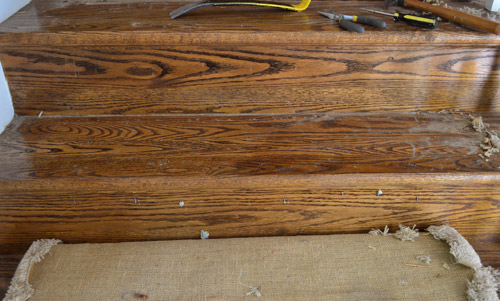 We worked on it over the course of three days on and off, so Sherry would steal a few hours here and there and then tag team me and I'd go back in. All told it was probably around seven hours in total. And if we were to play you a montage of the process, it would basically just be a bunch of Burger cameos. I'm not sure if working on the stairs just made us notice all the times he goes and up down on a normal day, or if he increased his usual number of trips just to satisfy his curiosity about what the heck we were doing. Yes, that's him doing some stretching in the middle of the staircase.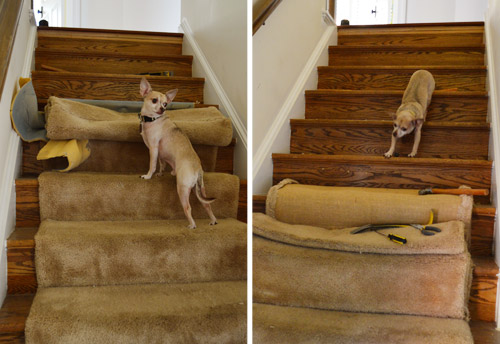 I'm mostly convinced he just wanted to be near us (there was one point where Sherry was leaning forward, full of concentration, and got some Burger tongue to the nose). I also had a particularly hilarious run-in with him when he was sitting on the carpet that I was about to rip up.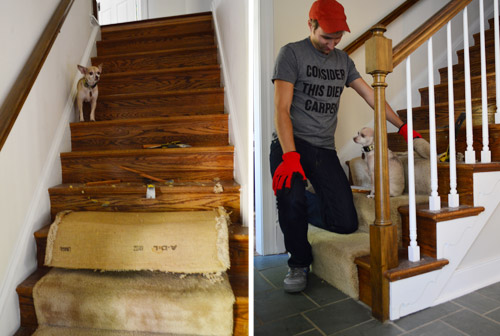 Here we are, at the end of our montage, with a completely carpet-less staircase and (more importantly) and completely carpet-less house. So one of Sherry's before-I-have-this-baby goals has officially been met. And she's pretty jazzed about it. Just don't mention staple removal to her. There will be grumbling.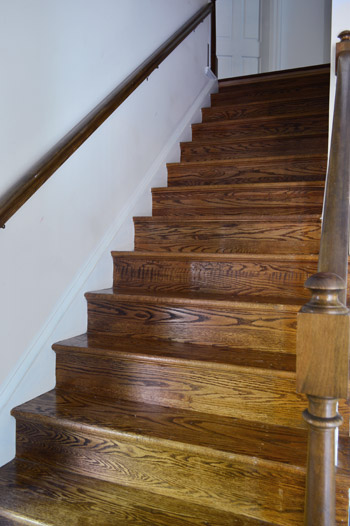 The wood left behind is in good, but not flawless condition. It's not very scratched up, which is a relief considering all of the pointy tools we had near it, but there are some little more-noticeable staple holes in a few spots (these two steps on the bottom of the photo above are the worst, so we wonder if they used a different tool or re-stapled them here for some reason).
We still plan to paint the stair risers white – but not the treads (like this) – so that should help to hide most of the tiny holes (we can putty them before we paint). For the tread holes, the new runner should cover most of them and we're hoping to do the same thing we did to fix up our downstairs floors before installing the runner, which should fill/hide some other slight imperfections. Note: we're not planning to change the color of the stair treads since they flow into the upstairs flooring, which we chose to be a very close match.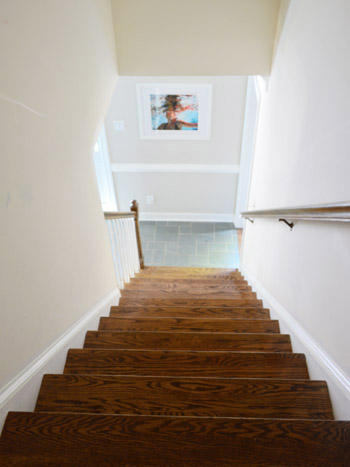 One other step that we had to tackle before runner-time was painting the walls and the ceiling leading up the stairs, since we didn't want to do that after installing the runner and risk dripping paint on it. But we're glad to report that we knocked that out too! We thought it would be fast and easy (it's not too much actual ground to cover) but the fact that it involved balancing on a ladder with a giant roller pole did add a few levels of difficulty (it was about 16 feet high in some points) – which is why this terrible picture is the only one we managed to capture of the process.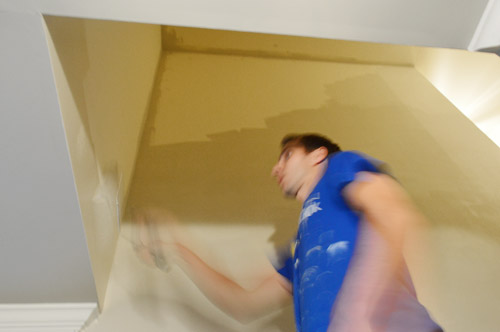 I also used our tape-the-paint-brush-to-the-pole method (detailed here) to get into those upper corners. All told, that was about another 3 hours of work, but it's really nice to have it done. As planned, we used the same Edgecomb Gray color that we used in our foyer (we chose that knowing we'd use it up the stairs and in the upstairs hallway too). You can see where we stopped painting by the arrows along those two edges. We just wanted to do enough so we wouldn't worry about dripping on the new stair runner, but tackling the entire hall means buying another gallon.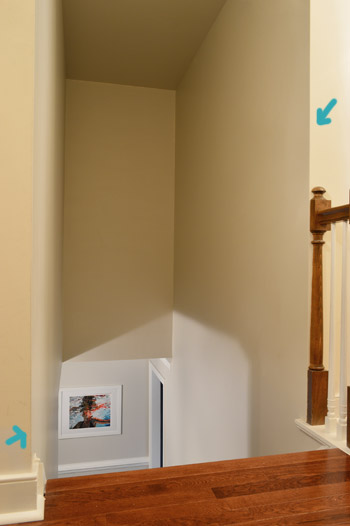 Hopefully early week will be the full runner reveal, assuming we can get those risers painted and dry in time! But the good news is that in the meantime both Clara and Burger have had no trouble on the carpet-less stairs. They're not really slick at all (maybe from years of being lightly worn under a carpet?) so we've mostly put that worry to bed. But we're still excited to add the new runner, just to be safe and to soften the blow if ever do lose our footing.
Is anyone else removing old carpeting and plucking every last staple out by hand? Does it make you rue the day that staples were invented? Yeah, me too.