We just learned that our first overnight guests will be coming at the end of the month… and our guest room currently looks like this: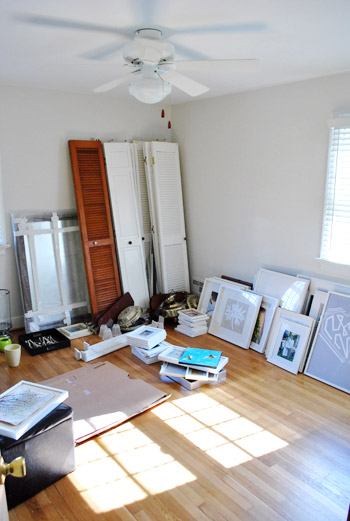 Not acceptable. Especially since our end-of-the-month guests are my in-laws.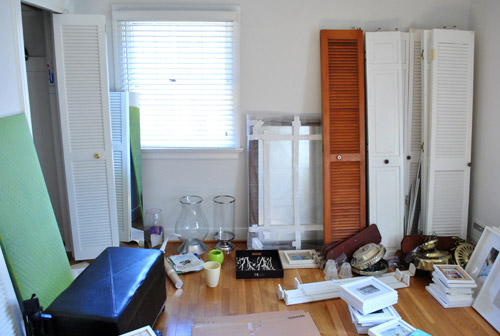 Yep, Sherry's mom and stepdad are headed from New York to Richmond for some much-anticipated Clara time so we officially have a deadline for making the guest room habitable. We don't expect to make the room all that we want it to be in a mere two weeks, but we have some basic goals for it:
Get all of the junk out of there (finally confirm the Habitat for Humanity ReStore pickup & move rest of stuff into the playroom)
Buy a mattres & boxsping along with a cheap-o bed frame (for the interim at least, we might build a bed frame later),
Dress said bed with already-owned bedding
Add shower curtain & other bathroom essentials (towels, new toilet seat cover, etc)
Doing that much will at least make the room functional, since my nightmare would be asking Sherry's sweet Italian mom and stepdad to sleep on the fold out couch in the office (mental picture: his name is Giacomo LaPadula and hers is Diana DeCesare LaPadula – they're way too debonair to sleep on a fold out sofa next to our laptops in a room with no doors).
And since we occasionally welcome a challenge (and only crumble under pressure sometimes) we'll toss out this list of "extra credit":
Painting the room
Putting up curtains
Adding a nightstand & table lamp
Not that we expect to accomplish all or even any of those extra ones, we just thought we'd toss them out there for fun. Or so you guys can virtually berate console us when we don't get to them. We'd love for the room to feel nice and polished when they arrive, but really who are we kidding? The room looks like a bifold door convention and Nona and PopPop will probably only be focused on Clara anyways. Either way – wish us luck on our race to guest bedroom-dom!
Psst- We announced this week's giveaway winners. Click here to see if you're one of them.