Here's a simple little fan makeover project anyone can do. We decided our boring cheapo white fan in the den would look more high-end with a lamp shade on it instead of one of those generic and dated round glass bulb holders. All we needed to make a quick switcheroo was a nice looking white lamp shade with a metal interior loop that is held in place by a bulb (don't get a shade that doesn't have the loop to go around a bulb, or there's no way your fan bulb will be able to hold it up).
When selecting a shade, we took size and proportion into account (as well as making sure it had that interior loop for hanging purposes). We didn't want anything too tapered since a shade that's only slightly wider on the bottom looks more modern and less granny than a big sloped triangular shade. Then all you need to do is remove your fan's old glass bulb cover and unscrew the bulb. Slide the shade's bulb loop through the bulb so that it is held in place when you screw the bulb back into the fan.
Here's a quick before shot to clue you in on what we were working with: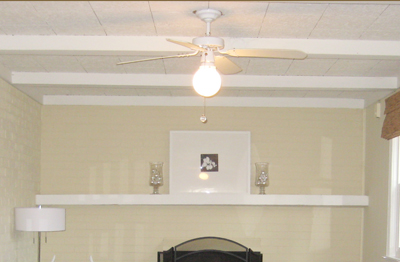 And here's the after: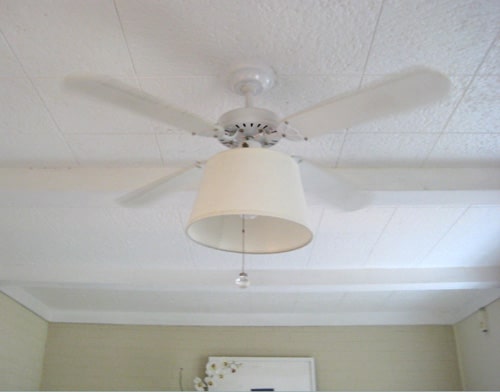 This project literally took all of 5 minutes once we found the right shade. And anyone who knows me knows I'm always a fan of a quick and easy home improvement project. And a terrible fan joke or two. My apologies.
Update: Click the speech bubble in the top right corner of this post to see the comment section with additional instructions and another photograph.