We're still holding off on taking you on a full virtual tour of our soon-to-be new home (you know, until the deal is 100% done and we actually live there). But we thought we'd give you a sense of what we're gonna be working with thanks to this rough floor plan that we threw together with the use of floorplanner.com (it's a free service, btw). Everything is approximate since we're borrowing from the measurements that we took during the inspection and copied from the sales flier, but here's what we've got (the washer & dryer are stacked in the small mudroom off of the carport):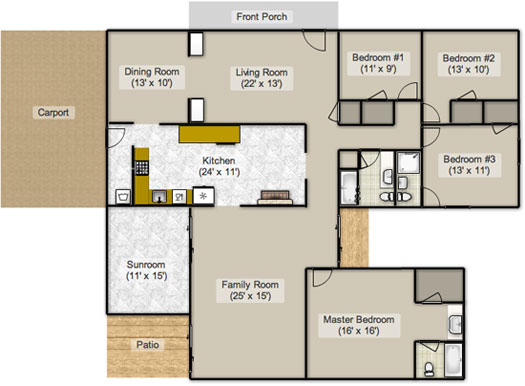 *There aren't measurements for the smaller spaces like the bathrooms or hallways, but the total square footage for this house is around 2,500 square feet
The funny thing is that if you look at our current house's floor plan it might seem a bit familiar. We always said if we built onto our house we'd love to add a nice bedroom with a true en-suite bath (since our current casa only has one full bath in the entire house and nothing attached to a bedroom at all) and we wouldn't mind somehow creating a larger family/living room (we've always longed for a casual and comfy sectional but our current house just wouldn't accommodate one thanks to the long narrow family and living room layouts). Sherry has also always had serious island envy and lo and behold, the new house could actually support one of those as well. In other words, just talking about it gets us all geeked out and excited since it's kind of like a combination of our current house and a few more things we've always wanted.
We're just so thankful that after some pretty rigorous searching we finally found this baby. In fact it has nearly everything going for it when it comes to our parameters (great school, great location near family, a lush and lovely yard for Burger & The Bean, within our budget, etc) except that it's admittedly a tad bigger than we had targeted.
We like living modestly, making spaces multitask, and most of all not having to clean a huge house. But at around 2,500 square feet it's nothing too crazy, and we're sure we can grow into it and take the entertaining brunt off of John's poor sister (who currently has a 3,000 square foot house so the whole crew always ends up over there- and as fun as that is, we'd love to be a place where the family gathers as well). We figure a bit of extra space couldn't hurt in that regard, since the average get-together for us is around 10-16 people (and we can currently seat just 6 people at our dining table that sits in the corner of our living room). Plus there are more DIY projects to take on. Ha.
But anyway, here's how we envision adapting the floor plan to make the house work best for our family (we've highlighted the descriptions that have changed in green, but we'll break things down a bit more below the floor plan for ya):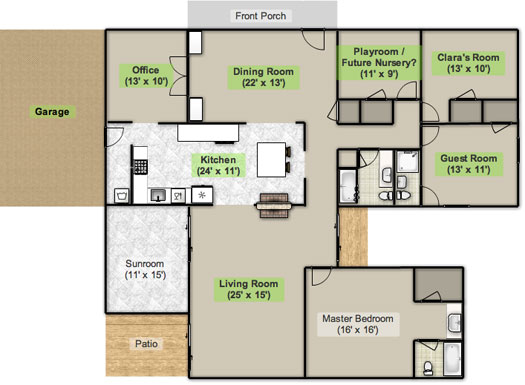 You'll notice that we're thinking about:
converting the carport into a garage (thanks to a sweet credit the sellers gave us)
turning the modestly sized dining room into an office, and even adding pretty french doors to separate that area
converting the formal front living room into an entryway with a casual dining room slash library
adding a large doorway leading into the kitchen from the new dining room/library
making one bedroom into a playroom/future nursery for kiddo number two in a few years (we're waiting a while), making the second one into Clara's bedroom, and turning the third one into a guest room for family & friends since they stay with us pretty frequently (upgrade: they'll now have their own small bathroom to use, instead of having to share one shower with all of us).
adding an island in the kitchen and widening the doorway that leads to the former family room…
…which will become our one and only living room- we've learned that three rooms with sofas in this current house (the living room, den, and sunroom) aren't necessary for the way we live, and the formal living room just doesn't get used. So creating a nice large casual living space with a sectional and lots of room will hopefully make our house into a place where everyone gathers, which is a huge goal of ours. And the more spacious kitchen that's centrally located (which is soon to be open on all four sides) will definitely help create that airy, welcoming, accommodating feeling for large groups like our huge crazy family.
creating an amazing double sided fireplace since the back of the fireplace in the kitchen can hopefully be blown out so there's also access to it from the living room.
Update: One change we decided to make after posting this but before moving in was to use Bedroom #1 (the smallest closest bedroom) as Clara's room and turn Bedroom #2 (the larger middle one) into a playroom/second kids bedroom. Bedroom #2 will probably end up being Clara's big girl room and our second child will move into the nursery (Bedroom #1) in a few years when he or she exists.
Of course we won't do any major work (knocking down walls, building an island, fully gutting and renovating the bathrooms, blowing out that fireplace, etc) before we live there a little while and we're sure it all makes sense for the way we actually end up using the house. We've never subscribed to the knock-down-walls-and-refinish-everything-before-moving-in way of life since we never would have come up with the close-off-a-door-to-gain-a-bedroom-and-a-whole-wall-of-cabinetry-in-the-kitchen plan that dawned on us only after living in our house for about six months. But we will jump right in with things like painting the walls, kitchen cabinets, trim, and doors along with switching out light fixtures, other hardware, and beginning to slowly but steadily furnish the place in a casual, affordable, and kid-friendly way. It's honestly all I think about these days. I have about 500 tear sheets, notes, and other inspiration piles surrounding me at all times. Is it mid-December yet?