Call me crazy, but I wasn't really on board with Sherry's latest "furniture arrangement" when I saw it in the corner of our living room. I know she enjoys lighting as much as the next gal, but a chair dedicated to staring at a lamp seemed like something straight out of Lovely Listing.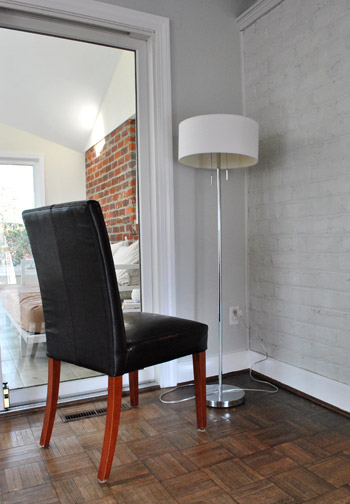 Once I looked up I realized that my wife still has most of her marbles (key word: most). She just put the chair there so she could stand on it and tape some paint swatches to the ceiling. Whew. Not so weird after all. Well, she's still über weird, but for a host of other reasons.
We've been debating what to do with those large white ceiling rectangles (between the grey-washed beams) for the past few days. From wallpaper to bold color and everything in between, we've pretty much considered it all. Anything dark or too saturated was quickly nixed since we worry that our standard height (8 foot) ceiling just can't handle it without feeling like it's closing in on us. And going with an even softer platinum gray than the color on the walls is a nice safe backup idea, but we'd love to do something a bit more fun. Which is when the concept of bringing in something metallic (either paint or even wallpaper) could potentially luxe up the whole room while reflecting lots of light (so the room still feels airy and open). So we grabbed a few swatches from Martha Stewart's new Precious Metals paint line at Home Depot: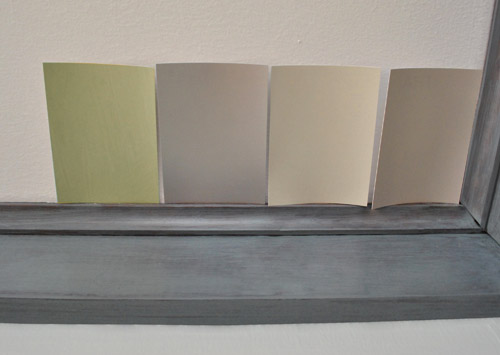 We were both quick to eliminate the two swatches on the left (too dark) and aren't quite sold on the other two lighter metallic swatches on the right (they actually don't seem to read as metallic enough from a few feet away, perhaps because they're on a ceiling and not a wall). Does anyone know a faux finishing technique to create a glossy champagne or eggshell colored metallic ceiling? I know the term faux finish can strike fear in anyone who has ever watched Trading Spaces (me included) but there have to be some good techniques out there… right? Maybe? We'd also love to hear if you have any other metallic paint experience (any specific brands you recommend?) or even if you've come across some metallic wallpaper that you love.
As for what we'll ultimately go with, we promise to spill more details when we actually make a decision and have some progress to share. Maybe it's smarter to wait to see what we'll do in the way of art and curtains and then pick up a light tone from one of those things for some subtle fun when you look up. Like a super soft silvery celery color if we go with a green rug or bold curtain panels that include some green…
We're clearly still in "think on it" mode. But at least we've got a good spot to sit down and be alone with our thoughts. And that lamp.
Update: A commenter mentioned a caption contest and it's so on. Feel free to leave 'em in the comment section. Here's the pic again for ya. Captions. Go.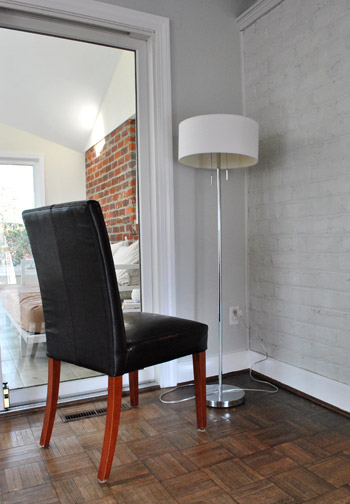 The prize is 500 points and comment o' the day status. You know you want that. Or do you?