The Homearama Showhouse train continues to careen towards our deadline (you can read more about it here, here, here, and here). The show opens May 1 – although we have a baby who's due a few weeks before that – so we're scurrying to get things done and holding on for the ride. It simultaneously feels like we have a million things to tell you, yet no tidy way to share the news, so this post may feel a bit scatter-brained as I attempt to update you on everything swirling around the project these days.
First up, thanks for all of your input on the front door color. We can't believe 38,000 votes came in (!!!). It was fun to see you guys launch rust into the lead early on, where it remained the winner with 36% of the votes (the runner up was red with 21%). As we mentioned, we're waiting for the porch columns to go in and get sealed (they're going to darken a bit), so we need to take that into consideration before a final decision is made.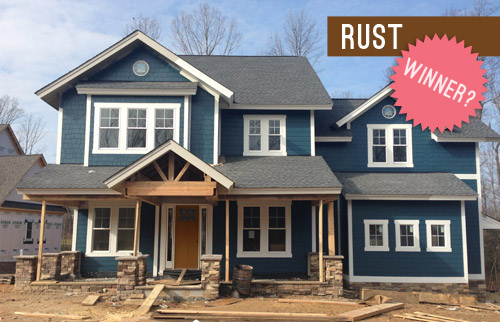 One surprise was a strong "write in" option that emerged repeatedly: white. Sherry had actually wanted to include that as one of the vote-able options, but I assumed it would show dirt too easily and wouldn't be practical, so I talked her out of it. My bad. The good news is that the constant "what about white?" comments gave us the opportunity to ask folks with a white door if they liked it, and the resounding response was that many people with a porch/overhang like this house and a white door had no issues with it, and generally loved it.
So if the sealed beams, the porch floor tile, and other elements that we'll be layering in start to feel too heavy, this write-in candidate could just steal the show. We like how it would integrate the white sidelights and make the whole entryway appear wider and more grand. So we'll have to see what the builder, architect, and realtor think once the beams get sealed and we grab some paint test pots for the door. We promise to report back to you guys with all the details!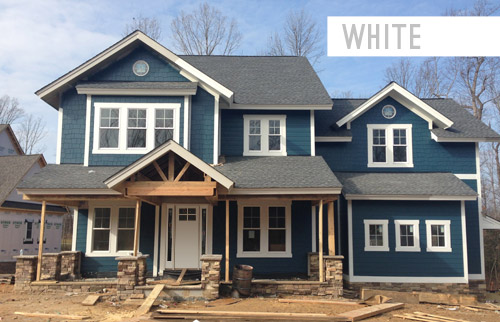 One exciting step forward, as some of you saw on Instagram, is that the porch columns are now in! It was so quite a moment to pull up and see them smiling (staring?!) back at us. They still need to be sealed, which will enrich/darken the tone of the wood, so we can't wait to see how they look when they're done.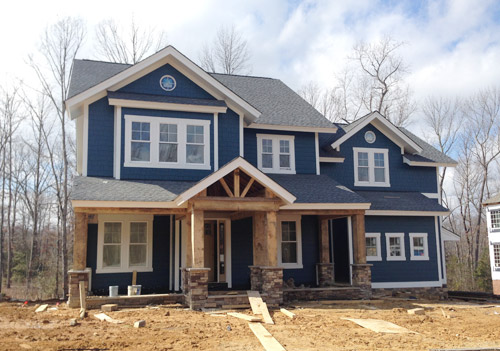 Now onto the rest of the house. We're facing a pretty constant internal debate when it comes to the choices that we're making for this project. Do we pick the "safe" and more universally appealing option? Or do we take a risk and try something unexpected or against the grain? Since the home will eventually be put on the market, we don't want to create a wild-card house that scares everyone off.
But the whole purpose of Homearama is to showcase a variety of interesting design ideas across all seven houses in the show, so they don't all look like clones of each other – or of every other home in the neighborhood. So nearly every decision for this house has been an interesting (and sometimes paralyzing) dance between "is this too polarizing to please the masses?" and "is this too safe to make for an interesting home show?" We were even debating this yesterday while checking out some unique wall-to-wall carpet options for the kids bedrooms…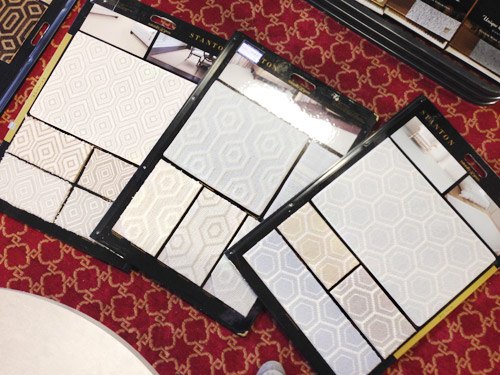 For the most part we've been trying to lean more towards the "risk" since the folks putting on the show have really encouraged that (along with the builder, who reminds us that the house only needs one buyer). Of course that doesn't mean every element that we choose will be crazy, but it does mean that we're shooting for a few showstopping choices in each room. And since there's a whole team involved – the builder, the contractors, the architect, the Homearama coordinators, the realtor, etc – we've got a pretty good safety net to keep us from going off the rails.
Speaking of decisions, we've been checking more and more off of our TBD list. We recently picked all of the interior paint colors, and we're starting to pin down furniture for each space. Can I just tell you how much furniture you need when you're outfitting an entire house at once?! Our lists go on for pages. The good news is that it has been much easier to visualize what we need now that the house is all drywalled.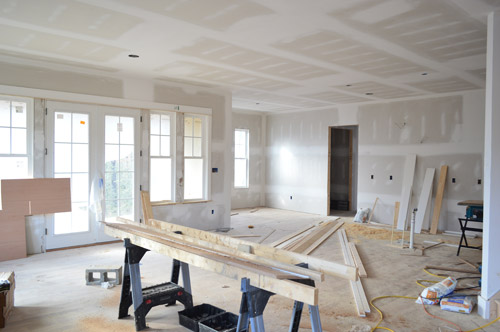 Filling this place with furniture, rugs, curtains, art, and accessories is an exciting design adventure, but also a bit of a puzzle. Things that will be sold with the house (like hardwired lighting, plumbing, tile, and paint) come out of the builder's budget, and then each designer (or design blogger, in our case) is given a separate budget to spend on decor. But that decor budget breaks down to less than $500 per room, which could be drained by a single rug, bed, or couch.
Thankfully Homearama has arranged for each of the seven showhouses to borrow furniture from a local-ish place called Green Front Furniture (which we've randomly explored a few years ago here and here). So that means we can check off some of our big ticket items without bleeding the budget. Green Front is made up of twelve massive buildings with floors upon floors of options, so we road-tripped there last week and did as much shopping as Sherry's little pregnant feet could handle.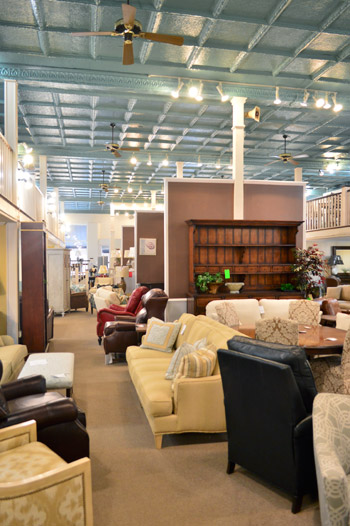 Even with that HUGE helping hand, there is a limit to how much we can get there, so like all of the design teams for each of these seven homes, we have to hustle to fill out this house. For some of the other designers it may mean borrowing items from other models they've decorated or calling in favors to stores they work with frequently. And for us, it means tapping some of the local artists or favorite shops that we've grown to know through blogging (so it's sort of like how we recruited decor donations for The Children's Hospital a few months back).
In the end, the more we can hustle to get donated or discounted for this house, the more it'll help our goal of supporting Richmond's Habitat for Humanity, because every dollar that we save from those building/decorating budgets means more can be donated to them.

We're also donating our design fee to Habitat, and Homearama itself is collecting a bunch of generous contributions from their sponsors, vendors, and ticket sales. Oh and locals, take note – there are going to be goodies to grab at the ReStore when the show ends, since we're also donating some furnishings and decor to them – and they'd love your business!
But this house won't just be filled with new items. We've also been visiting some secondhand stores to score vintage and thrifted things that we'll upgrade with everything from fresh paint to new upholstery. For example, we found this great wooden full-sized headboard for $9.98 that we can't wait to paint for the girl's bedroom (it reminded us of this $1,559 version from Ethan Allan).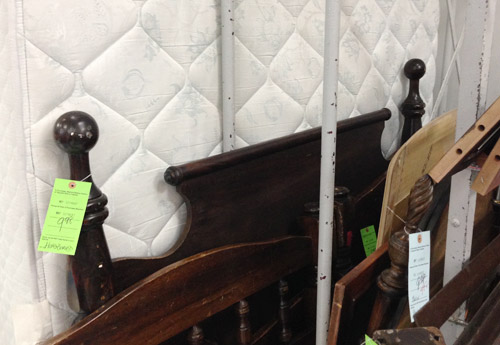 After we paint it and add a bed, it'll sit against the right-hand wall in the picture below, which we're also planning to treat as an accent wall with a cheery wall stencil donated from Royal Design Studio. Oh, and you can see the beginnings of the built-in desk that the carpenter (also named John) has been working on based on some very sketchy plans that we drew with him right on the wall.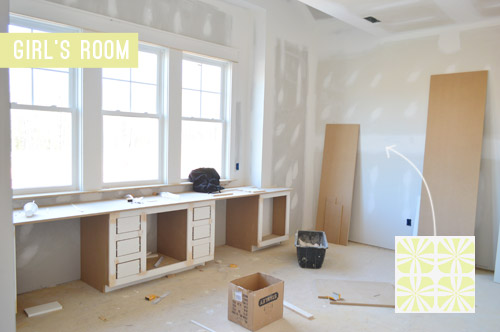 Since there's no specific client to design the house for, we're approaching it as if we're accommodating a future version of us. So that might be a tweenage Clara's space. Can you tell she's very studious? She's got one desk area for homework and another for artistic pursuits.
The second kids bedroom is an imagined room for the 8-year-old version of Barnacle, who is getting a sweet built-in bed/storage system. Clearly we instilled a love of built-ins in him at birth. It's fun for the builder to add these custom creations so he can show future clients what his team can do, and it's really fun for us to help design them since, for once, we don't have to build them.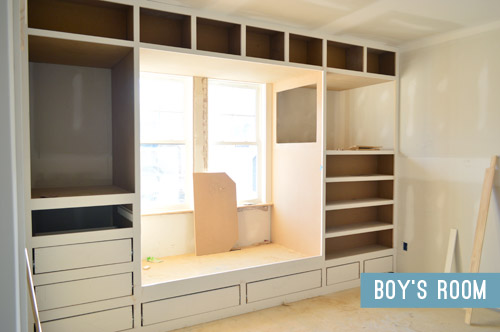 I'll leave you with a peek at one last room: the living room, which opens to the kitchen (your back would be facing the kitchen island in this photo below). Said island will be painted navy and have some great gold pendants hanging over it, so we thought it'd be cool to pick up that same navy color on the fireplace column across the room. We think it'll help the white mantle and the light stone surround that we've picked pop – sort of like this living room shot. We even have an artist friend of ours painting a big colorful portrait of Burger to hang up there. At this point we work some random Burger reference into every side project that we do, so we couldn't resist.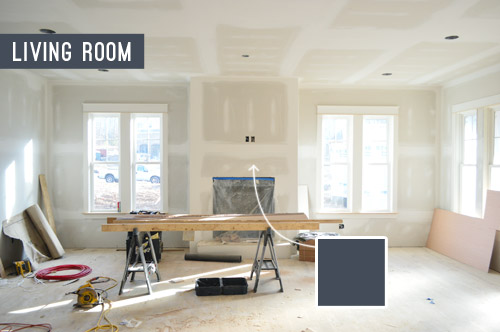 We'll do a more comprehensive overview of how each room is shaping up, well, once they've shaped up a bit more (perhaps with an updated video tour). Right now we have around 20 mood boards that are 40% complete, so we can't wait to get those finished up and share all the plans with you guys. This baby boy of ours is coming in less than eight weeks, so we better get cracking.
Psst – Wanna see the finished showhouse? Click here for Our Full Showhouse Tour, which includes final pictures of every room, the floor plan, budget info, a video walk-through, and shoppable showhouse furniture & accessories.