We took a little day trip last weekend to a nearby town called Farmville. It's about an hour away from Richmond and, as the name suggests, involves driving deep into rural Central Virginia.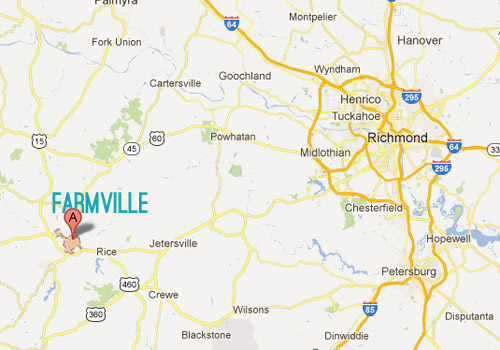 The reason for our adventure was actual to do a family bike ride on a new rails-to-trails park that opened up around Farmville called High Bridge Trail State Park.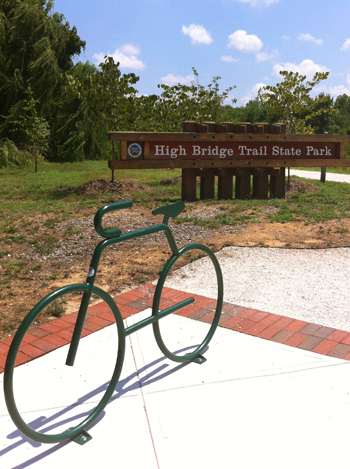 For those of you who catch our Instagram pics on Facebook or Twitter, you saw a picture of that very (very, very) high bridge already. But coercing Sherry into riding her bike over this steel and wood skyway was my main thrill of the day. And hers was something else entirely.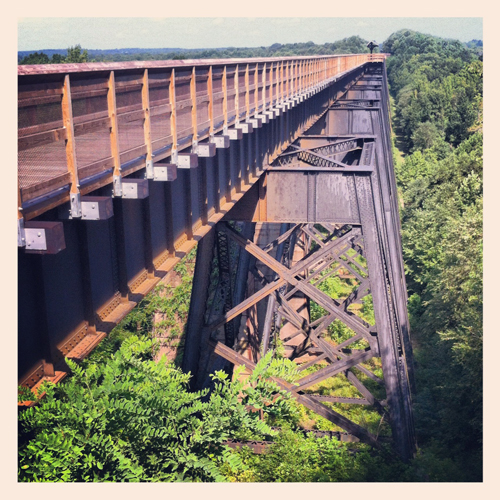 She was excited about hitting up Green Front Furniture, which we had last visited nearly four years ago. It's quite legendary around here – warehouse after warehouse of discounted furniture and accessories (over 18 football fields worth, so they say). So although most husbands might shudder at the thought, we actually ended up having a pretty good time. Of all the options in that lot, these metal giraffes were our favorite. Can't you picture one of them next to a little wooden playhouse for Clara in our backyard? Maybe someday…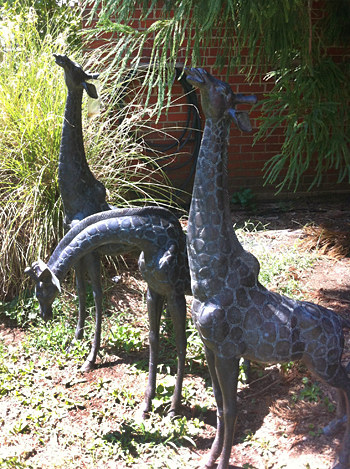 When it comes to the price point of the stuff at Greenfront, a lot of it is what we like to call "out of our reach." You can usually find awesome things that are up to 50% off and even more than that, but their initial price is often so high to start with that the discounted price is still slightly to wildly out of our budget (ex: $500 chairs, $1200 tables, $3000 sofas). It's still really fun for inspiration and just to see what patterns, shapes, and designs seem to be gaining momentum.
For example, this couch was $3639 (that was the sale price) but we both thought it was really cool in person. It's hard to tell from this photo, but it was a thick fabric that wasn't embossed or anything (in a weird way it was oddly understated for sporting a snakeskin-ish pattern). It might not be something we'd love for ten years (such a specific pattern on such a major piece of furniture might get old), but in the vein of being something that we'd never seen before and having clean lines and plush comfort (we sank in and soaked it up for a hot second before Clara demanded that we keep it moving) we thought it was fun.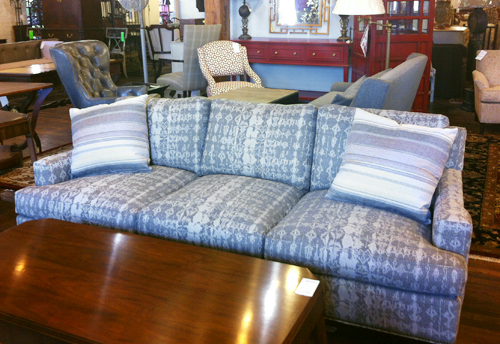 Sherry also oohed and ahhed over these mirrors (but just as inspiration since the one on the left was $900 and the one on the right was $460). It's funny to see them side by side since they actually seem to have a lot in common. Leftie's our favorite.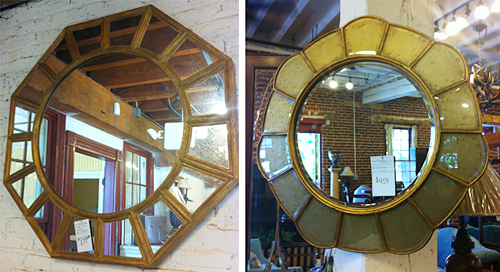 This guy was also fun. It kind of reminded us of the ORBed version of the one we have over our bed (except for the small fact that ours was found on clearance at Hobby Lobby).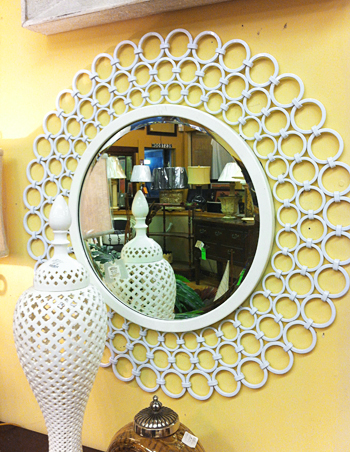 This leather chair was the stuff of dreams. We both completely agreed that if money were no object that $1491 chair would have come home with us. It's one of those pieces that would easily be the coolest in the whole room. So we gave him a good long stare and tossed a few "you go, chair" compliments his way.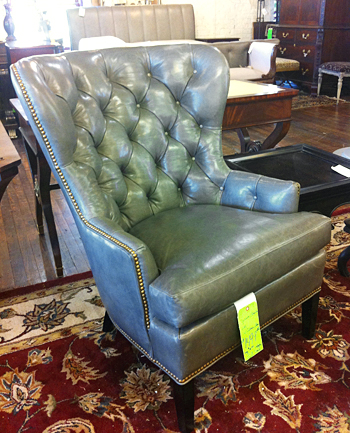 This chair was also really fun. Everything from the pattern & color of the fabric to the painted edge (it was just black around the sides and left au naturale in the middle) was something we thought someone at home could use as inspiration for a DIYable thrift store find with similar lines.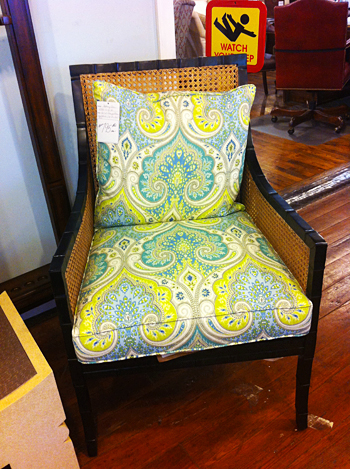 We also liked this chair, which sported an interesting combination of traditional, unpainted wood + clean and modern fabric. A lot of times we see people painting the wood a bold color (or even white, gray, chocolate, or black) when they reupholster something so classic with a more modern fabric – but this confirmed that leaving the wood alone and adding some crisp and graphic fabric can look great too.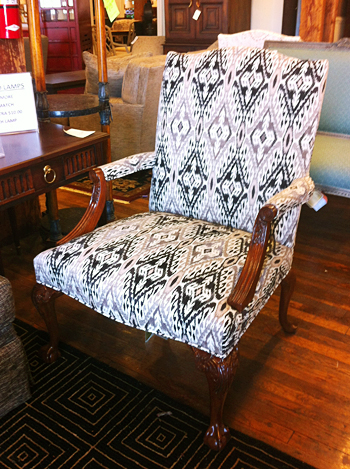 Sherry loved this bench. Too floral for me, but the lines were cool.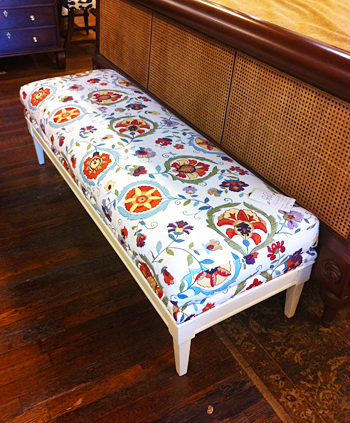 This is another example of why we love window shopping, even if we can't afford anything in the store. This coffee table was really innovative and totally gave us another DIY idea. It's a little hard to tell, but the inside of the ottoman is wood (with a removable tray) and the outside of it is upholstered in leather. The mix of materials was awesome. And I bet if you had an old coffee table made of wood with a similar rectangular shape (they pop up at thrift stores all the time) you could even make a thick wood frame that could then be upholstered in leather (or something else) and then you could screw it to the top of the table from underneath. You could even find a wood tray to fit into the opening for the full effect (and add nailhead trim if you're really feeling fancy).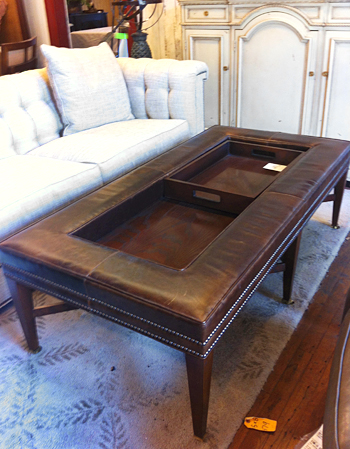 This monkey chandelier was $399.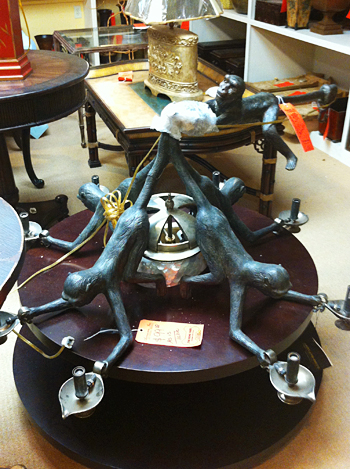 We had no words. See the guy on the right side laying horizontally? That part attaches to the ceiling, so it's a monkey hanging from the ceiling holding four other monkeys up by their tails. Completely insane yet kind of amazing. I hope somebody bought it and designed the most awesome/over the top room around it. Although now that I think about it, spray painted white in a kids room might be the coolest thing ever. Don't tell Sherry, she'll want to go back for it.
This wasn't from Greenfront – it was from a nearby shop called The Sleeping Bee – but we thought it was really versatile. We could picture it in a kitchen full of dishes and linens and silverware in cups, or in a garden or sunroom with plants and other outdoor stuff on it.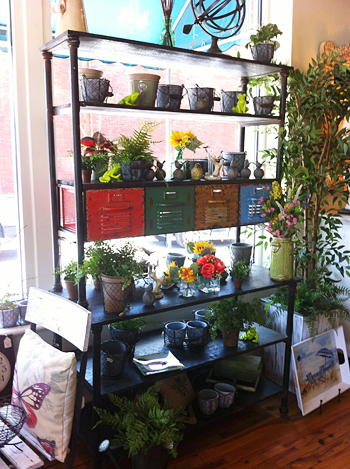 And now for the discounted section of this window shopping mission. Haha. It wasn't all 1K furniture, so here are a few less expensive (although still not dirt cheap, but the quality looked awesome) finds…
There were these Anthropologie-ish bone-looking knobs for $1.99.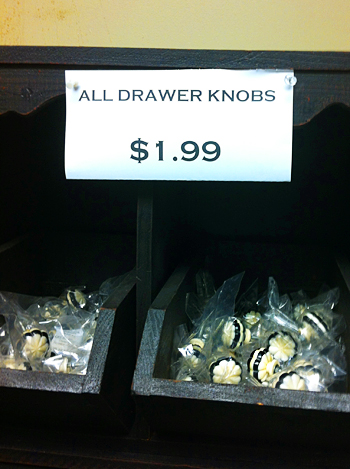 This cute blue stool was $40.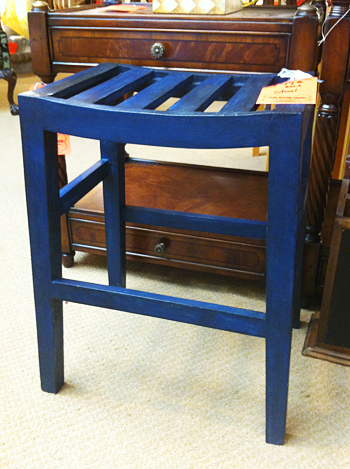 And this giant mirror was $129 (the picture does it no justice, but it must have been almost three feet tall).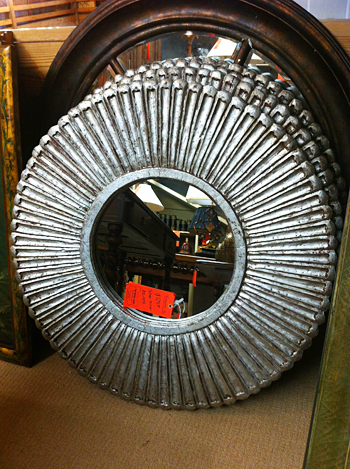 Probably our favorite find of the day was this giant glass lantern (about three feet tall) that was discounted from $99 to $49. Sherry thought one or two of them on a porch or patio with a giant candle in them could be, to use her words: epic. We didn't buy them though, mostly because we were having fun walking around and didn't want to drag them with us (and also because Clara was hungry so we had to feed the belly of the beast bean).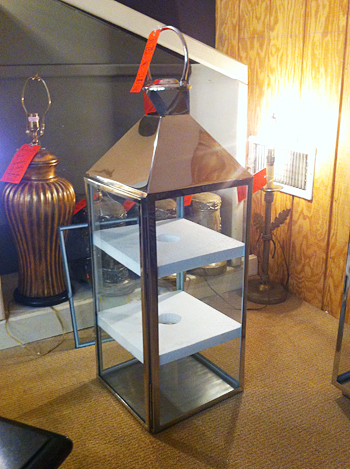 Now for those of you still interested in the more athletic portion of our Farmville visit, let's revisit the High Bridge Trail for a moment. It's an old railroad bridge that was built in the 1850s and actually played a part at the end of the Civil War when both armies tried to burn it down to their advantage. In the early 1900s the stone piers were replaced with steel ones.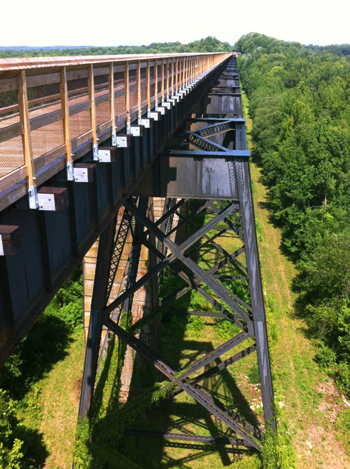 It spans the Appomattox River and is nearly a half mile long. Though it's really the twelve story height that makes your heart race. Especially when we stopped to think about the people who built the dang thing. It really makes me glad our deck is only four feet off the ground…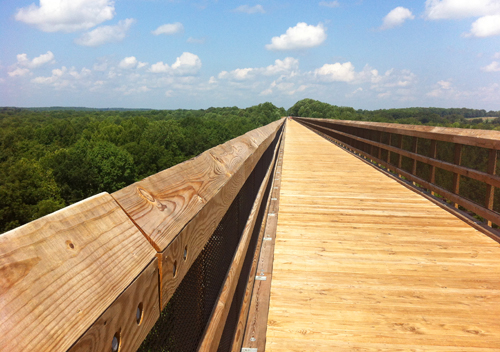 In spite of our sweaty palms, it was actually a really great ride. We went about 9 miles, since we wouldn't dare attempt all 31 with a two-year-old strapped to the front of my bike.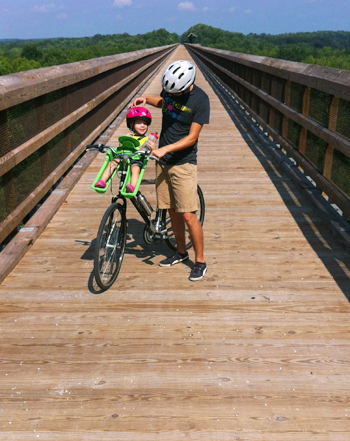 Sadly the shot above is the best one Sherry got of the two of us. Her attempts to get a cool perspective by shooting from above resulted in tons of photos that looked like this. Sherry blames her "stupid short legs."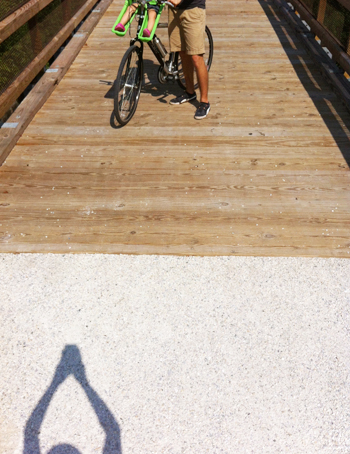 Luckily someone hiking the trail offered to snap one for us.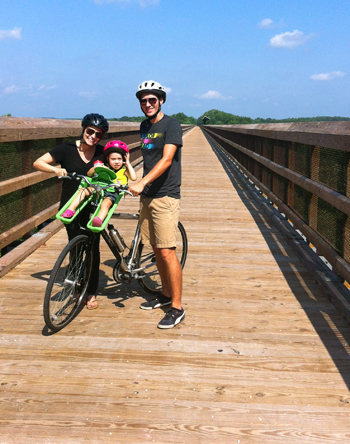 Also luckily for us, Clara is a great bike rider. Our iBert seat is a lifesaver because I can interact with her easily the whole time – asking for her "help" holding the handlebars, singing songs and playing "I-spy" along the way. (We don't work for them, we just like their seat. Haha.)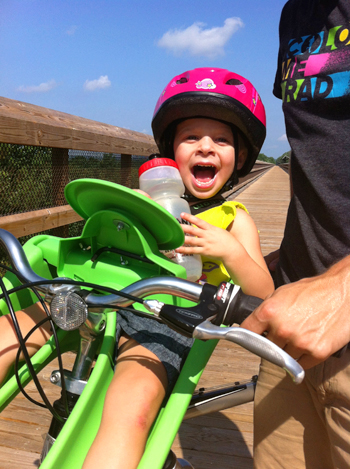 And in case you're wondering, most of the trail actually was crushed gravel and virtually flat (Sherry's favorite part). There are even bathrooms and picnic benches along the way. We're already mentally planning a trip back in the fall once the autumn colors start to show their stuff and it cools off a bit more. Although this hot August trip was surprisingly comfortable – even if Sherry did wear jeans (typical). We highly recommend it. Especially since it's also an excuse to browse the eighteen football fields worth of furniture that is Green Front. Anyone else going on shopping or biking adventures? Do you prefer to wear your toddler on the front of your bike? Or ploy them with lolly pops so they're happy shopping companions?
Psst- We just shared the outtakes from Clara's monthly pic on Young House Life (my favorite one involves a politician-ish gesture).