We've encountered a few frustrating setbacks with our beach duplex renovation, but thanks to a small technicality we were finally able to charge ahead and start demolition. Gotta love a loophole! So we're sharing our work-around, and the surprising thing that was discovered during demo. Plus, when it comes to buying things online without touching or seeing them in person first, we've become much more willing to go for it these days, so we're sharing our tips for minimizing your risk when shopping for home stuff online (including how to unlock even more reviews, and what items we haven't had the courage to buy online yet). Plus, we make a case for rethinking your shower curtain and share the verdict on whether a weighted blanket is actually solving Sherry's sleep problems.
You can download this episode from Apple Podcasts, Google Play, Stitcher, TuneIn Radio, and Spotify – or listen to it below! Then use this page to check out any links, notes, or photos we referenced. Note: If you're reading in a feed reader, you might have to click through to the post to see the player.
What's New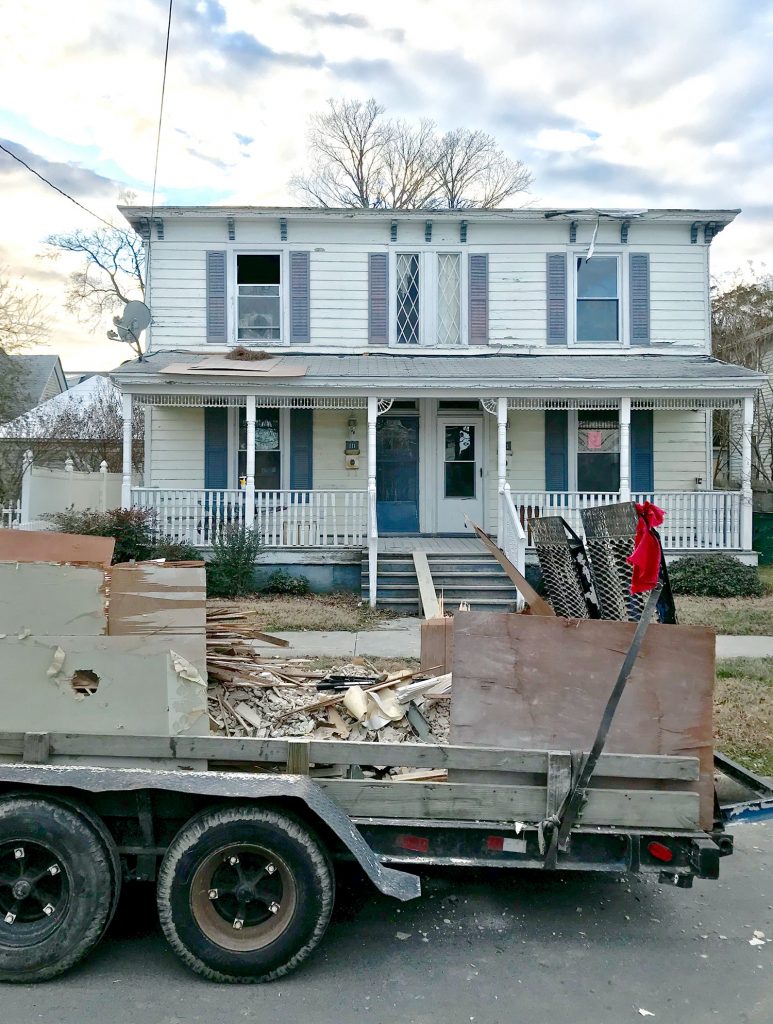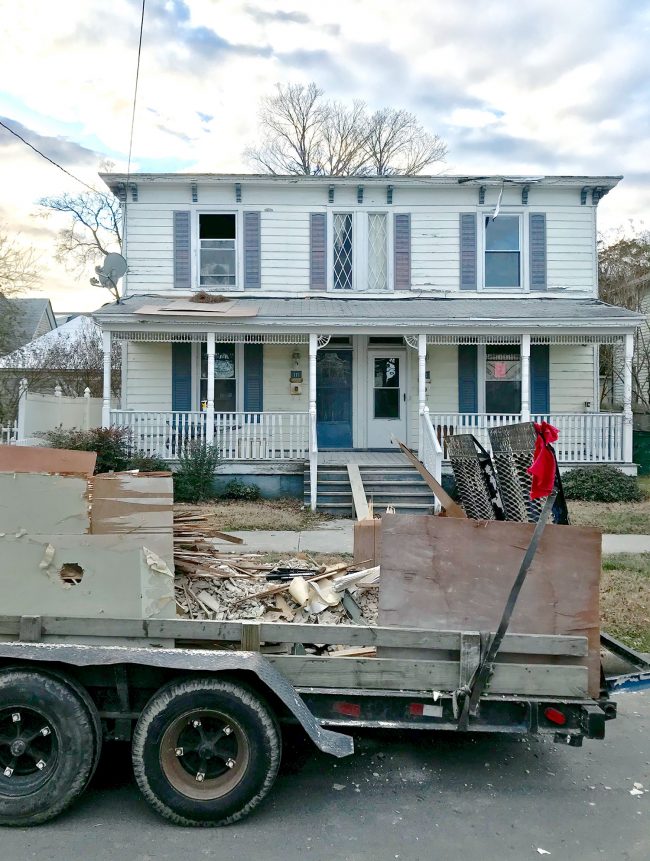 If you missed the full story of what's keeping us from going full steam ahead on the duplex, here's the aforementioned blog post about the whole ordeal.
Also, see that brown pile on the left side of the porch roof in the picture above? That's part of the squirrels' nest they pulled out of the HVAC system.
Below is a sneak peek at the demo progress. It was SO CRAZY to see the staircases like this (one for each side of the duplex) since they've been divided by a solid wall for so long. Of course that'll go back up (we're keeping this a duplex), but it was a lot of fun to see it all opened up. And we learned some interesting (read: scary) things about the condition of the house during the demo process too, so we're working on a full post about everything we found and our future floor plans.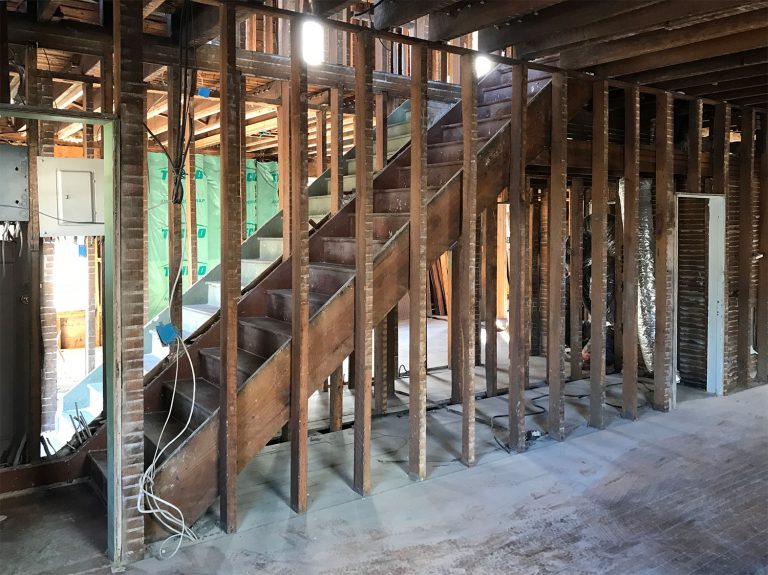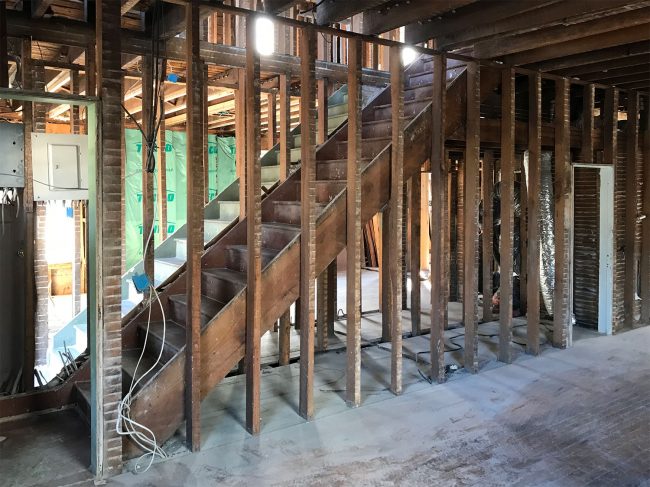 If you want to hear more about the tax incentive program we're taking advantage of in Cape Charles, we go into more detail about it in Episode #34.
Updates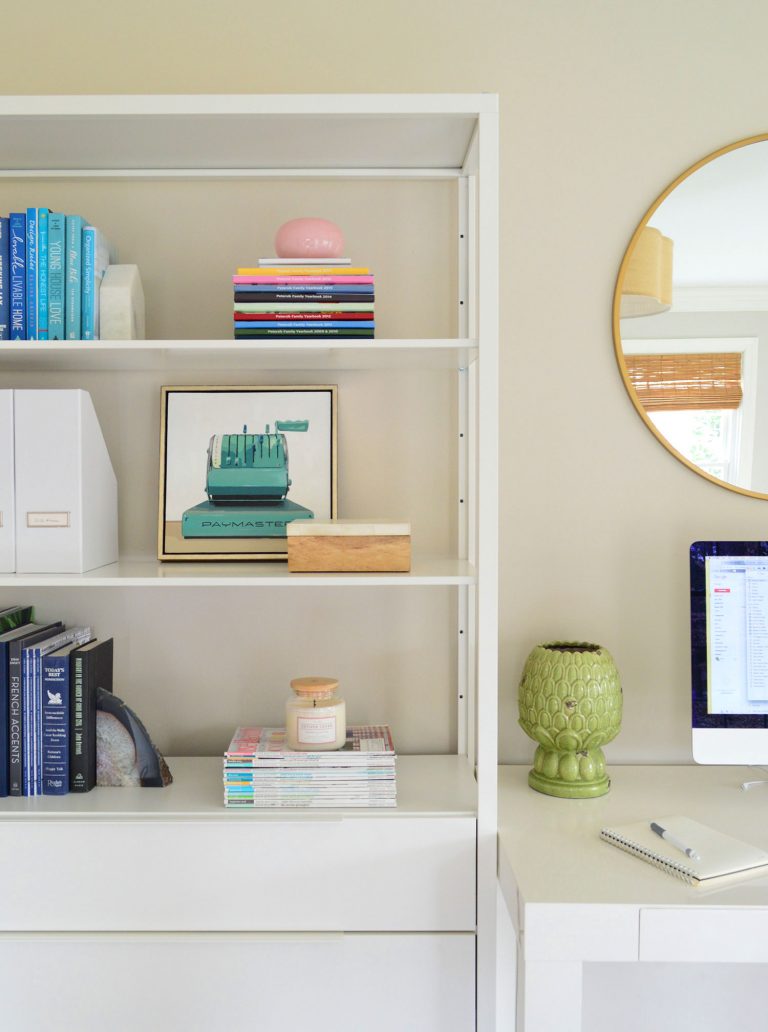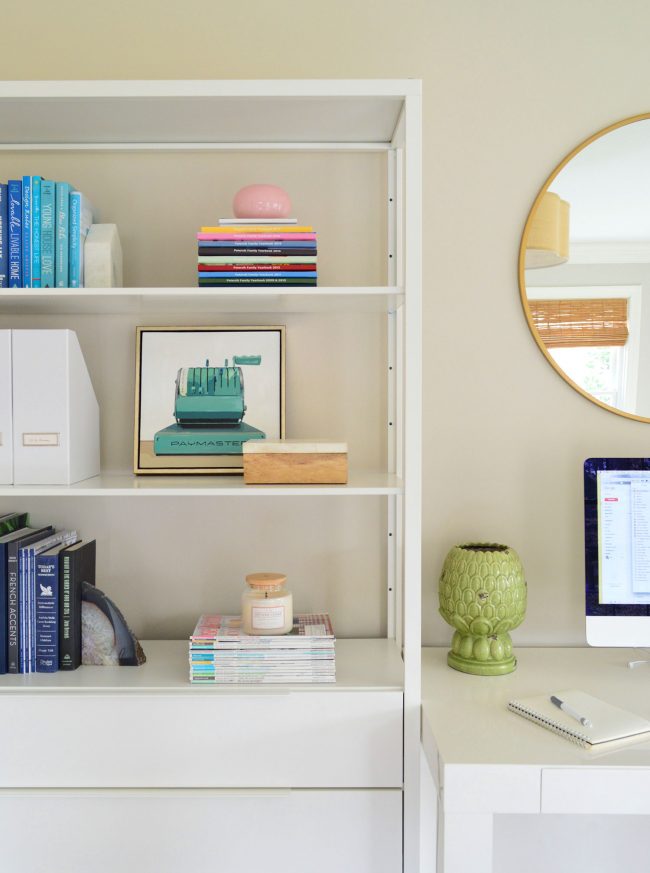 Above is a photo of our "2017 Family Yearbook" that we made using Blurb (as originally discussed in Episode #81) – it's the one with the yellow spine. I'm working on an actual blog post with some more info about the process, some photos of the interior spreads, and a detailed rundown of how it compared to MyPublisher (RIP).
Oh, and I noticed AFTER recording this update about our photo book that Blurb does have a trim area guide just like MyPublisher, but you have to manually turn it on under the "View" tab first – which is why I missed it.
To hear the original discussion of the weighted blanket that I got Sherry for Christmas, check out Episode #79.
Listener Question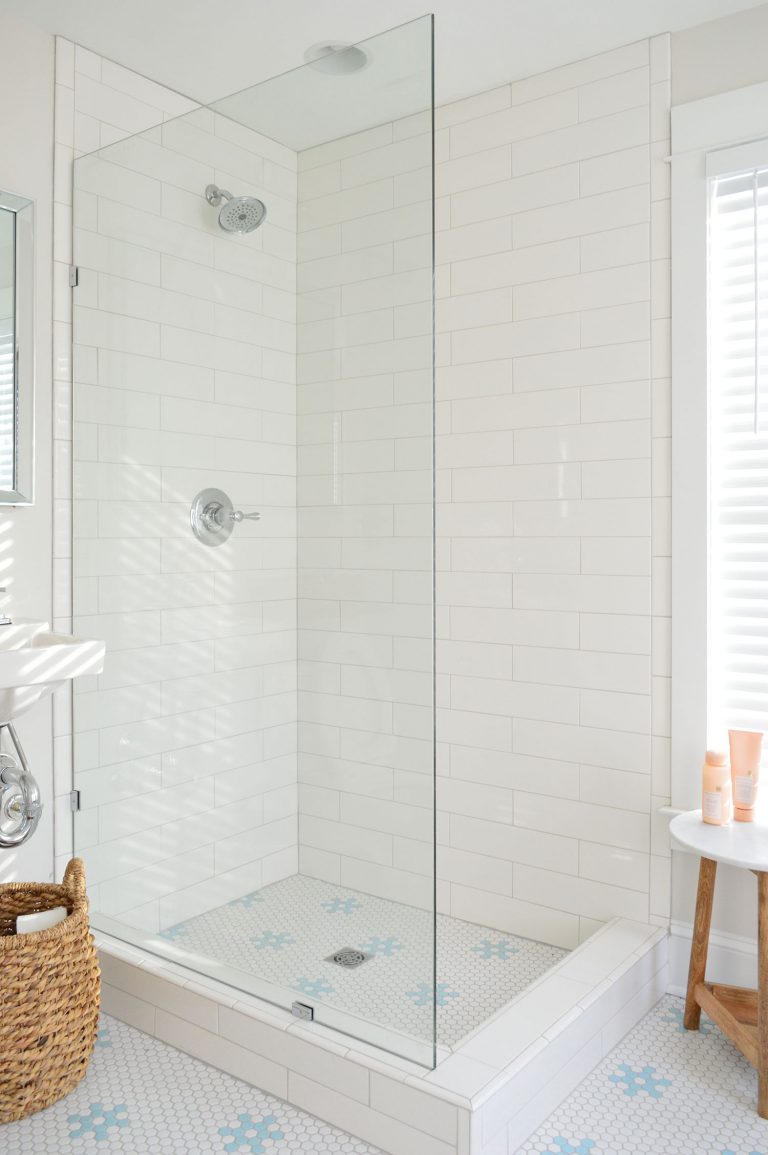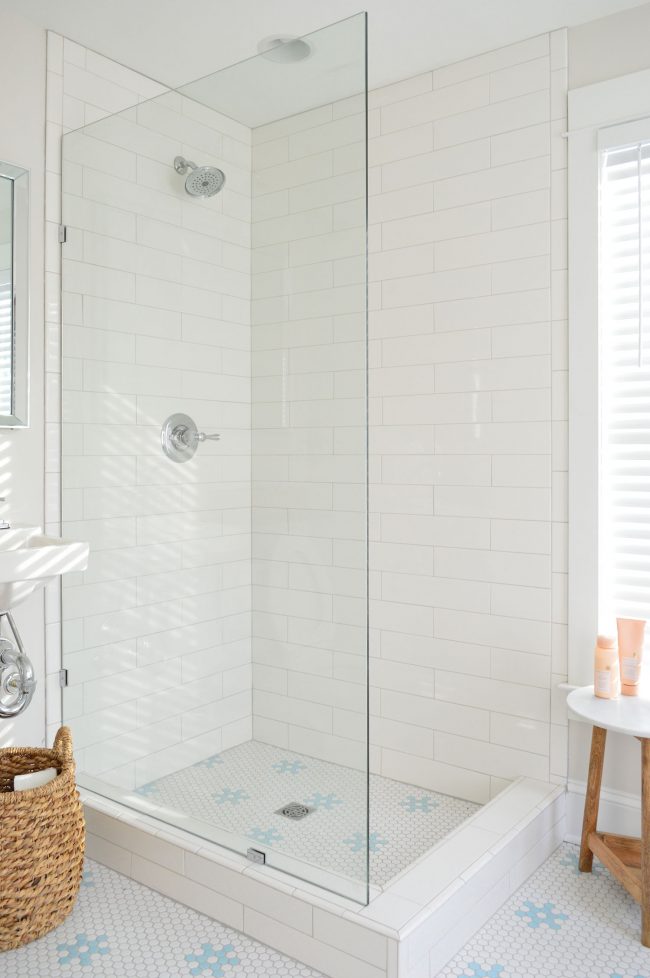 Pictured above is the glass shower pane we ordered online for the beach house's en-suite bathroom, which is probably the wildest thing we've had the confidence to order on the Internet lately. Also, for anyone wondering, the basket is from World Market (in store, couldn't find it online) and here's the link to the marble and wood table.
The other item we mentioned buying out of our comfort zone was the Haier fridge in the beach house pantry, shown below: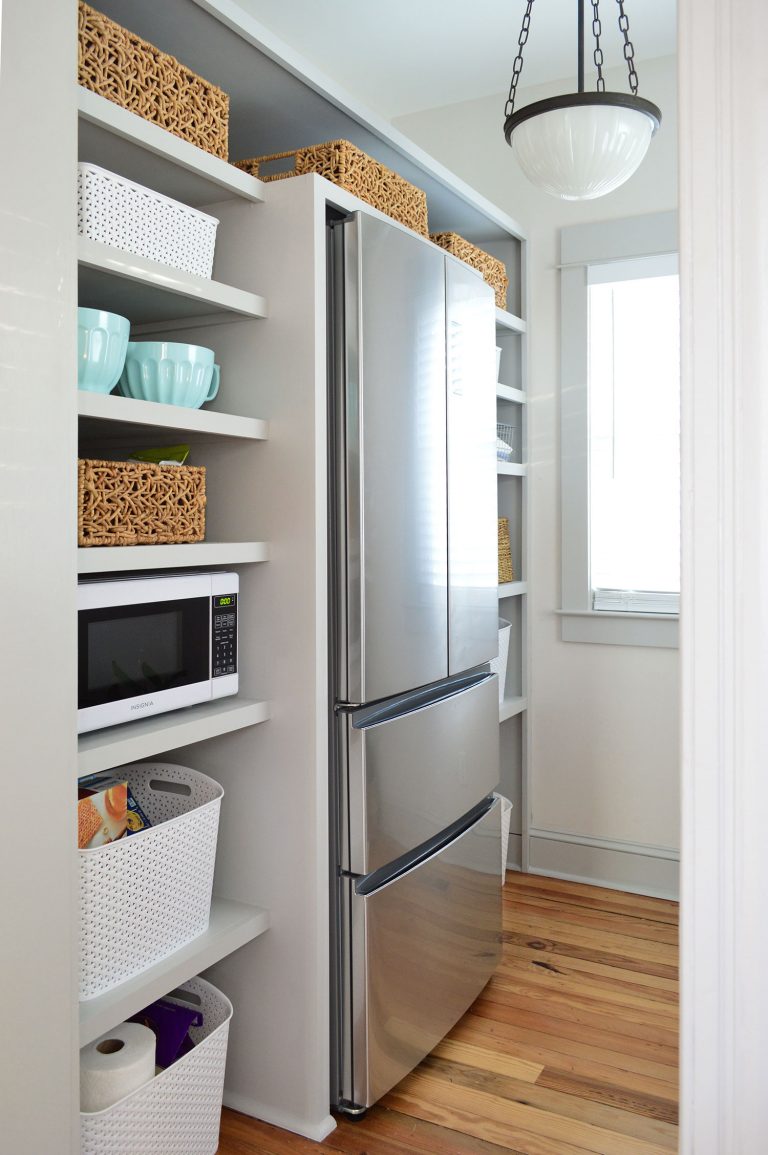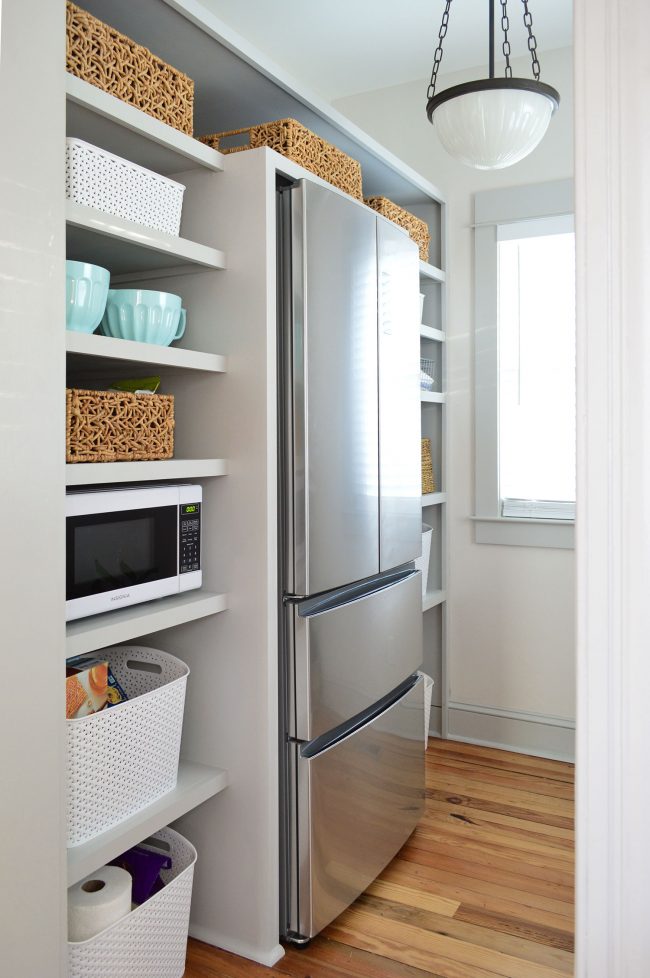 If you want to read more about our experience buying a mattress online, here's that post.
And it was in Episode #72 that we shared our hesitations about getting a couch online since we've been burned before. And here's a post about the one we ended up with from Crate & Barrel.
Also, below are two photos from the listing of our beach house nightstands that Sherry mentioned. You can see how each photo depicts a different undertone of the wood (both of these photos are from the same listing on Wayfair, yet the one on the left seems more orange and the one on the right almost looks peach). It was finally seeing it in another blogger's bedroom pictures that gave us the confidence to buy it.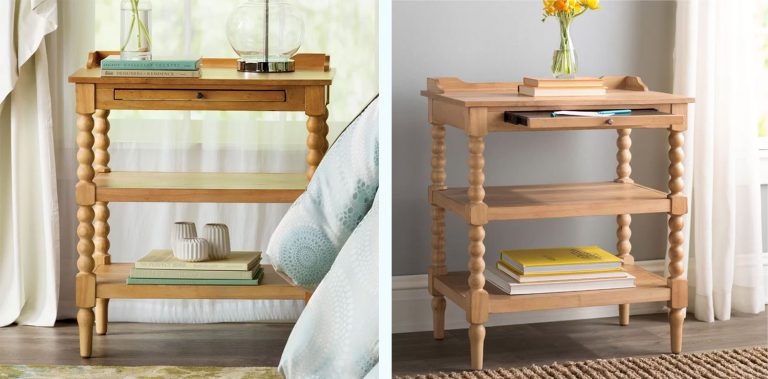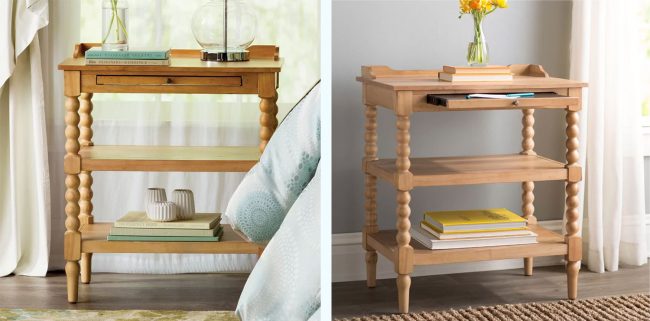 Here's a photo we took of that nightstand in our beach house this weekend, which we tried to make look as true to how we see it in real life as possible. We'd just describe it as a medium wood tone – not especially orange or peach.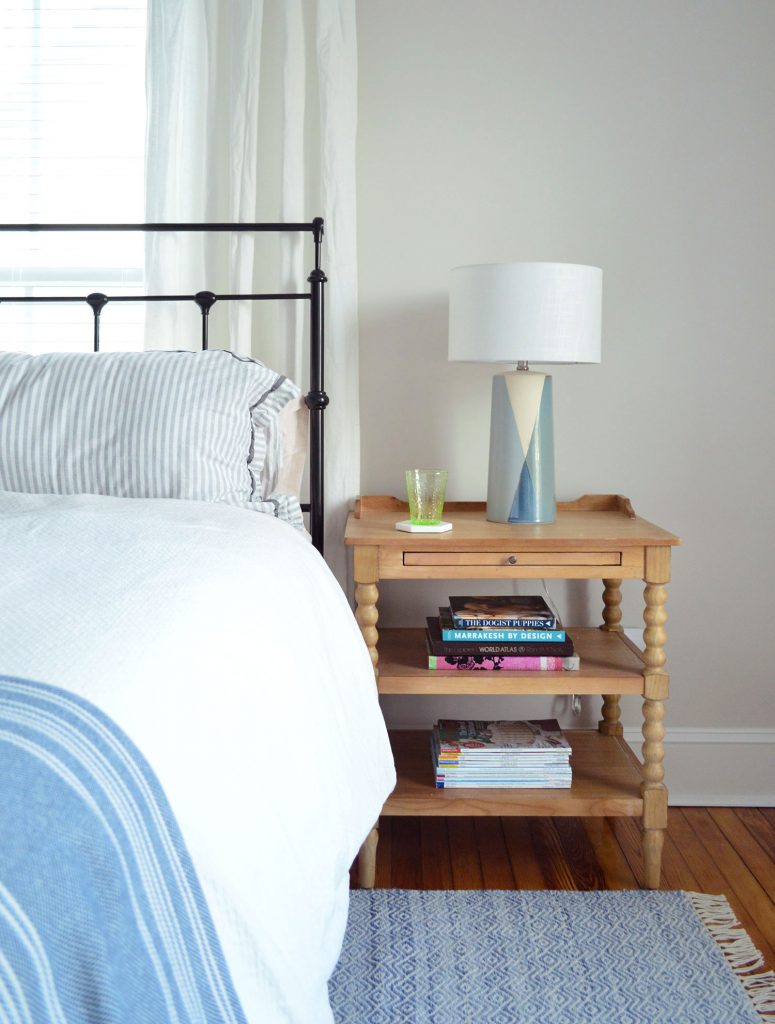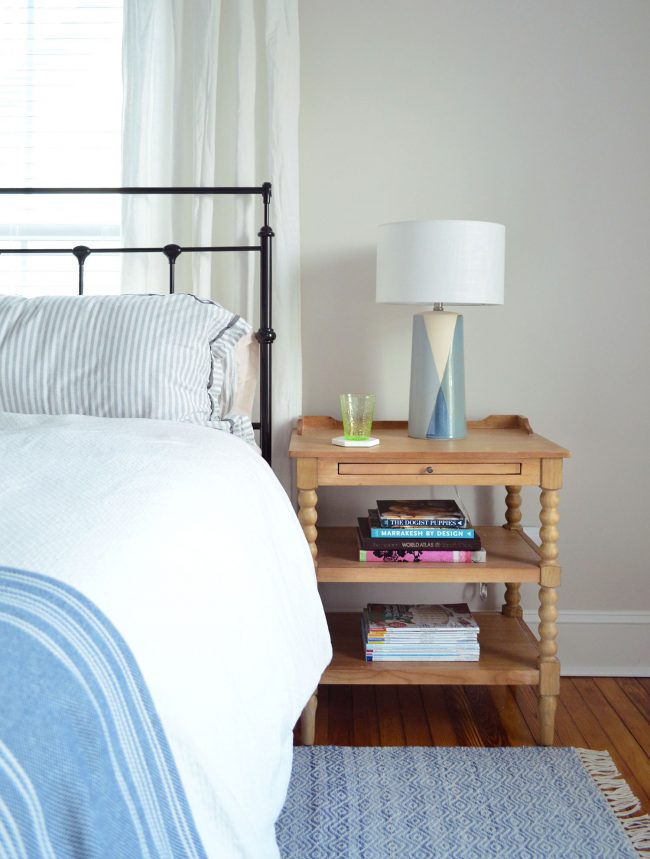 headboard / nightstand / lamp / rug / blue blanket
We're Digging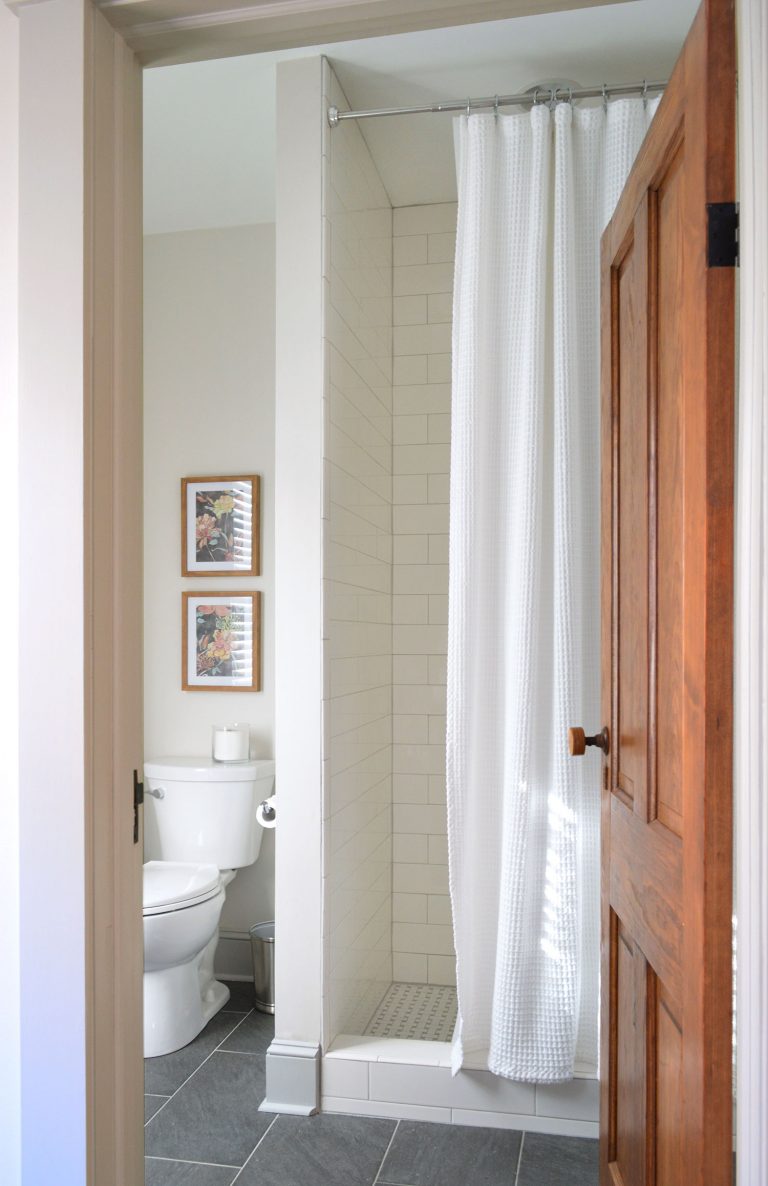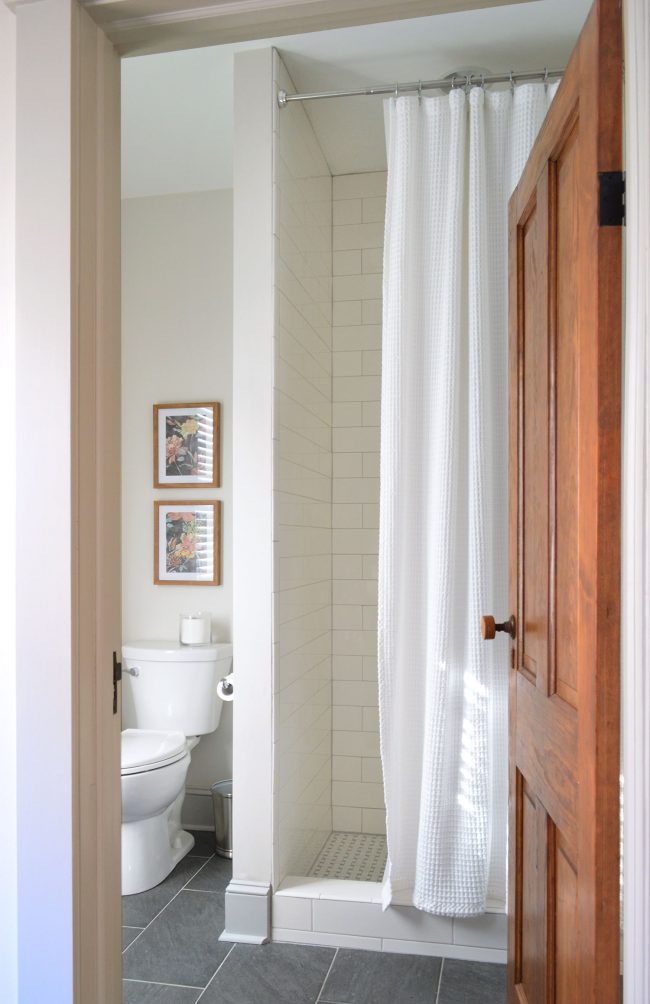 Above is the downstairs bathroom at the beach house, which has 9-foot ceilings. So we hunted down this extra long 8-foot shower curtain (96″ x 72″) and extra long liner. We have used them over the last few months and have zero complaints.
The next photo is of the upstairs hall bath at the beach house (sorry for the wish-it-showed-more photo, it's an impossible room to photograph). It has standard 8-foot ceilings, so we bought a 7-foot shower curtain and a 7-foot curtain liner. Standard ones are only 6′ tall, so the extra foot is such a noticeable improvement (makes the whole room feel taller) – we've been using this method for our own house for almost a decade. The links in this bullet and the previous one are to the exact curtains & liners we bought and have loved/used for months. Remember to wash them before hanging to account for any shrinking.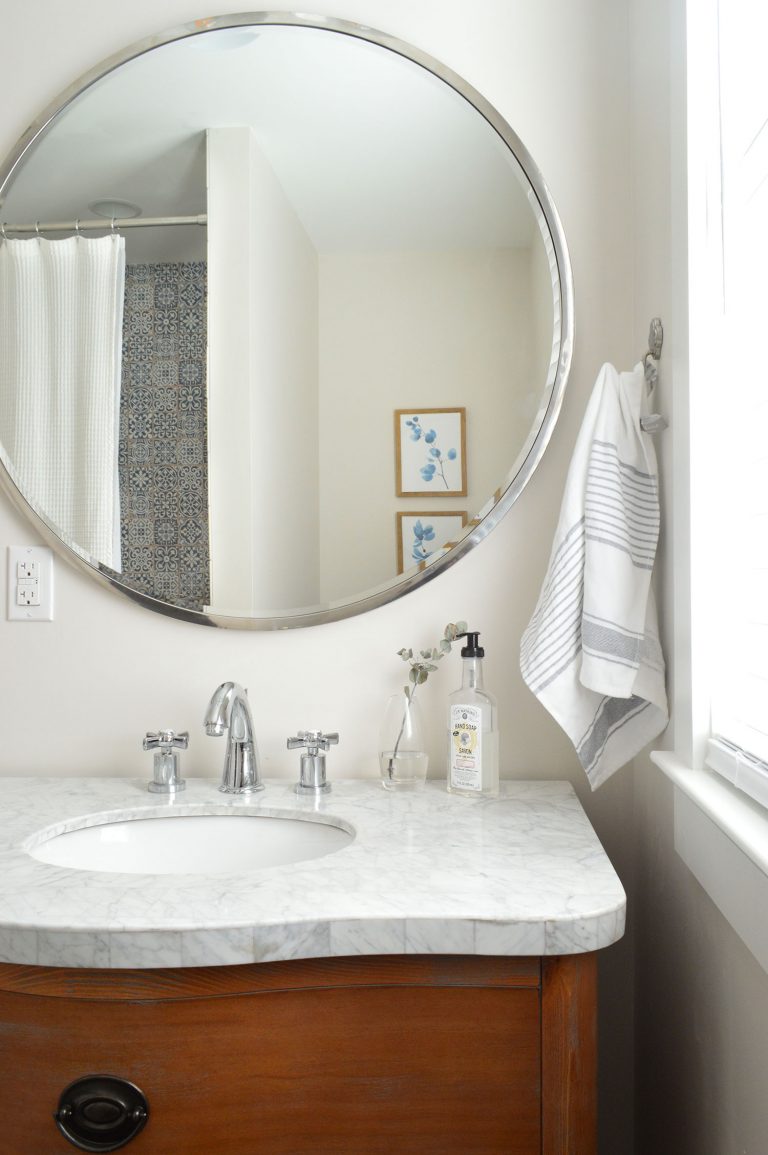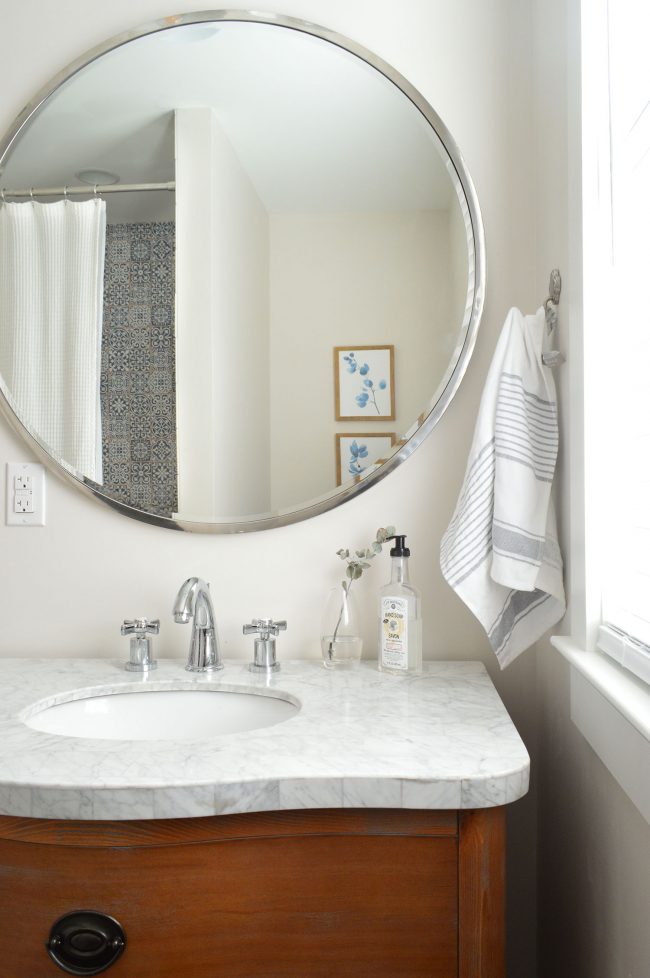 If you're looking for something we've dug in a past episode, but don't remember which show notes to click into, here's a master list of everything we've been digging from all of our past episodes.
And lastly, a big thank you to HANDy Paint Products for sponsoring this episode. If you've got a painting project coming up, we personally love the HANDy Paint Cup (with the little brush magnet) and the HANDy Paint Tray, which makes moving your roller around the room so much easier. You can find all of the bright red HANDy Paint Products wherever you buy paint.


Thanks for listening, guys!
*This post contains affiliate links*