This post is going to be full of photos, because I think they do most of the work in making a case for a house full of greenery. But like, easy greenery. That isn't stressful and that doesn't remind you of that emoji of dollar signs with wings. Because when things die repeatedly, it can GET YOU DOWN. Ask me how I know. The point is that I TRULY AND DEEPLY BELIEVE that nearly every single room in a home can benefit from greenery – it adds a splash of life and a gorgeous and vibrant texture.
So if you've got some low light spots that just don't allow anything real to live, and you're hunting for a good convincing fake that will never die, well, I've gotcha covered. And if you're looking for real plants you literally would have to try hard to kill… trust me, I'm well versed at killing plants, so I'm only going to list the truly hardy stuff.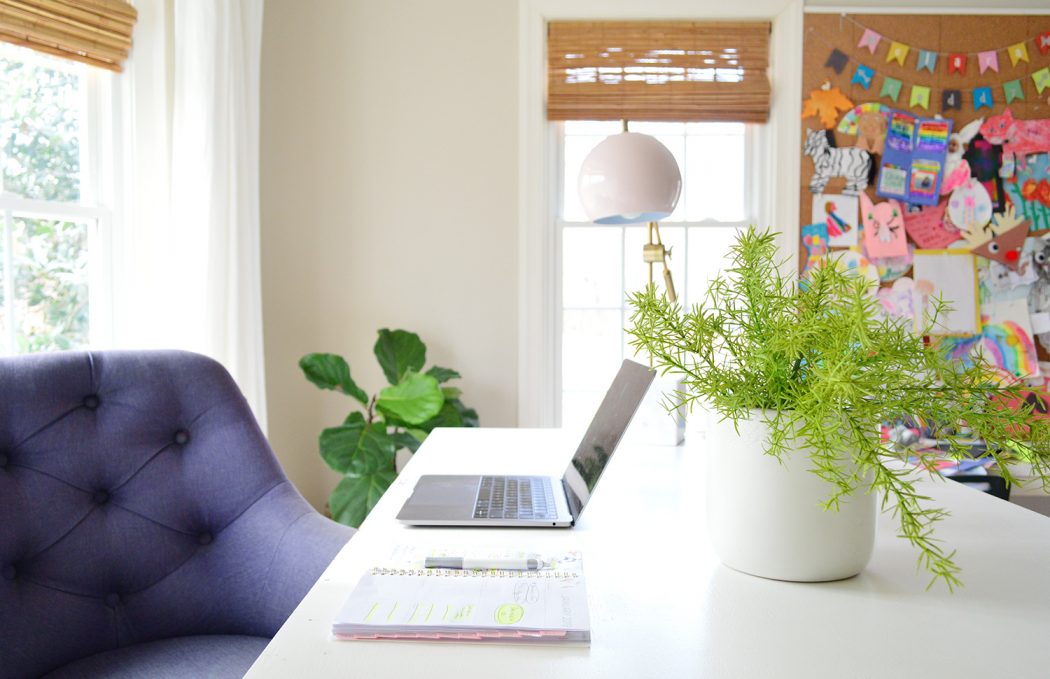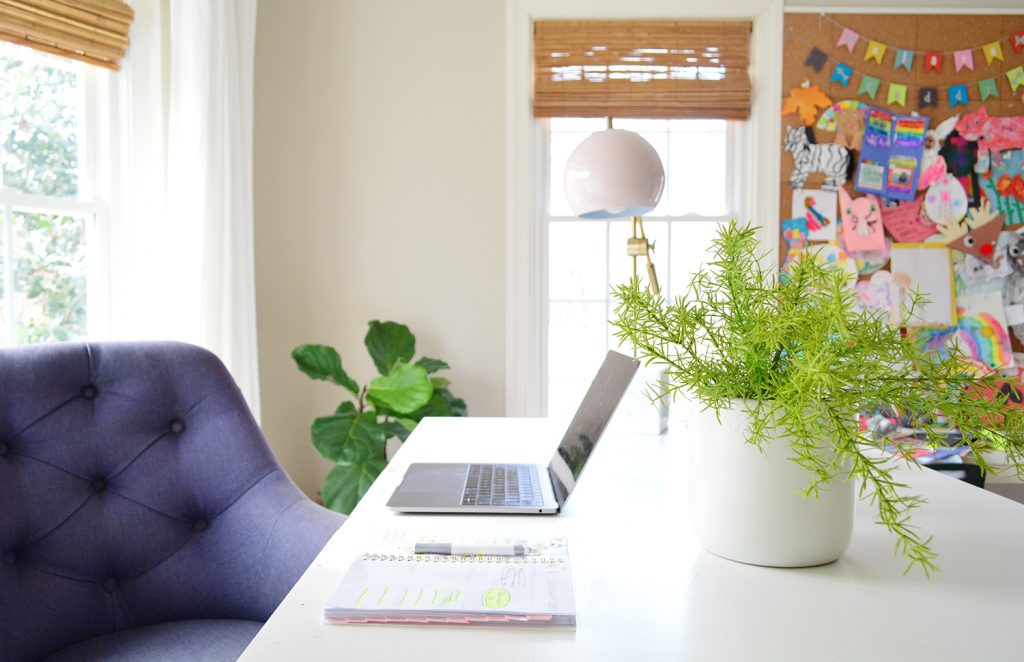 Exhibit A is this herb that will never die on my desk. That's right, it's fake. And I bought it at Michaels with a 50% off coupon (total spent: $7.50). I loved the soft texture and the tiny little feathery branches it has – and here's one of my tips. I saw it in person. So I could poke it and prod it and judge if the color was too blue-green or too yellow or whatever. And it convinced me. It's just as delicate as a real asparagus fern or an herb from the garden. But it's from Michael's and I paid for it once and it'll last forevermore.
Also, never buy a real asparagus fern. They die spectacular guilt-inducing deaths. At least for me. On the other hand, I have some other real plants that are SURVIVORS. Put them in matching outfits and call them Destiny's Child. They are all over five years old. Some might even be a full decade old! And here's the curveball: I completely neglect them. They're called Pothos and they just need a little water and seem completely unpicky about sunlight amount, which tends to be key for me.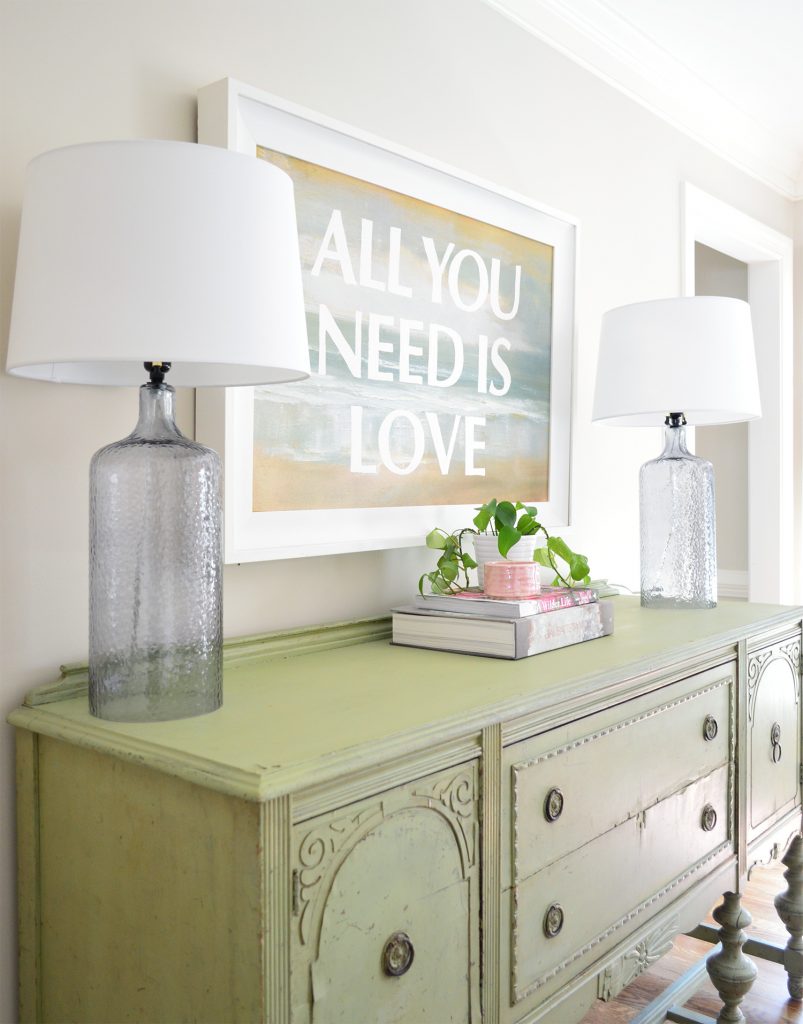 You can even clip off the long droopy legs (?!?!?!) – clearly I am not one of those green thumbs who knows all the plant terms – and then you can put them in water TO MAKE MORE FREE PLANTS (more on that here). So they're high on the hardy and hard-to-kill list for me if you want some real greenery. And real house plants have all sorts of benefits like cleaning the air, and making humans feel happier (that's legit backed by science, which is pretty amazing for something that you can buy for under $5).
Jumping back over to the dark side (aka: fake plants), I fancy myself a faux plant diva, in that I DO NOT PLAY AROUND. If something looks fake, I keep it moving. I have sent back faux plants I've bought online for not being good enough. And if someone messages me and says "hey how is the Ikea faux fiddle leaf fig?" I will very honestly say "I've seen it in person, and I don't love it – from far away it looks ok, but I've seen other fake figs up close that look more full and real for around the same price or even less."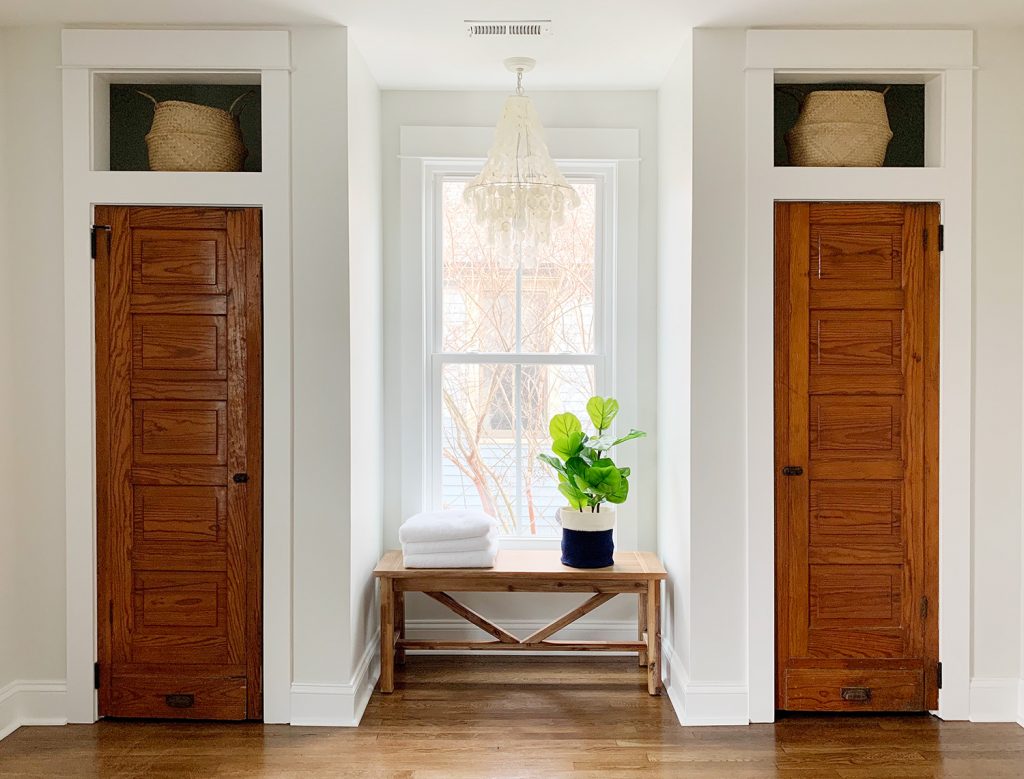 For example, I have loved these $39 faux fiddle leaf figs from Target (seen above and below), although I'm adamant that they need to be feathered out a bit. Just gently pull their branches apart so they're less smushed vertically. Real fiddle leaf figs have leaves that are almost parallel to the ground, so doing that helps with the realism. And adding a bigger planter or basket for them to sit in makes them look a lot more convincing and proportionate.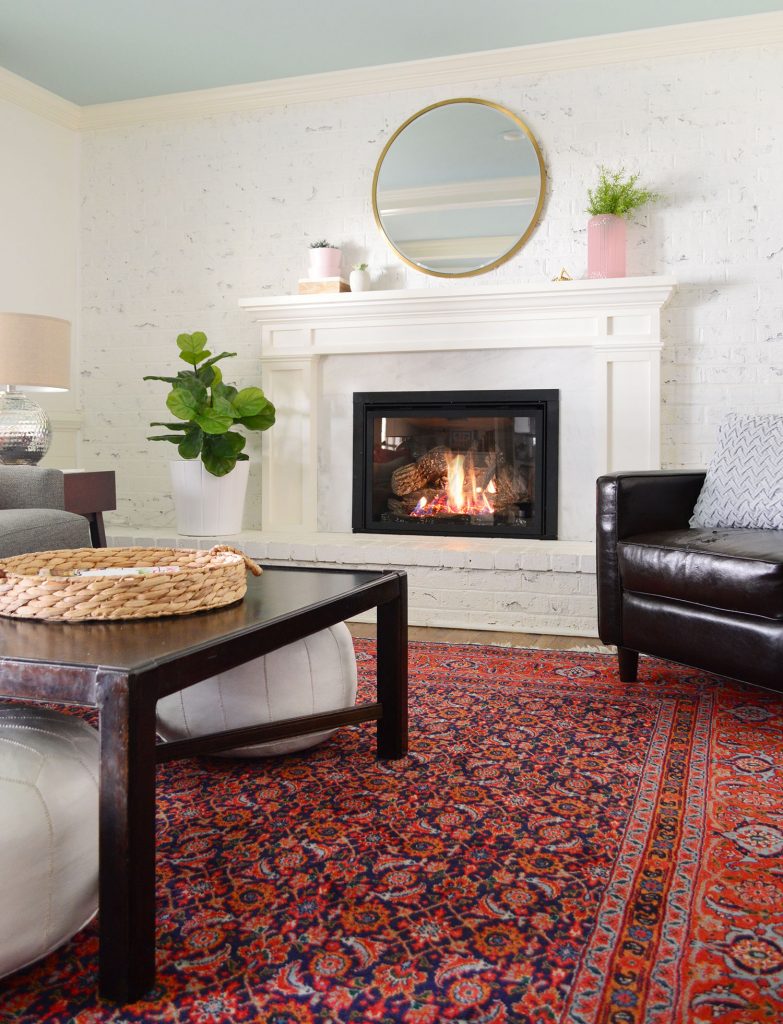 We have these faux figs at the beach house and the duplex, which are vacant for many weeks at a time (so real plants aren't really an option except maybe for some succulents that I might add) and I also have one in our living room above. I kept trying to get real figs to live in that corner of our living room and it's just too dark. I probably killed three before I faced the music that it was "faux or nothing" in that spot.
It's also really nice to have one up in the bedroom between the windows since the sun shines further into the room, but doesn't really hit that spot on the floor much, so real plants kept getting stick-like after a while there. They were trying to grow towards the light so they'd end up looking really long and floppy as they basically dove in slow motion towards the window.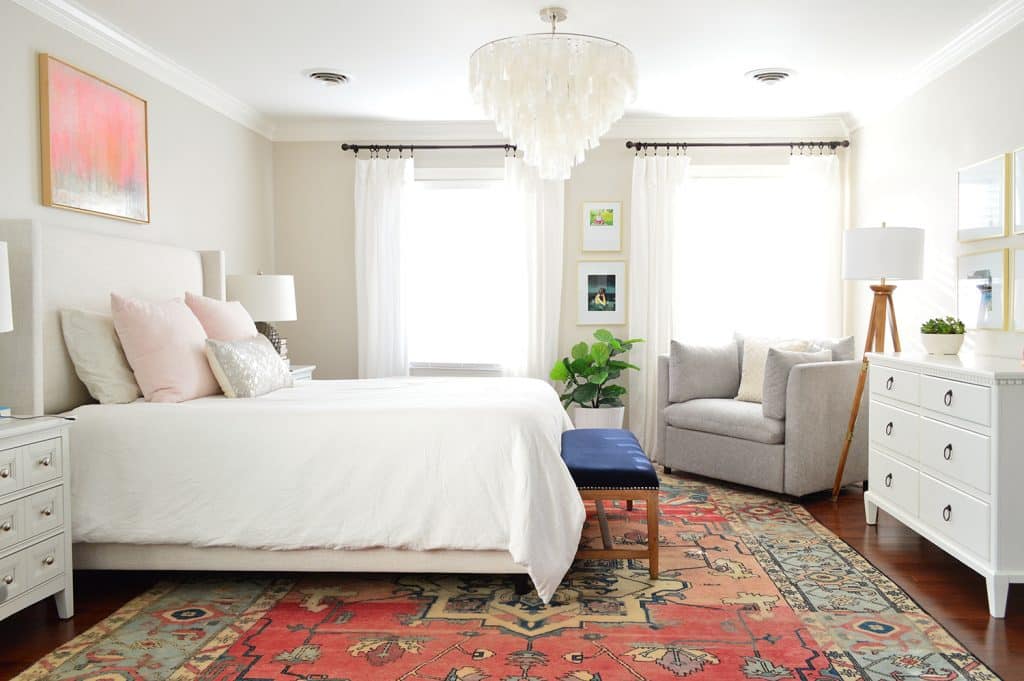 But let's bounce back to real – and SUPER EASY – greenery for a second. These branches have been in two bouquets I have received in the last few years – and they are like mutant plants from Planet Neverdie. From a decent amount of googling I believe that they're called Ruscus (specifically Isreili Ruscus I think) and THEY LAST FOR MONTHS! If I'm wrong, someone who is a plant expert DM me the name because we all need to know what these are.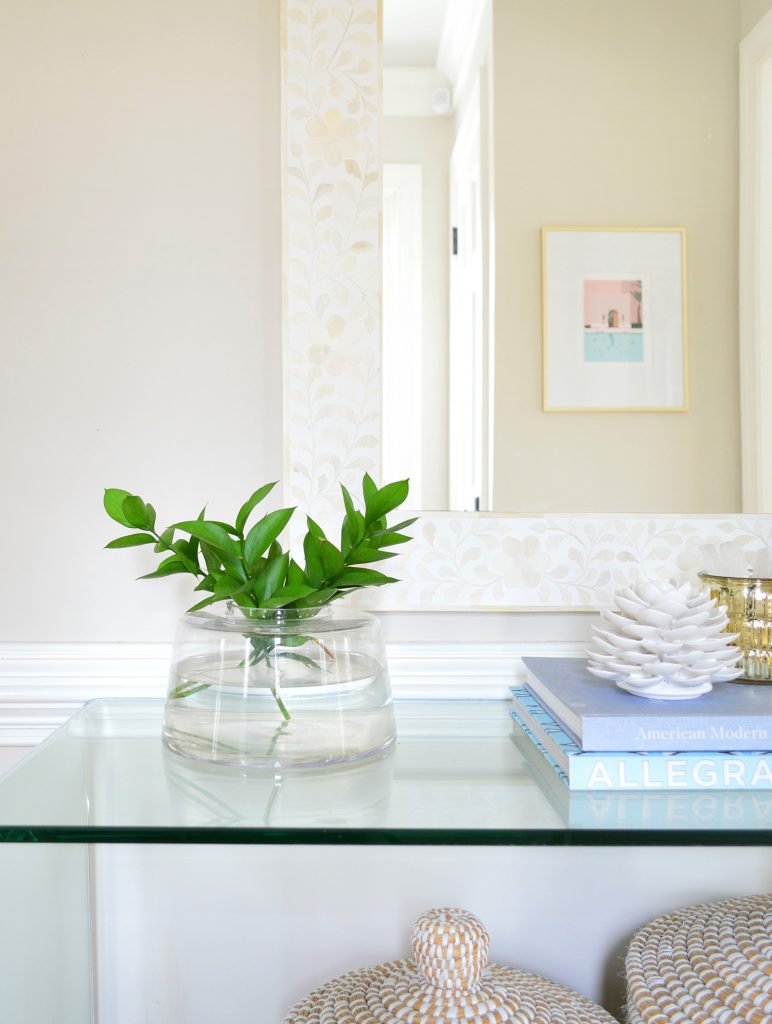 Saying they last for months sounds like I'm exaggerating and you might think, ok maybe one month… but I have had them last for OVER THREE MONTHS! I do not do a thing except put them in water and watch all the other flowers and cuttings around them die as they live on for literally a full season or more. I probably change the water once a month if I remember.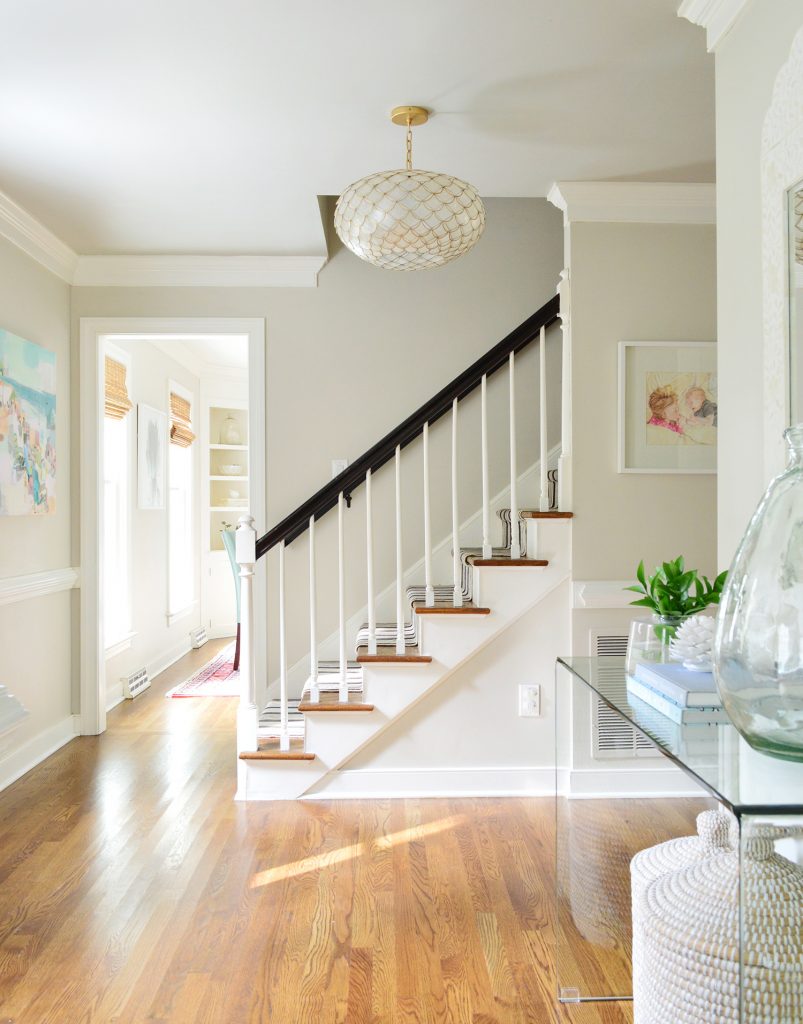 These are the same thing in the photo below. Just really great greenery that's real long-lasting, but REALLY LOW MAINTENANCE.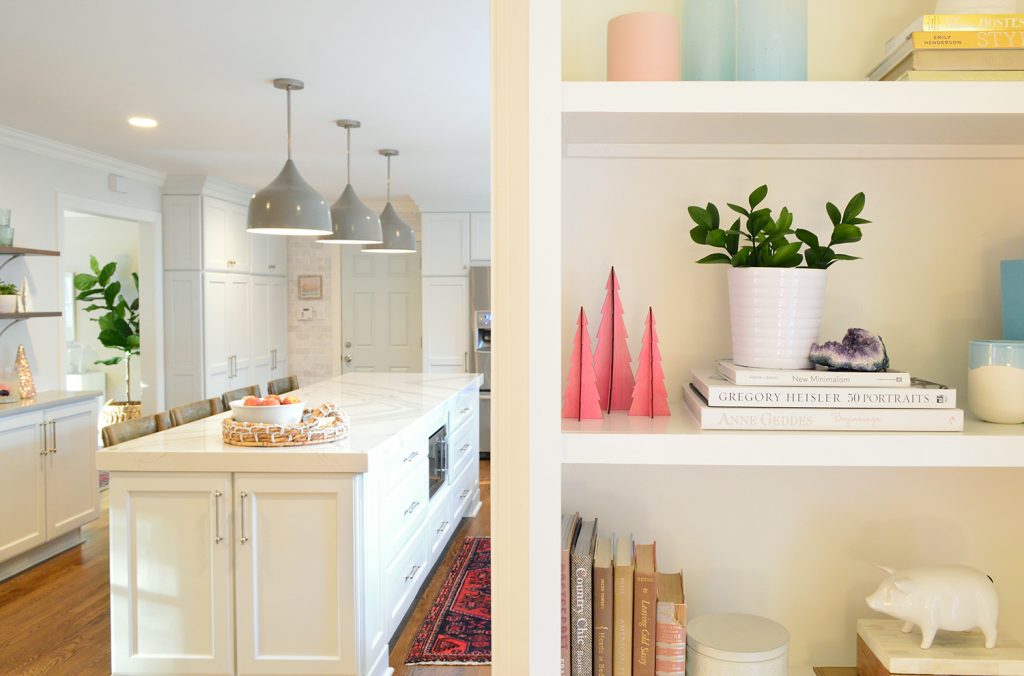 Oh and see that big faux fiddle leaf fig in the background of the photo above? That's from Target a while back when they made these tall ones as part of the Opalhouse collection. I hope they bring them back because they're GOOD. Like my-mom-has-watered-them good. If you're looking for a big fiddle leaf fig like that one, I've seen this one in person too, and it's great.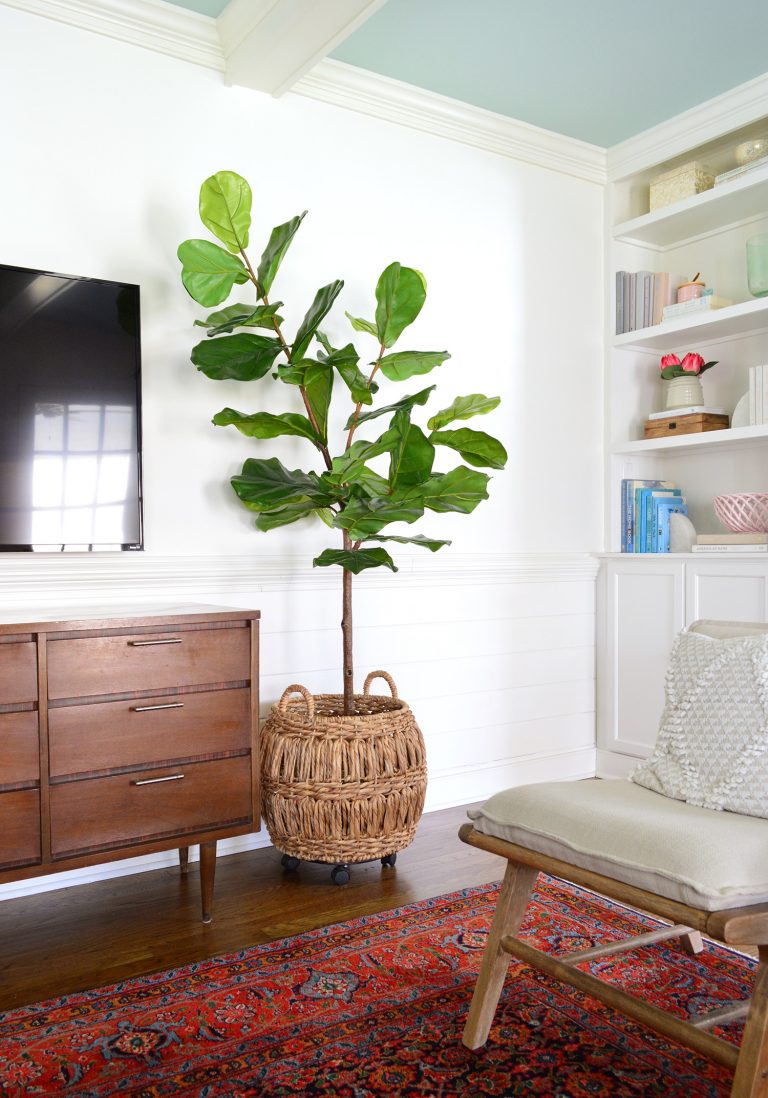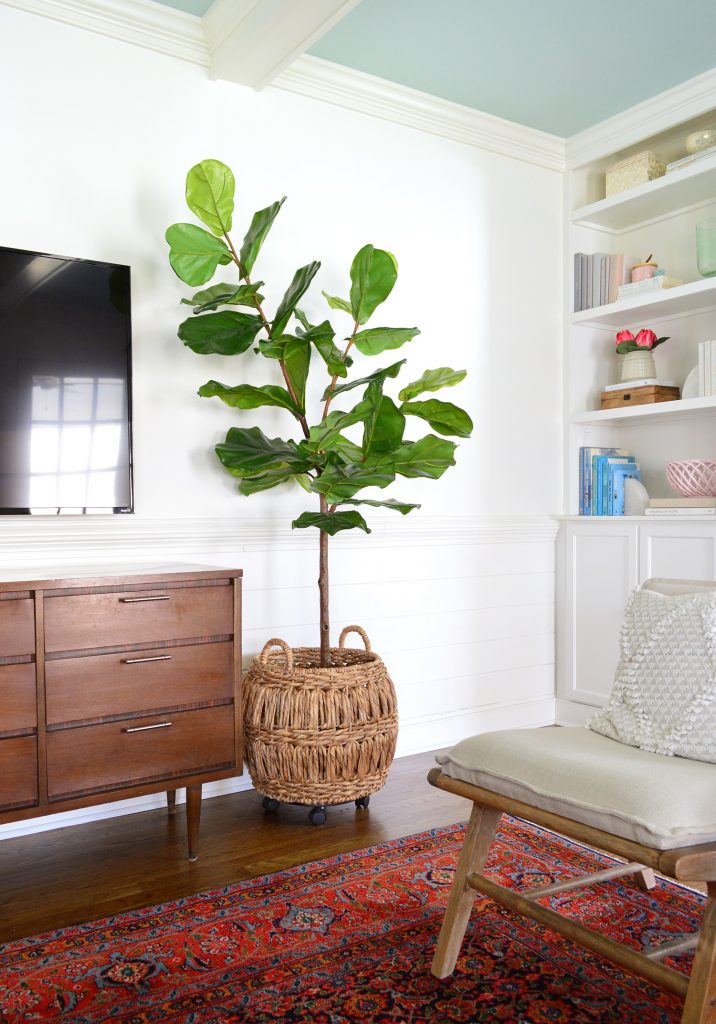 Sidenote: I get asked all the time if you put something into a larger pot, how should you deal with the extra space between the small original pot and the larger planter or basket you use. I have three ways I deal with it:
1) I leave it – real potted plants might be placed in a larger basket and there's no shame in that game, it looks fine
2) I add dried moss from a garden center – you can get a whole bag of it for cheap and just shove it in there (see my picture below)
3) You could also add something smooth and pretty like white or black river rocks in there – I've seen this look great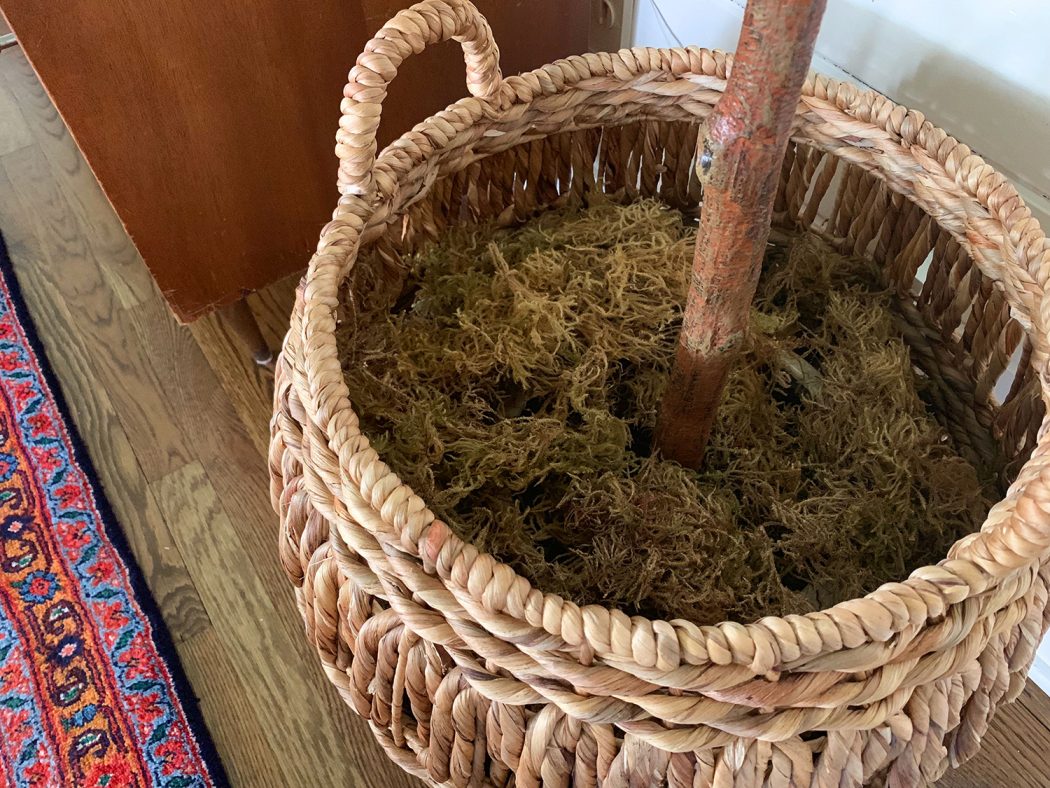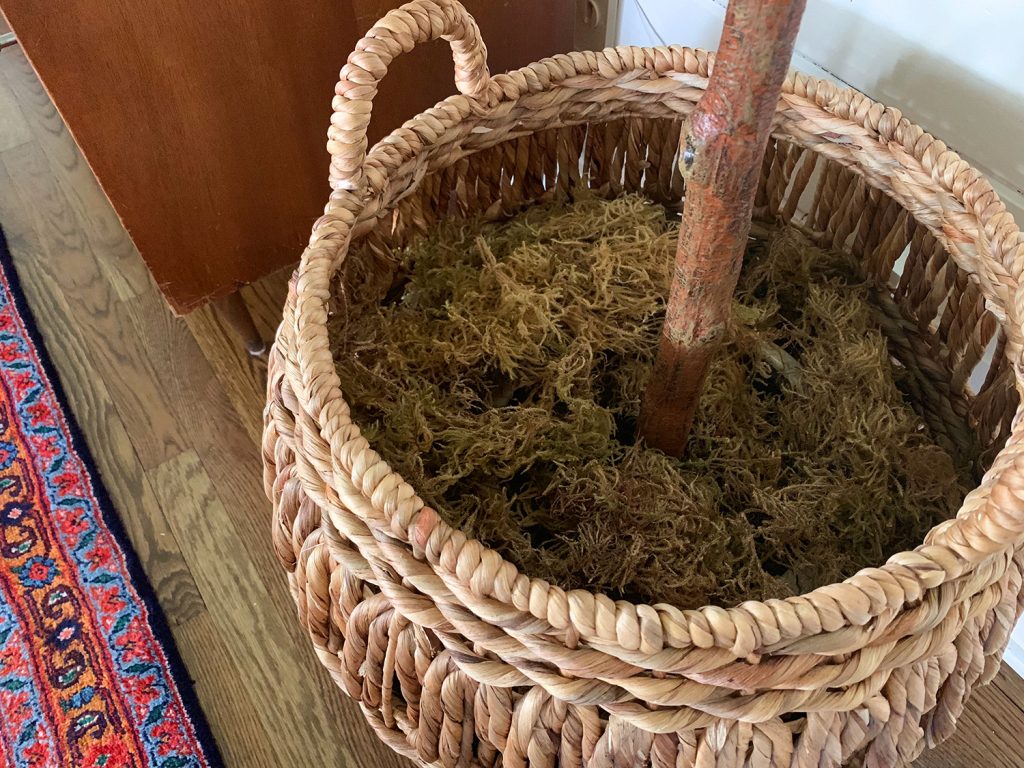 You might be wondering, but where can she keep a real fiddle leaf fig alive? And the answer, after living in our house nearly six years, is: One. Freasking. Corner.
Yup, just one spot, in the corner of the office, gets enough light to keep a real one happy. So you can see it here in the background of this picture. I find the fiddle leaf fig to be a SUPER EASY PLANT to keep alive. BUT YOU NEED ENOUGH LIGHT. So like, 99% of my house = not enough light. So it would die in literally every other corner. I have killed MANY.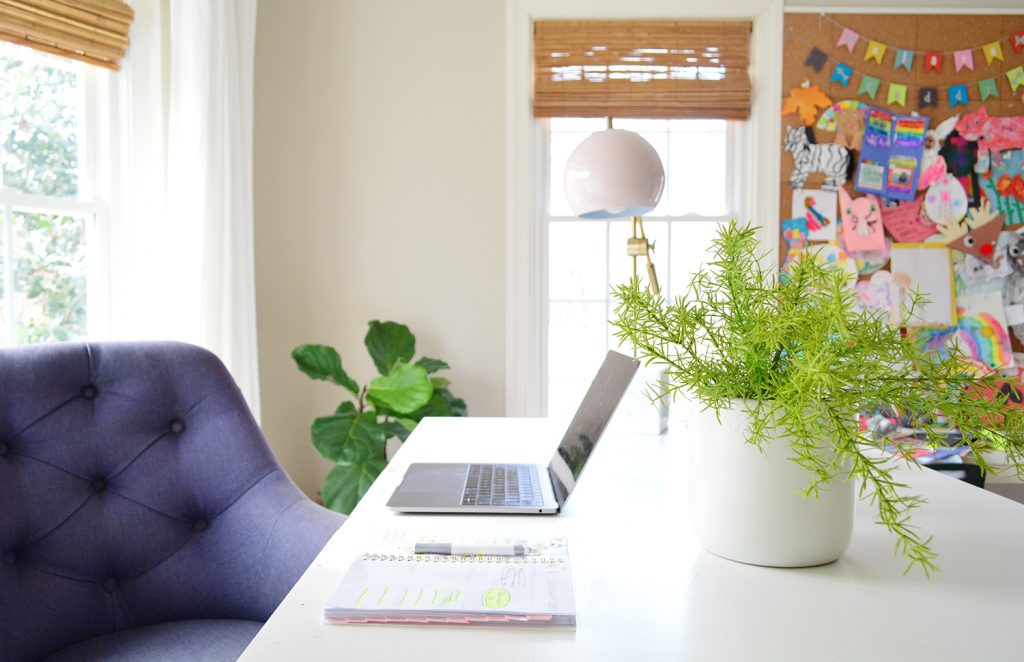 This corner though, equals enough light, so this thing is older than my four year old. All I do is completely ignore it, except for dumping one big glass of water into its soil every 9-10 days or so. When the leaves look droopy I dump the water on it and it perks right up. That's it. But again: super sunny is the key to the equation. Otherwise, don't mess with real fiddle leaf figs.
I also REALLY love real eucalyptus, and I grab it when I'm across town at Trader Joe's (they have THE BEST GREENERY and it's SO CHEAP!). It smells great and it lasts a nice long time – you can even dry it and have it forever, although I find that it can start to fall apart and it gets sort of a dusty-gray tone after a while. So fresh is my jam over dried (I also just discovered there are Etsy shops that will send it to you fresh). And in some spots where I want the look, but zero maintenance (aka: the beach house & the duplex) I'm a big fan of these $5 Ikea fakers. Yup, that's a fake stem from Ikea in that "vase" below: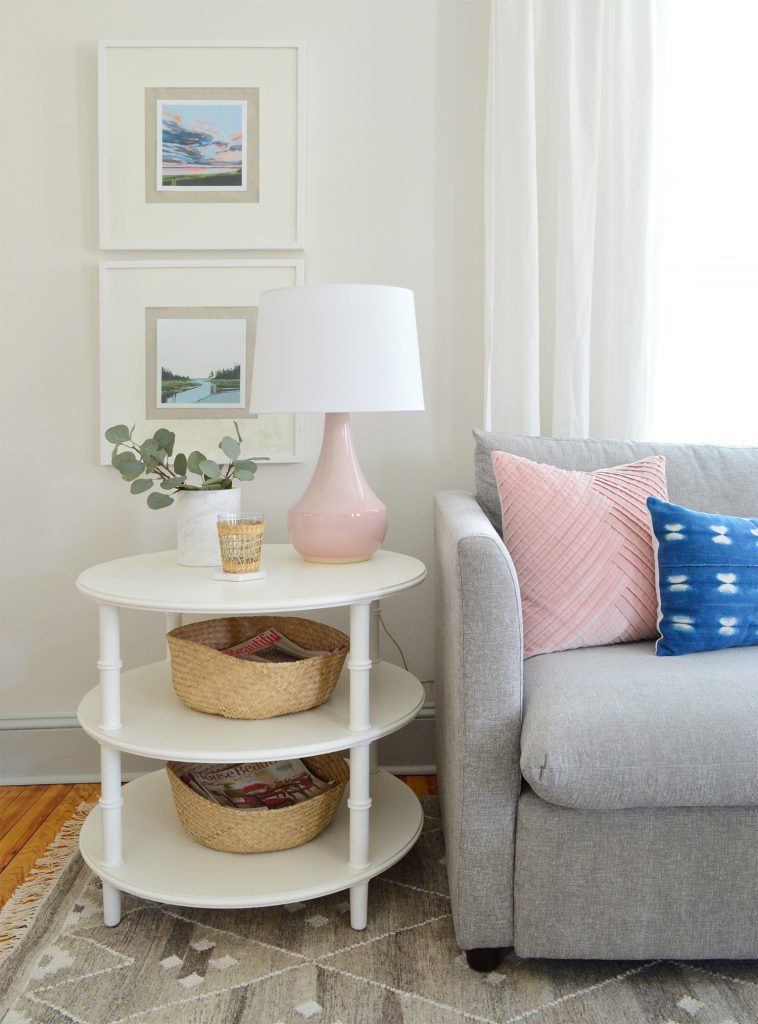 I put the word vase in quotes, because the container from the photo above and below is actually a marble utensil holder, and I love it so much for faux stems since it's not great at holding actual water, but it looks amazing with a good fake stem or branch. I've bought like three of them to use as vases around the beach house and our own house – and I may or may not have picked up two more for the duplex. Hey, when it's love, it's love.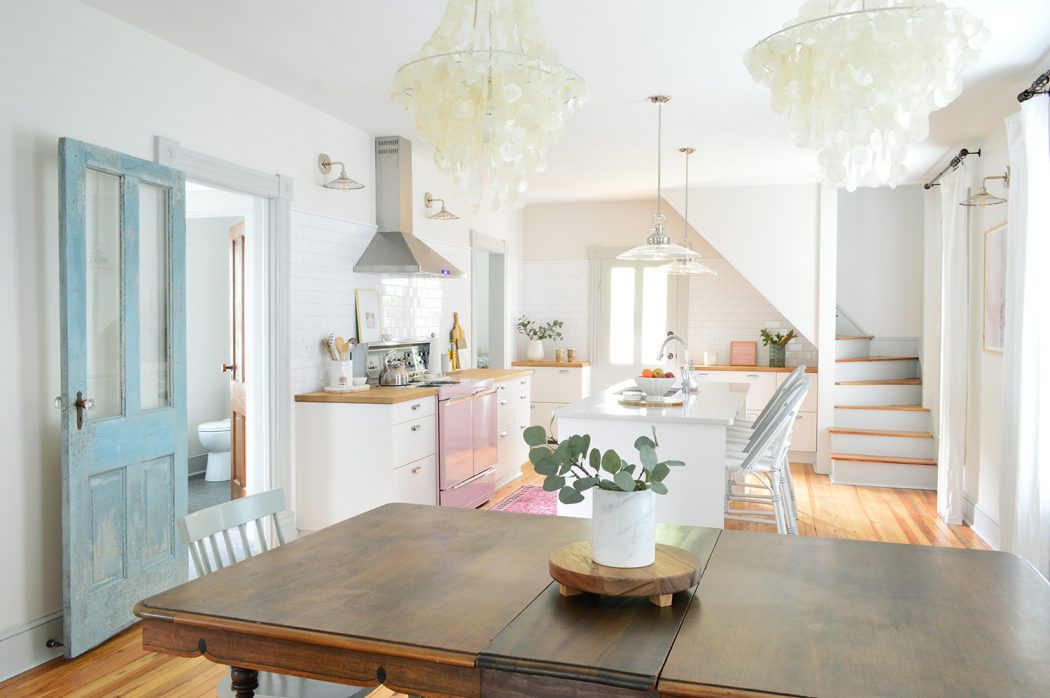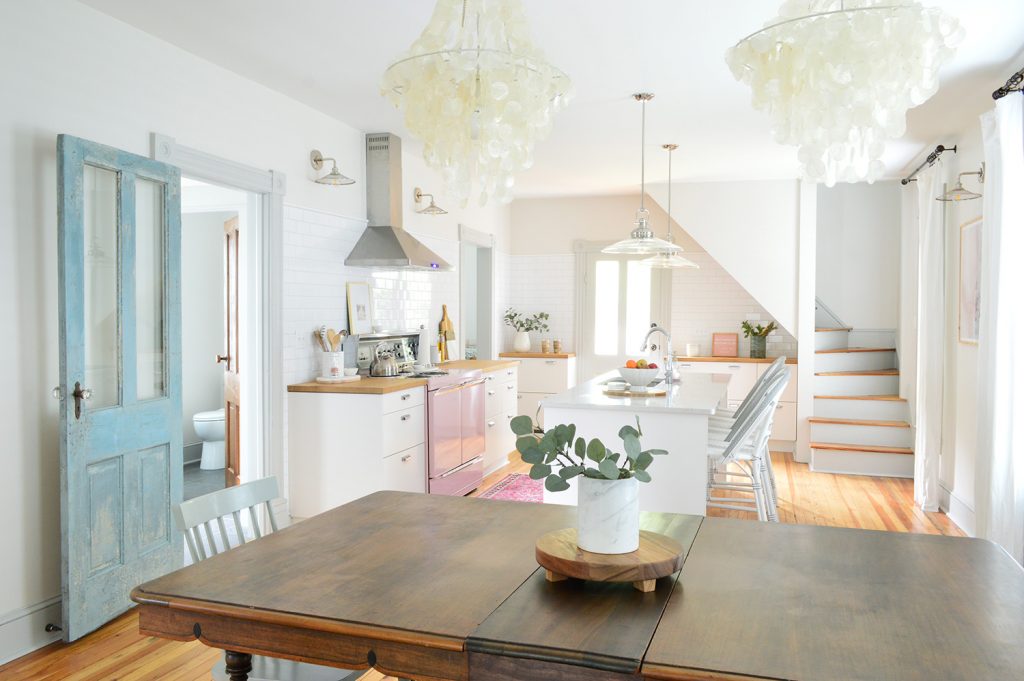 And yes, that stem in the photo above is another Ikea faker. The one key to those is not to bunch too many together. They actually look a lot more convincing and like real eucalyptus if they're splayed out and not too crowded together if that makes sense.
Bouncing back to the real plant realm, aloe (along with other succulents) can be extra easy. It literally needs nothing more than a tiny splash of water once every two weeks or so. I love the little pink pot this guy is in (from Ikea a while back – but here's a similar one) because between the greenery and the cute pot, it definitely cheers things up. Plus aloe is known to be one of the better air purifying plants. Score.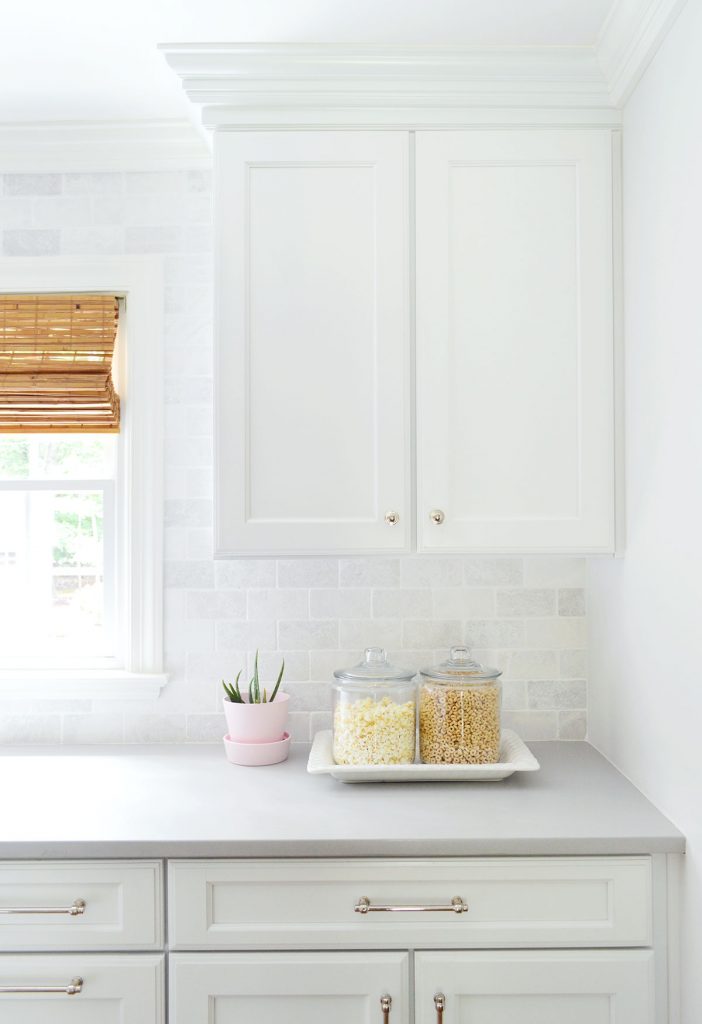 Meanwhile in our completely window-less and natural-light-less laundry room, we have a faux succulent. They're usually some of the best fake options since they can look extremely real for some reason (maybe it's the thick rubber-y leaves that real succulents have?). I've had this faux one for probably a decade (found it at HomeGoods forever ago) but these two look similar and have good ratings.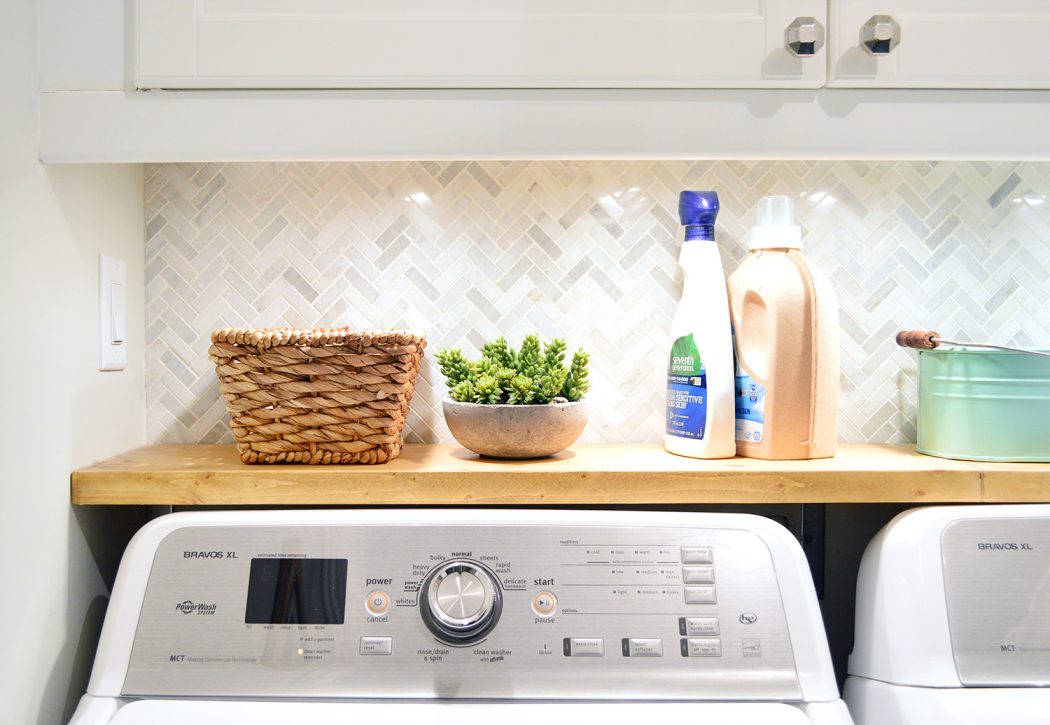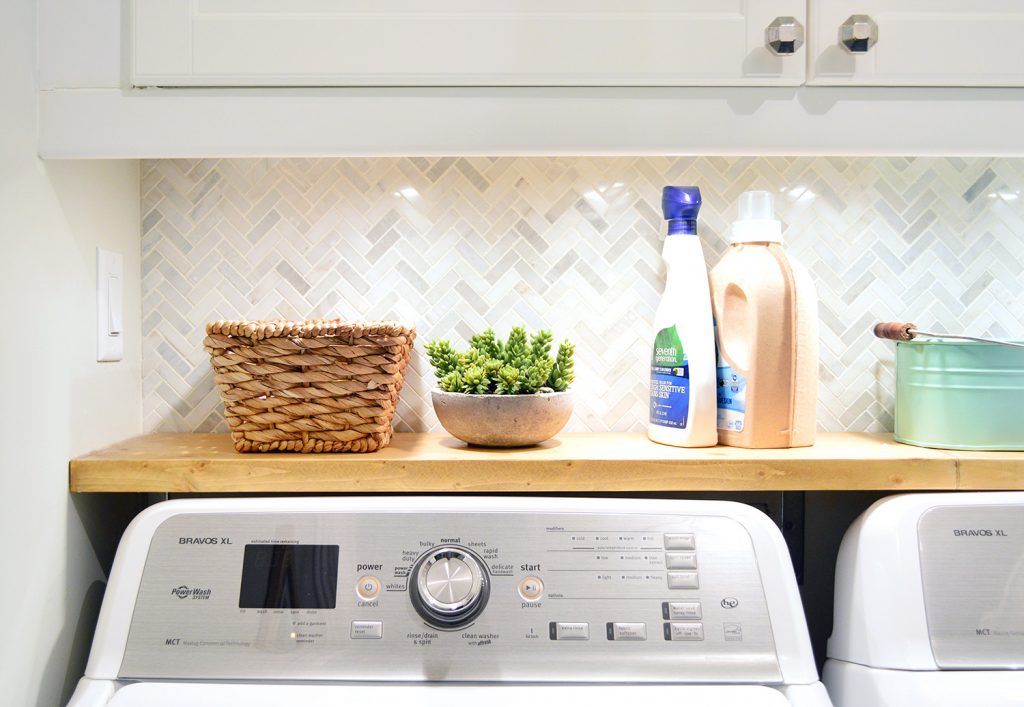 This one below is another HomeGoods find from eight or so years ago. Yup, it's as old as my oldest child and still going strong. One tip I have for you is to hit a garden center and buy a pot you love (maybe an understated concrete one, or even a bright colorful one that makes you smile) and then hit a store like Michael's and grab a few succulent stems that you can "plant" in the pot. You can even use real dirt. Literally nobody will be able to tell the difference – especially if you pick the succulents out in person and grab only the most real looking options.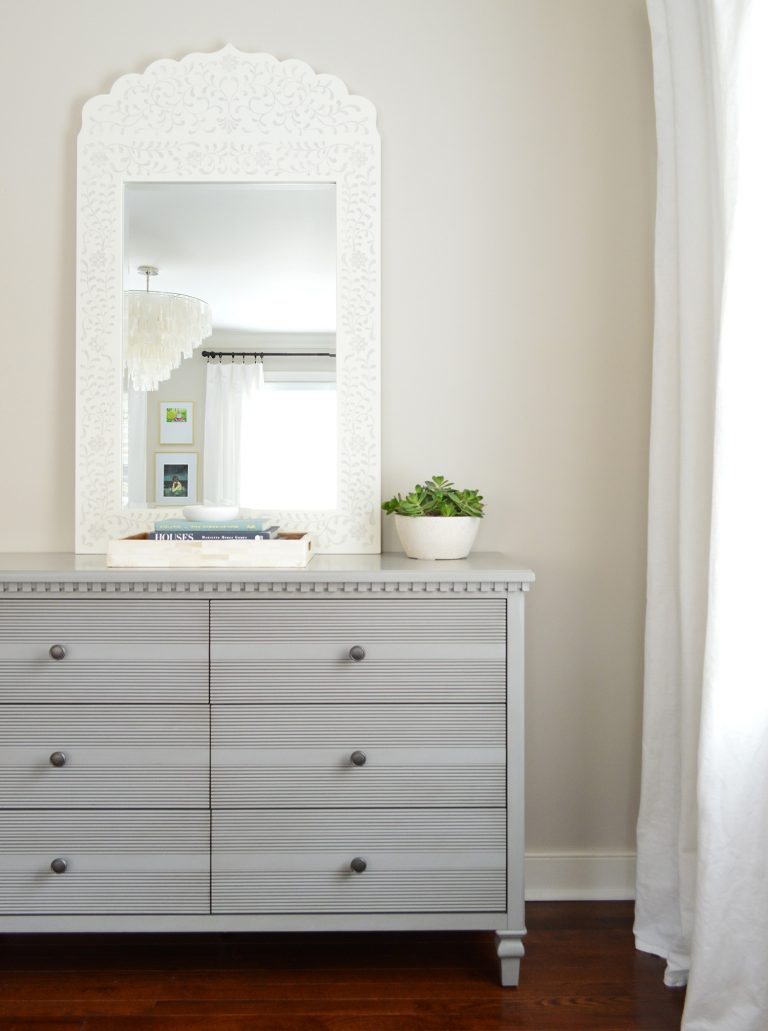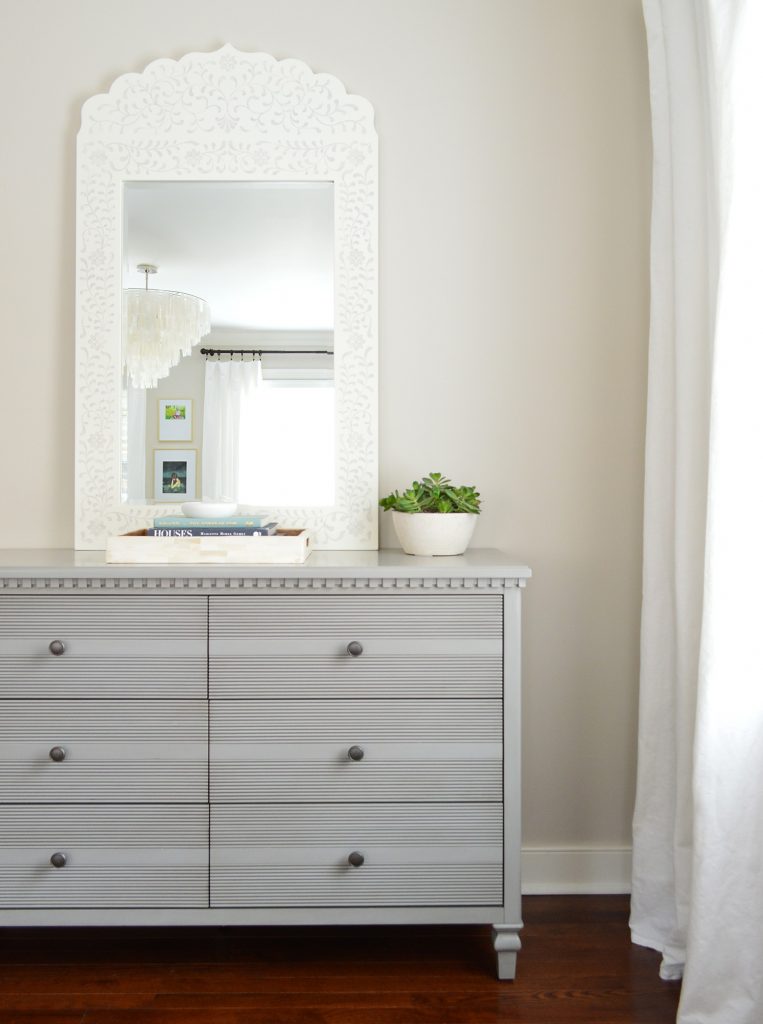 That's actually what I did here, with another pink pot from Ikea – I took these little faux succulents from Michaels a few years back and just shoved them in there. It's very convincing, and I love that they're next to my ceramic succulent candle (from Anthro ages ago). Do I love plants or do I love plants?
Also, I get the "how do you dust them" question a lot, so my favorite method is actually just a feather duster. I do it before I vacuum like twice a year when I remember, and it just tosses some dust on the floor and I vacuum it up. I figure every single item you put on any surface of your home needs dusting, so it's not really a big deal to run a feather duster over a real plant, or a fake one.
I haven't really talked much about faux flowers and it's because I think they're harder to find when it comes to being truly eye-trickingly-realistic. Sometimes they're gelled into that fake water but something about a few of the ones I've seen isn't really quite convincing. Which is why I lean towards real flowers from the grocery store when I need them (Trader Joe's is a great place to find affordable flowers). But as for faux flowers, I like completely opaque pots. It just feels more like these could be real cut flowers and leaves in this vase to my eye. I got these at Target maybe six months ago, and I love the bright color they add. Wish they still sold them for my fellow pink lovers out there.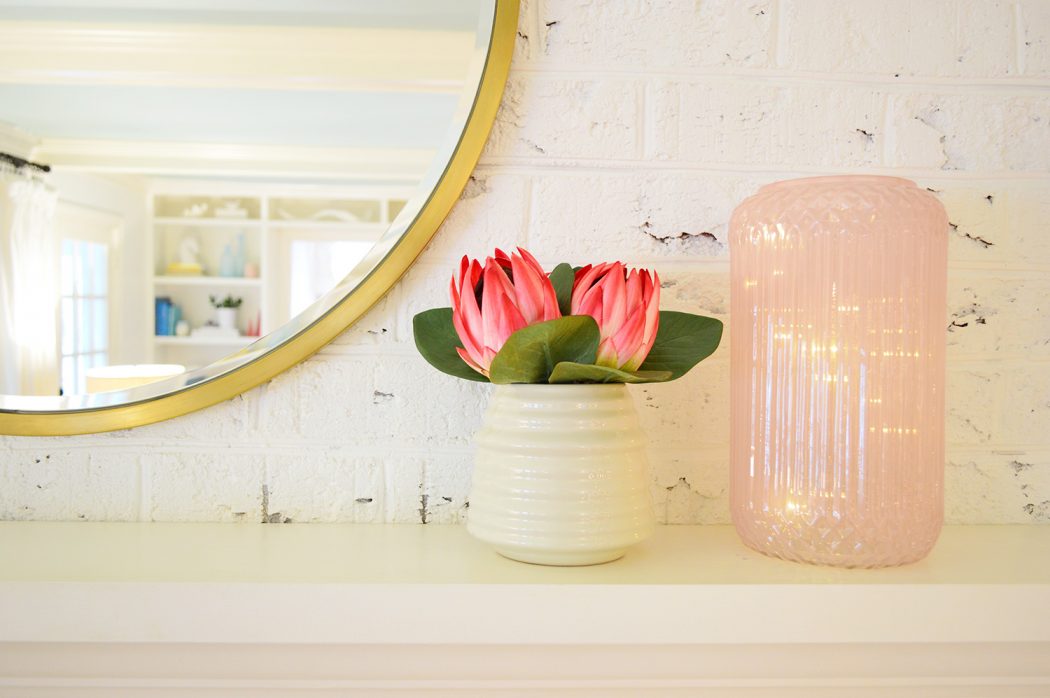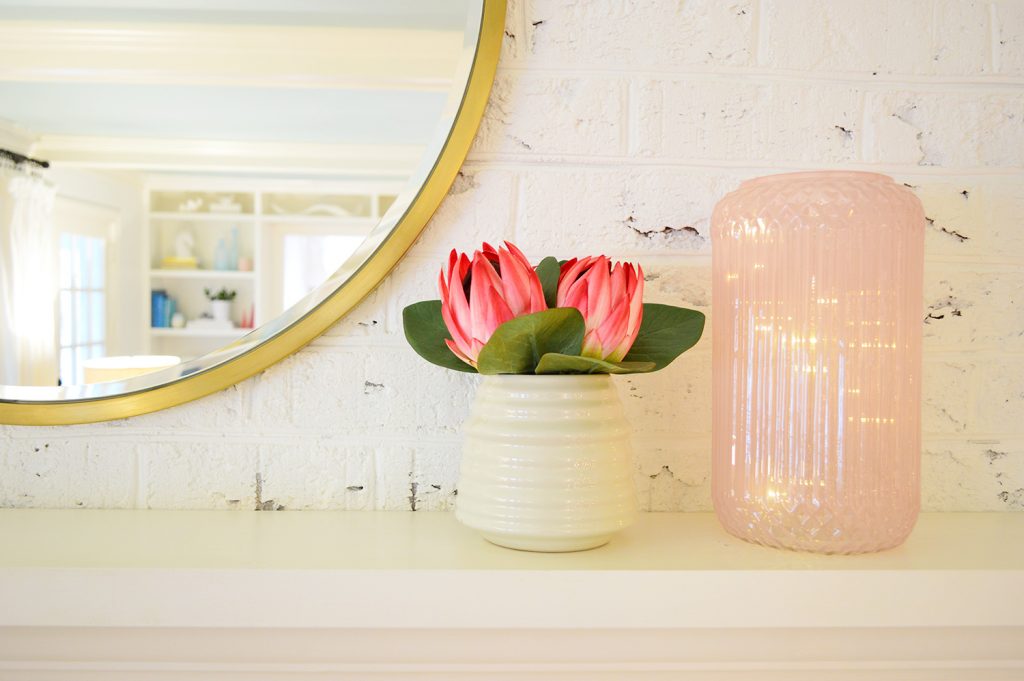 This is the laundry room at the beach house, and as I've mentioned, since we're not there for weeks on end, we don't have any real plants there, but that orchid on the top shelf is an Ikea find (so cheap! And I dropped it into a larger white Ikea pot just to balance it out a little).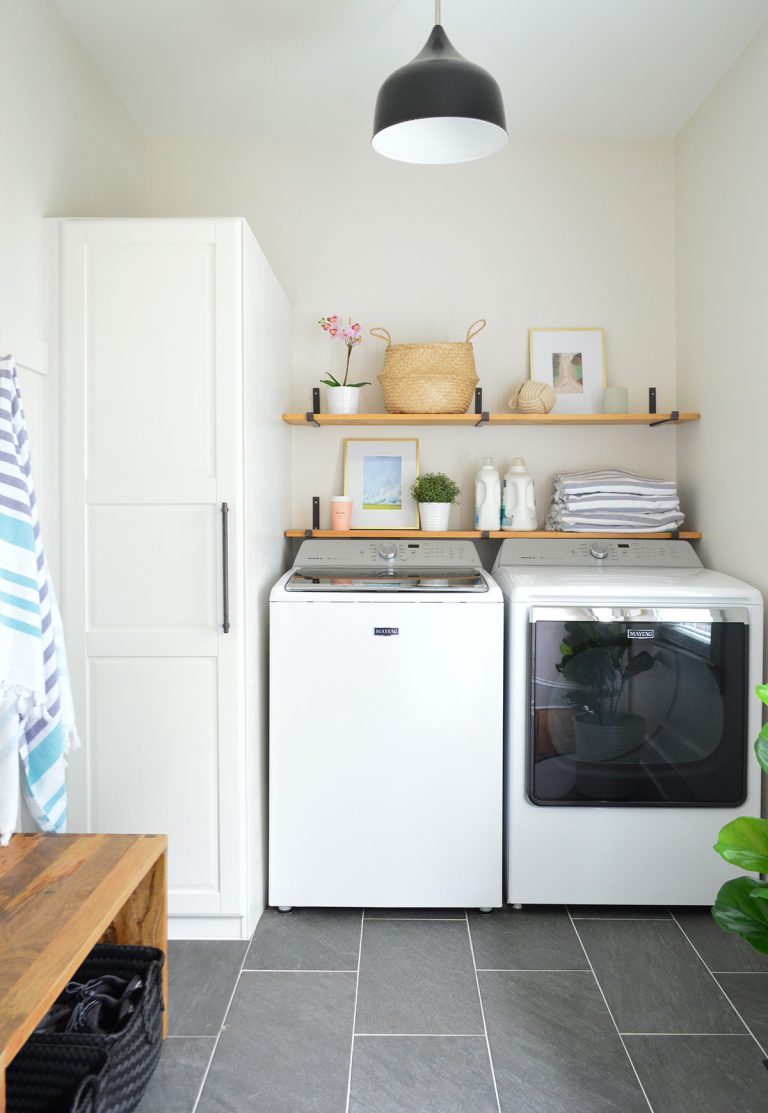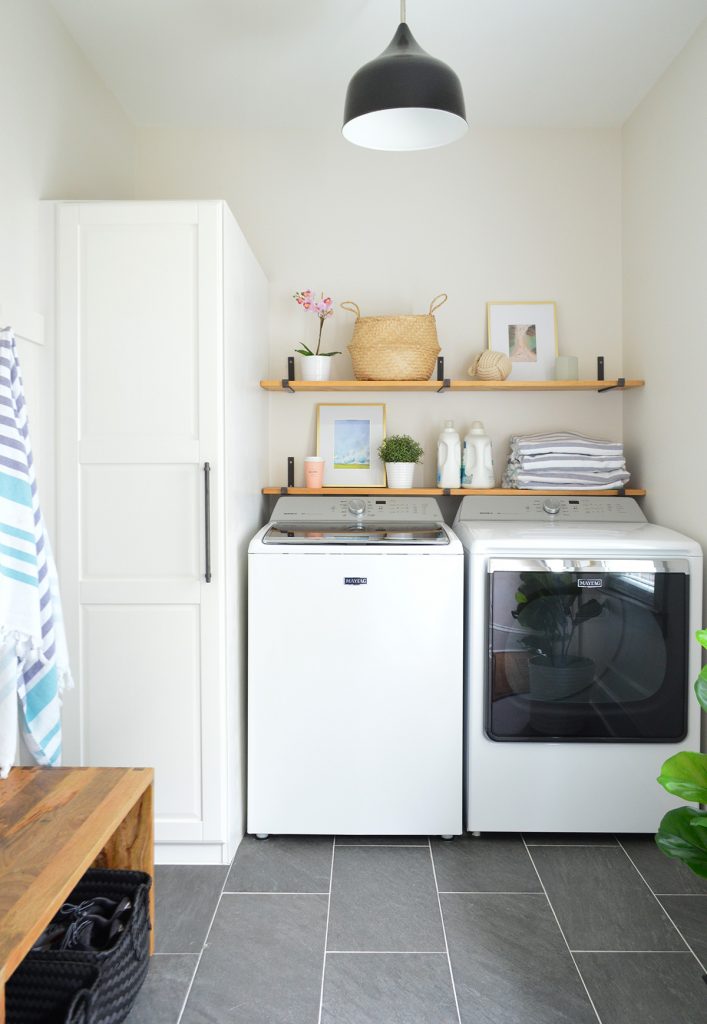 There's also a faux Ikea plant on that first laundry shelf – it's this one – and I have another one at home in the guest room (seen below). They're convincing – especially in larger pots – and the price is pretty great.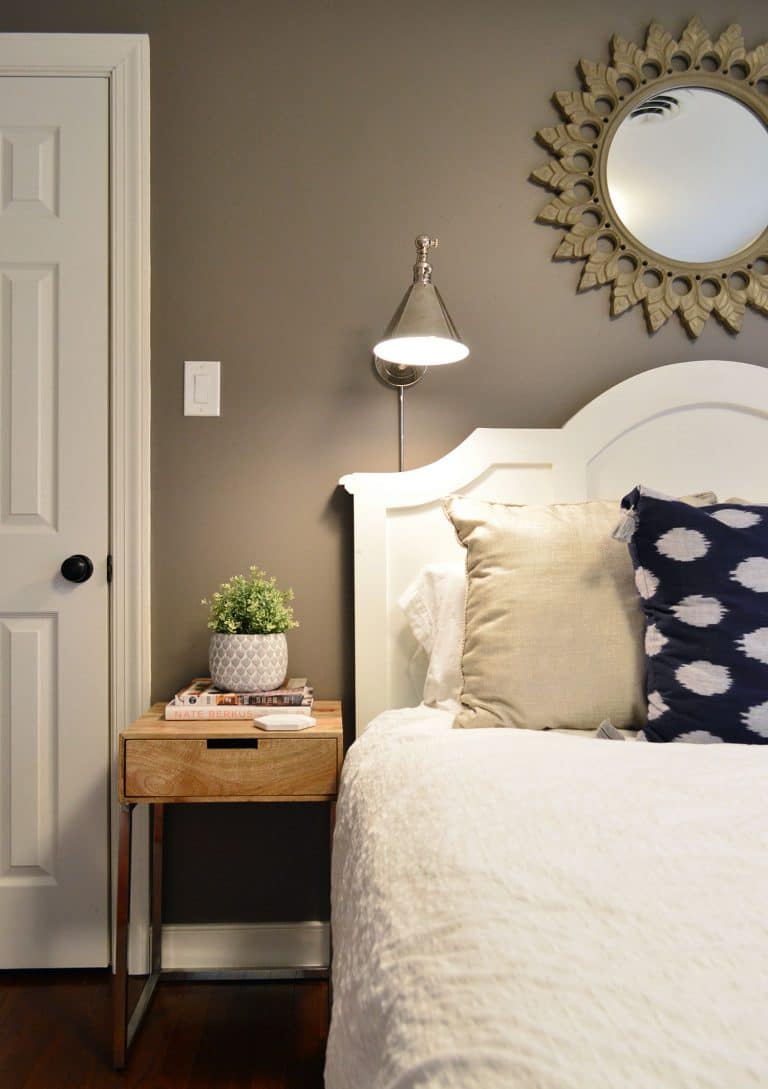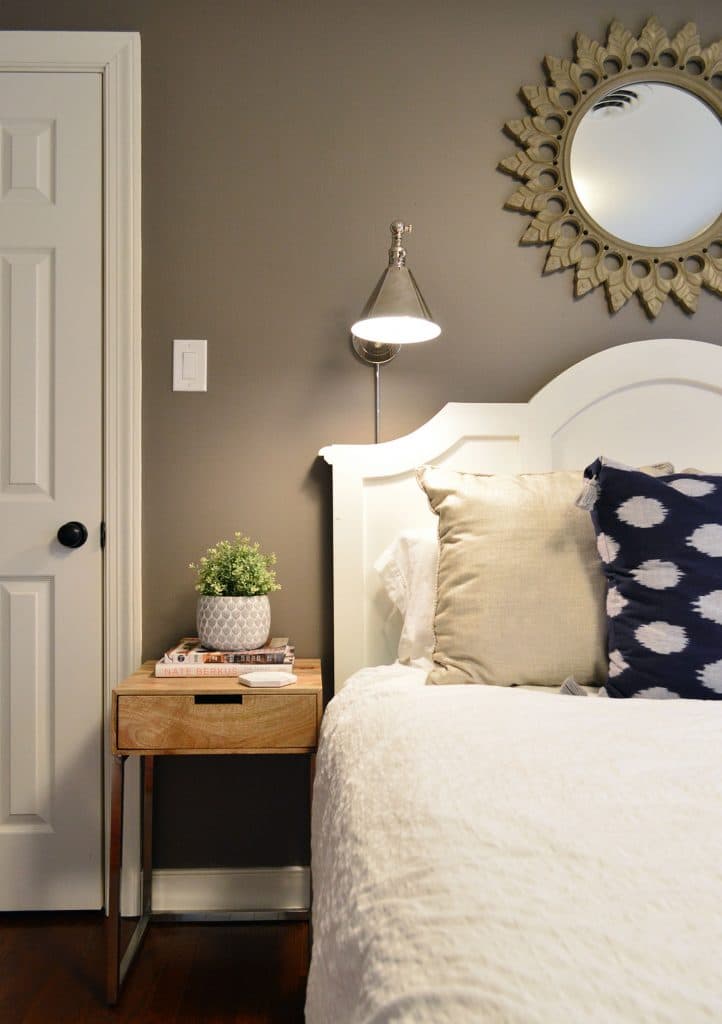 Actually, the one above is this one with the whiter little buds on the edges, and I loved plopping it into a pretty textured pot from HomeGoods. Half the fun of plants = pretty pots.
To go back to the faux flowers thing, and how it's hard to find something colorful that looks real (even the Ikea orchid from our beach house laundry room = white), I do LOVE these happy yellow ginkgo leaves. They're from Crate & Barrel a while ago, but they brought them back once, so I'm hoping they come back again soon.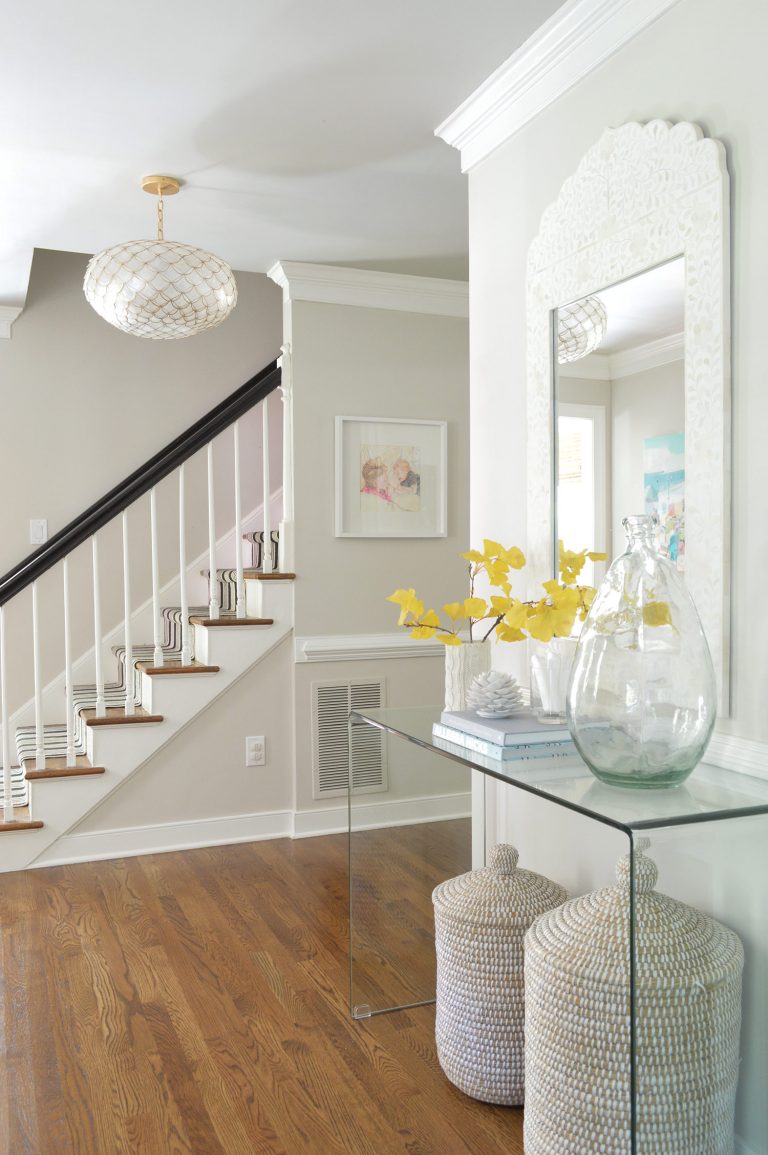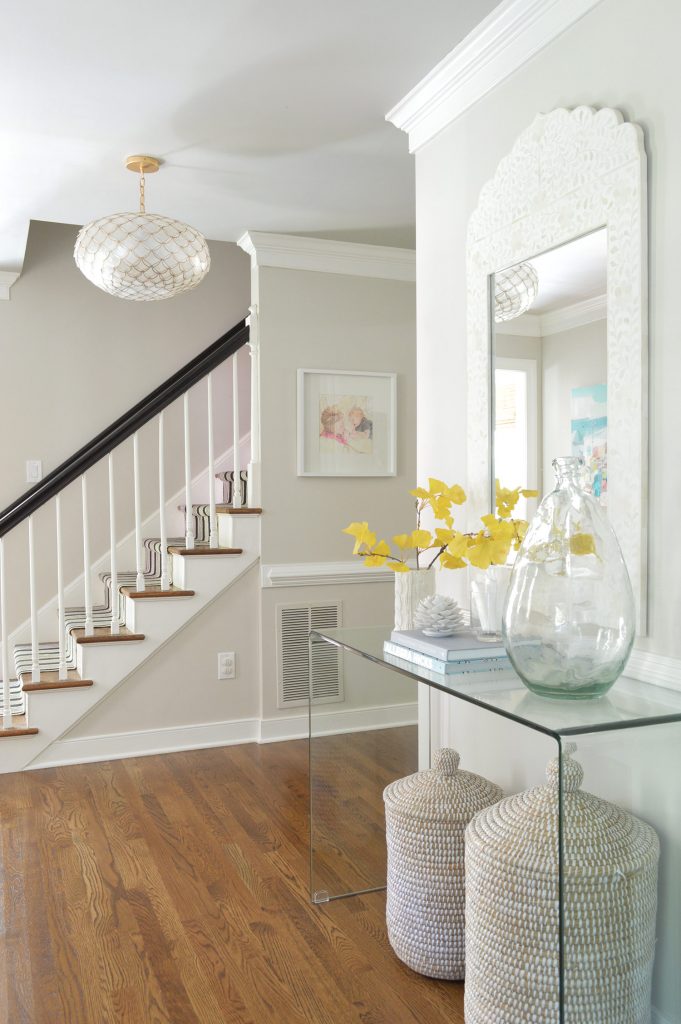 They're just a nice way to add color and texture – they feel very spring/summer to me.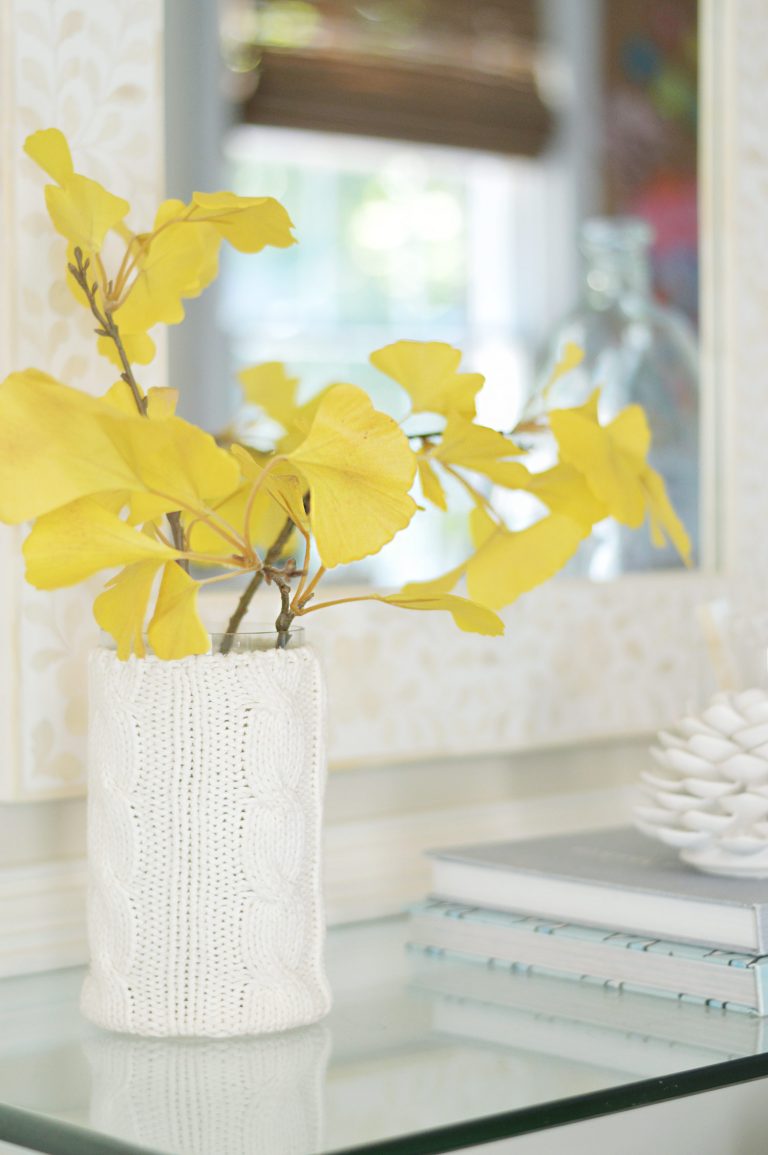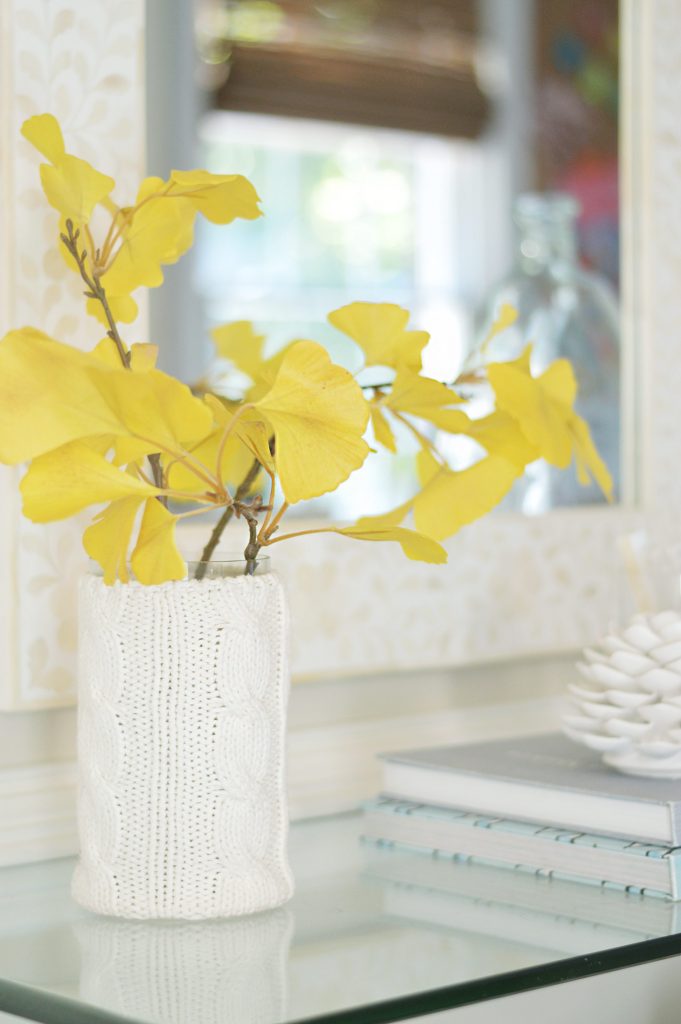 Here they are upstairs in the bonus room too. They're versatile because a burst of happy color looks nice pretty much anywhere.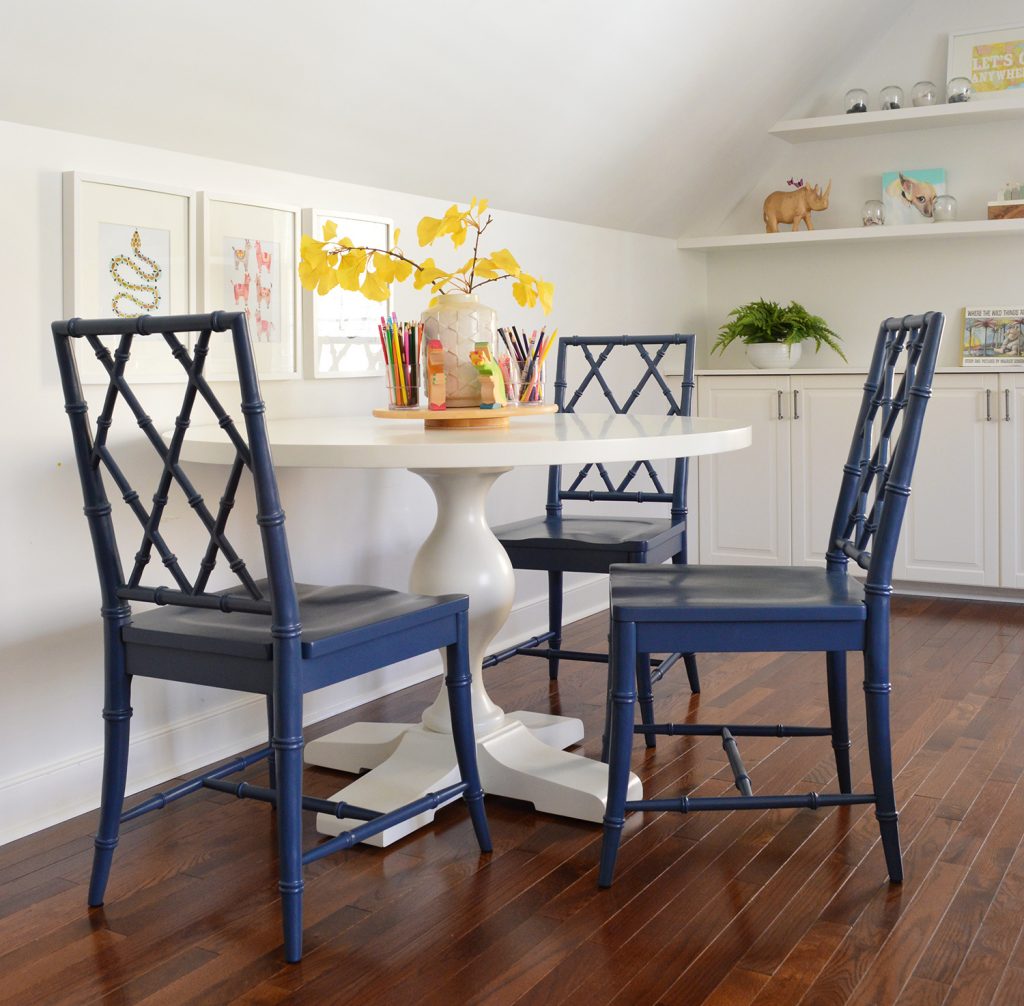 One other sort of abstract way to bring greenery into your house is with the use of some really cool art or even a wallpaper. This leafy mural we hung at the duplex definitely makes the room feel green and alive (you can see how we hung it here).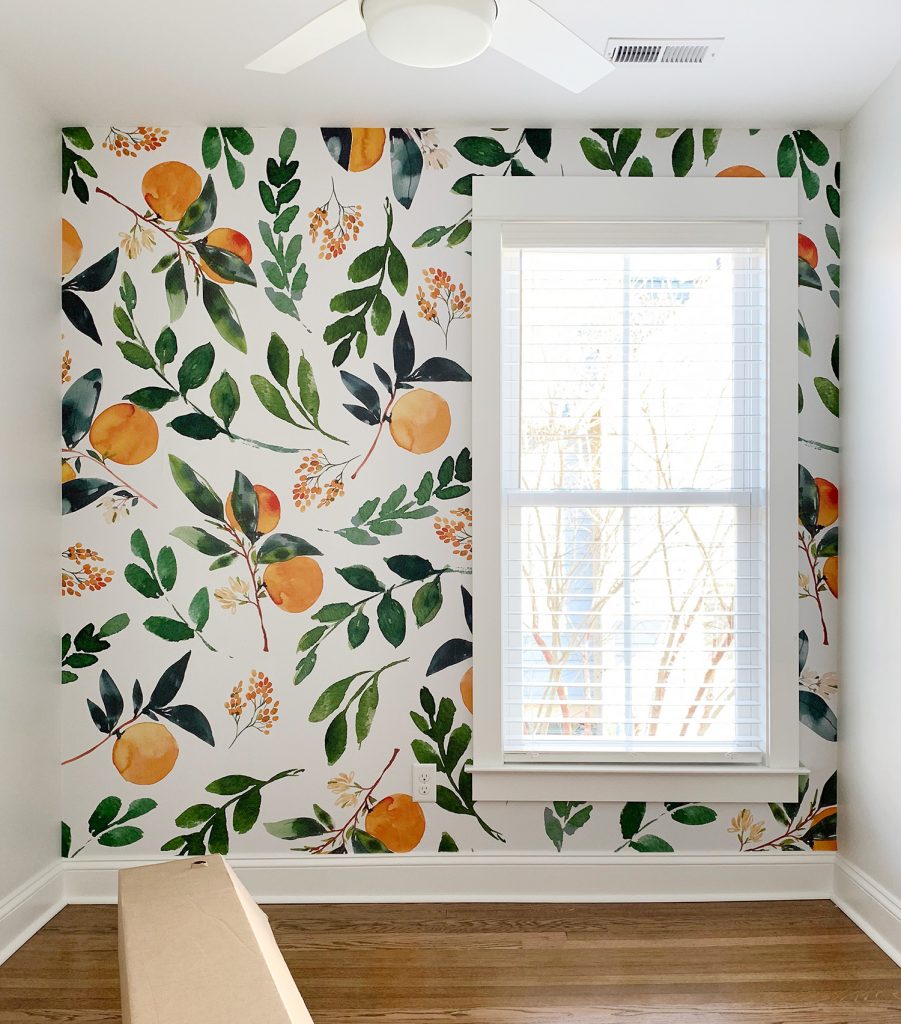 Simple art can also add that outside/green element to a room that might have less than stellar views – and you never have to water it. These large framed prints are from West Elm a while back, but I've seen similar stuff on Etsy (you know I love these and they also have them with a white background).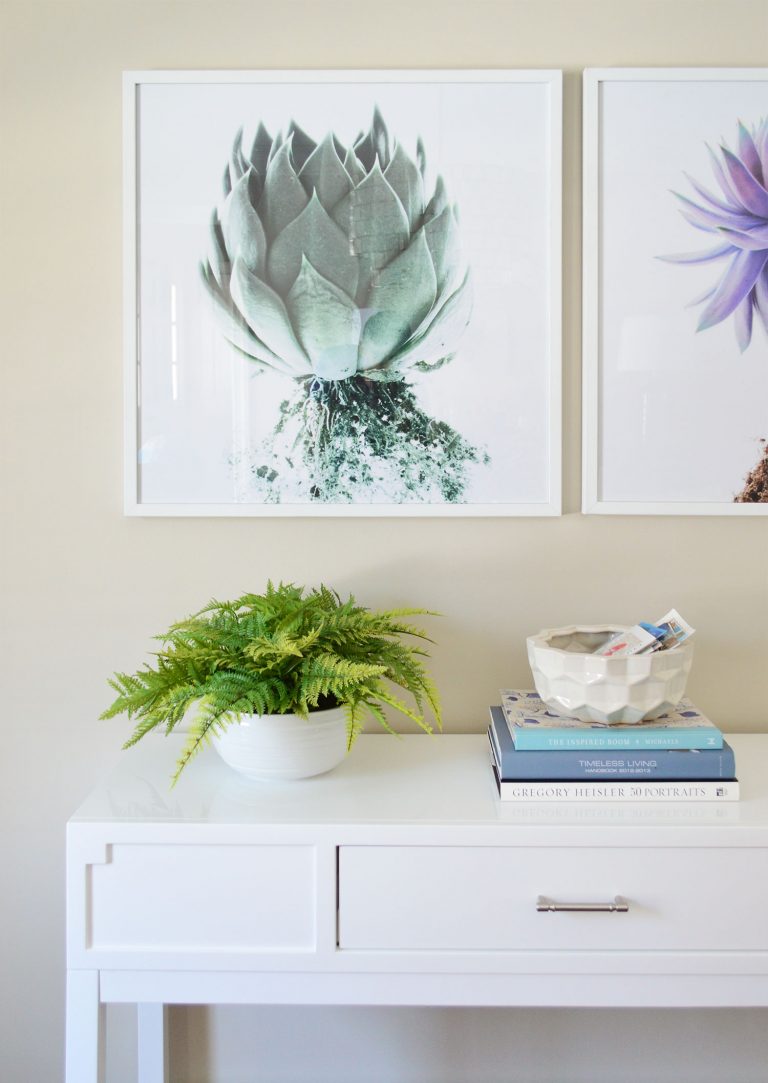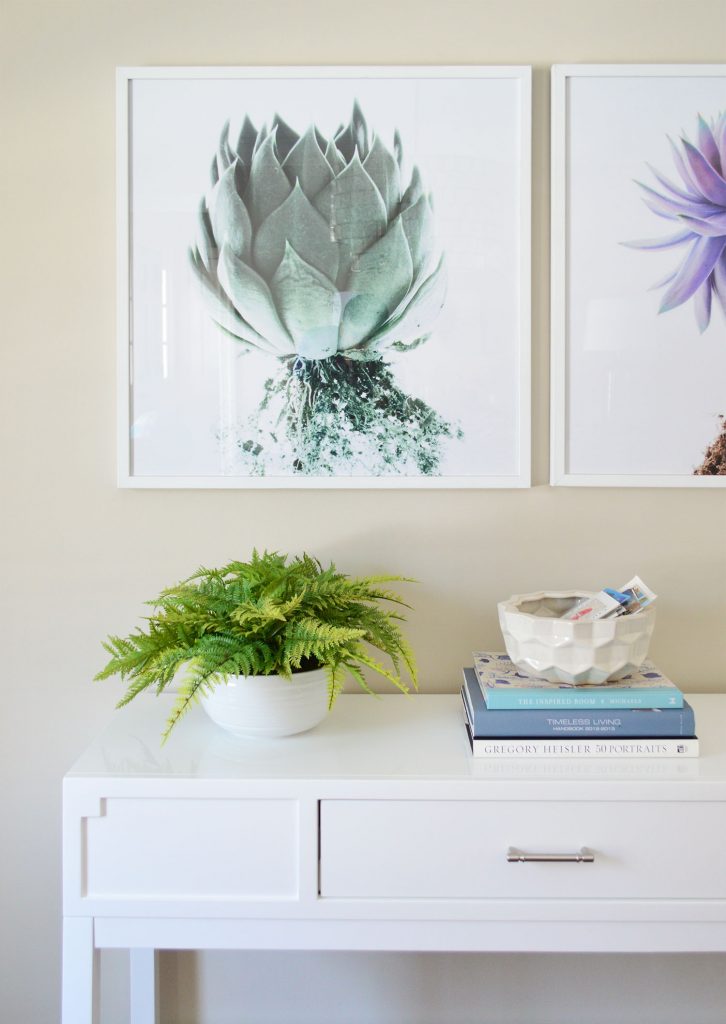 Oh yeah and that potted fern above? Fake from Target around a year ago. This one is the current version they make, and it's well rated too.
Let's bounce back into the real greenery realm again, because I feel like I need to tip my hat to the old "free cuttings" category. Many months of the year, there's free greenery at your disposal if you just walk outside with a clipper. These cuttings are from the bushes right in front of our house, and I steal from them pretty much every season except for winter when they go dormant.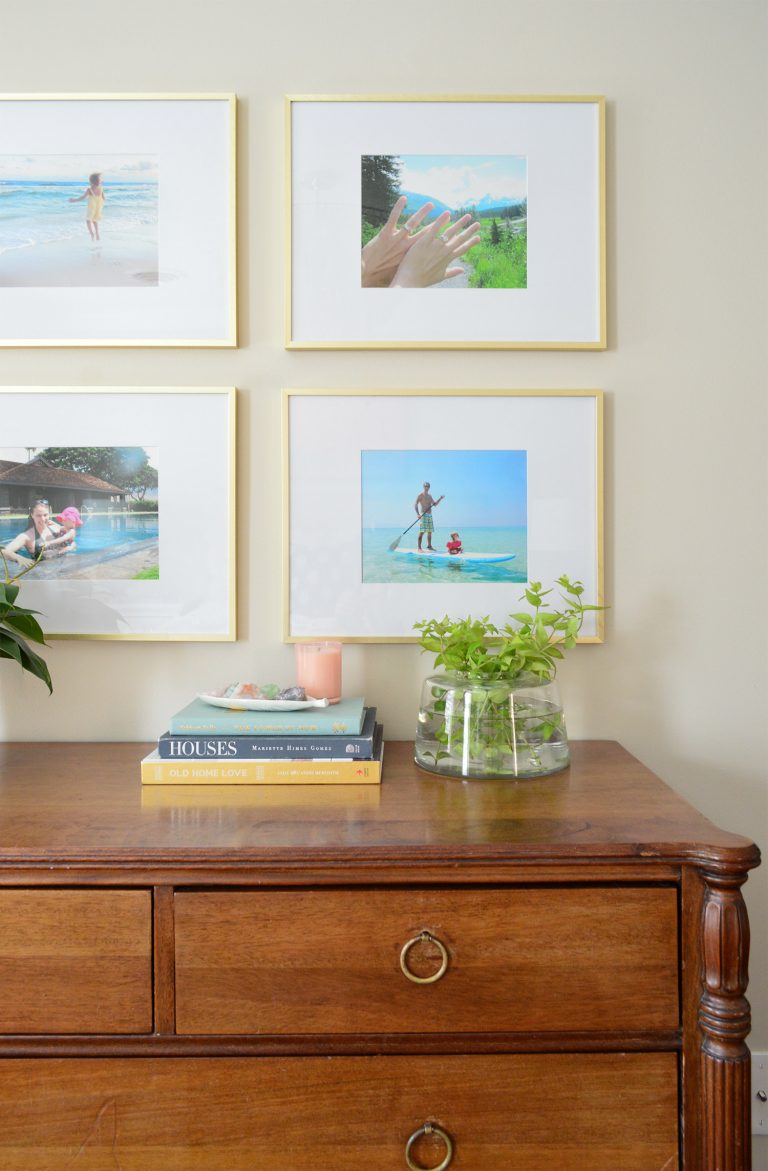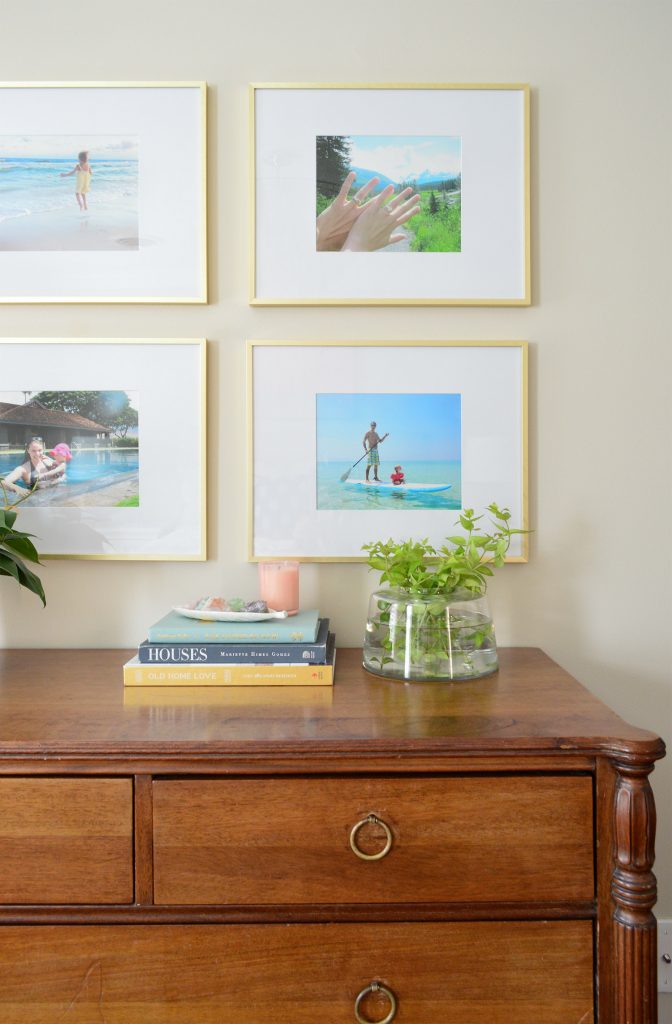 And whenever I stage houses, you know I love going outside and bringing some 100% free clippings into each room to make it feel alive and just plain welcoming (you can read alllll about house staging and my other tips here – I loved writing that post).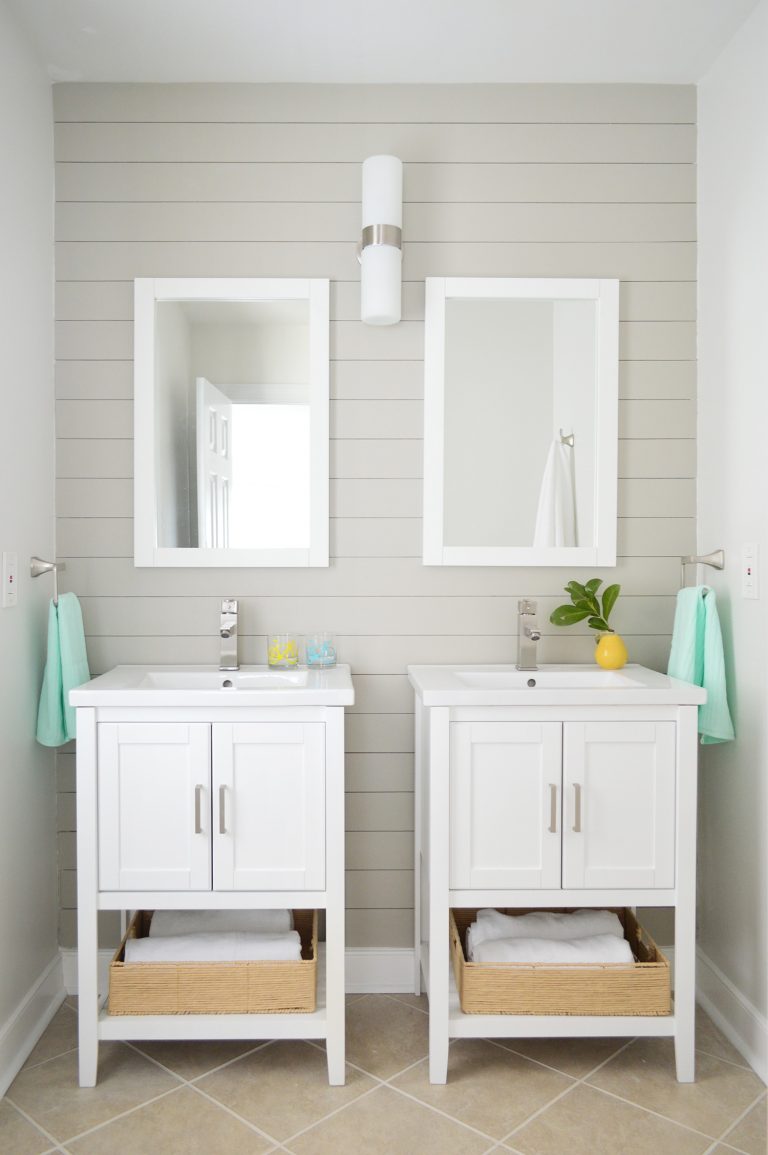 Here's a shot of some other "real greenery" we have embraced on a seasonal basis. We love grabbing fresh holiday garlands from Trader Joe's (they're super cheap and last around a month – at least that was our experience this past holiday season). We just tapped two small nails into the corner of the molding to hold this one up over the sink. And you know while I was at TJ's I had to grab some fresh eucalyptus too.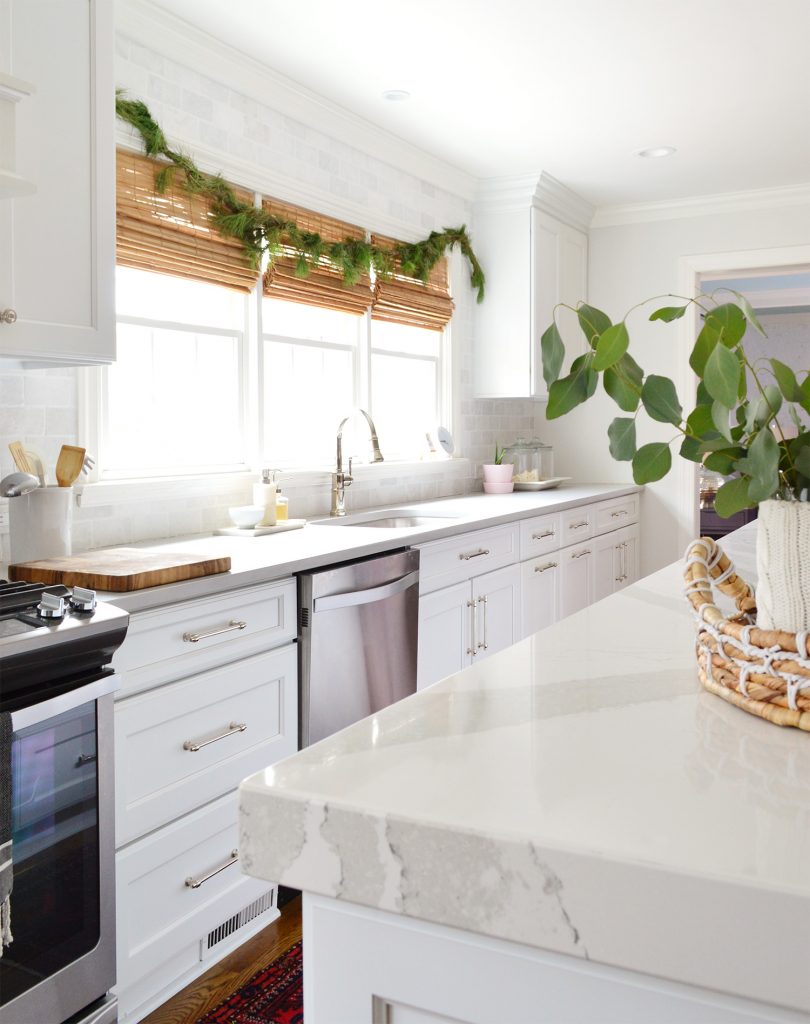 We also string up a fresh garland around the front door (actually it takes two to span that area, so I wire them together with green floral wire, and once again we just hung them over two small nails on the corner of the trim). But what's worth mentioning is that in this photo, the wreath is also real – I make one out of fresh magnolia leaves every winter at a Wine & Wreath event that I go to with my favorite ladies – but the five foot bushes on either side of the door are faux.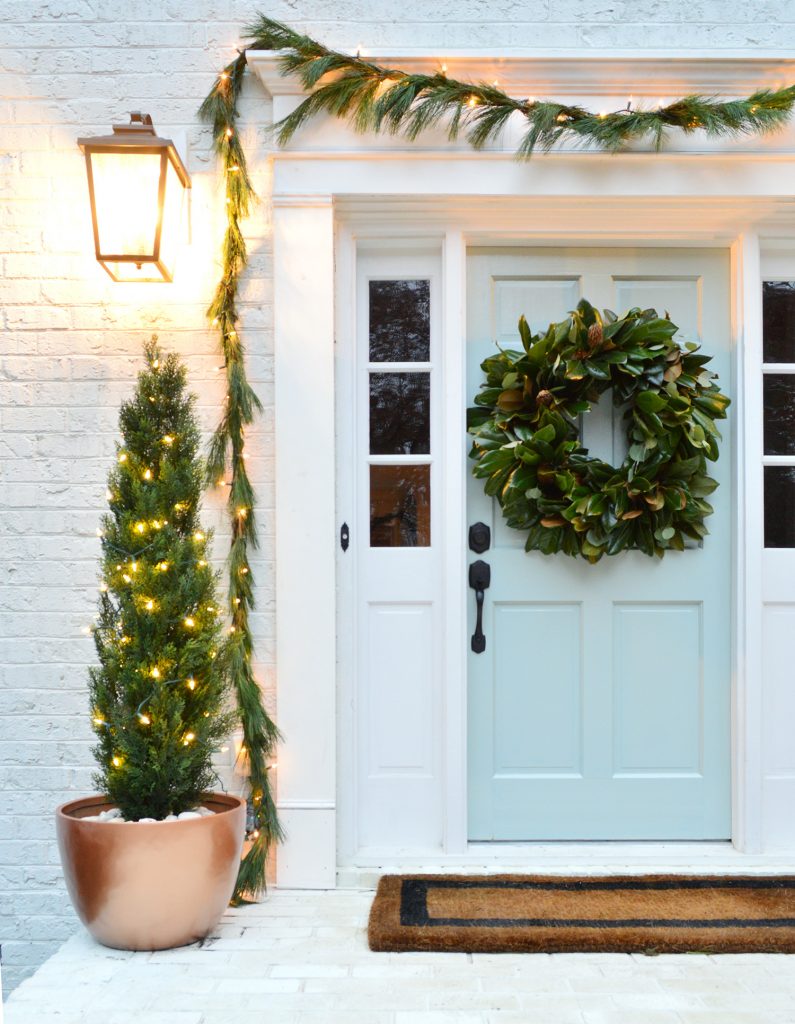 I feel like that's worth noting, because they're so convincing they can literally be right in front of a real garland and next to a huge magnolia wreath and they hold their own. We actually bought these three foot versions of those front porch bushes first – and loved them. After over a year of use there was no fading or damage to them through rain and snow. So when we painted the house white and wanted something taller next to the door after removing the portico, we upgraded to the 5′ versions and sent the three foot ones to the beach house.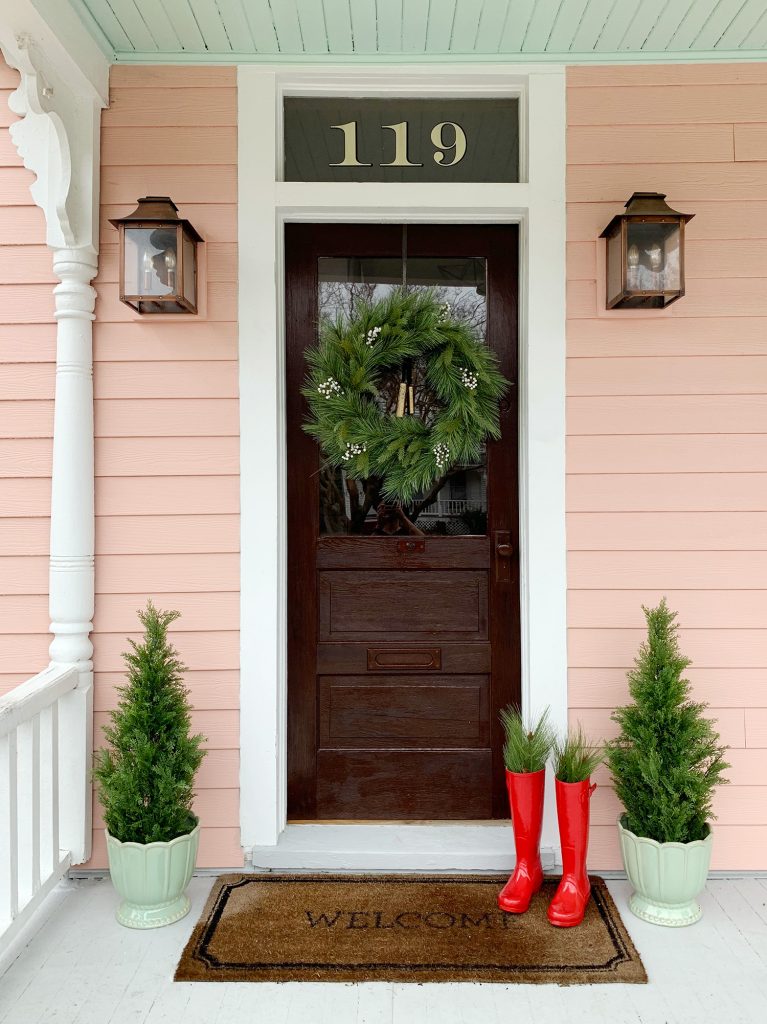 The pots above are from Home Depot (just in store – can't find them online) and the copper porch pots from the photo before the one above are a DIY project – more on them here.
I'll leave you with one last real outdoor plant that has been deliciously low maintenance for us – at least here in our climate. Those big $12 ferns that Home Depot and Kroger sell in the parking lot…. we buy a few each year in the spring. And they last all the way until the very end of the year when it gets below freezing. There is literally nothing easier than plopping our annual fern friend into a few of the large pots we have out back – I don't even have to touch dirt. And they just do their thing for nearly a year.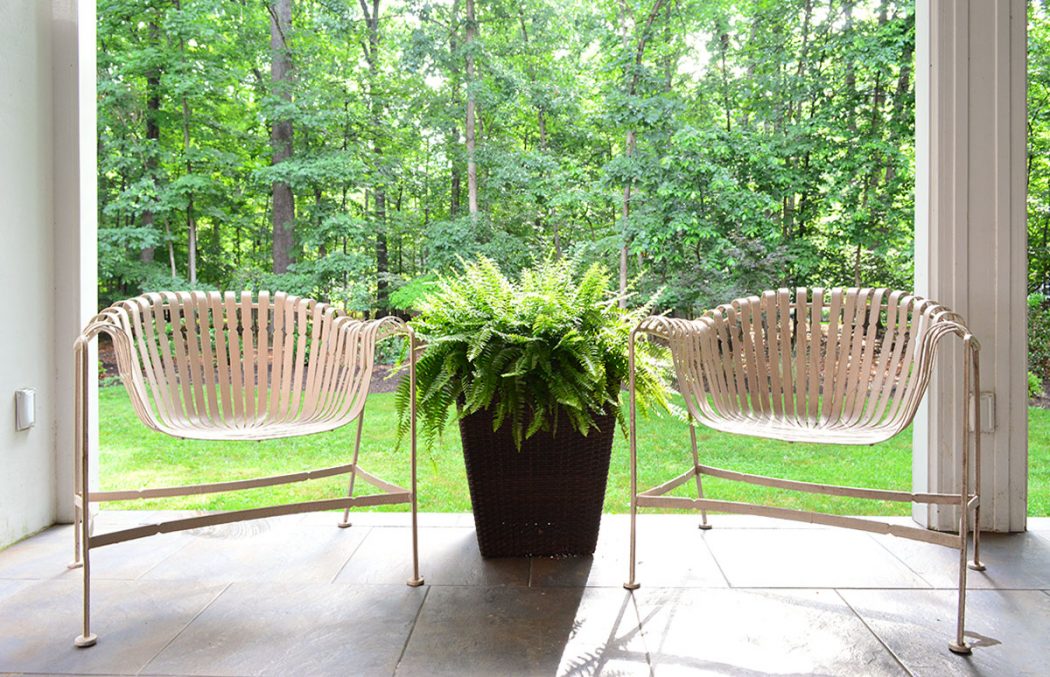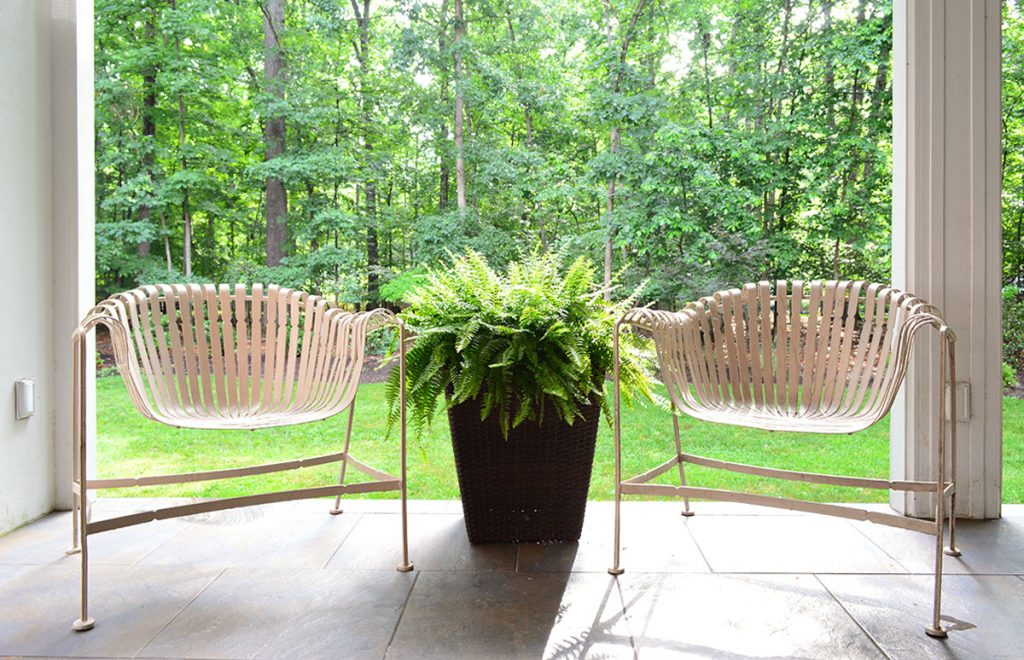 So there you have it, an exhaustive rundown of easy green stuff that hopefully won't stress you out like… say… all of the other green stuff I have tried and then failed at and then decided not to list here because IT'S JUST TOO EMOTIONAL FOR ME, OK?!
Also, it occurred to me that as much as John has special eyes for light bulbs, maybe I have special plant eyes. Because nobody ogles the green stuff like I do.
Love ya, plants. Mean it.
P.S. There were SO MANY pictures of our house, the beach house, and the duplex in this post, so if you have paint color or source questions, here's where to find info about our house, here's info about the beach house, and we're just starting to get duplex info together here.
*This post contains affiliate links*