We're back with the (finally!) finished photos of the two small-but-mighty bonus sleeping spaces at the duplex! Plus we've got pictures and details of two of the hardest working spaces: the linen closet and our locked owner's closet that guests won't see – but you can! In short: these little nooks & crannies GO HARD for us. So we're excited to show you how they turned out.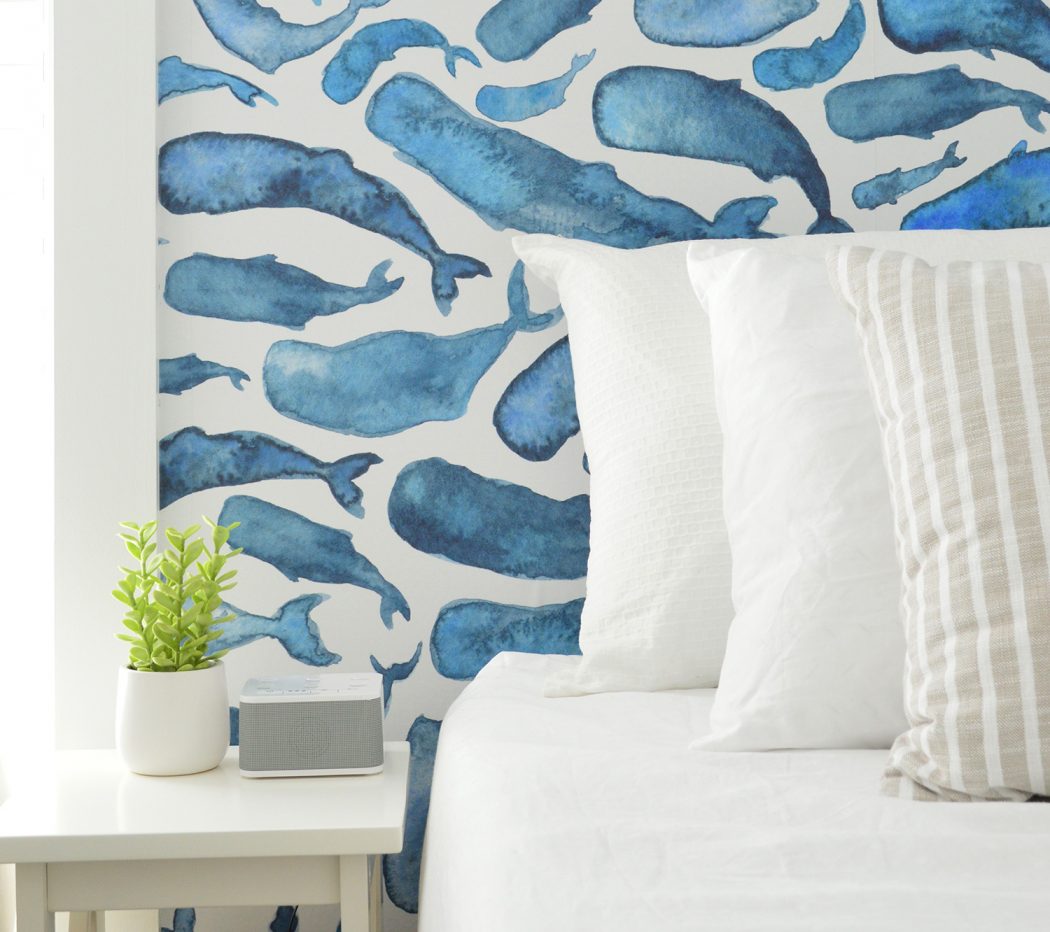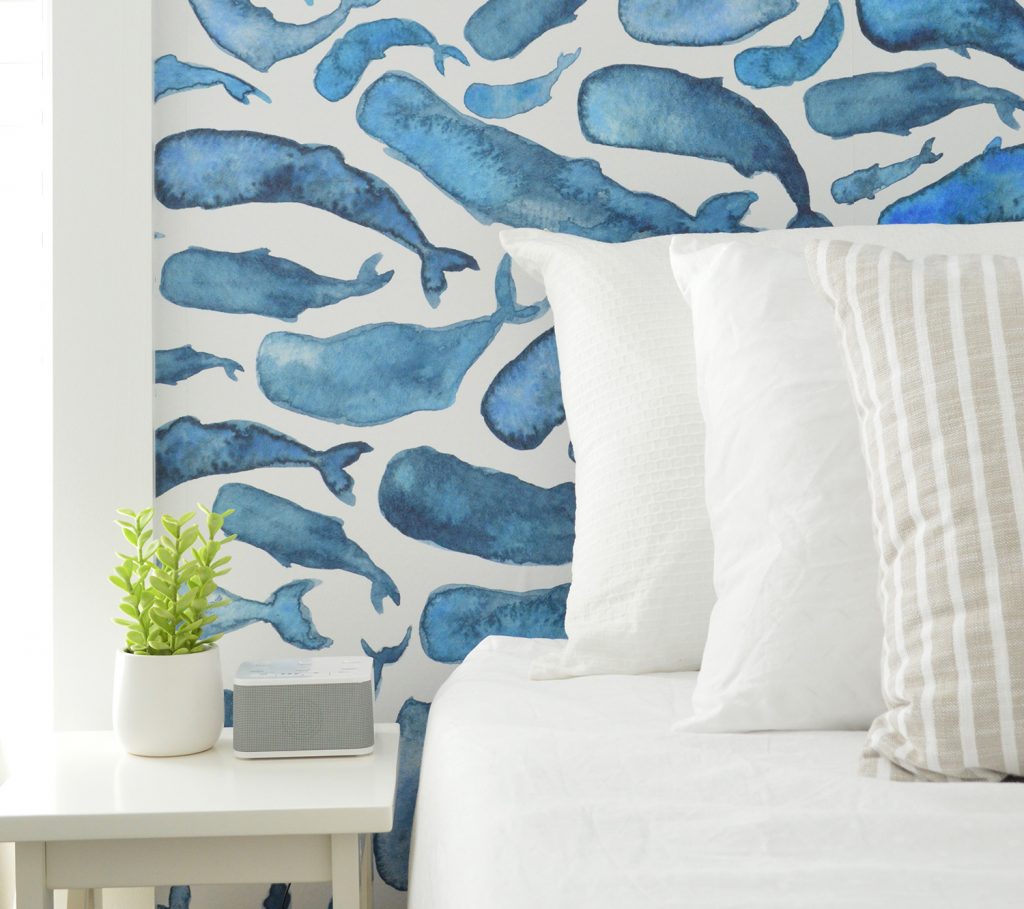 Since we have two larger bedrooms on each side of the duplex with closets and dressers (you can see them here and here), we refer to these as "bonus sleeping nooks" – which are pretty common around Cape Charles, as well as in other beach communities. They pass all building and rental codes in our town (yes, we have an annual rental inspection!) and are basically just a cozy spot to sleep extra guests, complete with little comforts like a ceiling fan, light-blocking blinds, a sound machine, and two wall sconces you can flick on & off without getting up.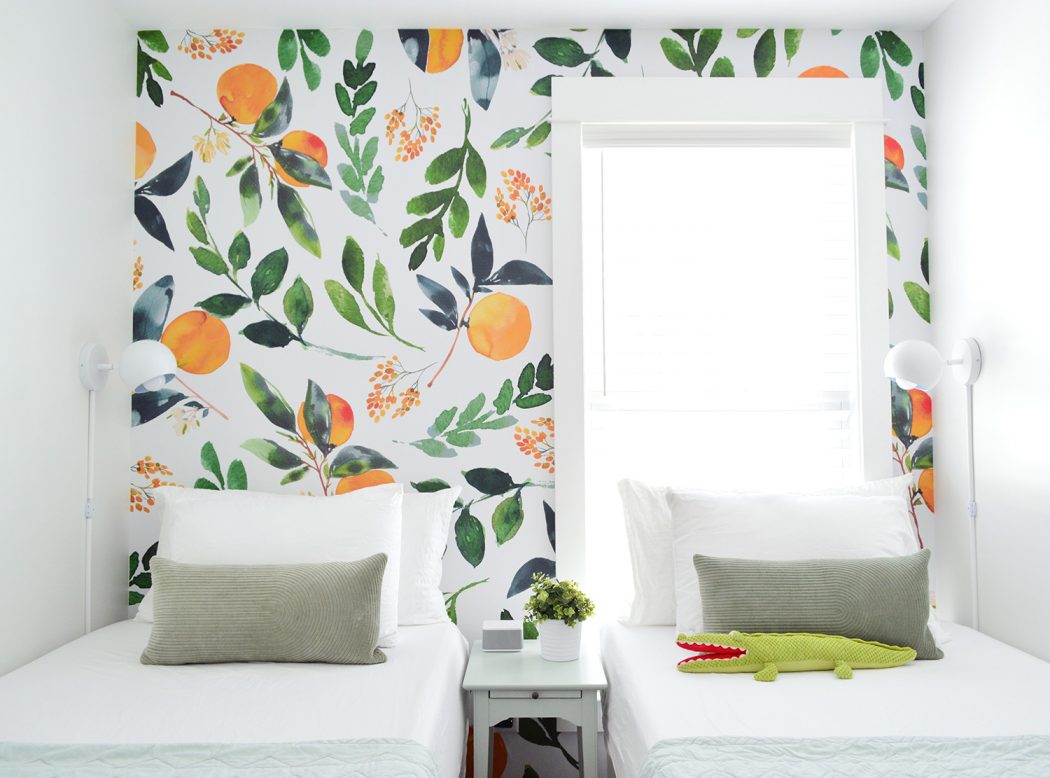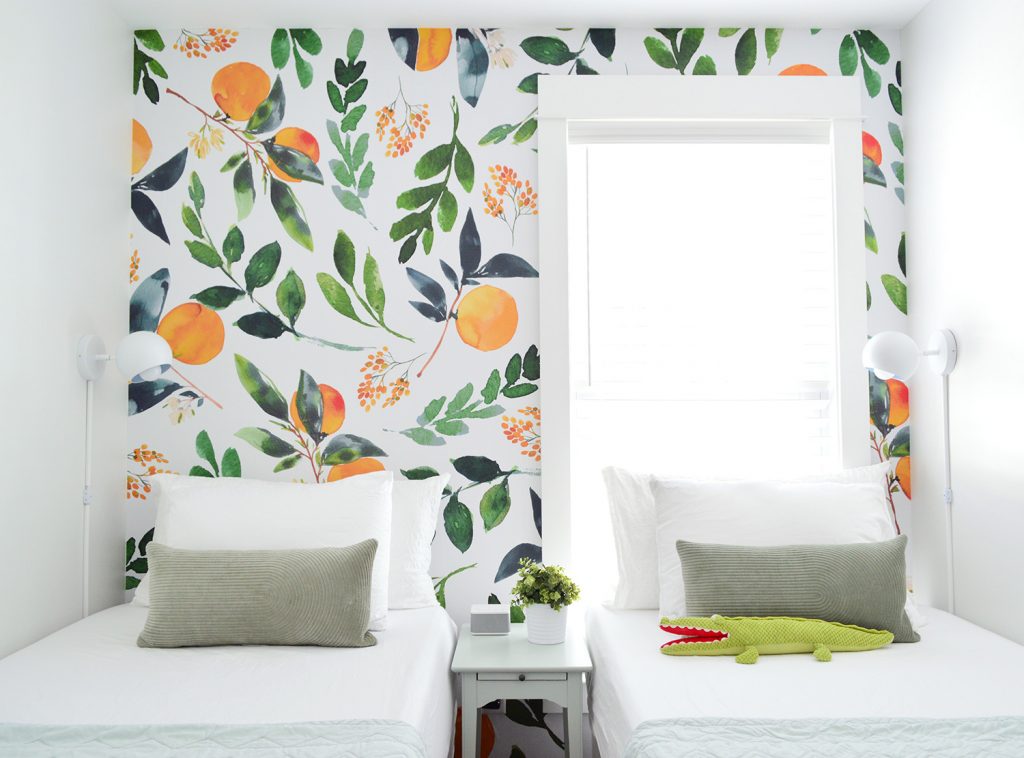 It's probably not a room you'd want to sleep in year-round (I mean there is that whole tiny house movement…) but for a weeklong vacation, where you'll pretty much be hanging out all over town/at the beach and just crashing in here, well, they do the job. We aimed to make them feel cozy, comfortable, and fun – and a ton of visual interest came from the murals that you saw us hang a few months ago (you can read more about how to hang them here).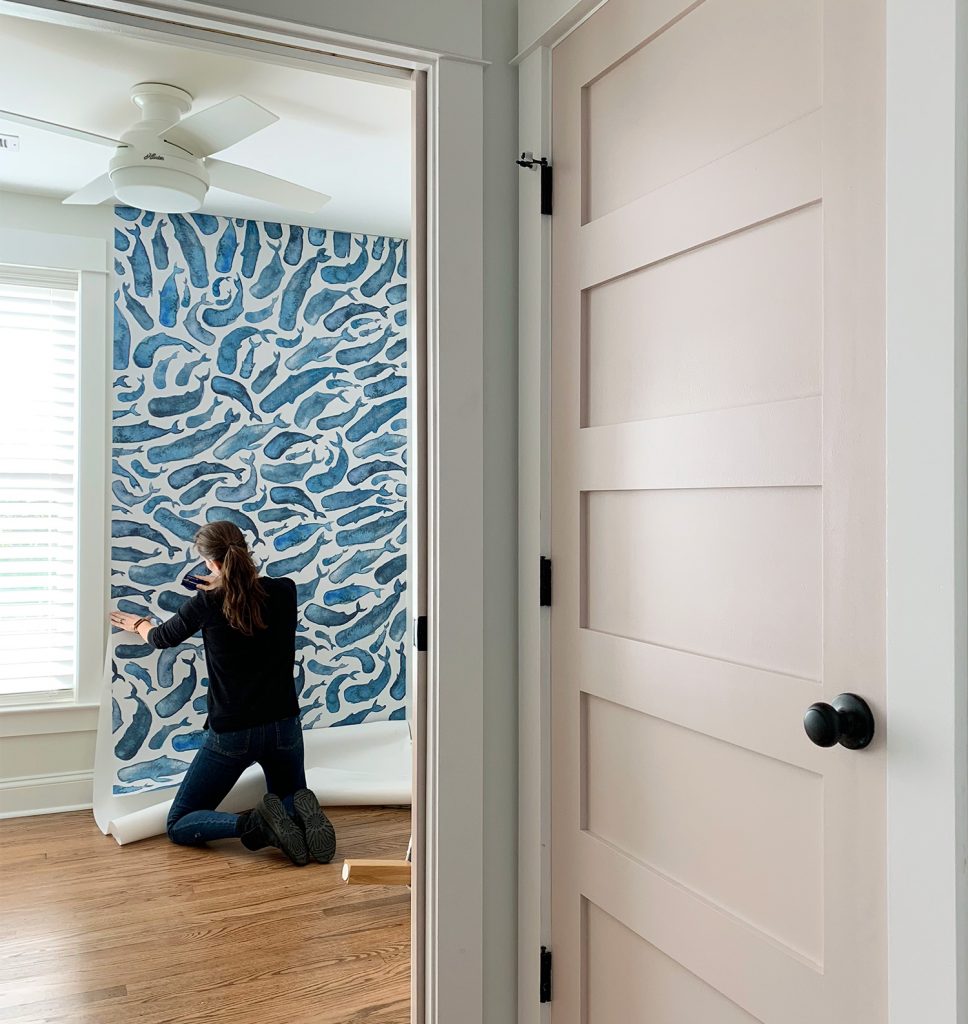 If you've followed along as we planned these rooms, you've seen us consider several layout options (bunks! two twins! a trundle! one big bed – or even a murphy bed!), and two side-by-side twins won pretty handily when over 13,000 of you took our poll! They're more comfortable for grown-ups to climb into than bunk beds (and much easier to make!), plus two twins can be pushed together for a king-sized sleep surface if someone requests that instead (hello versatility!).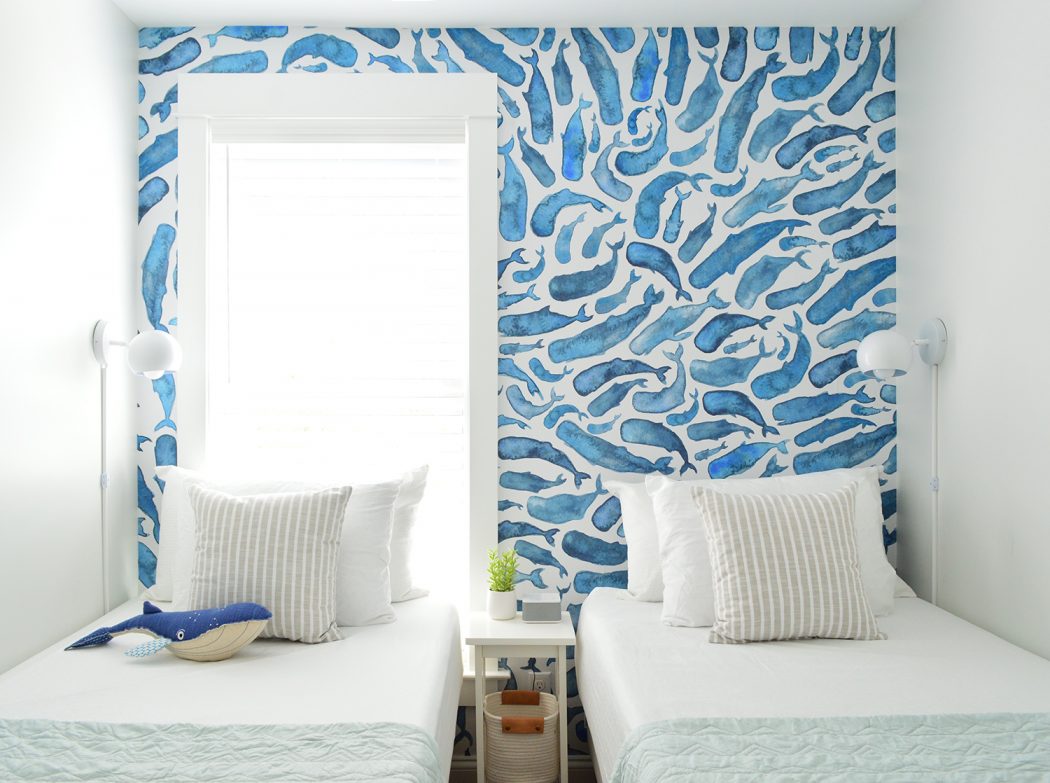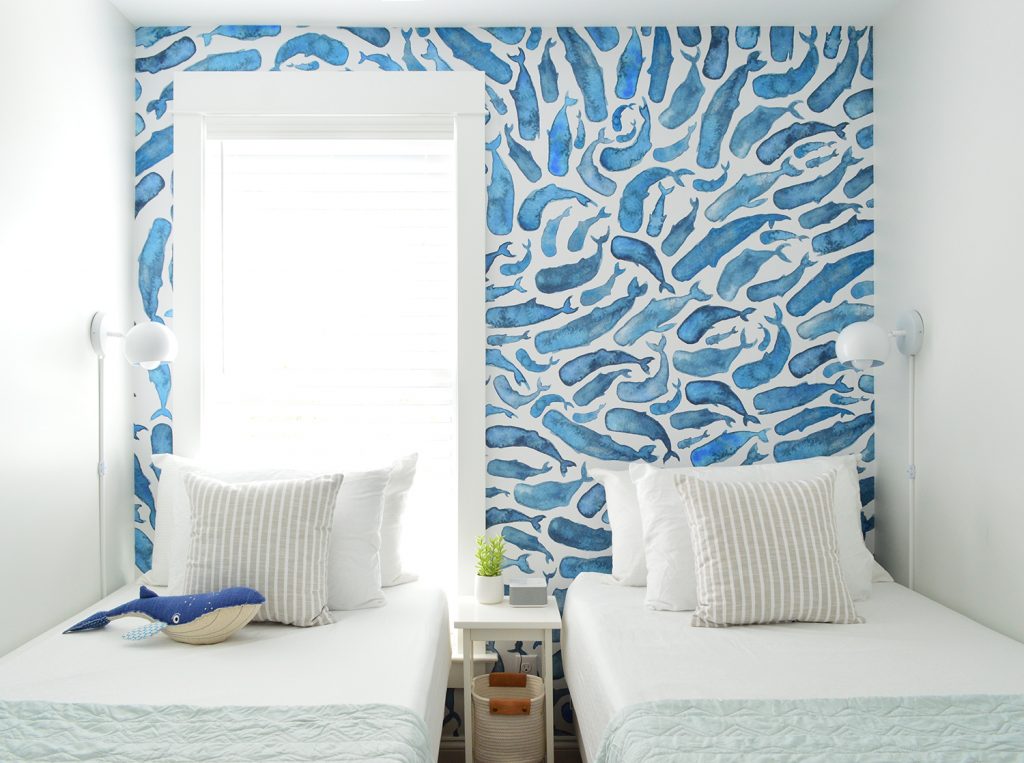 A trundle got significantly fewer votes (whether it was a pop up or a traditional one) since many people have kids who don't sleep well together – or adults who don't want to climb over each other. And one big bed (murphy or regular) got even fewer votes – probably because there are two other queen beds for people who want to sleep together and folks seemed to like the flexibility of one room where people can sleep separately.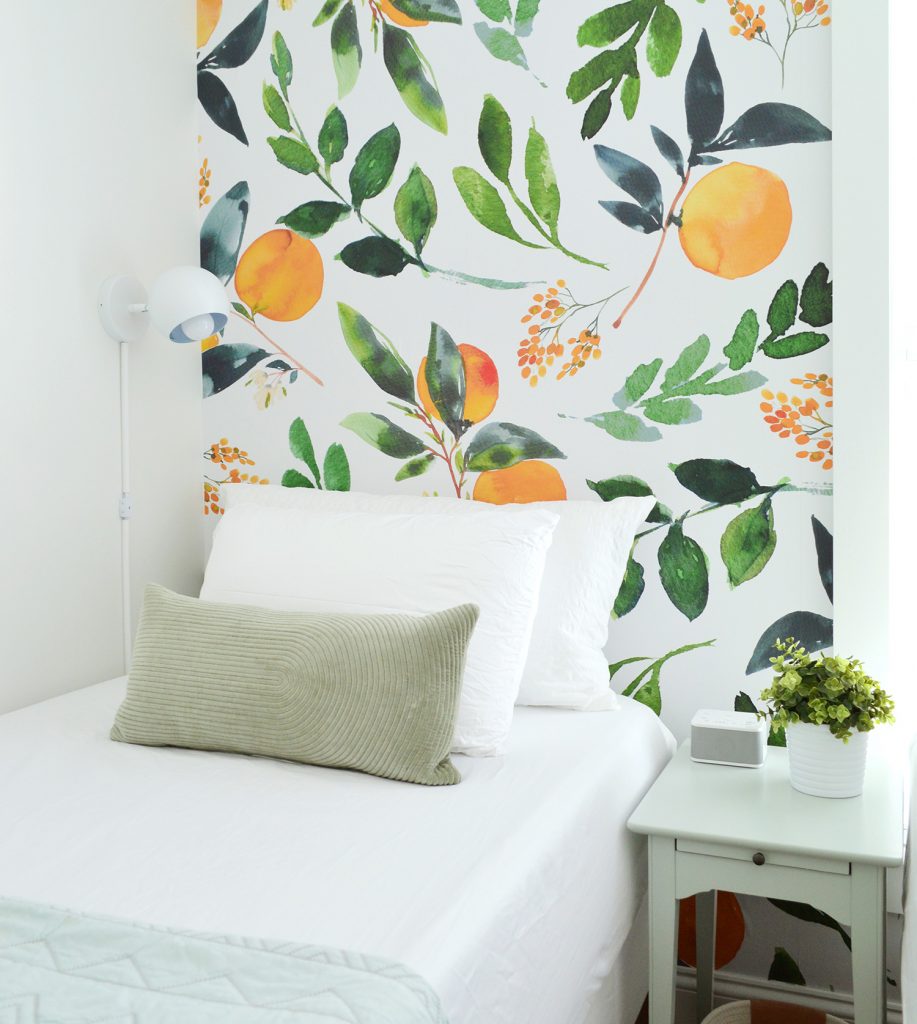 I gotta say I'm not surprised that twin beds won because when we travel we always look for… drumroll please… a room with two twins for our kids! It also doesn't hurt that two twin beds can be RIDICULOUSLY GOOD LOOKING. Like the inspo photo below (or this one, this one, and this one). I'm 100% convinced that even the smallest spaces can have tons of style!
Ok, on with the tour! If you spin around in the space, there's a pocket door (they make the most of small rooms since it doesn't swing into the space). We also hung a handy little wall shelf with empty baskets that provide some vertical storage (you could store kids pjs, favorite books, or some clothes in them if you wanted those things within the room).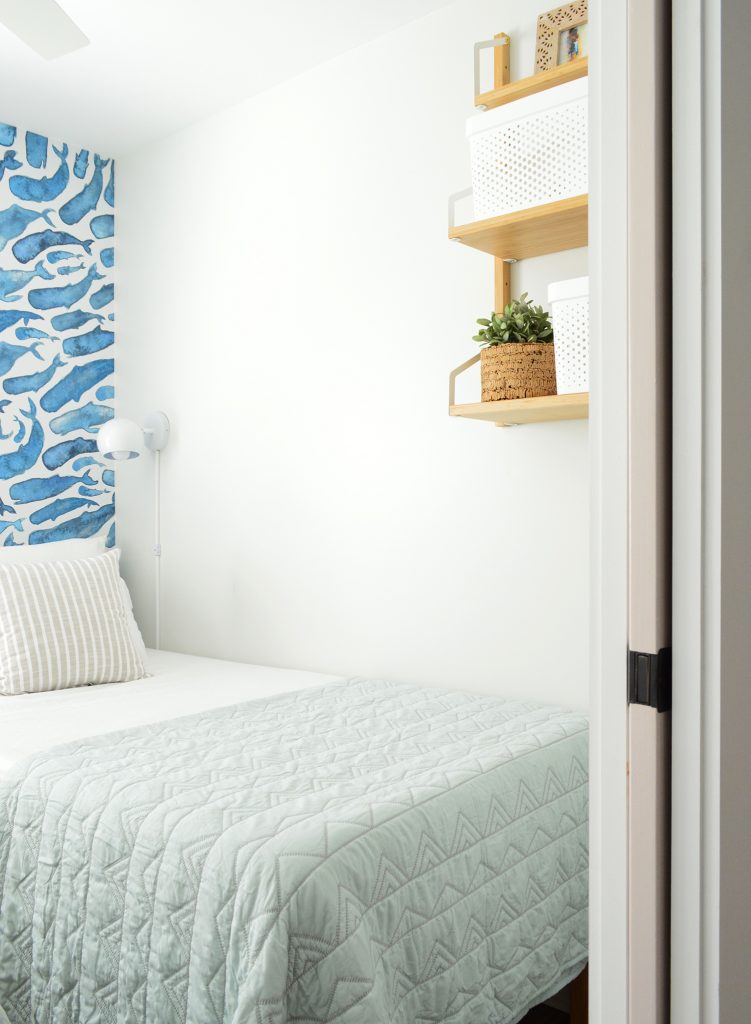 Here's a better shot of the shelving system. It's just 9″ deep (about the same depth as the sconces by the head of the bed) so it doesn't feel like it's IN YO FACE. I'm 5'2″ and have no issue reaching each item on those bottom two shelves – and the stuff on that top shelf is just decorative. There's also room at the foot of the bed if someone wants to slide a suitcase in there.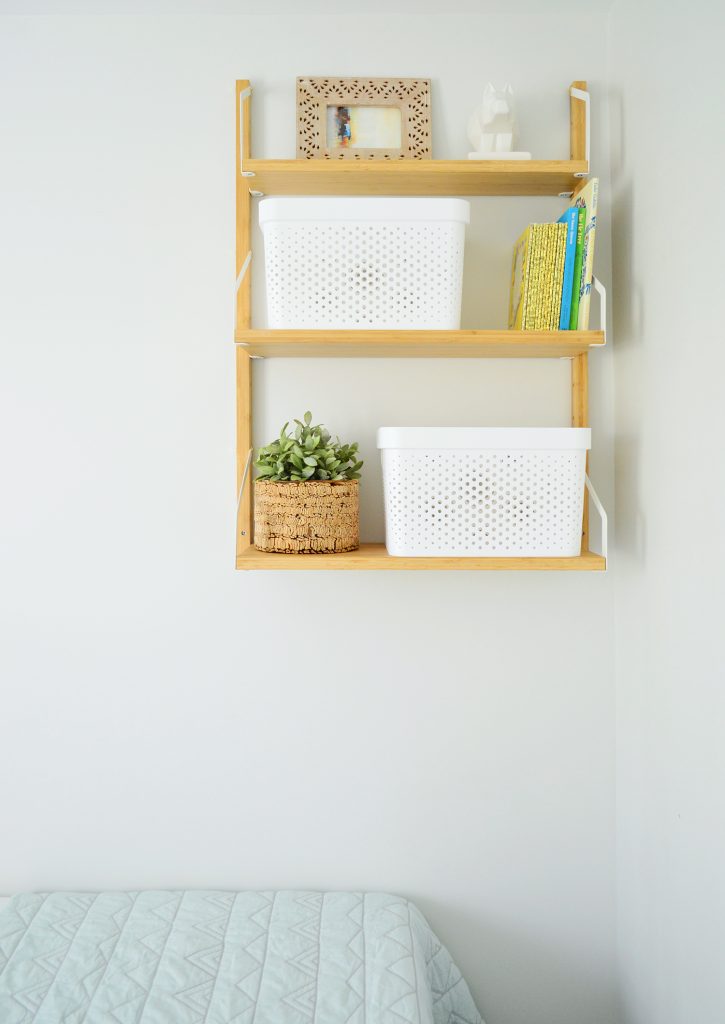 Since we know that may not be enough storage, here's the good news: there's a nice, big, half-empty closet just outside the room. Yes, literally one step.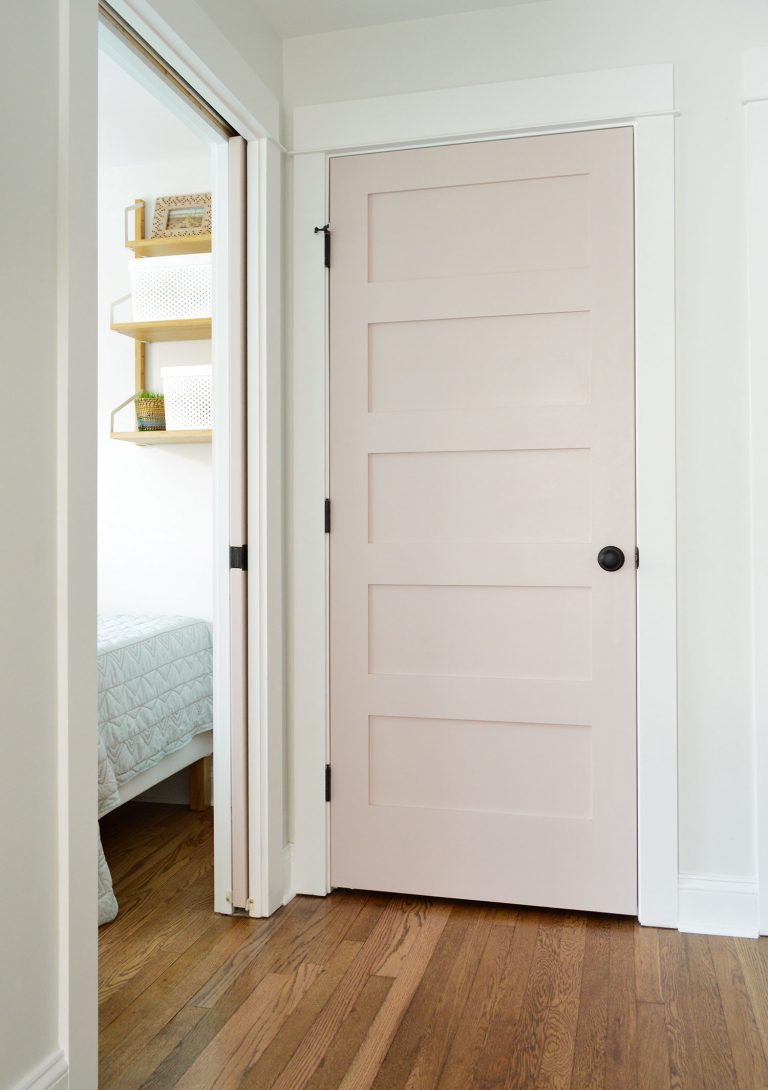 Here it is all opened up. While it has a few shelves dedicated to extra guest towels and linens – plus a high chair and a Pack 'N Play for anyone staying with infants – we left the bottom half empty so guests can toss in extra clothes, suitcases, whatever.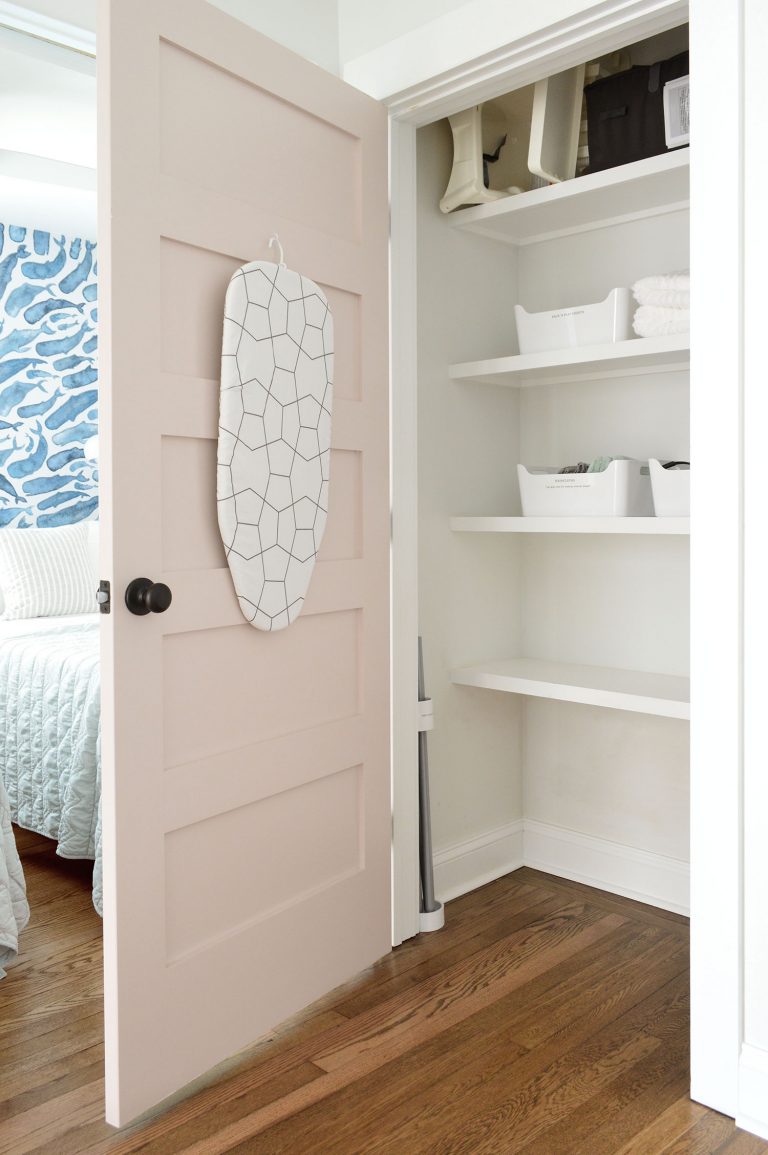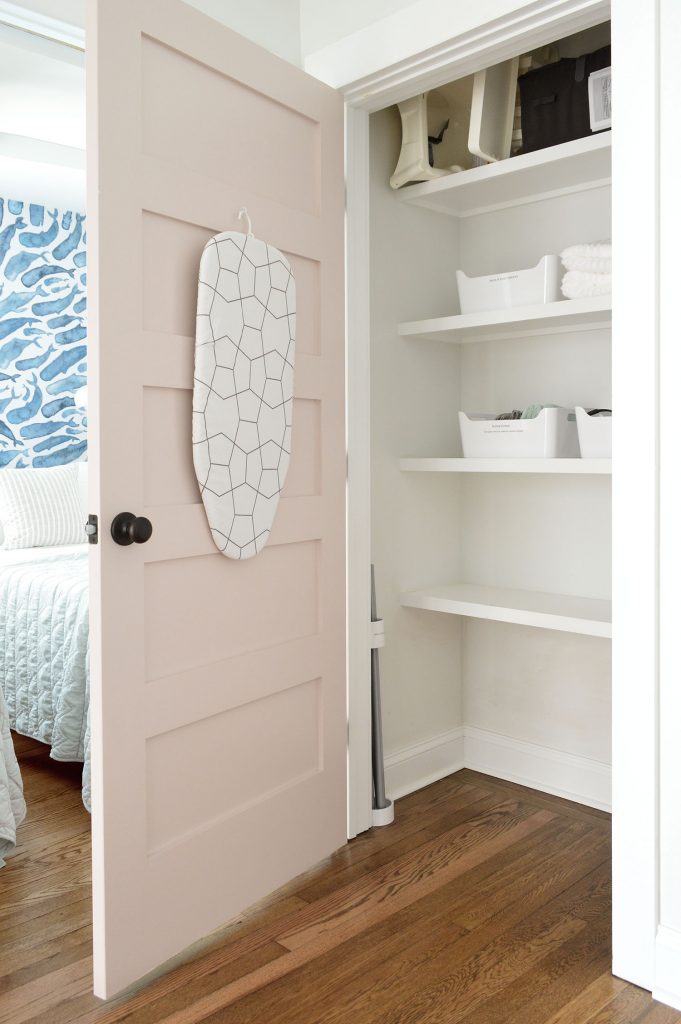 And see those silver rods corralled in the bottom corner of the closet? That's John's ingenious way of storing the legs to the high chair that lives on that top shelf (so they're easier to see/grab and not hidden up there on that high shelf). The white hoops are just 3″ PVC pipe couplings from the plumbing aisle at Home Depot ($1.68 each!) and we labeled them so people aren't like… "are these headless golf clubs? Some sort of fold-away tent? A new way to communicate with aliens?"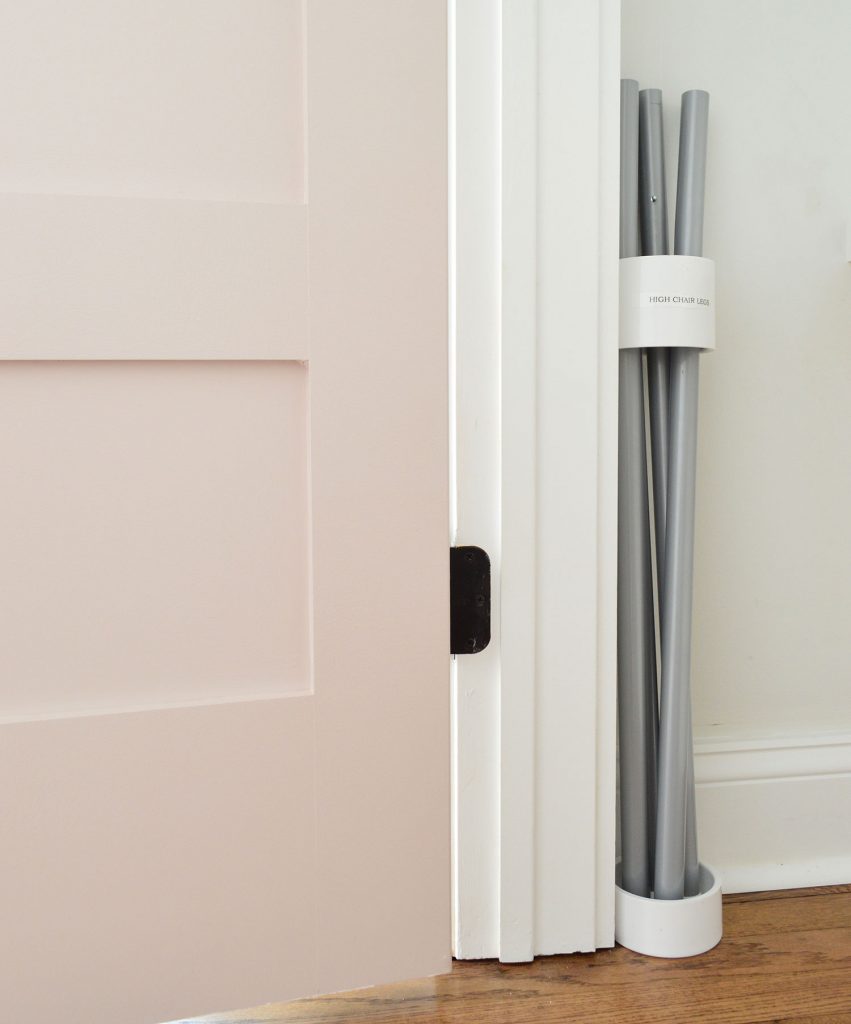 Here's a closer shot of things like a few extra bath towels (each room has a pair left on the bed for guests when they arrive), and we have two Pack N Play sheets for people to use along with an iron, hairdryer, and first aid kit. We had some fun with a label maker as John mentioned on Monday's podcast (I know, we are PARTY ANIMALS) just so everyone knows where to find things. It also makes it easier for our house cleaners to put things back in the right spot between guests.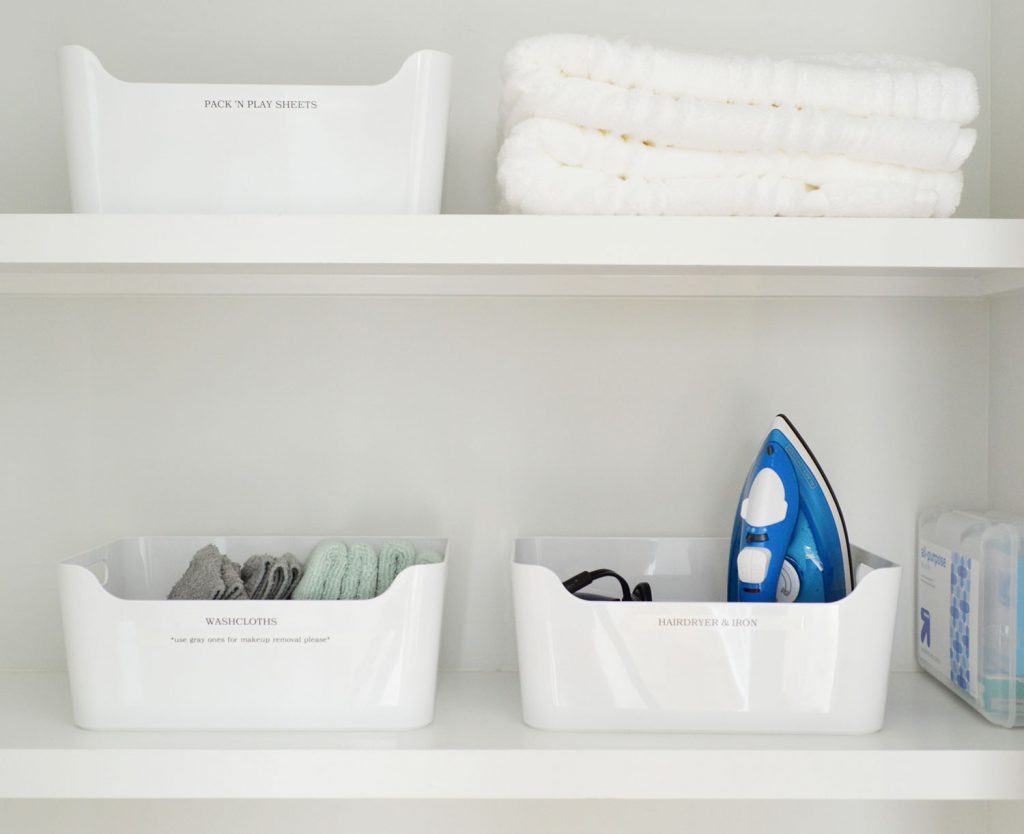 We were even able to communicate some simple instructions to our guests with the labels we added. For example, the washcloth bin says "use gray ones for makeup removal please" since we heard from our cleaners that light colored washcloths rapidly get ruined when guests use them to take off their makeup.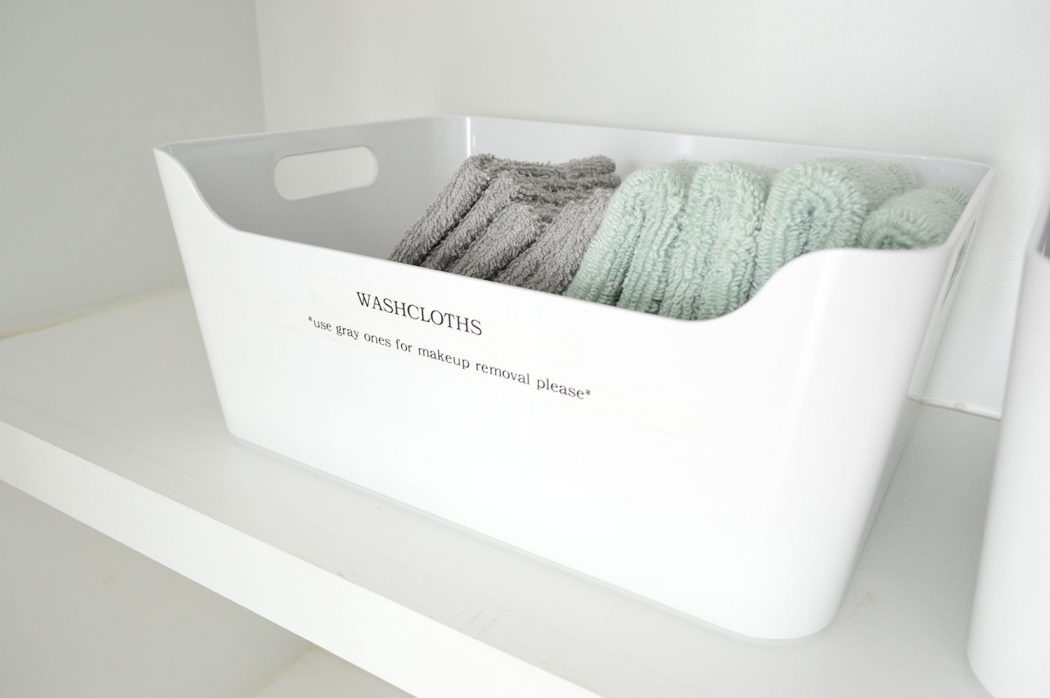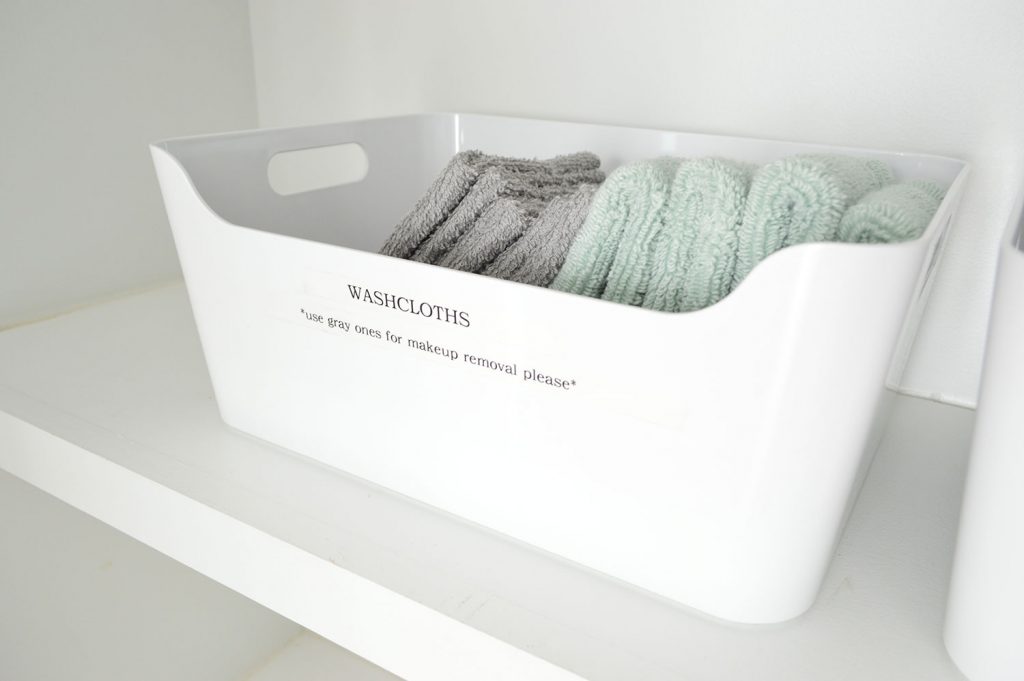 We also learned that it's smart to add photos to your Airbnb listing of the perks you're offering, so we snapped some shots of the high chair set up downstairs, so anyone scrolling through the pics sees it without having to read a bunch of fine print.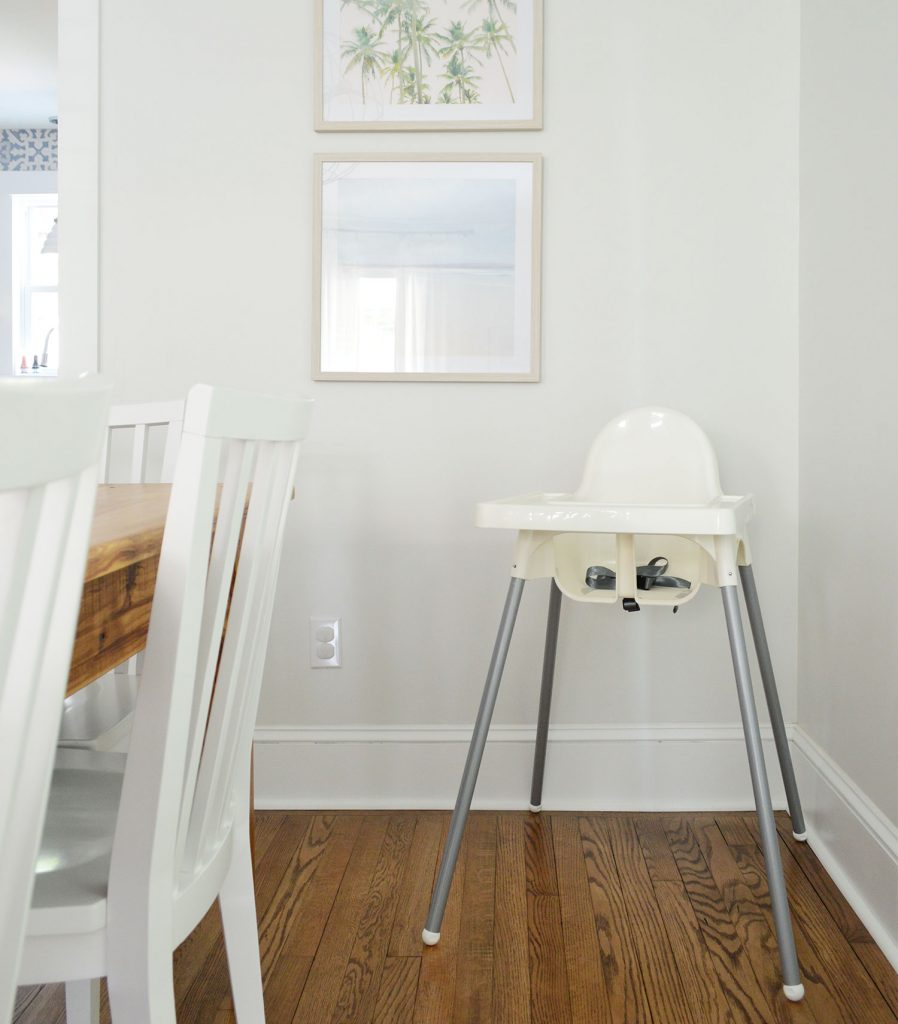 We also took a photo of the Pack N Play, which fits nicely between the double closets in the main bedrooms (as well as in a few other spots). It's hard to see in this pic, but that window has white faux wood blinds, cause nobody wants to put baby in a corner super bright spot ;)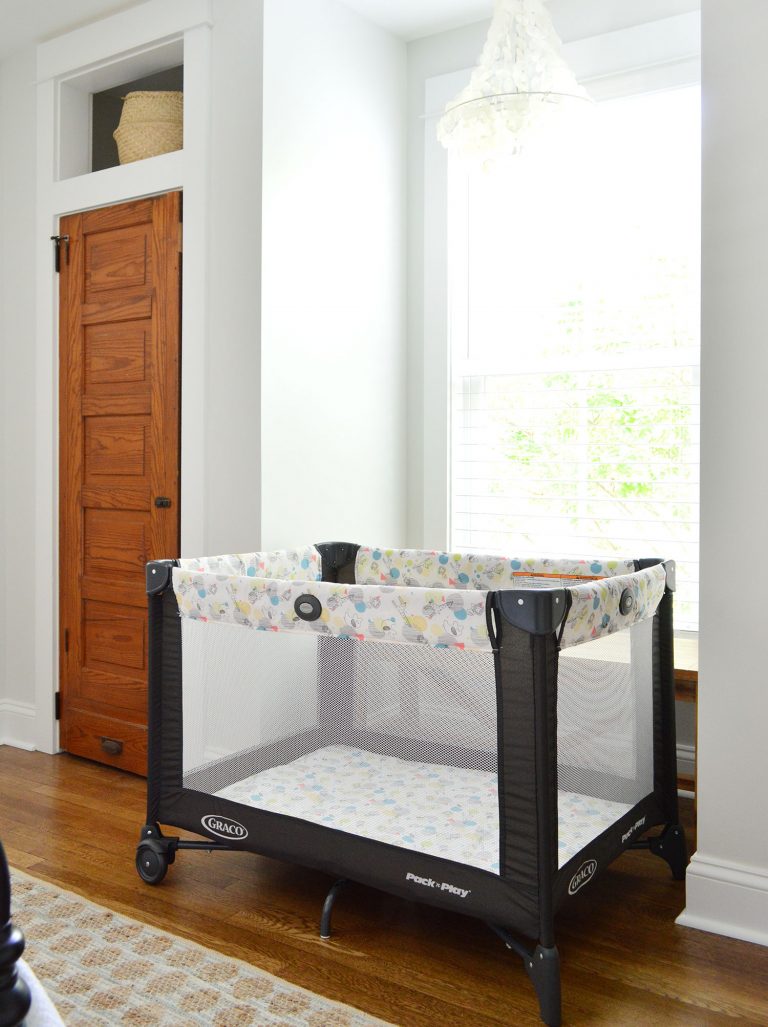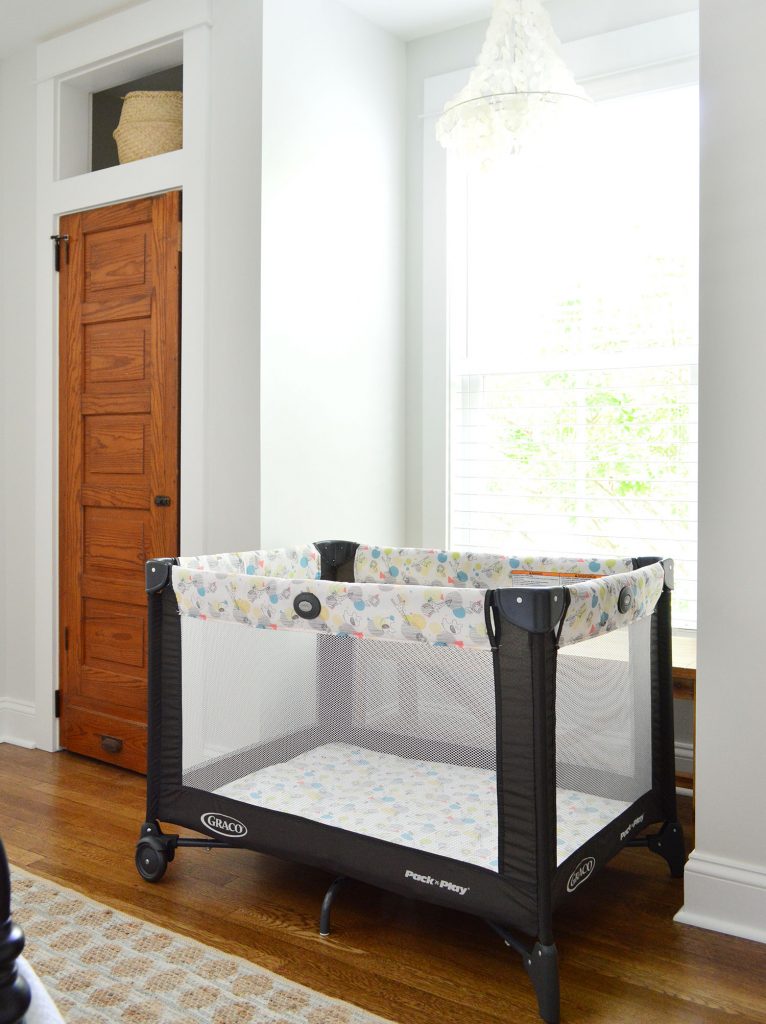 But the hardest working closets in the duplex are downstairs under the stairs, right next to the TVs on either side. Renters won't have access to them, but we thought you might be curious to see what's in our locked owner's closets.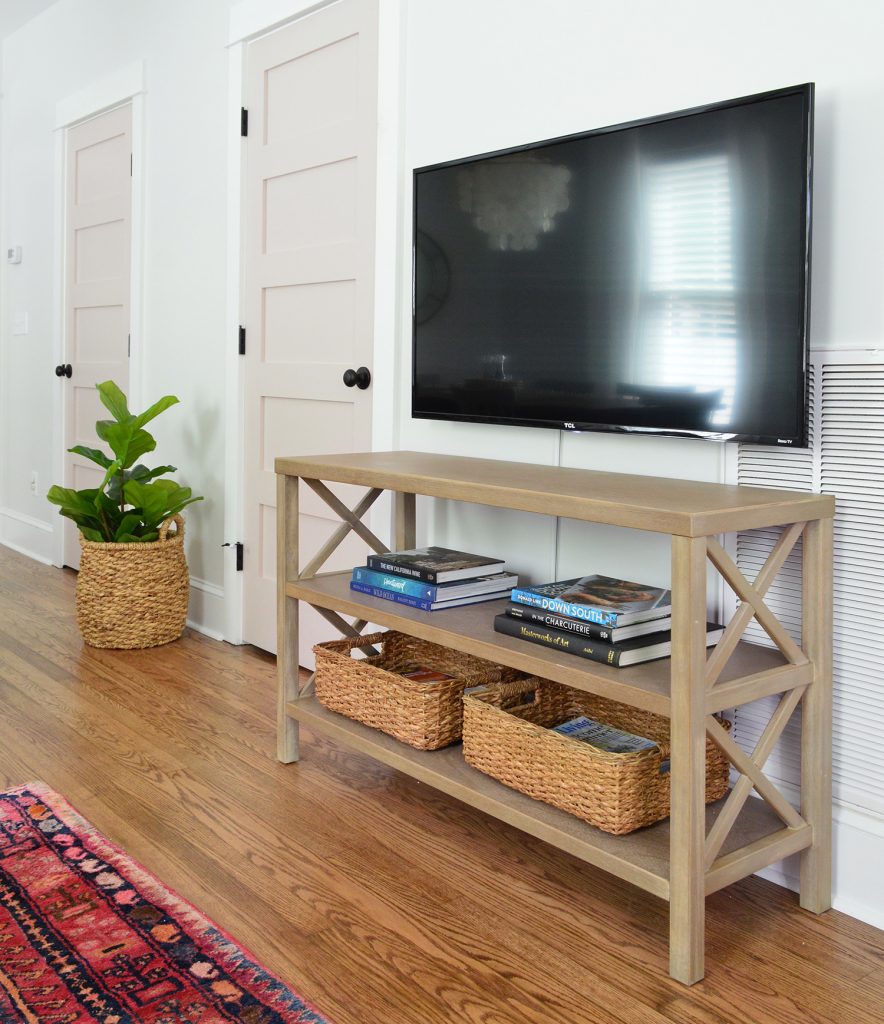 These closets are for us to store all of the refills and extras that our cleaning people will need to access on both sides of the house as they flip them between guests. It's all a learning curve to us, so I'm sure this will change over time, but inside we've got all sorts of bulk-sized refills for things like hand soap, laundry detergent, fabric softener, dish detergent, shampoo, conditioner, and body wash (thank you Costco!). You can hear more about our adventures of being new Costco members here – it's a whole new world.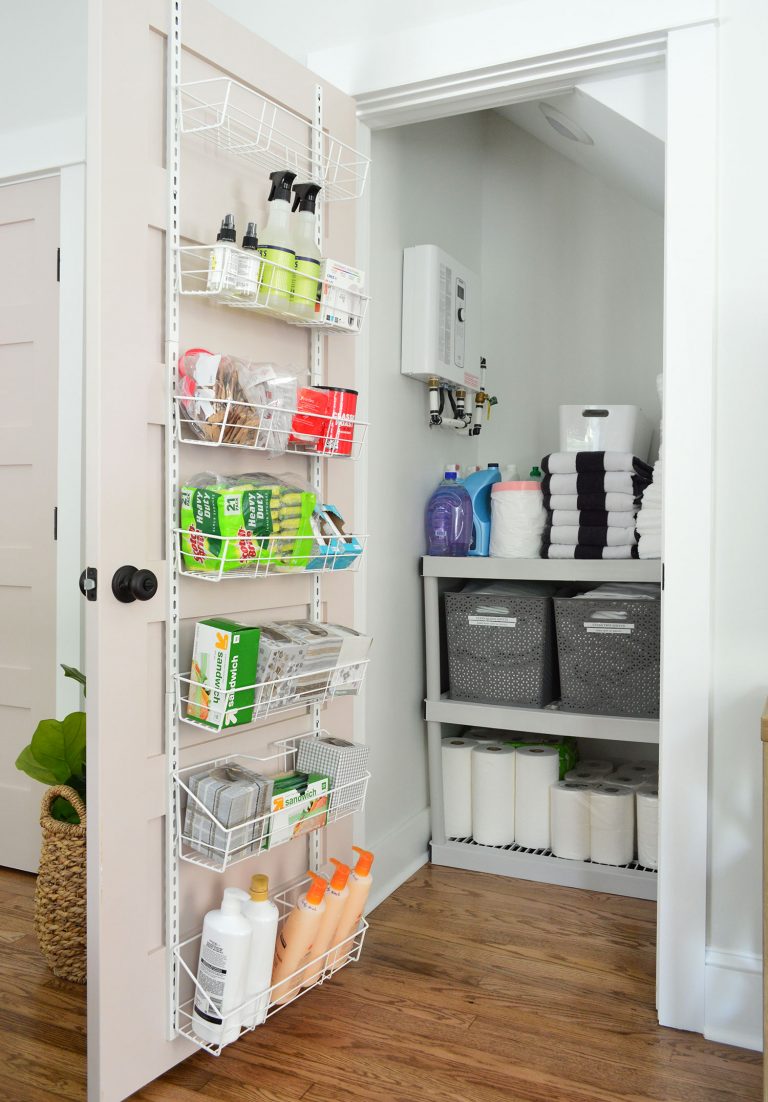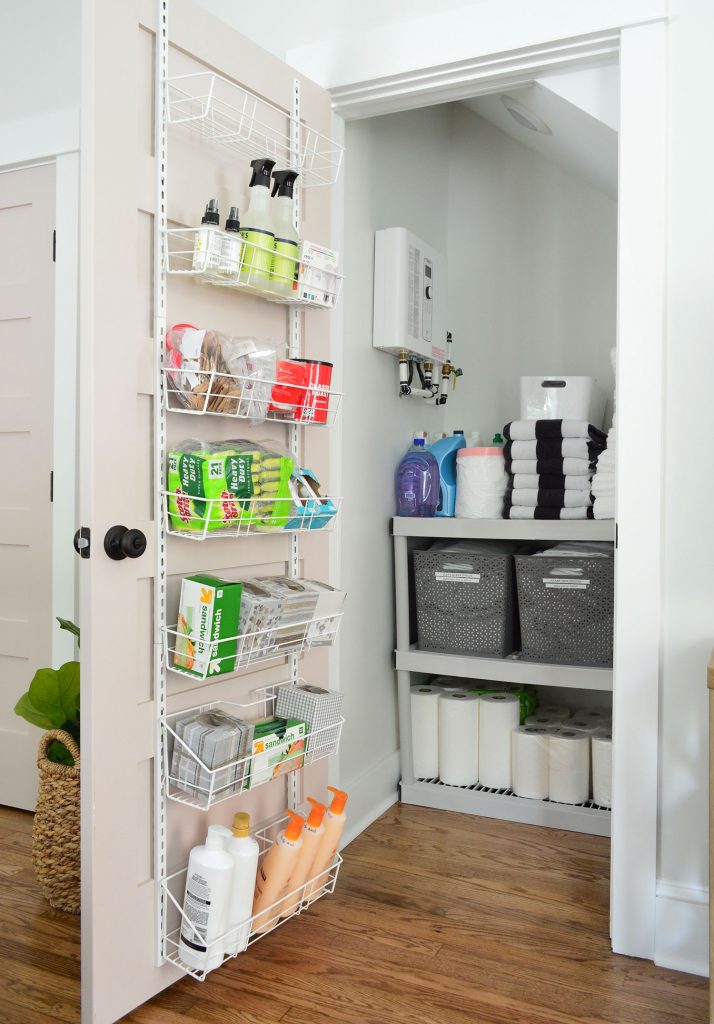 The closet isn't huge, so we added some wire-shelving to the back of the door to wrangle small items like coffee grounds, coffee filters, tea bags, Sugar In The Raw packets, tissues, sandwich bags, light bulbs, bathroom spray, sponges, small bathroom trash bags, and various soaps. Then we bought one of these tall plastic garage shelving units and split it across the two owner's closets (thanks to the sloped ceiling, one half of the unit fit perfectly on each side).
The plastic shelf helps us store toilet paper, paper towels, kitchen trash bags, and extra linens in case the cleaners don't have time to fully launder everything between guests – or if they find something that has been stained or ripped that needs quick replacing. We're learning that these very short turnover windows make it really important to have extra items on hand so there's not a huge last minute panic. Here's hoping!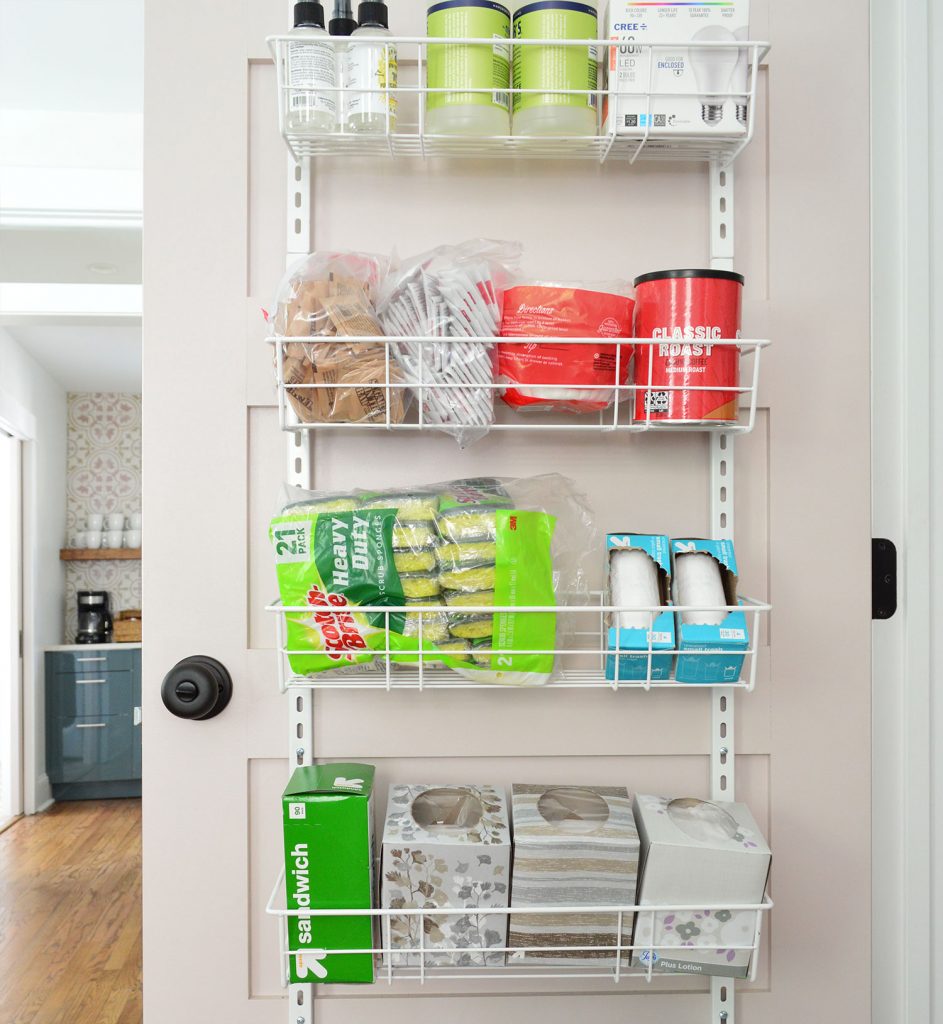 Some people reading the list of things we're providing might be like WHAAAAAA????!!!" but many other rentals in our area offer those things and we wanted to as well. It totally varies by where you live I think. In the area where John's parents have their beach rental, nobody provides sheets or towels (EVERYONE BRINGS THEIR OWN!) so it's pretty funny to see how much things differ by region.
This locked closet is also where we access the tankless water heater & the HVAC system, so there is a hidden key that our plumbing & HVAC pros can access if they ever need to get in to fix something without us being there.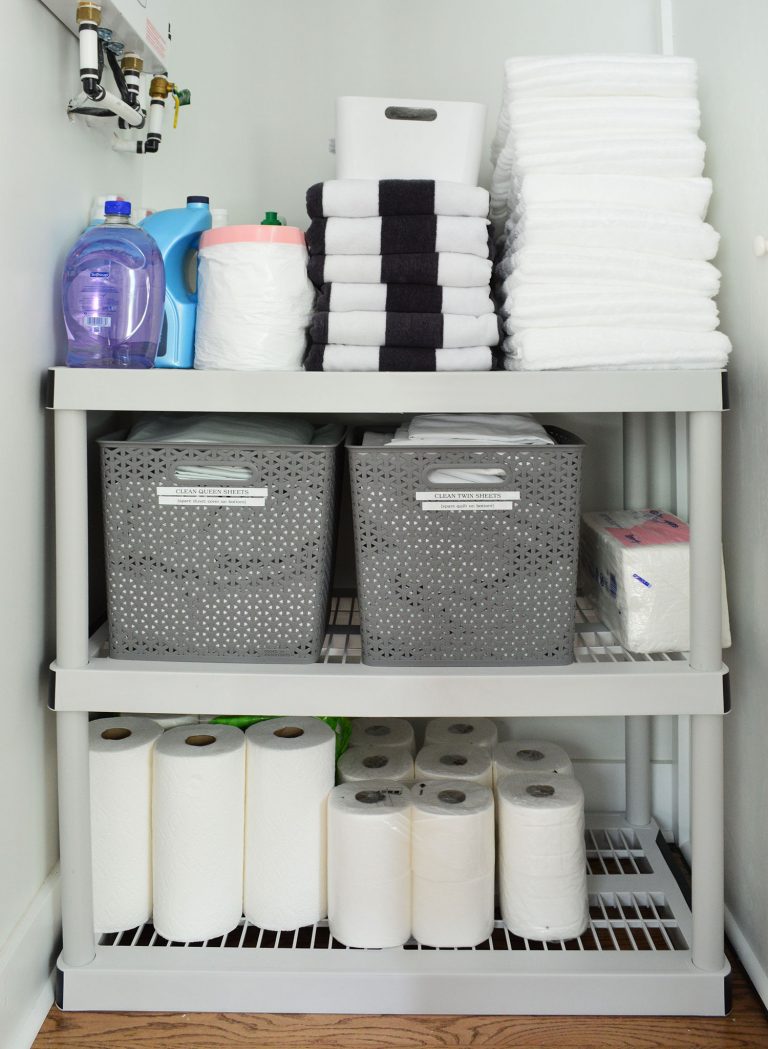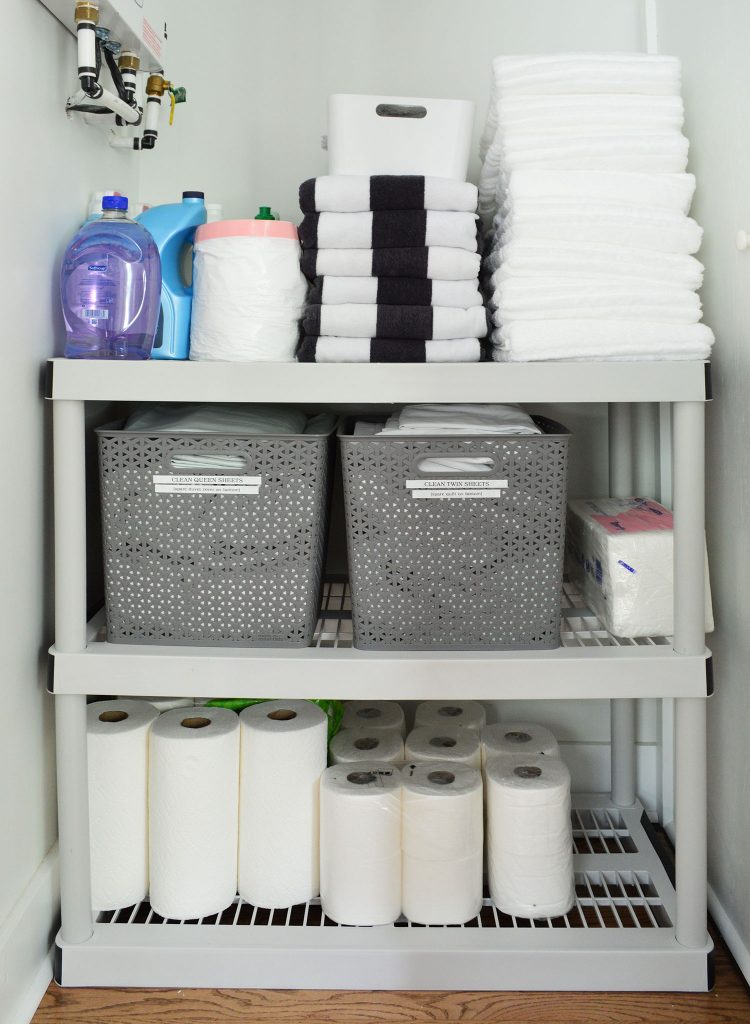 So there it is. The last few finished interior duplex spaces! We still want to do a video walk-through so you can see how it all flows and connects. And we still have to photograph the back patios, which I can't wait for you to see! They turned out even better than I hoped. Completely unrecognizable from what was back there before. I feel like they might be my favorite makeover in the entire duplex project! So cross your fingers for some good weather so we can get them all photographed ASAP.
P.S. You can see all of the other finished rooms of the duplex that we've already revealed (two kitchens! the front and back of the house! four other bedrooms! six bathrooms! two living & dining rooms! two mudroom/laundry rooms!) along with how we planned the layout, tiled the floors & backsplashes, etc, here in our duplex category. It's almost two years of updates covered in just 20-something posts!
*This post contains affiliate links