Once again it's one of those weeks where we'll all over the place. After stenciling the floor in our bath and closet, eking out some seasonal craftiness, and hanging extra thick crown in Clara's room we're now in the midst of sealing the stenciled floors, completing the canopy wall in Clara's room, ripping up the old carpeting on our stairs, and not-so-patiently waiting to grout the sunroom tile floor as soon as things dry up out there (Mother Nature is playing a cruel joke on us with all of this rain). And in the middle of it all, we got this question that I thought would be interesting to think about. So here we go.
Q: Do you two ever make painting mistakes? I feel like I'm always choosing the wrong color, or even worse, not picking anything at all because I'm so intimidated to make the wrong choice. After all these years of painting walls, trim, doors, ceilings, and even floors, do you have any tips for me? I'd love a roundup of paint mistakes you've made and what they taught you, mostly just to see if I can save myself from a similar fate! If you don't have time to address this I understand, but I would really appreciate the help. And so would my walls :) – Marta F.
A: Generally we like to think of ourselves as having an okay eye for picking paint colors. We usually go into things with a clear vision for what we want, can typically pick colors quickly and confidently (our typical method is to hold swatches up in the room we'll be painting and observe them in different lighting situations), and we've been known to buy a few test pots whenever we can't make a choice based solely on the swatches. But we're certainly not immune to making bad calls when it comes to paint selection. And actually, those missteps have been great learning experiences. So thanks for the question, Marta. Here are…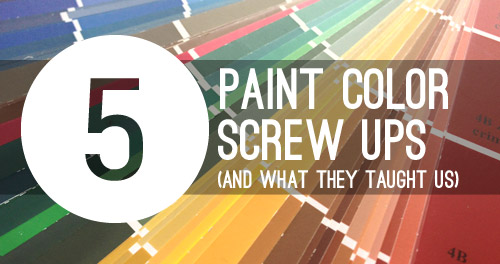 #1 – The Amazing Technicolor Dream House. We're starting with an oldie, but a goodie – our crazy colorful first attempt at a whole house color scheme. We chatted about it back in early 2010 here, and it has to be #1 on our list because it was such a giant mistake (as in, it affected nearly every room). Basically, we painted each space in our first house a different color that didn't go with the next: tiffany blue here, mint green there, and, oh, let's combine yellow and red brick in the next room #McDonalds #facepalm. It made the whole house look disconnected and chaotic, so we eventually course corrected and repainted nearly every room to give the house a more cohesive feeling.
The good news is that our second pass at paint colors made sense together, and they made us so much happier. Wouldn't you know it, our little home had a much easier flow when the rooms weren't all fighting with each other and announcing their differences ("Now you're in the light green room!" "Welcome to the bright blue room!" "Bienvenidos a the yellow and red room!) Bonus: the house felt at least 30% bigger. We love colorful houses, it's just that a palette that flows is usually more successful than something random (when rooms clash with the ones next to them). For example, five colorful swatches that don't go together might make a house feel choppy and compete-y, meanwhile five awesomely bold jewel toned swatches could be amazing (still fun, but they look good together). It's hard to get walls right on the first try – especially in your first house. So don't despair. Sometimes with painting, the second time's the charm.
LESSON LEARNED: Consider how paint colors will flow from room-to-room; and if it's a small home or you're at all worried about it feeling chopped up or chaotic, it doesn't usually hurt to err on the side of fewer colors within your whole house palette (even if there are some bold ones in there, just make sure they mix well together to avoid that random rainbow effect).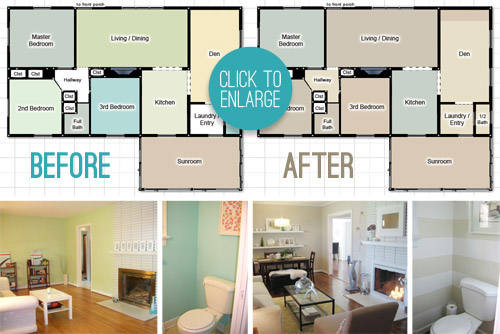 #2 – An Unappetizing Glow. One of most polarizing colors we've ever used was the grellow in our last kitchen. We lived with it for quite some time and still like it a lot as a color, but we ultimately deemed it the wrong choice for that kitchen. It was wrong for two reasons. For one, it was difficult to photograph accurately – but that's not a problem most people have to worry about – and it's not even a reason we would repaint an entire room (there was a whole lot of cutting in around those cabinets). The real reason for the change was the yellow-y hue that it cast on all of the white surfaces in the room. It made the cabinets and counters look cream – especially with the lights on. We typically prefer purer whites over tones like ivory or cream, so we repainted the room in a still-happy medium blue color to banish the yellow cast. Suddenly the counter, cabinets, and even the floor were a lot less yellow looking. It's not super apparent in the counters and cabinets in the photo below (although the floor tone is noticeably different) but you can see it better in videos like this one.
LESSON LEARNED: Consider how a paint color will affect other things in the room, especially when bold colors might cast their hue or reflect elsewhere (especially on glossy surfaces like counters and shiny floors for example).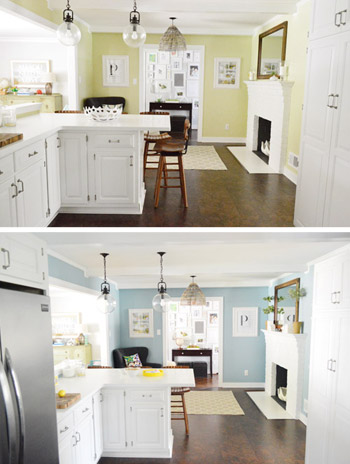 #3 – Subtle Becomes Not-So-Subtle In Concentration. In general, it's usually trickier to work with colors (bold or soft ones) over neutrals – but we love them. There does seem to be a formula for choosing them though. We typically have luck when we pick very desaturated versions of a color that we like on the swatch, often with a visible touch of gray or brown to them. So if we like the deep teal tone on one swatch, we'll look for another swatch that looks like it's that color, but muddier or grayer instead of quite as bold/pure. If we don't do that, we find out that what looks good on a small swatch can actually read as a neon-crazypants-color (that's a technical term) on the walls. Meanwhile, when you go for the more desaturated swatch that's tempered with some gray or some brown as an undertone, it seems to read a lot stronger when it's on the wall, and we end up right where we hoped (not too muddy, but not too bright).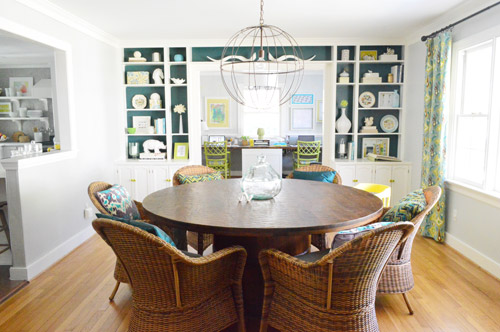 We knew we were breaking our own rule a bit when we selected a very pure, albeit very light, pink for Clara's new bedroom ceiling. Unlike most colors we go for, it didn't have a lot of gray or muddiness to the tone – it was just soft and pink, which we knew she would love, so we pressed on. We even did our usual first-step test to make sure we liked it (holding up the swatch on the surface we would be painting, since colors look different on different planes and we were going for the ceiling this time) and we viewed it in several lights before pulling the trigger.
We love how the ceiling turned out, but our mistake was also painting her closet the same color on a whim. In the confined space, especially when it's illuminated by her bright artificial closet light, that pink becomes waay more intense than we ever imagined (which we would have known if we observed the swatch in there too). It's not that bad in the picture below because it's in natural light, but in person it's a bit much – especially when the light's on. So it's still a color mistake that we'd like to correct, but because Clara loves it we're thinking it might remain on a wall or two in there (and we'll add some other elements/colors to temper it). Sherry even dreams of cedar shake shingles on the slanted roof in there to make it feel like a playhouse, which could definitely help to tone down the pink.
LESSON LEARNED: Don't assume that a color that looks good in one room or on a certain surface will automatically look great in another, especially if the conditions (lighting, size, furnishings, etc) are different.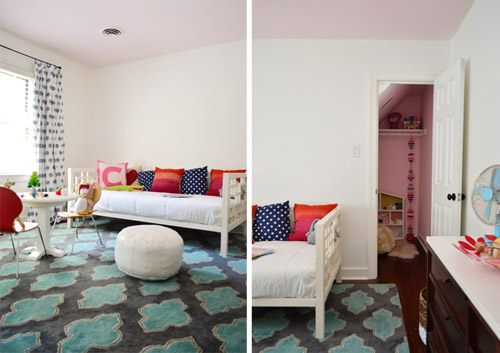 #4 – Exteriors Are Counter-Intuitive. When we had the rotting siding repaired and repainted on our new house, it was actually the first time we were doing any major exterior paint color selection in seven years of homeownership. And you know what that means? At was a chance to make a huge mistake! Beyond our usual tricks of holding up swatches in multiple lights and against the plane to be painted, we had also heard that you generally should go darker with exteriors since the light hits them so strongly outside. But we still didn't want to go so dark that the house looked gloomy or sad, so we went with Intellectual Gray by Sherwin Williams (the lighter swatch with the arrow on the top right pointing to it).
Well, it wasn't dark enough and in the bright sunlight our house gets in the afternoon, it almost completely washed out. We caught the error fast enough that we could switch to the noticeably darker Anonymous (the swatch to the left of that) in time, but we just as easily could have missed it until it was too late (I happened to be backing down the driveway as they painted the portico above our door and I couldn't even see the paint, so I called Sherry in a panic and she ran outside to see if we could go a shade darker) Phew. Costly disaster narrowly missed.
LESSON LEARNED: Unlike interiors, where we err on the side of lighter and less saturated colors, exteriors may just need the opposite – especially in spaces that get lots of sunlight. When in doubt, grab a sample pot of paint and go to town, because sometimes the swatches just don't cut it for big jobs like this.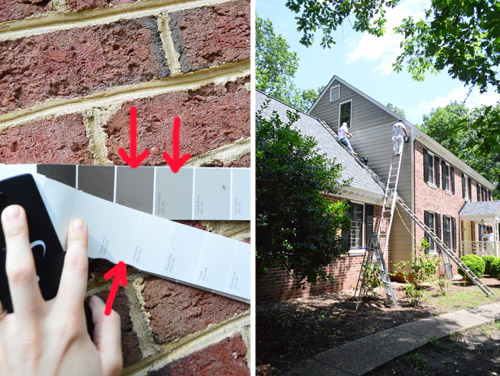 #5 – Well, Not All Exteriors Are Counter-Intuitive. We wanted our new sunroom ceiling to be a subtle blue. Still distinctly blue, but not anything overwhelming (especially since we worried it would reflect into our living room behind it and make the walls in there an eerie smurf blue). So we settled on a swatch that looked subtle yet still blue… but as we started spraying it on outside, it was so faint that we had serious doubts. Sherry could hardly tell what was only primed and what had already been painted, and I couldn't tell if the only reason I could distinguish them was because I was spraying them, so my mind knew which ones were which. UGH!
We immediately started formulating a plan B. I was going to finish spraying everything with one coat, then once it was installed on the ceiling I'd roll on a second coat of the blue that was one step darker on the swatch. But we never needed plan B, because once the individual planks were installed – out of the direct light, against some crisp white trim, and visible en masse – our original paint color pick proved to be the exact subtle blue we had envisioned all along. So this was a near-miss painting mistake that we've never mentioned before… until now.
LESSON LEARNED: No matter how hard you try to predict how well a color will work, you can't really ever be totally sure you got it right (or wrong) until you see it completely done, completely dry (paint darkens as it dries), and in place – so don't judge something laying on the ground outside if it'll be hanging on a shady ceiling when it's done.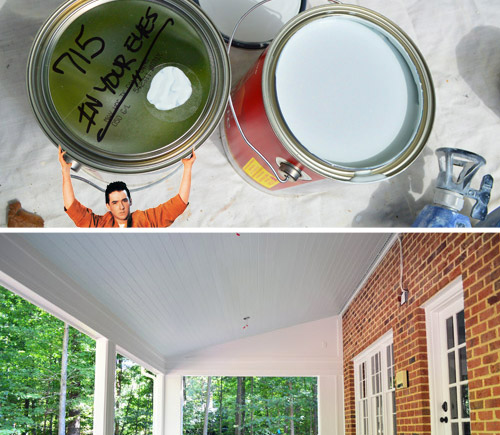 I think that last screw-up (well, almost-screw-up) gets to the key truth we've learned about choosing paint colors. No matter how hard you try or how many steps you take to ensure a good paint decision – you hold up the swatches on the right surface, you view it in multiple lighting situations, you paint big test swatches, maybe you even try photoshopping the space – you can't predict what a color will truly look like until the paint job is fully complete. Until then, even the best paint color pickers run the risk that it won't look perfect at a certain time of day, or that it won't play well with other items in a room, or that once it's on all four walls it somehow becomes more overwhelming (or underwhelming) than the swatch indicated.
Is that the most comforting advice in the world? Probably not. But at least we have oops-ed our way into five paint lessons that we now have under our belts. And we hope they help you guys as you go about your paint-picking ways. Please feel free to share your paint mistakes (and what you learned) in the comment section too. In the end, there's one mantra we like to repeat whenever we're especially nervous about a choice, which still happens to this day. Say it with me. "It's only paint!"