The other night Sherry and I came up with the idea to challenge each other to craft something using objects around our house – the catch being that the OTHER person gets to choose the objects. It wasn't necessarily a competition, but we still came up with some ground rules:
You can use anything to make the craft, but the three chosen items must be incorporated in some way.
The "challengee" may choose one of the items before seeing the other two chosen by the "challenger."
No money can be spent.
The project will be shared on the blog, no matter how awful it turns out.
We rock-paper-scissored and I lost, so I was up first. I exercised my right to choose one object and I picked this bright string/twine because I thought it would be functional plus it could bring in some color (I was going into it thinking I'd try to make some sort of art). Sherry, quite dramatically, hid her objects under a bowl to reveal to me.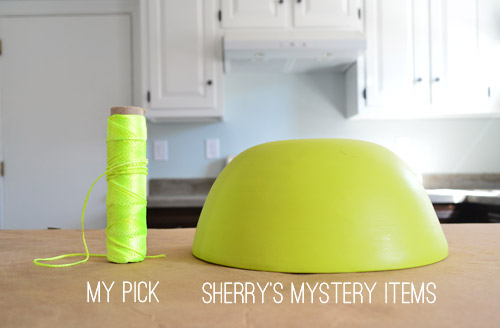 Continuing the unnecessary dramatics, we decided to video tape my challenge – which I'm glad we did because what I ended up doing would've been hard to explain otherwise. So unfortunately you've gotta watch below to see the outcome. And if that's not reason enough, might I entice you with these other teasers?
I enlisted Sherry's help, but it was really just to force her beautiful baby bump on camera
Both Burger and Clara videobomb at some point
One of Sherry's chosen objects came out of the fridge…
Sherry tried to talk me out of sharing the sound effect that I included at the very end of the video (I didn't fake that – it was the true sound of the project culminating), but I said "my challenge, my video!"
My craft turned out much better than I expected, wouldn't you say? Now to figure out where to put it… especially some place where it won't get rank. Oh yeah, and one other thing…
…
…
…
…
…
…
…
…
…
…
…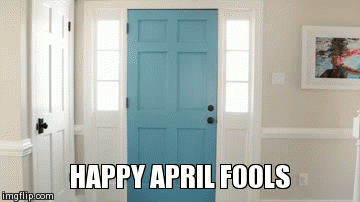 HAPPY APRIL FOOLS, Y'ALL. Hopefully you won't ever actually find me crafting with mayonnaise. We just wanted to see if it was possible to create a more cringeworthy video than last year's April Fools rap-fest. Ah, traditions. If you want to catch up on our other "just kidding" posts of yore, you can find them here: 2013, 2012, 2011, 2010, 2009. Hope you guys are enjoying some good pranks (and some MUCH better music than the likes of this video) today!
PS: We'll be back with a completely legit giveaway later in the afternoon. Totally swear it's for real. Like $500+ real.
PPS: In case you really did forget about the time Sherry hung out with Eminem, you can get that whole story here.