We spent the weekend checking off a bunch of hands-on projects for the girls room in the showhouse. It's definitely still looking sparse, and is far from done, so I'm sure it'll keep evolving right up until our deadline.
The bed needs to be raised and we have a colorful throw to add
Linens need to be ironed and we have a custom bolster that we'll layer in there too
Colorful fabric window treatments will be hung as soon as they're in
We might switch out the end table – not sure yet…
We have a soft blue lamp and a bunch of other accessories to add to tie things together
But we did manage to significantly shrink the to-do list this weekend.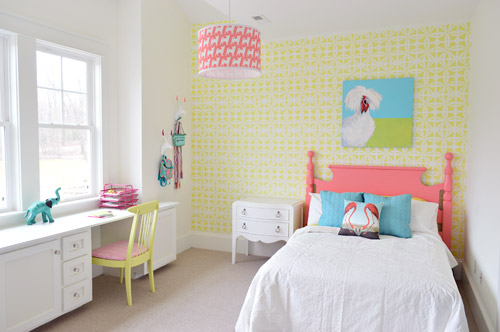 We got the wall stenciled, the headboard painted, hung some art (that awesome chicken painting was done by a friend of ours named Lesli DeVito), and then we painted/upholstered two secondhand chairs – and even had some fun with a few wall hooks.
You might remember this old full-sized headboard find of ours (it was $9.98 at a local place called Family Thrift Center).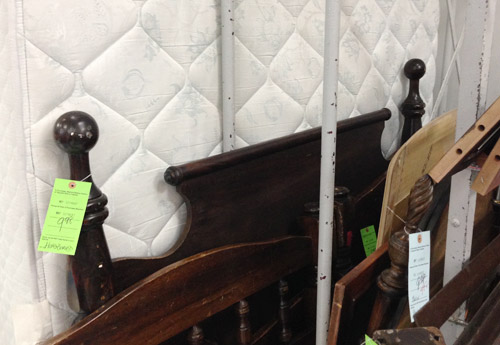 Now it's sporting a fresh coat of paint (Hydrangea Flowers by Benjamin Moore) along with that freshly stenciled wall behind the bed. Both of them were done by Parker, one of the builder's right hand men – who apparently is a stenciling expert among all of his other talents.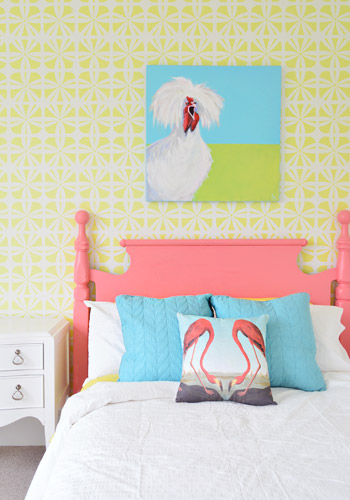 It definitely felt foreign not to be up there on ladders doing the walls ourselves (along with priming and painting that headboard) – but with 3,500 square feet of house to furnish & accessorize, it was also pretty amazing to be able to tackle a bunch of other tasks while those got checked off the list. The stencil was donated by Royal Design Studios, and the room is painted Simply White with Hibiscus by Ben Moore layered on for the stencil.
It's another example of wanting to take some risks to keep the show interesting (we love how it mixes with the pop of color in the headboard) and it's nice that it can just be painted over if someone moves in and wants to change the look of the room – so it's one of the more flexible choices.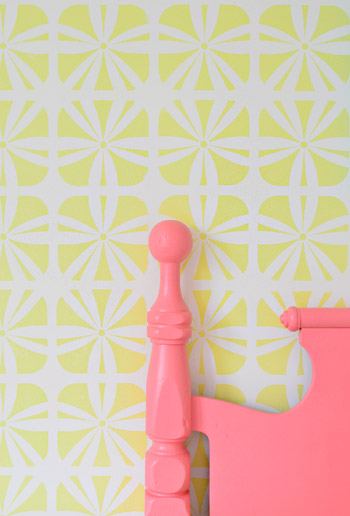 We did get to roll up our sleeves and refinish some furniture ourselves, like these two chairs that we found for $16 each at another favorite thrift store (Love of Jesus on Midlothian).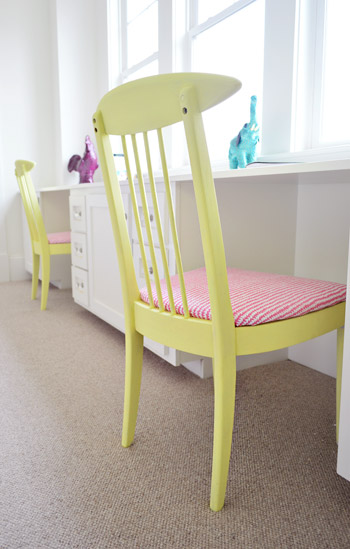 Here's what they looked like when we found them.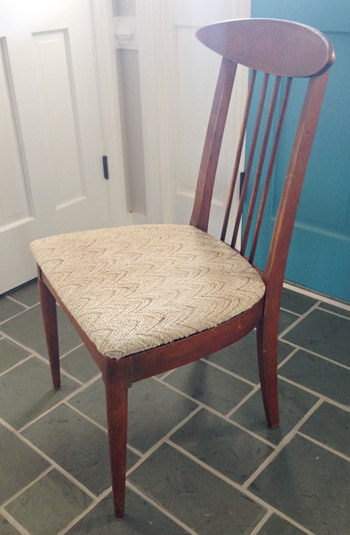 We actually debated staining them, so John sanded them all the way down to the raw wood, but the more we stared at the girls' room, the more convinced we were that paint was the way to go (there's carpeting in there instead of hardwoods since the builder said most of his buyers prefer that in a kids room – and with other painted furniture going on, we thought wood stain might feel like the odd main out). I'm sure we could have stained them and made them work, but a little more fun color in a kids room was too hard to resist…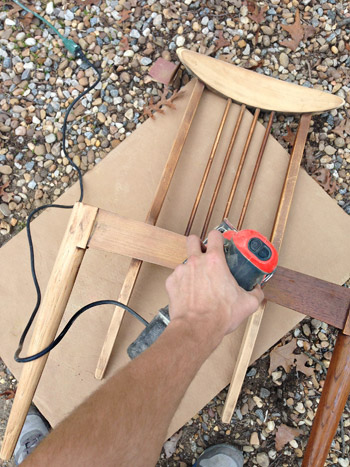 So we primed them with two coats of Kilz Premium (rolled on with a foam roller in most spots and with a brush to get into the nooks and crannies) and then we gave them two coats of Hibiscus paint, which was leftover from the stenciled wall (once again, applied with a small foam roller and a brush to get into those tighter spots).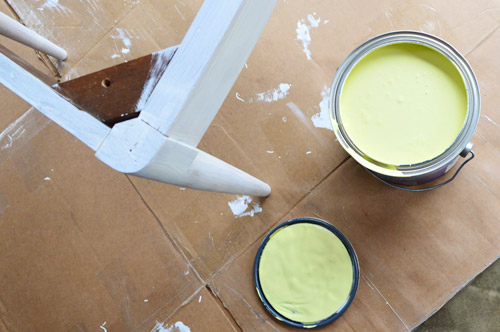 While those were drying in the garage, I recovered the seats with extra loft batting (you can grab that at any craft store like JoAnn) and used a manual staple gun to pull that firmly around the front of the seat, and staple it around the perimeter in the back.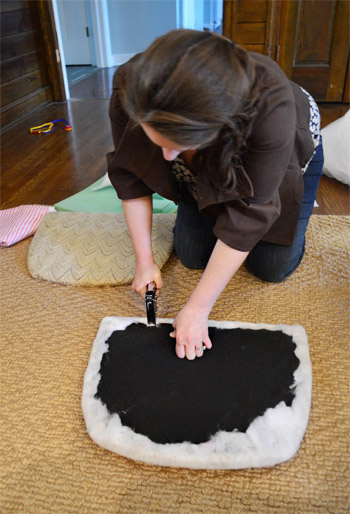 Then it was time for some playful fabric called Candy Floss that we found at U-Fab (they kindly donated a yard of it, which was enough to cover both seats). Here's a shot of how I deal with corners. If you fold them sort of like when you wrap a present you get a nice clean look in the front.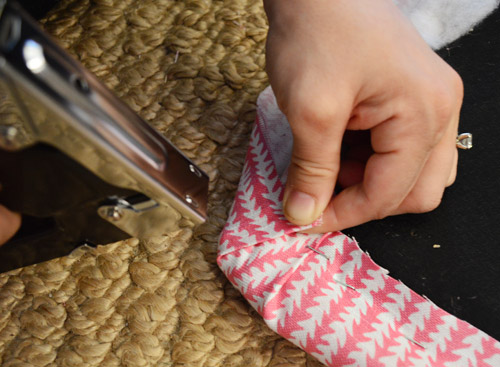 One tip for working with a pattern is just to make sure to keep it straight as you staple (I occasionally flip it over to check, and you can pop out staples and redo things if your patterns migrates and it looks wonky). The other pattern tip would be to make sure if you're doing more than one chair that you're keeping the fabric running in the same direction (assuming you want your chairs to match). So since the white arrows seem to be pointing down on this cushion, I made sure they went the same direction for the second chair.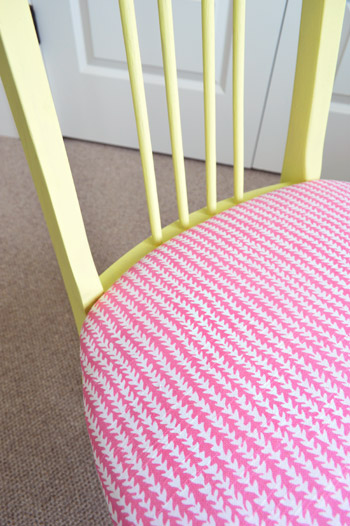 Then you just screw the seat cushions back into the chairs once they're dry and you're done. Boom – new chairs. Except they're old. But they look new, so… huzzah!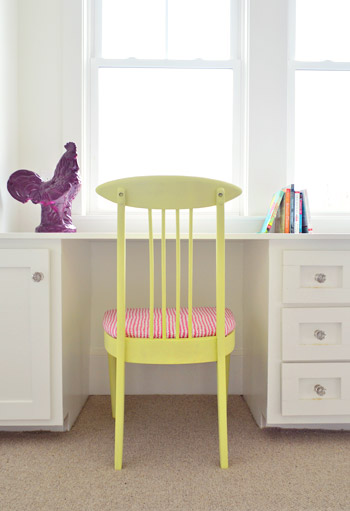 You'll notice some ceramic animal friends on the wall behind this chair, so let's get a little closer…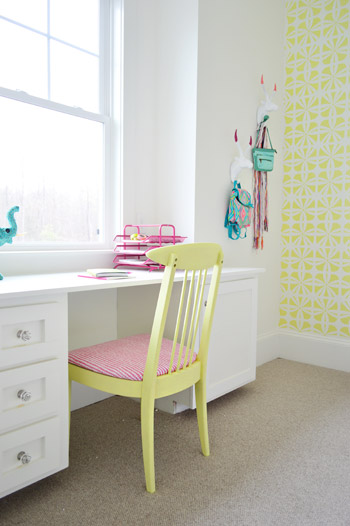 They're HomeGoods finds that we grabbed to hang up a few colorful imaginary daughter items like a purse, a mini backpack, and a scarf.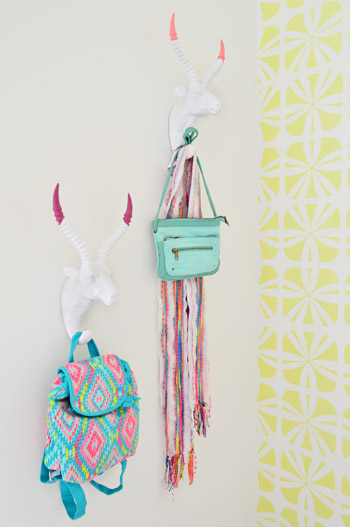 Here's what they looked like when we bought them. Going onto a white wall we worried they might be a little flat, so we dipped their antlers just to add some interest. We didn't want them to look too matchy or perfect, so we went with two different colors (Hydrangea Flowers and Berry Fizz).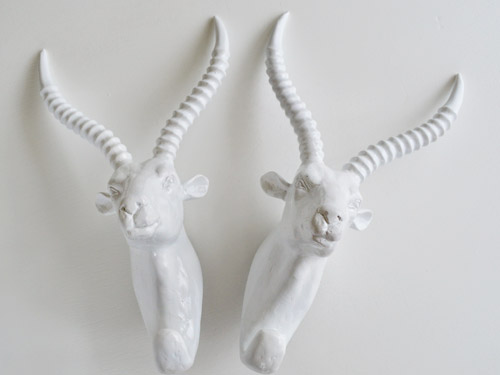 We didn't tape them off and paint them – we literally dipped them right into the cans.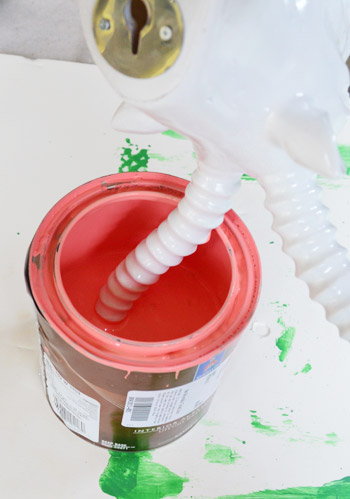 They were a little drippy…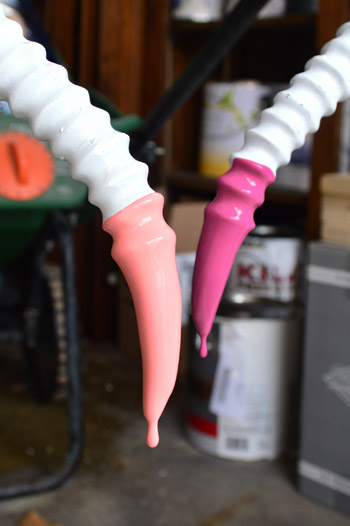 … so we hung them from our grass seed spreader with some old foam core under them to catch the splatters.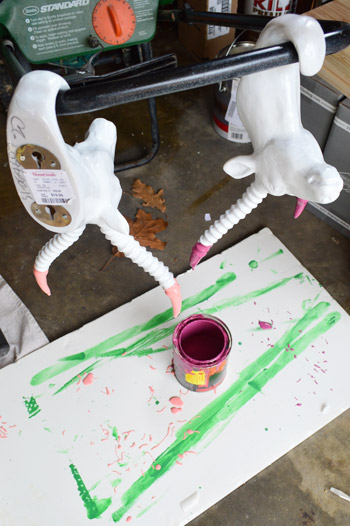 It was crazy easy, and the dipped tips look awesome – sort of like powder coated resin since it's so thick and glossy. I love that they're imperfect and angled too. For some reason it seems more interesting than if the paint followed the ridges perfectly. Nothing like a little rebellious outside-of-the-lines coloring.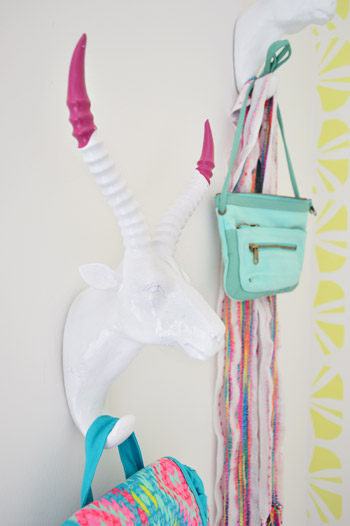 And you may have noticed our Burger pendant light. We couldn't resist. Just don't tell Burger or his ego won't fit through the door anymore…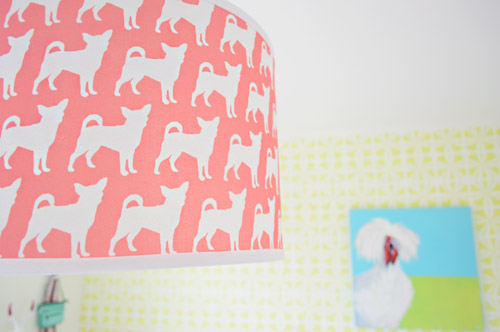 The room's definitely looking a lot more finished than the view that greeted us about a month ago.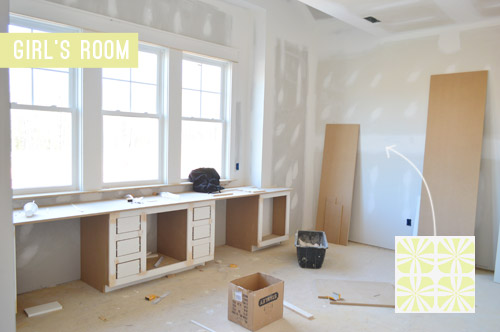 Now we just have about a half-dozen other changes/additions to make in here… and 24 other spaces to finish in the next 14 days or so.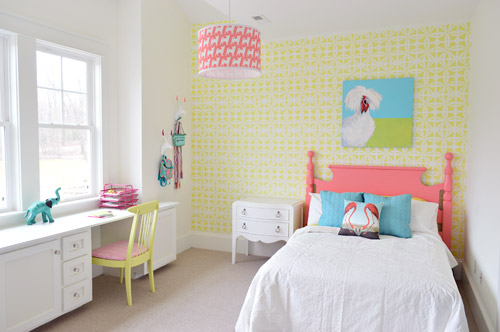 Update: There have been a few questions about having a double desk for a single kids room. John actually grew up with two desk areas in his room (one for a computer and one for homework/writing/drawing) so our team figured since two chairs fit easily along that wall it could end up being really practical.
Update #2: A few others have asked if these furnishings/accessories need to be universally appealing for whoever buys this house. The answer is that they're just for the show (where we've been encouraged to take risks, have fun, and do different things so each house feels set apart). Once the show's over, the homeowner has the option to buy a few items of furniture or art if they'd like – but will mostly be furnishing/decorating this house so it works for their family.
As John mentioned on Friday, things are going to be super showhouse heavy for us throughout this week and next week, so forgive us in advance if we're behind or off schedule (or slow on comments). We've somehow managed to squeeze in some our-house projects among the chaos (like some nursery updates), so we can't wait to share those whenever we can.
What did you guys do this weekend? Any art hanging, headboard painting, chair makeover-ing, or ceramic animal dipping?
Psst – Wanna see more showhouse info & photos? Click here for Our Full Showhouse Tour, which includes final pictures of every room, the floor plan, budget info, a video walk-through, and shoppable showhouse furniture & accessories.