First of all, yes, we're still tiling a few hours each day (usually from 10-midnight after getting C to bed and doing blog/book stuff). But we're getting there – and should definitely have a holy-meatballs-we're-finally-done reveal for you on Monday. Yay!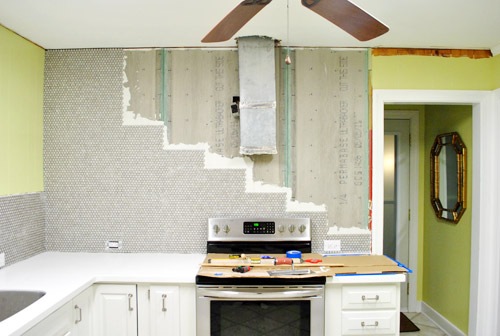 Who wants to pet it? Just me?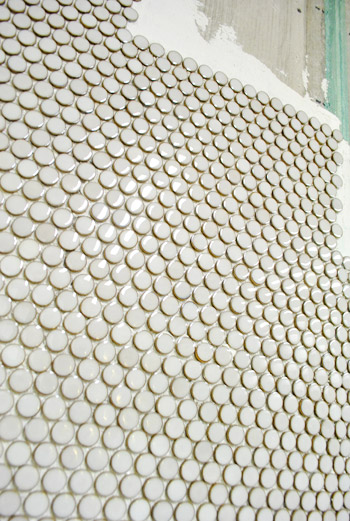 But back to the matter at hand: last weekend I rearranged Clara's room. Again. And I owe you guys the details (a few of you even noticed things had moved around here and requested an update), so whoop, here it is. Let's dive right into the moving madness. Heck, free use-what-you-have rearranging isn't that bad, is it? No heavy breathing required. From you, at least (I did my fair share of creepy mouth breathing while pushing things around). It actually was only a few simple switches, but the room still looked tore up from the floor up for a little while: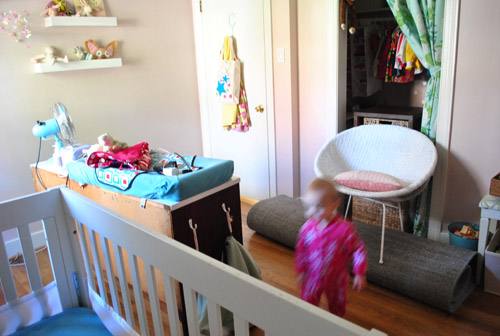 As usual, Clara was in there "helping Mommy dec-rate." Decorate only has two syllables according to the bean. I love that you can't see her at all here because she's not tall enough to poke up from behind the changing pad where she was "juggling" cloth diapers while singing Firework by Katy Perry. No joke.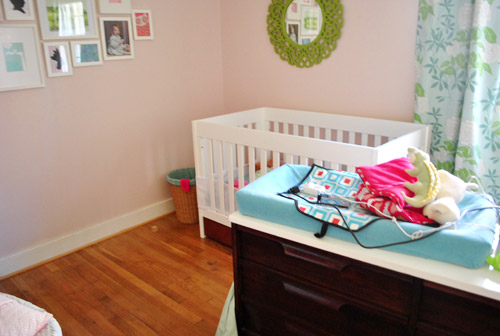 Just for fun, here's Clara helping me the last time I went crazy and moved everything around: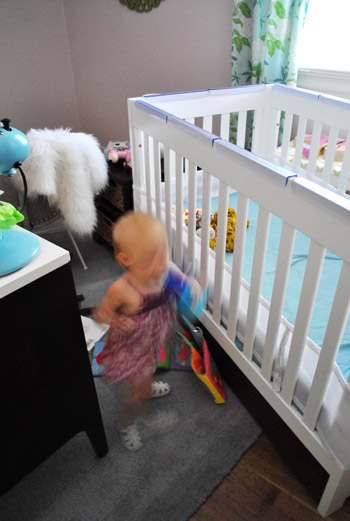 Kinda looks the same except she's wearing summer stuff.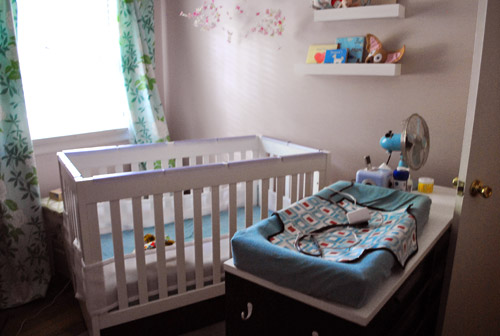 And now here's the new layout description to help make sense of the madness (see the sketches of makeover 1 and 2 here). Well, it won't really make sense of my furniture-shuffling-neurosis, but it might explain what's where and what used to be where:
The crib which used to be on the wall in front of the door got moved to the wall across from that on the far side of the room
The dresser that used to be on that wall moved to where the crib once lived
The chair and side table pretty much stayed where they were
The floor lamp that used to be behind the chair got moved into the kitchen (where it's used in our sitting nook by the fireplace)
Clara's hamper got "hidden" back where the lamp once was (more on that in a bit)
And here are a ton of pics of her room after my recent switches. First off, it's nice not to walk right into the side of the crib now that it's back on the wall I originally wanted to put it (somehow I always planned to put it there but when we moved we stuck it in a corner, and then pulled it near the door, and only now is it back where it "belongs"). It didn't jut out all that much, but the dresser is about half as deep, so it feels more open when you walk in again.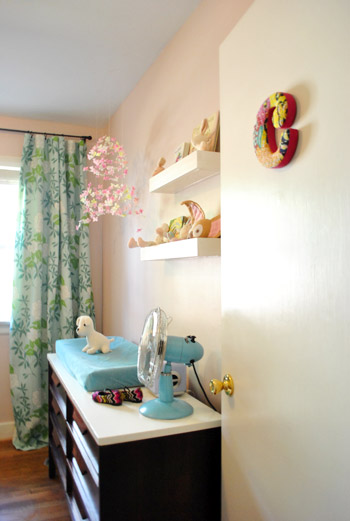 That little C on the door is from Anthropologie on clearance about a month or two ago. It was $6. Whenever we walk by it Clara says "C for Clara."
Behind our little reading chair is Clara's hamper, which is nice because she likes to take everything out of it and throw it around, so putting it a bit out of the way deters her. Sometimes. Other times it's just a fun obstacle-course-like challenge.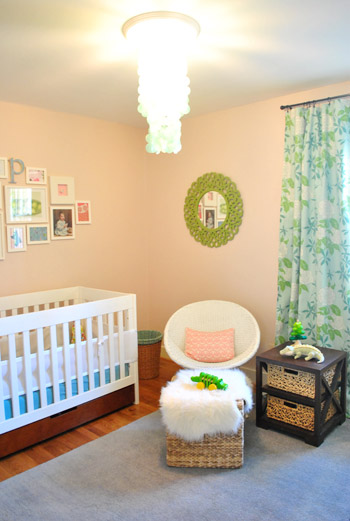 Ah, the crib is finally on that back wall. Mom bliss. All is right with the world. And since I'm Señorita Safety all the frames over the crib are well out of Clara's reach (the crib is pulled about 18″ away from the wall, although that's hard to see in these pics). They're also not only hung with screws & anchors or nails (depending on if I hit a stud) but also reinforced with heavy-duty 3M adhesive strips (which are 100% removable so they won't kill the wall, but aren't baby-removable, so nothing will come a-crashing down – even in another unlikely east coast earthquake). Is that crazy first-time-mom enough for ya? I thought so.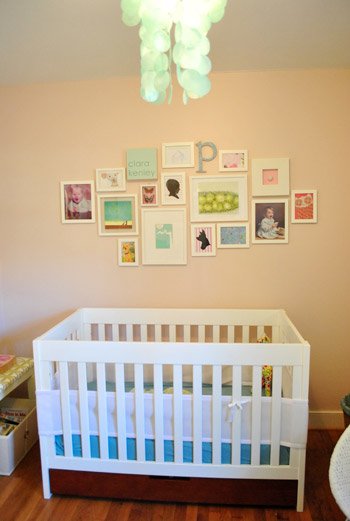 Here's the corner that's opposite the green mirror and chair: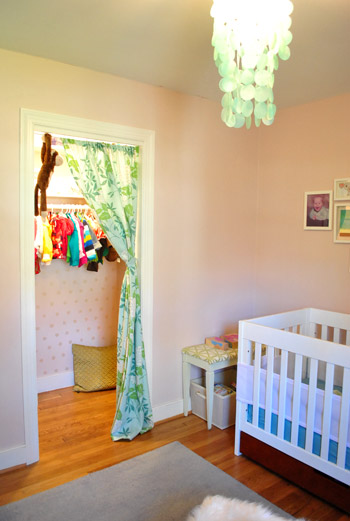 The shot below is meant to show three things:
the crib is pulled around 18″ from the wall (although there's a weird double shadow so it really doesn't demonstrate that very well – in fact it only looks about 3″ away)
there are still many blank walls in our house (we still need to add some art to that corner)
Clara's closet is still my favorite place in the whole house (as in, I hang out in there and stroke the potato stamped walls)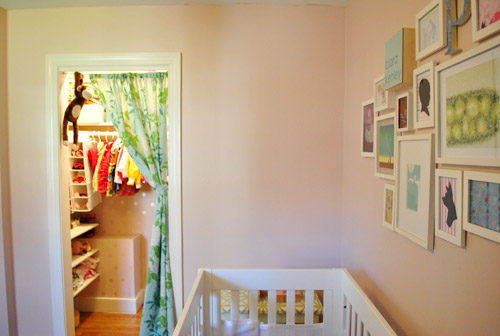 One of our favorite furniture makeovers ever is still Clara's $20 craigslist dresser: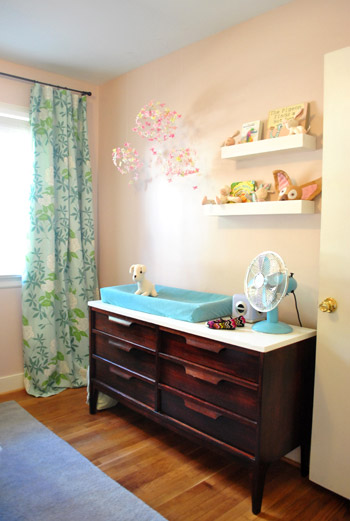 It takes a licking (wooden fruit, cars, and blocks get whipped at it often), but keeps on ticking…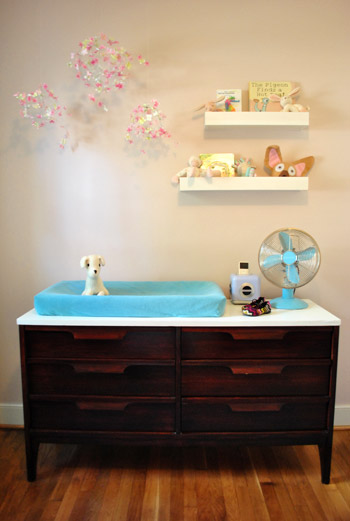 Every post deserves a detail shot of a stuffed alligator: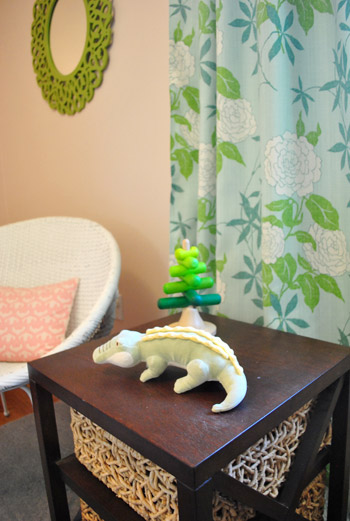 More details. They're my favorite things in here. The handmade stuff, like these bookshelves John made…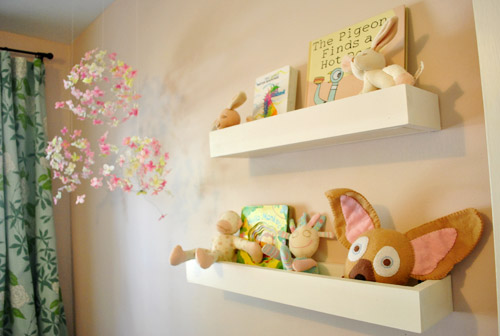 … and the mobile I made.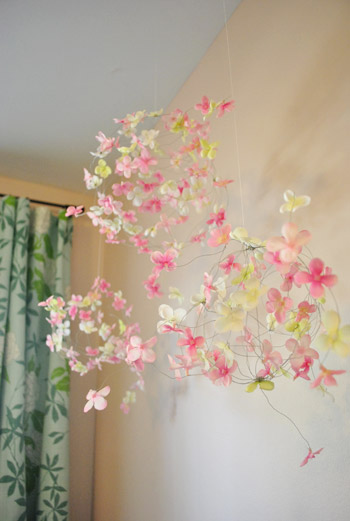 Another favorite thing in here is the art wall. So many personal things that make me misty eyed. More on everything that hangs up there here.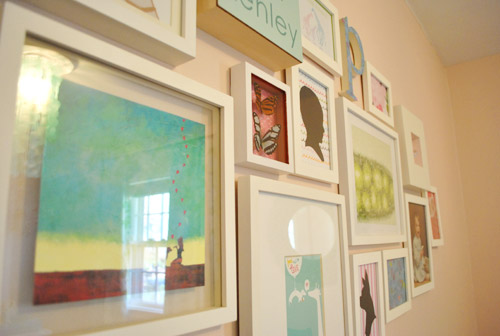 Monkey detail shot!!!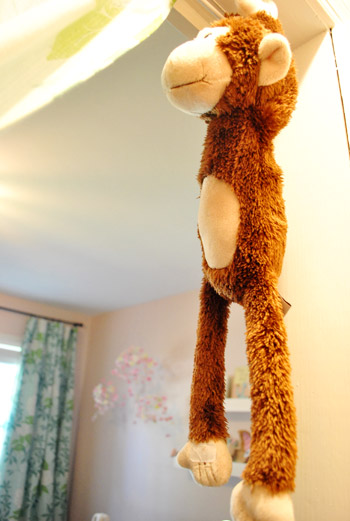 Hah. That might be the best use of three exclamation points ever. Just kidding. This is:
You get a car!!! You get a car!!! You get a car!!!
Oh to be Oprah for a day. What's wrong with me? Maybe don't answer that. Anyway, when it comes to Clara's third layout since we've moved in, I've learned not to make any declarative statements (ex: "I love it so much I'll never move stuff around in there again!") but I definitely love it the more than the past two setups. So it's a keeper. At least until I go crazy again…
What rooms have you guys been shifting around? Do you have some that never get changed (our bedroom and living room are pretty much the same as about a month after we moved in) while others seem to move around all the time (Clara's room and our kitchen seem to have enjoyed the most change so far).