Some nursery tweak-age has occurred. And because we're currently working away on the kitchen (stay tuned for those deets tomorrow morning if all goes well), we figured that we owed you the whole gallery-frame-change rundown (along with some well overdue what's-in-that-frame answers). We've always loved the idea of expanding Clara's art wall as she grows with more and more frames, so here's how it looked before: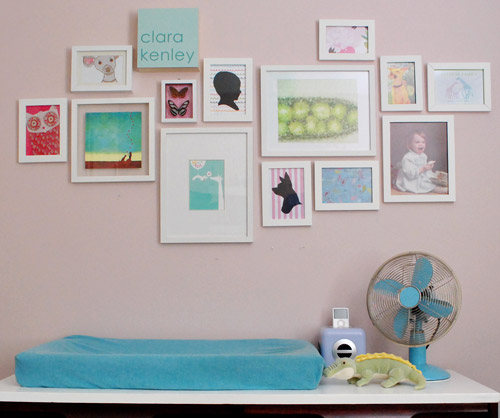 And here's what we have going on now that we've added a few more frames to the mix (and shifted the placement of a few of the existing ones):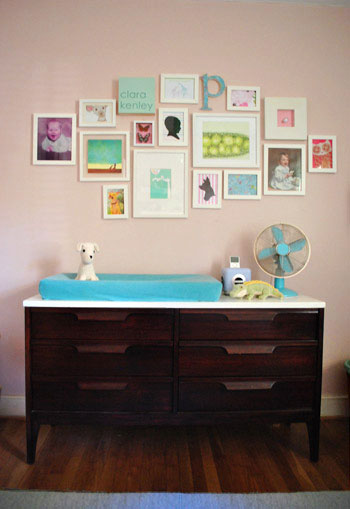 And for those who have been wondering, here's a quick rundown of the things that we've framed (you can find some other details here):
John's baby picture and my baby picture (for fun little comparisons)
a hilarious doodle of Burger that a friend did on my Facebook wall using Graffiti (I just printed it out & framed it)
this print of a girl and her dog from Etsy (it reminds us of C & B)
a personalized canvas that says Clara Kenley from here
a photo of Burger that I photoshopped to create a bright stylized picture of him in a field of flowers
two faux butterflies in a small shadowbox that I backed with patterned paper
a homemade silhouette of Clara that we cut out and placed on striped paper (more on that here)
a giraffe print from here (Clara loves giraffes and pooches most of all)
a cute Skinny Cow magazine ad with a giraffe that I tossed into a frame (framing ads from mags that you've purchased for your own personal enjoyment is totally fine – you just can't profit off of those images or anything)
a big letter P that we decoupaged with colorful paper for a more playful effect (more on that here)
a print of peas in a pod purchased here made entirely of type (it's the letter P, repeated over and over – which we love since we're the Petersiks)
a silhouette of Burger that John ordered me years ago (which we backed with fun patterned paper to nursery-fy it)
Clara's hospital bracelet (I just glued it to some pink construction paper and popped it into a chunky glass-less frame)
a cute Sweet N Low magazine ad with an owl in it (once again, when you purchase a mag you can frame any pages you want, you just can't use them for any reason other than personal enjoyment – ex: ya can't sell them on Etsy)
And seven of the "art" pieces were actually completely free (our baby pics, the Burger doodle, the Burger in a field print, the Laughing Cow ad, the Sweet N Low ad, and Clara's hospital bracelet) because we framed something that we already had or made/printed something of ours out on card stock. Gotta love no cost wall-candy, especially when it keeps Clara happy (read: not crazy-wiggly) during diaper changes.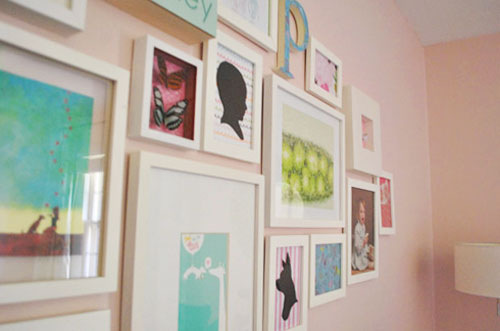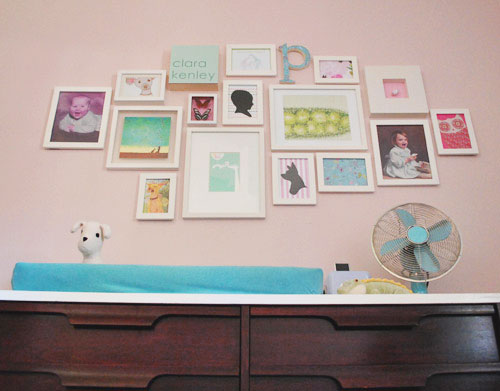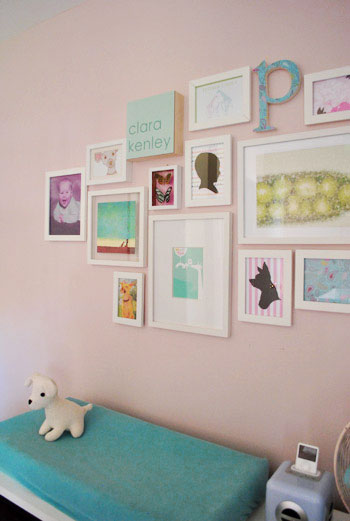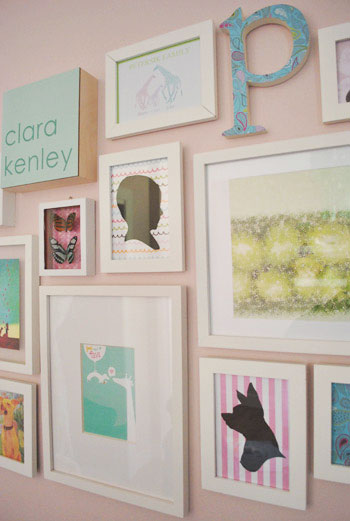 The funny thing is that many of these frames hung in Clara's first nursery (albeit in a slightly different arrangement with a few differences in what we framed):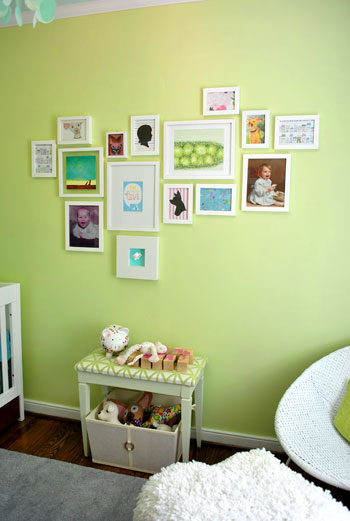 One of my favorite things on the wall are our baby pictures. Clara loves looking at them and saying "Daddy baby!" and "Mommy baby!" and we love searching for characteristics in each photo that seem Clara-like. Here's John's a little closer: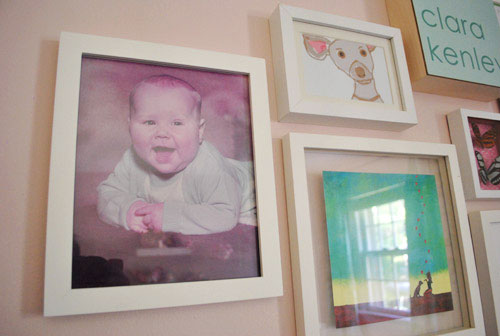 And here's mine: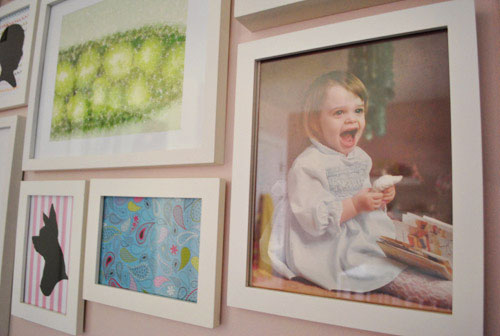 First of all: we love that we both had our mouths wide open. But more importantly: who do you think she looks more like? Let's have a good old fashioned vote.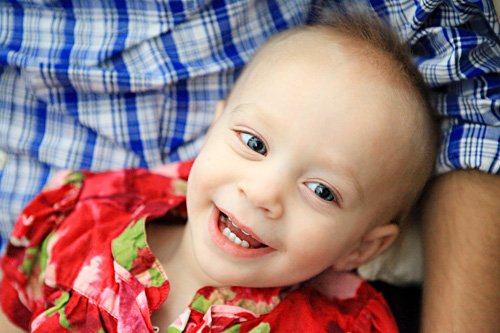 Any Team Sherry peeps out there? Everyone in the family says she looks like John (even on my side) but John's baby self was so sweetly chubby, so I personally think there's a little bit of a mommy resemblance going on. Then again, I'm biased.
Psst- One of the five finalists for the Ikea Life Improvement Project is a reader of ours named Melissa Matthews! She found out about it back when we mentioned it during an Ikea giveaway, and entered… never thinking she'd end up in the finals (we were so excited to get an elated email from her all about it)! You can read more about her awesome cause and log a vote for her or any of the other finalists that you're rooting for here (the other nominees are in the left column). Bonus: every time someone votes, Ikea donates $1 to Save The Children's U.S. Programs.