At least that's how I feel about them. I know some people hate stairs, but after seeing about a million gorgeous staircases on Pinterest and a whole bunch of awesome DIY stair upgrades, I was all "I waaaant stairs." A la that girl in Charlie & The Chocolate Factory who sings about wanting a bean feast (?!). And then, as luck would have it, after seven years of owning one-level houses we fell in love with a house that has stairs. Half of me feared I'd live to regret the change, and half of me couldn't wait to go on a blind spree, pinning ten million staircases per minute. I was like Ariel singing about being "part of that world" but instead of daydreaming about strolling around on that – what's the word again? street! – I was daydreaming about stairs and runners with a shell bra on.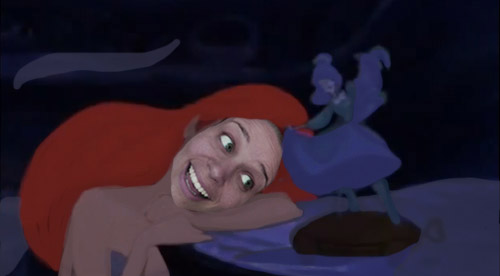 Well, after three and a half months of living in a house with stairs, I'm certain about two things:
We actually like stairs! It's nice to have some division between the living areas of the house and the private/sleeping/getting ready areas that are tucked away on the second floor. We'll always have a soft spot for a cool mid-century ranch, but now when we have people over we don't have to clean every last room – we just tend to the first floor and it's all good if there's a pair of underwear or seven million toe-murdering legos on the floor upstairs.
We have woefully ignored our stairs this entire time – even after being intensely excited to make them over. Yup, between the blue baseboards and balusters to the old carpet, it's looking pretty bleak.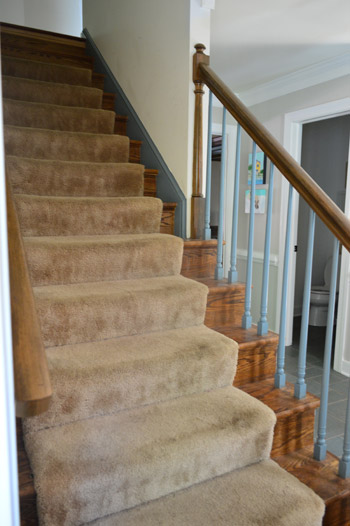 Why is that stair runner still there? Well, we were going to pull it out before moving day, but John mentioned that it might be nice to keep it there to protect the wood stairs from any moving-day beatings they might have been subjected to as we dragged half of our worldly possessions up there. We also thought Burger and Clara might benefit from us keeping the stairs covered with some sort of a runner, so we didn't want to rip it up until we had something new to put down. So we gave it a thorough cleaning, moved in, and figured we'd get to it within a few weeks.
A few weeks turned into a few months (oops) but I'm finally ready to pull the trigger on a new runner thanks to seeing a few pictures of black and white stair runners on (where else?) Pinterest.
*Spontaneous drinking game (the secret word is balusters).
Anyway, I showed John those links (he's a visual creature, so it's nearly impossible to get him on board with anything using words alone) and it was enough to spur both of us into "let's really do this" action. So I did some googling in the hopes of finding a runner that was well rated to stand up to lots of wear and tear (no sense putting in something that'll look terrible in six months) and also in the hopes of finding something that we liked when it came to the look of it (without spending 1K on a new stair update). My BFF swears by Dash & Albert (she has two crazy active kids who each have ten of their friends over and beat up on all of her rugs, but they still look great years later thanks to being well made) so it was nice to have that lead to pursue. And after clicking around over there, I found it. Almost the exact same (if not THE exact same) rug from my initial inspiration pic – the one I liked best of all: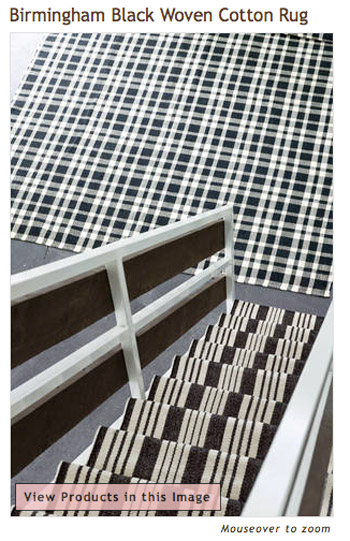 It was nice to see it used on a staircase in the photo, since that suggested to me that they thought it would be good for that application (guess I'm a visual creature too) and even though the stairs were all white with a modern black & white railing, I had this original inspiration photo to remind me what it could look like on wood stairs, and this one to remind me what adding a dark railing and some white ballusters might do to the whole shebang.
When I showed John what I had found, he was sold (I even earned a highly coveted hubby-high-five) but before entering our credit card number I searched for other Dash & Albert vendors, just in the off chance that someone was running a sale. Bingo.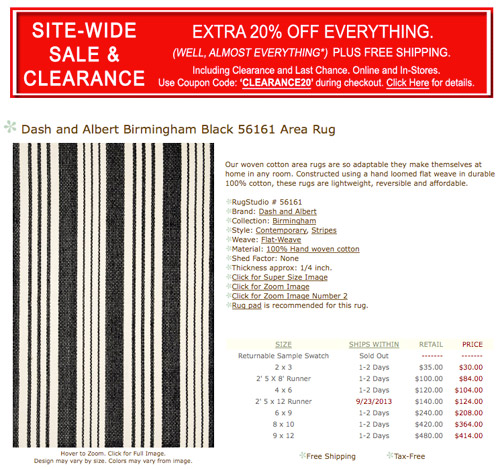 A site called rugstudio.com came up, and I was psyched to score a discounted runner price (we'd need two 2'5′ x 12′ runners, so we saved $32 through this sale) along with free shipping. On top of that they were also offering 20% off every order with the code CLEARANCE20, so it sort of felt like stacking three coupons. In the end it was under $199 (instead of $280!) for two extra long runners that we hope will last a crazy long time once we tear up the old carpeting and install them ourselves. They're back-ordered for another week or so, but we hope they'll show up soon so I can work on my rug-pulling muscles and send the old runner packing in lieu of our swanky new striped one.
So while we waited I thought it was time to start painting all of that blue baseboard and those blue balusters on the bottom half of the staircase.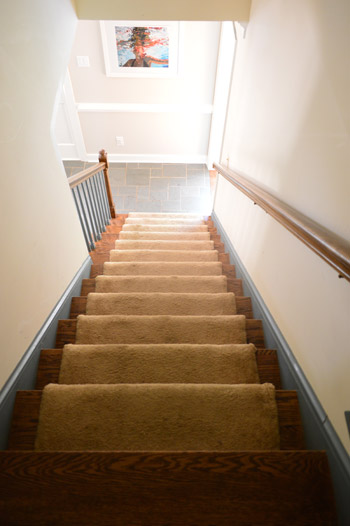 Oh but we can't forget about the two up here in the hallway now, can we?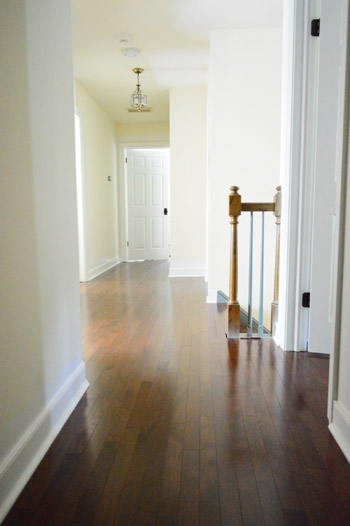 First I broke out some primer and did two coats (I know the drill with this blue trim by now, it takes four coats – two of primer and two of paint).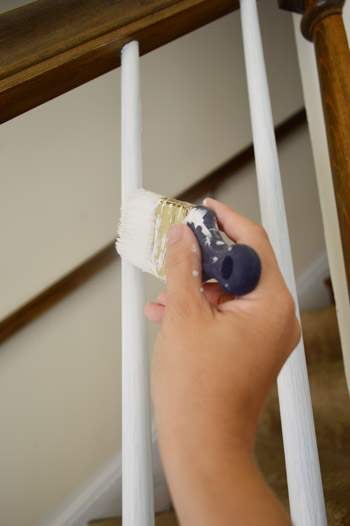 This is it after two coats of primer and one of Simply White paint (in semi-gloss). See those blue lines peeking through? Infuriating, I tell you.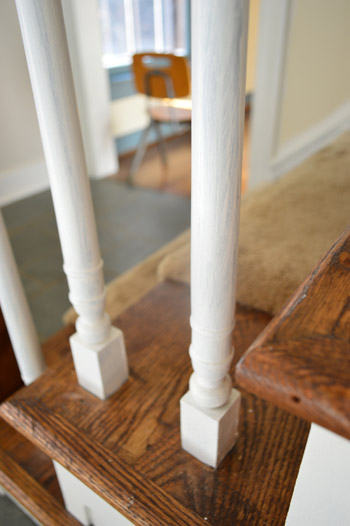 No sirree, third time's just not the charm in this case.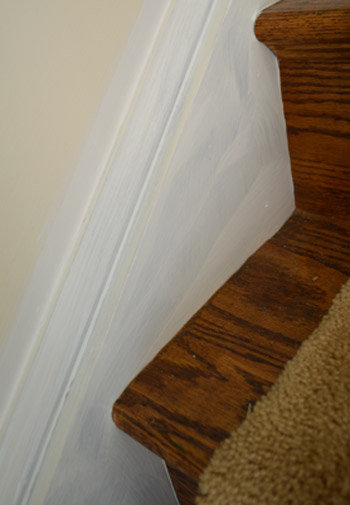 But something magical happens after coat #4 and everything dries and it's white! Glorious not-blue-peeking-through white! So even though it took about five hours over the course of two days to have at it with a short handled brush (that's my secret to not having to tape off – it gives me a lot more control) it was WORTH IT.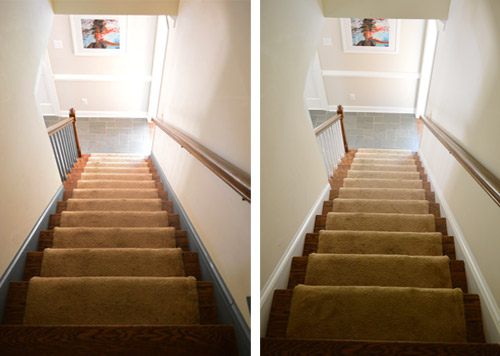 There might have even been a mic drop in the middle of the foyer. And by mic drop I mean paintbrush drop. After it was clean and dry. Because $herdog's no fool.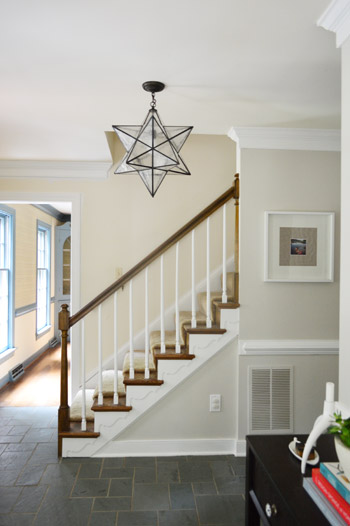 Boom. We're one step closer to the whole striped runner + white balusters + dark railing equation than we were back when these stairs were blue city.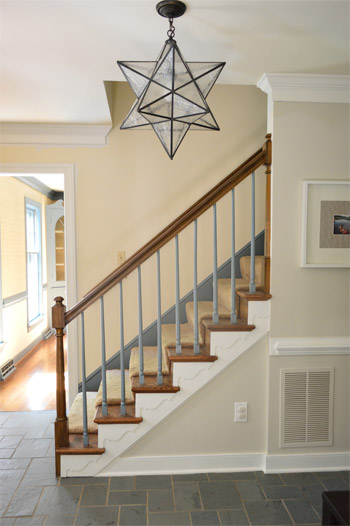 In fact I had a little fun with Photoshop on the railing. Are you picking up what I'm putting down?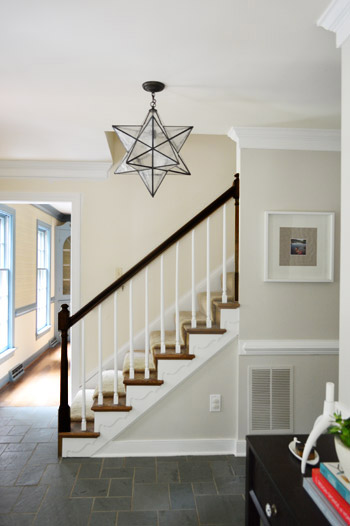 Oh man, I still can't believe we have stairs.