As we PS-ed in last week's rug post, our hunt for a new master bedroom dresser recently came to a surprise end. We'd been trying to find something to replace this old Malm dresser that we've had for 5+ years (we literally bought it on an Ikea stop the day we moved from NYC to Richmond in a big red minivan) which will soon go live in the guest room.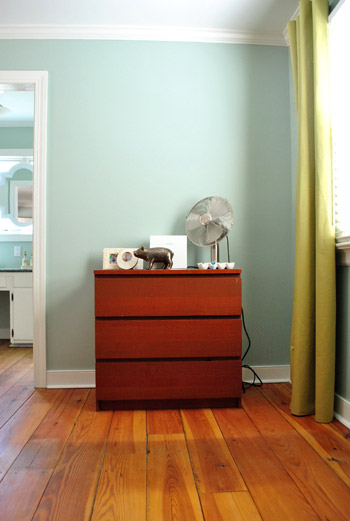 It's clearly too small for the wall. It's not 100% functional anymore (the middle drawer got little wonky during the move) and it has a few visible battle scars from bouncing around our last house (at various points it lived in our bedroom, our guest bedroom, and finally the sunroom).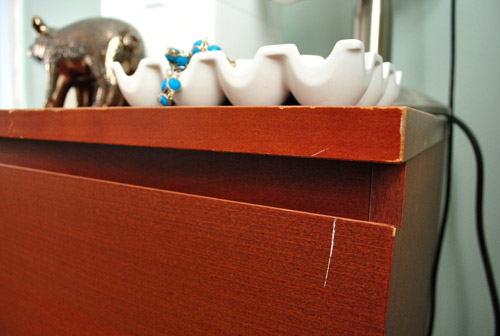 So we wanted something bigger. And something a little curvy and ornate (for some contrast to the modern elements in the room, like Ed the Bed and our big snowball-ish light fixture). Because we don't want our bedroom to feel like a modern furniture showroom, we want it to have that layered, collected over time look. We both liked the idea of a dresser that was up on turned legs, especially since our bed also has a leggy design, so that similarity might tie the old dresser and the modern bed together in a not too obvious way. You know for a nice marriage of old meets new. And of course we wanted something that we could rescue (who doesn't love "saving" sad old furniture) but we'd been unsuccessfully perusing thrift stores and stalking craigslist for weeks with nada. And then it happened. A dresser miracle. The perfect piece materialized seemingly out of nowhere. And by nowhere I mean my parents' bedroom.
My mom and dad are actually prepping to downsize to a smaller house (now that their nest is empty) so they've been trying to find new homes for lots of their old stuff (I've already inherited stacks of old photos, school papers, childhood art projects, etc). So when we spotted my dad's dresser on a recent visit we asked if they were planning to keep it (since it was old, leggy, and pretty much the perfect width). The answer: "Nope, we're planning to put it on craigslist. Unless you want to take the old clunker off of our hands?"
"Uh, yes please." Cue the cartwheels by Sherry in the background.
Turns out they'd be in our neighborhood to babysit our nephew two days later so they brought it down (we assumed it might take a few weeks to mosey over). Best dresser surprise ever. And that's how we ended up with this beauty pretty much out of nowhere: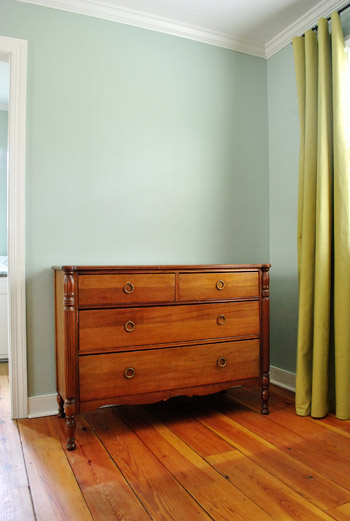 It's bigger than our old Ikea dresser, so it fills up that wall properly. It's also more traditional looking, so it balances out the modern pieces like Ed the Bed and the light fixture (just as we hoped). It also makes us really excited to get some old night tables in a similar tone and shape to further tie our whole old meets new thing together. Possibly with the same cool ring-pulls (we could also order those online and add them later) and a few drawers for concealed bedside storage, which we've always wanted.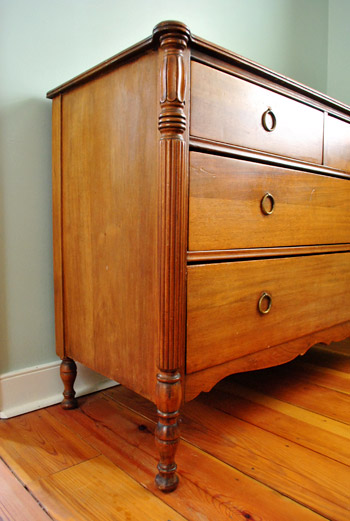 And just as we hoped, it could use a little love (one of the drawers was busted when we got it, so I whipped out my screwdriver and whistled while I worked to get it secure again). Took about ten minutes. But (spoiler alert) that's pretty much the extent of our "work" on the dresser for now. We're not planning to paint or stain it. Even though we were excited at the idea of re-staining or painting an old seen-better-days piece, we just can't justify that whole dog and pony show this time around. And this isn't the polite way of saying that my parents wouldn't let us touch it (in fact, they were dying to see what we'd do). We actually think the warm wood color works really well with the cool tones on the walls and in the bedding (while bringing out the honey tones in the curtains, the jute rug, and the gold leaves in the duvet). Plus as you can see from this shot…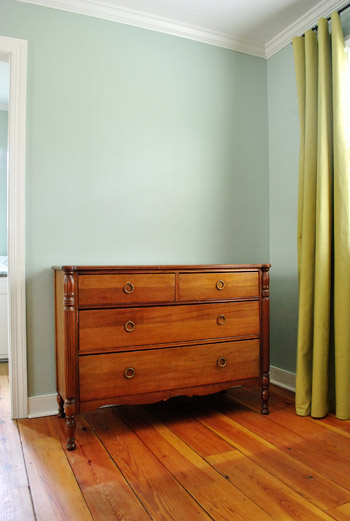 … the rustic wide plank floors in the bedroom need more than just a little work (they're discolored, stained, and splintering in a number of places). So we plan to refinish them in a darker mocha tone, along with the rest of the hardwoods in the house for a nice cohesive effect. So that should make the warm wood dresser feel even more special once it doesn't blend into the floor quite as much. Especially if we have two antique-looking nightstand friends going on the other side of the room in the same warm wood tone (maybe we'll get to refinish some old dark craigslist/thrift store finds with some lighter stain to get a not-perfect-but-good-enough "match").
We're totally charmed by our hand-me-down dresser's imperfections, and love how they preserve the history of the piece. Maybe we're being overly nostalgic since this is our first item of inherited "antique" furniture, but there's something special about knowing the back story. My dad bought it from his cousin back in the '60s for $100 and has used it ever since. It still boasts a scratch on the front of one of the drawers from when he transported it in his car's trunk over forty years ago.
We don't know exactly how old the piece is, but it has a stamp in the back of one of the drawers that says it was made by the "Abernathy Furniture Co" and they appear to have started operations in the 1850's in Kansas (thanks Google).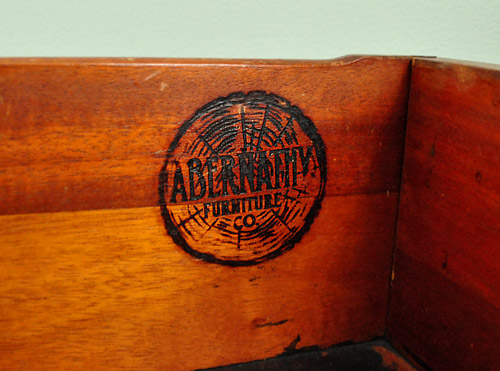 After a couple days of using it I realized it possesses some weird auditory memories for me. When I heard Sherry opening and closing the drawers from the other room, the sound of the metal pulls clanging against the wood gave me distinct flashbacks to hearing the same noise coming from down the hall growing up. Weird how sounds can do that to you, right?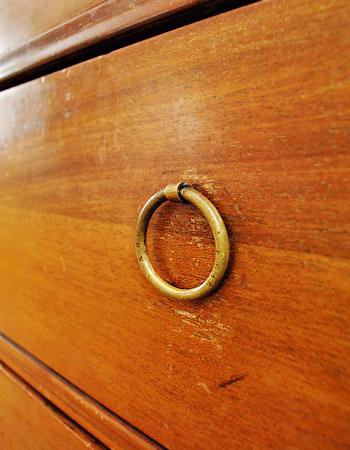 The only other "work" it really needed (besides a few screws to secure that broken drawer rail) was some help getting the drawers to slide more easily (each one of them stuck and dragged a little bit). Sherry had heard the old "rub soap on them" tip a few times, so she broke out a bar of Dove that we had leftover from her mom and stepdad's visit (we use Dr. Bronner's soap, but she worried "eco soap" might not be the same).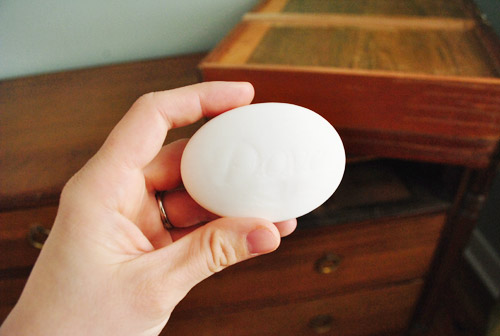 Off she went rubbing the dry bar of soap on each of the rails. Both on the bottom of the drawers…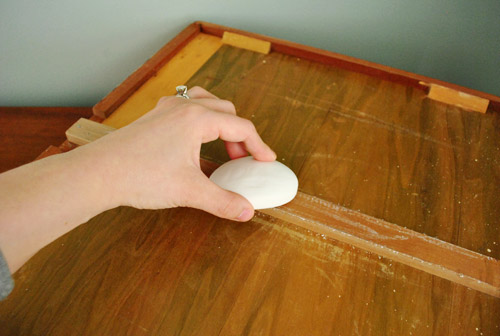 …and even on the tracks inside the dresser itself, in an attempt to "wax" them so they'd slide more easily without catching.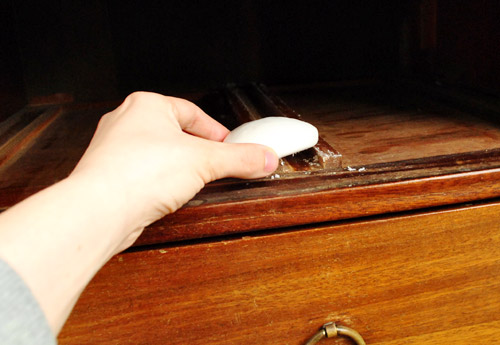 The verdict on this little trick? It made a noticeable difference, but it didn't solve things 100%.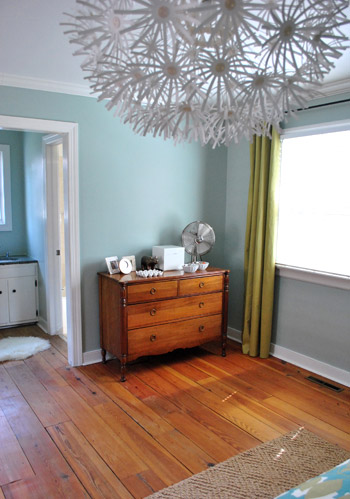 For being a totally free solution, we're happy we gave it a try. But if you guys have any other suggestions for helping this baby slide a bit better, please share 'em. We're thinking we might try wax or something.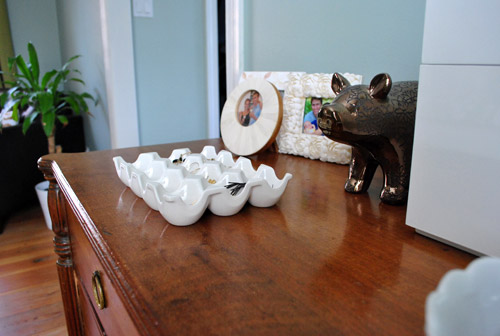 As for what's on the dresser, the big white lacquered box is a charging station that we got at Pottery Barn Outlet a while back (as seen in this road trip video), the ceramic egg crate is full of Sherry's jewelry, the table fan is for the summer, the two white bowls are full of Sherry's bracelets/necklaces/glasses, and the three frames are pics that Sherry and I snapped on each of our wedding anniversaries. And yes, there's a ceramic animal friend worked in there too thanks to my weird wife (a bronze ceramic pig that she found at HomeGoods for $6 a few weeks ago). I actually think the dark bronze twist is kind of cool, but don't tell her I said that or it'll feed her strange addiction.
Now for the bigger picture. Here are some more bedroom photos, just so you can see how the new dresser plays with the other things in the room (which is most definitely still "in progress" and in need of some art, a nice long bench, a big white built-in or cabinet to the left of the bed to balance the door, those aforementioned leggy honey-colored night stands, and maybe even some new table lamps among other things).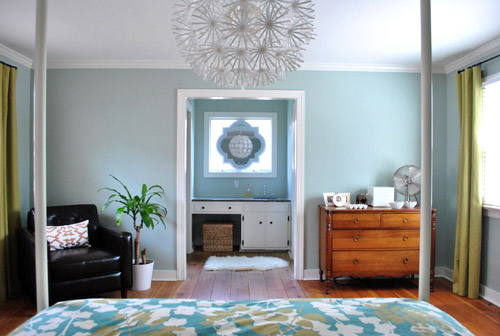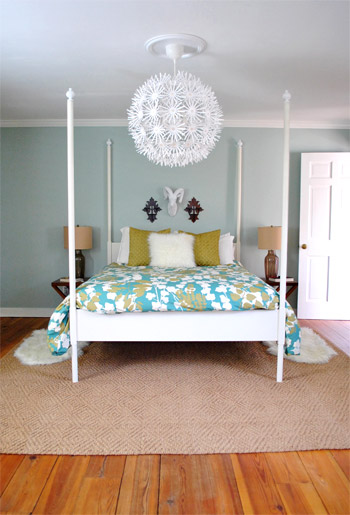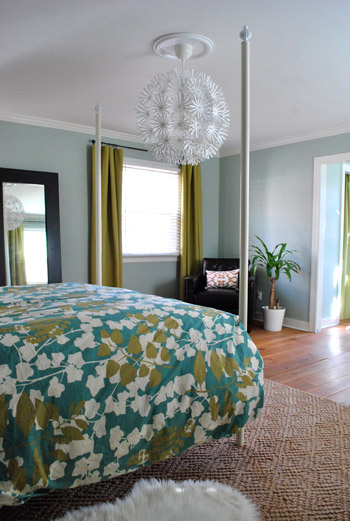 Should be a good time (or not, depending on what we find and how many places we have to go- haha, there's the husband perspective on shopping). In the end, as exciting as resolving our dresser dilemma is – one of the best parts is that we're finally able to move some of our clothes out of piles in the closet and into proper storage (four full drawers of it). Which means after 3+ months of living here with mountains of shirts and pajamas on the floor of the closet thanks to a smaller dresser with one inoperable drawer, we officially have no more excuses for not organizing things. Uh oh.
So that's our first antique hand-me-down adventure. Or "furniture inheritance experience" if you're fancy. And I'm not gonna lie. It does feel kind of fancy. The idea that we own something older than my dad is, in the words of Miley Cyrus, "pretty cool" (anyone else watching SNL lately?). Even if it's a little beat up and didn't come from an auction house. Have you guys ever gotten something especially awesome or particularly sentimental handed down from a family member? Anyone run into the moral dilemma of whether or not to make changes to it? We got lucky in this instance (since my mom and dad were more eager to refinish it than we were) but we know that might not always be the case. Sticky.
Pssst- Wanna see how we completely refinished an old craigslist dresser with stain and paint for Clara's nursery? Click here.