Wahoooooooo! A list post! I loooooooooove lists! Oh haaaaaappy day.
Now that I've gotten that out of my system, this post will continue without the excessive exclamation points & extraneous vowels.
Lots of people have been asking what we'll tackle next, what order we'll be doing things in, etc. And our answer is usually: it'll honestly just depend on our mood and what supplies we have on hand. When it comes to big projects we like to save our pennies and plan things to death, but for small things (which we always recommend doing first so you can live with the house for a while before making any dramatic changes that you might regret) we always just dive in and learn as we go. It's the only way we've been able to accomplish things instead of being paralyzed by indecision. So we'll hang frames somewhere and if we don't like them we'll move them. Same deal for picking paint colors and arranging furniture. And we'll post pics and details as they occur, not to worry! But just for fun (and because I'm a die-hard list making fool) I thought I'd share a few of the bulleted things scrawled in a notebook by the bed.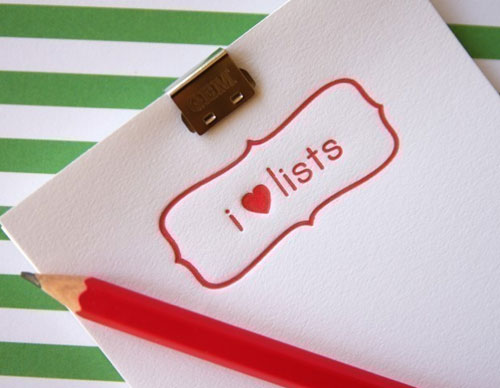 My method? Just casually write everything out in list form, circle the small things I think we can get to right away, cross them off as we go, and underline the long term things we want to save for and tackle when we finally have the funds (and are feeling more sure about our approach). Looking at those underlined things from time to time keeps us excited to squirrel away as much as we can to make them a reality down the road. And seeing all the crossed off smaller items reminds us that bite-sized undertakings can really keep you motivated and excited to tweak your house one day at a time until it's suddenly your love-it-to-pieces home. Anyway, here's the ol' list:
To Do (But Not All At Once…):
Find bold saturated/patterned fabric and DIY some no-sew curtains (using this method) for the living room, future dining room, office, guest bedroom, playroom, bedroom, hall sliders, etc.
Paint every room (this is one of those slowly over time tasks- we're thinking about tones seen here in this whole-house color scheme post of yore)
Paint all the dark wood trim (beams, trim, baseboard, crown) in the living room and the kitchen (some people love natural wood trim, but we love it glossy and white)

Remove unnecessary bi-fold doors

Frost the side door that looks in on the kitchen

(just tackled this- will post details soon)

Remove the shelves next to the fireplace

(just realized we didn't share this project yet- soon!)
Prime and paint the paneling in the kitchen using this method (not sure what color we'll go for…)
Redo the kitchen backsplash (check out overstock.com for tile along with clearance stuff from local vendors)
Get all new kitchen hardware (check out local places, online stuff, and big box stores for best deal)
Prime and paint the oak cabinets in the kitchen using this method (again, not sure what color)
Finally refinish and reupholster the craigslist rocker that we got a while back (and find a spot for it in one of the living areas so it gets lots of casual use)
Recover the leather parsons chair in the corner of our living room (at the white desk) with a bright fun fabric slipcover
Replace a ton of light fixtures (too many to list)
Remove all the door handles, hinges, and doorknobs in the house and spray them with oil-rubbed bronze spray paint
Frame out the mirror in the hall bathroom
Paint the vanity in the hall bathroom
Hang a thick velvet curtain in front of our walk-in closet
Wallpaper or stencil the sink nook in the master bedroom
Frost or add curtains to the window in the master bathroom (and possibly the other two bathroom windows)
Turn the area between the addition and the old house with the sliders leading out onto it into a sweet outdoor cutting garden (it's near the kitchen, and it seems to get enough light… will share details in the spring when it's planting time)
Make built-ins around the washer and dryer to create mini mudroom function and replace cabinet doors up top with pull out baskets or drop down blinds
Paint the front door
Frame out the porch columns so they're chunky and square instead of ornate and curvy
Plant evergreen trees around the perimeter of the property for more privacy from the side, back, and even part of the front (waiting for them to "fill in" will be the hardest part, but getting smaller plants will save us money so we'll hopefully have patience)
Pump up the curb appeal with more landscaping upgrades
These ones are circled:
Paint the back of the future dining room built-ins something fun and bright
Update and paint the vanity in the master bathroom
Replace the medicine cabinet in the guest bathroom with a charming mirror
Paint the dark brick fireplace in the kitchen using this method
Paint the master bedroom
These ones are underlined:
Refinish the various wood floors throughout the house (the same shade for a nice cohesive look- dark brown? ebony? light gray?)
Turn the fireplace in the kitchen into a double-sided fireplace that also opens up into the living room (call the mason who helped open the doorway in our old house just to make sure it's possible and get an estimate)
Widen the doorway between the kitchen and the living room
Create a huge doorway between the kitchen and the future dining room that lines up with the newly widened doorway between the kitchen and the living room
Build/adapt a custom island for the eat-in area of the kitchen near the fireplace
Convert the carport into a garage (and pick out a killer garage door to add some dimension and architecture to our flat little rancher)
Add french doors between the future dining room and the office (for privacy and tons of charm)
Replace the flooring in the kitchen and mudroom/laundry room (with cork ?)
Furnishings To Slowly Save Up For:
A queen sized bed for the master (so we don't have to sleep on our mattress on the floor anymore)

A big charcoal gray u-shaped sectional for the living room (I've dreamed about having a big enough living space for a sectional for at least the past three years)
A larger TV stand/media center for the living room (ours is laughably dinky, but we'll craigslist it and put the money toward something that'll fit the space better- hopefully something thrifted or even something we can build ourselves)
A giant rug to define the new seating area in the living room (8 x 10? 9 x 11?)
Some kick-arse stools for the new island in the kitchen once it's there (find something cheap and reupholster it for more style?)
A giant round wooden pedestal table for the future dining room (with an expandable leaf to seat 10-12 people)
Comfy chairs for the future dining table (preferably upholstered parsons chairs so they look library-ish and casual as opposed to hard and wood-heavy)
New shower curtains and bathroom towels and accessories for the hall bath and guest bathroom
New energy efficient appliances for the kitchen and the laundry room (we're waiting for some killer deals, which we've heard can pop up in February once new models are introduced- we'll also check out craigslist and scratch & dent stuff).
A full sized bed frame, mattress, and box spring for the guest room (then we'll make a fun DIY headboard)
A big cabinet or console table for the hallway off of the kitchen (thrifted/craigslisted and refinished?)
A new console table (since ours is laughably small, we'll sell it and put the money towards one that'll better fit the space to help define the entryway in the front of the house)
His and hers dressers for the master bedroom that we can refinish (preferably super cheap on craigslist or from the thrift store)
In summary, it doesn't sound like rocket science, but our method is to basically just write everything down and tackle things that are doable and not too intimidating while we save up for the bigger projects. And as for priorities, we generally just do whatever project we're in the mood to take on (barring anything that needs to be a priority for safety or other extreme urgency reasons). And we definitely jump around from room to room just to stay excited and not feel too regimented and "forced" into doing something that we might not want to deal with yet.
So you'll see us working on different areas and taking on everything from DIY curtains and paint-related projects to heavy duty renovations and lightweight accessorizing. We'll share more deets on each of those projects as we tackle them over the next few years (yes, we said years- remember our last house took us 4.5 years to "finish" – and even then there were things we could have noodled for years). Woot! Off to the home improvement store (again) for more supplies. There's no place like home (depot). Sometimes I wish I had red sparkly shoes that I could click three times and be taken to the hardware aisle…
Psst- Adorable "I heart lists" stationery found here on Etsy.
Psssst- Check out this floor plan post which might make some of the major layout changes & renovations that we've listed a bit more clear.