***This giveaway is now closed – see who won below!***
So many book-hungry people out there! This giveaway hit its 10,000 cap within 24 hours, so we're already back with a winner. The lucky worm is… Melissa (who keeps her favorite books in a bedside cabinet, a living room end table, and on a special display shelf in the family room. She believes "all good book nerds have them in all parts of the house!"). Congrats Melissa!
Our book release is officially here! Woo hoo! And we're celebrating by giving away books this week. But not just our book. Lots o' books. In fact, some of them will even come signed by some pretty awesome people. Woot! We've been gobbling up so many design, decor, and home books lately that we thought it'd be fun to share some of our recent faves from our library. So in addition to a signed copy of our new book, you'll also be getting copies of the following (marked with an asterisk when signed!):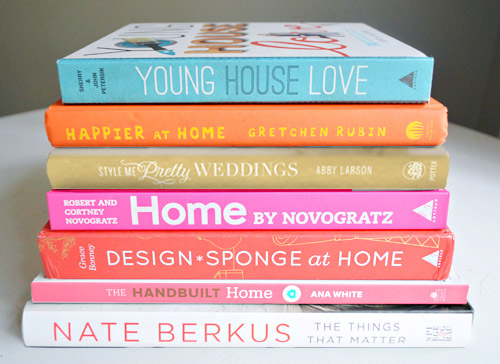 PRIZE: Copies of all of the books shown above, including signatures from us, Gretchen Rubin, Abby Larson, the Novogratzes, and Ana White!
TO ENTER: Comment on this post with the words "BOOK ME!" and tell us…
BONUS QUESTION: … what special place in your home do you keep your favorite books? Do they get a prime spot on your coffee table? Or do you have a large collection of faves that fill a bookcase somewhere? Maybe your top pick at the moment just lives cozily on your night table?
GIVEAWAY CLOSES: Wednesday, Nov 7th at 8pm EST or at 10,000 entries (whichever comes first)
NUMBER OF WINNERS: One
PRIZE SHIPS: The United States (although we try to wrangle as many international giveaways as possible – more on that here)
USUAL STUFF: One entry per e-mail address is permitted. The winner will be selected using random.org and announced on Thursday as an update to this post. That's right, come right back here on Thursday for the announcement of our winner. Good luck…
Note: We aren't paid or perked for hosting these giveaways, we just do 'em to thank you awesome folks for stopping in. See our Giveaway FAQ page for more info.