I'm a last minute gal, what can I say? I've been having some fun with a few quick n' random turkey-day table settings, so I thought I'd share 'em (with 48 whole hours before Thanksgiving to spare). I usually do a bunch of Christmas ones (as seen here) but something about the new doorway between the kitchen and the dining table has me itching to play around with pretty table settings a little early this year. Well, I did do some Thanksgiving table stuff last year and the year before, so I guess it's becoming a tradition to just use what I have and see what I can come up with. Maybe they'll help one or two of you who want to pretty up your table in the final hour (especially if you have a few simple things lying around like apples, patterned paper, mugs, cocoa mix, or even a ceramic piece o' fruit). So on with the show: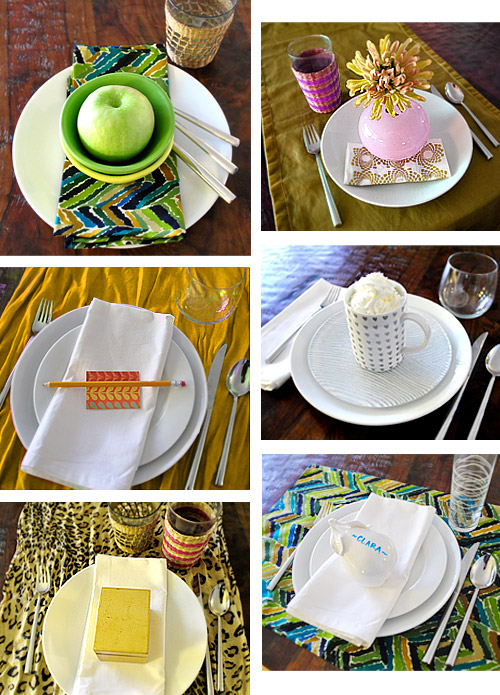 Top Left – This is just some basic china and silverware (from Linens N Things) with my favorite cloth napkin (from Crate & Barrel), a woven glass (from HomeGoods), and two colorful bowls (gifts from a friend, but I've seen similar ones at HomeGoods) with a fresh fall apple inside. Simple but still a bit of color, which is nice if you're a blue, green, tan, and yellow lovin' gal like me.
Top Right – A tawny mocha runner (HomeGoods) paired with some basic silverware and china (from Linens N Things) and a patterned paper napkin (from Ikea) gets a shot of color thanks to a soft pink vase from Ikea with a pretty fresh bloom for each guest inside. A woven glass with some more pink ties into the vase and adds a fun accent color (it's not necessarily the first color you think of when it comes to Thanksgiving, but somehow it works).
Middle Left – Here we have a goldenrod pashmina-turned-table-runner with basic china, silverware, and a white cloth napkin (all Linens N Things) along with a stemless wine glass (Crate & Barrel) and some patterned paper (from Michael's) with a pencil so everyone can jot down what they're thankful for.
Middle Right – This setting would not only work for Thanksgiving (especially if it's cold outside) but could also be great for Christmas or New Year's. The big idea here is a piping hot cup of cocoa complete with whipped cream waiting for each guest. Doesn't that make you smile? Just me? I lovessss my hot chocolate. I made that mug a while back here (it's not food safe so I just used it for inspiration – but maybe you have a set of mugs that are that would work?). There's also a silver wood-grain plate (from Crate & Barrel) along with basic silverware, china, and a white napkin (all from Linens N Things) and a stemless wine glass from Crate & Barrel.
Bottom Left – This one is admittedly a bit crazy. But it just might be perfect for the gal who doesn't take herself too seriously. A leopard pashmina-turned-table-runner (from the streets of NY) and a gilded West Elm box full of goodies (like an individually wrapped truffle or two) add some serious zing. And woven cups (from HomeGoods) bring some fall texture with a basic plate, napkin, and silverware (from Linens N Things) to balance out all that me-ow.
Bottom Right – Here we have a cloth napkin (from Crate & Barrel) placed placemat-style under the plate along with basic silverware, china, and a white napkin (all from Linens N Things) and a tall textured glass (from Ikea). Then I had some fun with ceramic fruit and a dry erase marker (you can write each guest's name on anything smooth and wipe it down at the end of the night!). I had more fun with that whole concept than I should. Seriously, somebody needs to look me in the eye and say "put. the. dry. erase. marker. down."
So there you have it! Some last minute Thanksgiving table settings. Anyone playing around with some setups of their own? Is hot cocoa involved? Will folks be jotting down what they're thankful for at your house? Are there fresh flowers, boxes full of bon-bons, fruit, ceramic items, or dry erase markers involved? They're the most addictive of them all. Don't say I didn't warn you…
Psst- It was hilarious and sweet when I saw that Katie B had also done some Thanksgiving table setting of her own. This makes complete sense since we love doing that stuff together (as evidenced here) so I guess if ya can't be in the same room, doing it around the same time from a few states away is the next best thing.
Update: You can check out all of our favorite holiday decor finds here – many of which are under $15!