This is a weird DIY thing I tossed together three Monday nights ago in front of the TV in our old house.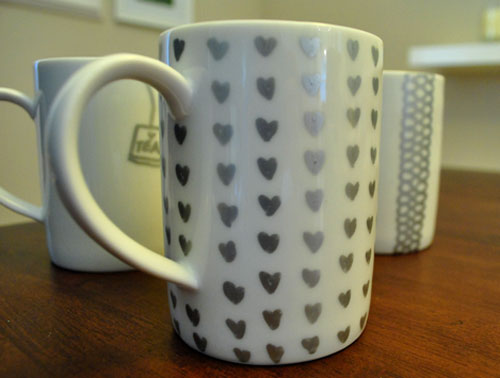 The first reason I'm calling it weird is because we no longer live there, so it's funny that this post somehow got buried and now it's getting published with our old walls and shelves in the background. And it's pretty darn close to Christmas, but I figured it might be a fun little last minute gift idea for someone. Better late than never, right? Hence the idea of hitting publish on it (as opposed to delete).
The second reason I'm calling it weird is that I totally didn't use the right materials to make these mugs food or beverage safe (so they'd be great informal flower vases on a kitchen windowsill, pencil holders in an office, or even q-tip or cotton ball containers in a bathroom) but they shouldn't be used to hold tea or coffee. I just used a silver Sharpie that I had on hand (the same one I used to make these ornaments to celebrate Clara's first Christmas). Why'd I do that? Well, we sold a bunch of these mugs that we never used at our moving sale, but when we were packing our three floating shelves in our old dining area we realized there were three more mugs sitting up there that we somehow missed. So before I put them in our donate pile, I got the odd urge to draw on them with my favorite little marker. Just for kicks.
My expectations were to have some fun sketching on the mugs and then just donate them (after writing "not for food use" on the bottom). But I ended up loving them so much that I gleefully packed them up and took them with us to our new house. I think they'll look so cute in our office (full of pens, pencils, and paperclips). And of course I can also use them every year around the holidays to hold individually wrapped candy canes in fun fruity colors like yellow or pink (which, thanks to the wrapping, won't be affected by the not-food-safe Sharpie).
As for the how-to details, what you see is what I did. I pretty much just drew rows of hearts all the way around one, some funny scale-ish wiggles that looked sort of like strips of ribbon on the second one…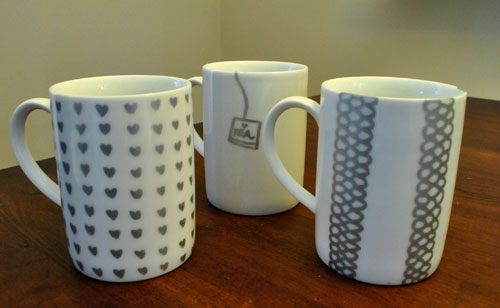 …and a whimsical little tea bag on the outside (and inside) of the third….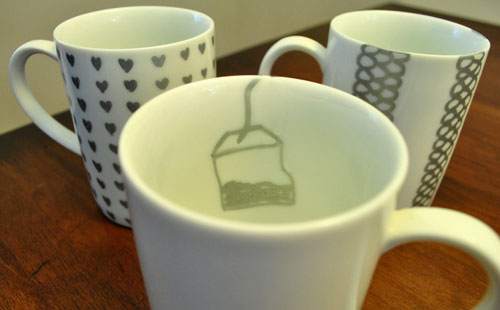 The tea bag idea was actually inspired by a similar mug that I recently saw at Urban Outfitters (shown in this post). And of course that one took about ten seconds to do. So anyway, I figured it was worth sharing my odd little a-few-weeks-old evening project even though it's not really the best DIY gift when you use a silver Sharpie (unless you tell the giftee that they're not food or dishwasher safe) since a food-friendly ceramic marker or paint pen might make these quick little designs that I threw together a lot more functional. Happy mug-drawing to one and all!