They get knocked down.
Well, they weren't actually knocked down as much as they were "carefully removed" (since we plan to reuse various things like the doors for the new peninsula cabinets and then donate the rest). The room was feeling pretty wood-riddled when we moved in last December…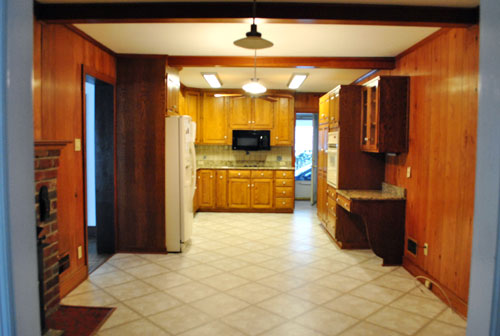 … so we were excited to un-wood-riddle-it for good.
As we mentioned here and here, we'll be adding a wall of counter-to-ceiling penny tile…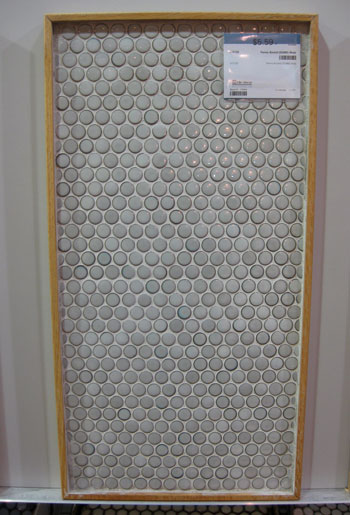 … along with a bit of open shelving (on either side of the range hood that we'll be building in).
Oh and to avoid having the open shelves/dust & grease chat again, just check out this post for a bunch of "research" that we did before landing on that decision. It won't all be open shelving or anything (just a few feet on either side of the vent hood that we'll be hanging above the stove) so we'll also still have other upper cabs around (like the one above the pantry, fridge, and dishwasher), which is why we didn't think we'd be flummoxed by the change in upper cabinet quantity (ten points for the use of flummoxed?).
But we couldn't be sure, so the biggest test of storage capacity was when we emptied all of those upper cabinets before removing them to see where things would land. We only plan to keep our frequently used/washed everyday dishes on the open shelves (so they won't have time to acquire dust) along with a few other things that are always stored out in the open (like a vase or two, some art, lidded jars full of sugar and flour, some cookbooks, and a potted plant or two) but everything else will be stored in cabinets. So we went into this relocation phase a bit nervous about being able to store all of the offset items somewhere else in the kitchen.
How'd we fare? Surprisingly well! It took us at least thirty minutes of brainstorming where it was most helpful to store things like phone books, light bulbs, cookie cutters, and all of the other random items that were in those half-full shelves, but we got 'er done.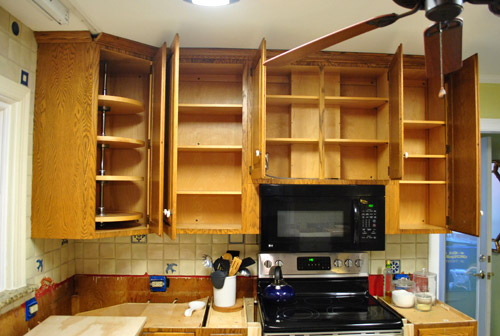 Although we probably could have shoved them into other cabinets all willy nilly in about five minutes, it made more sense to talk things out so as not to have to rearrange things fifty times throughout this process. And once we decided where we wanted to stash everything once and for all, we were thrilled to find ourselves with room to spare. The entire corner cabinet of the peninsula (which still needs a lazy susan and a door) is 100% empty, even though everything has been put away.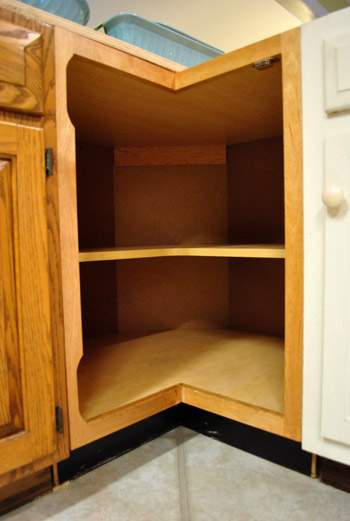 We also have our everyday dishes in the other corner cabinet (near the stove) so once they're out on the open shelves that space will be freed up as well. We also have a completely empty upper cabinet next our pantry (that will get cut down to the right size and rehung with a microwave under it). So it's safe to say that the added peninsula has more than made up for the few uppers that we're trading in for open shelves). Whew.
Taking them down was as simple as unscrewing a bunch of super long screws that held them into the wall, the ceiling, and each other (while the other person stood under them to support them so they wouldn't come crashing down).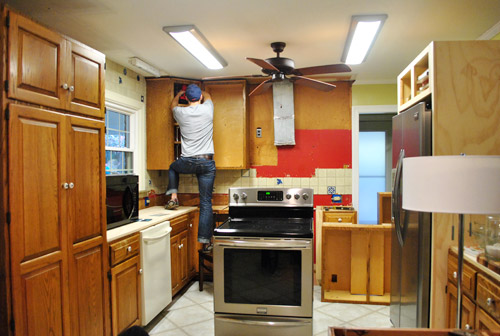 We didn't expect removing them to make such a visual difference, but the room immediately felt a lot more open (not sure if the photos will do that justice since it might be a you-have-to-be-here-thing).
Well, at first it just felt crazy (here's how it was looking immediately after we finished):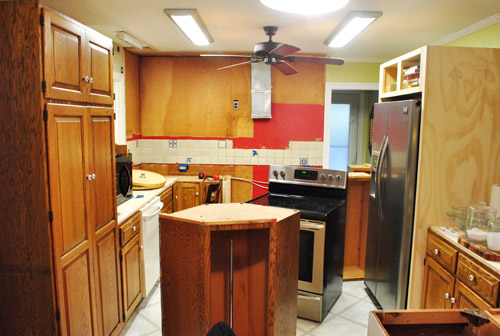 But after we cleaned things up (aka: put the extra cabs in the sunroom and pushed the stove back into place), it immediately felt a lot lighter.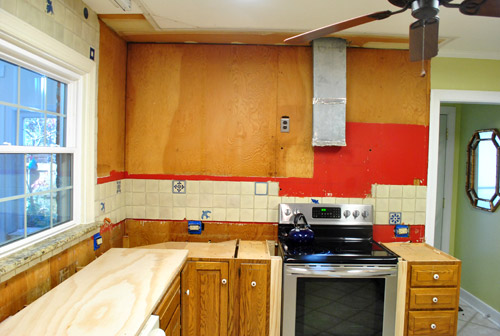 You know, if you squint past the nasty unpainted ceiling and the insane fire-engine-red paint that we revealed (can you imagine that paired with all that wood cabinets and dark paneling?).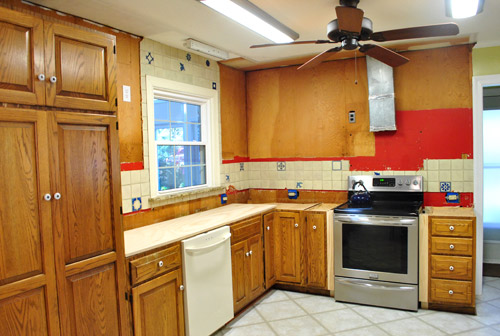 So yeah, this is one of those things-have-to-get-worse-to-get-better stages that leaves the room looking strip-searched, but we love that change is in the air. Even ugly-for-now-but-soon-to-be-reassembled change. The kitchen just breathes a lot more without that hulking too-low-and-not-at-all-to-code black microwave that used to hover dangerously close to the stove…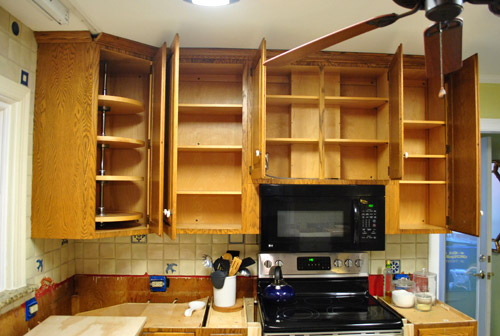 …and a wall full of tile and shelves with a giant actually-works-well range hood is going to be such an upgrade.
Still to come down? The backsplash, the googly-eyed cabinet hardware, the cabinet doors (for priming and painting), and of course we're waiting on our counters and then we'll add backsplash tile, install our stainless dishwasher and microwave (which we'll be building in), redo the lighting, and redo the floor with the mocha cork that we got on clearance. So yeah… lots to do. But we're taking it one day at a time.
And so far living without a microwave hasn't killed us (although soup is a favorite, so we've been heating it on the stove – which I must admit feels very quaint). We definitely miss the sink, but thanks to having the dishwasher hooked up we're surprisingly ok with our in-shambles kitchen. So that's the update. What did you guys do this weekend? Any cabinet rearranging or removing? Any karaoke? Come on, someone had to be singing Chumbawumba while our cabinets were coming down.
Psst- This post's title was an ode to some of our early-blogging kitchen posts from four years ago entitled "Our Cabinets Are Like Mariah Carey" and "Our Cabinets Are Like Brangelina" – ah, full circle blogging.