True to form, we're all over the place over here. After switching up the ol' blog design (and figuring out why the header was MIA for 20% of you – here's hoping it's back) we've also been plugging away at our $6 cabinet makeover but aren't quite done with the painting/building-up process (here's hoping we'll have photos and lots o' words to share early next week). But crazily enough, in the meantime we've also been doing some yard work, a random bedroom project, and have even started brainstorming the next phase of the kitchen. Hence this brain dump.
We're still saving our pennies for things like new appliances to begin the next step of our slow & steady kitchen overhaul (remember when we upgraded the fireplace and wood paneling a little while back?). So as we wait for the bank account to say "sure, go buy a new wall oven that's not bisque, and a new microwave that's not black", we thought meeting up with an old friend of ours to get a few kitchen ideas might be nice. Who is this mysterious old friend that we speak of? Why it's Nancy Kulik, the lady who helped us plan our first kitchen makeover through Home Depot (they offer up Certified Kitchen Designers to help for free if you buy cabinets or counters through them, of which we got both).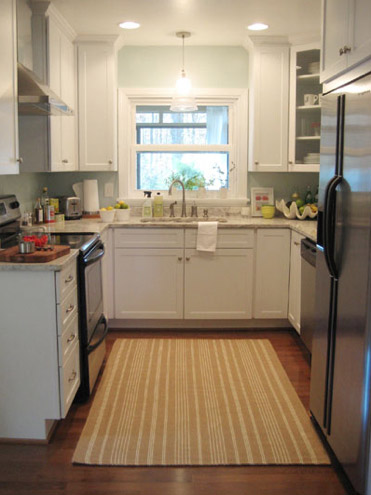 We knew that we wanted white cabinets and light marble-esque counters (they were actually granite) during the planning stages of that makeover back in 2007 – so we didn't look to Nancy for much "style advice" during our 113 day kitchen reno. But she was truly invaluable when it came to space planning. She just knows how people use kitchens and where appliances should be placed to maximize function, and we fully believe that our first kitchen would have been half as useful if we didn't have her free-with-the-purchase-of-cabinets advice when it came to where to squeeze in a dishwasher, relocate the fridge, and build in the microwave. Lesson learned: sometimes the pros know best. So take their advice whenever it's free (and even when it's not if you need it). You know, so you don't DIY a kitchen all alone that's semi-functional when you can DIY something twice as useful with some pro advice and a smidge of well-spent cash (assuming you can't track down free services like those from HD or Lowe's).
But back to our buddy Nancy. We actually kept in touch with her over the last three years since our big kitchen makeover in 07′ (she and Clara are practically BFFs). So she was sweet enough to offer to glance at a floor plan and a few photos of our current house's kitchen to give us a little here's-what-I-would-do advice. Second lesson learned: there are definite perks to staying in touch with any kitchen geniuses that you may encounter.
But first a little refresher. You'll remember that the eat-in part of our kitchen currently looks like this: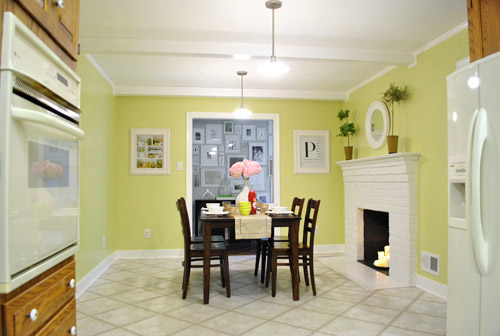 We've always planned to add a built-in island in place of the too-small dining table, just because when we knock out a huge doorway in the wall across from the fireplace to connect it to the dining room we thought two tables lined up through that opening would look odd (a big round one in the dining room and another one so nearby in the kitchen = crazytown).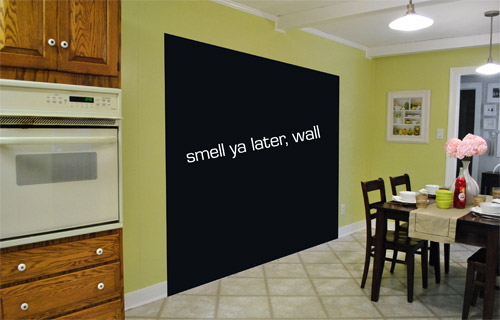 So we thought a big round table in the dining room and a smaller built-in island by the fireplace would make sense and be less "hello table, meet my friend, table."
Here's an old floor plan that we shared last November before we even moved, just to give you an idea of what we thought might work when it came to the island (with the new wide doorway to the dining room that we plan to add worked in there too):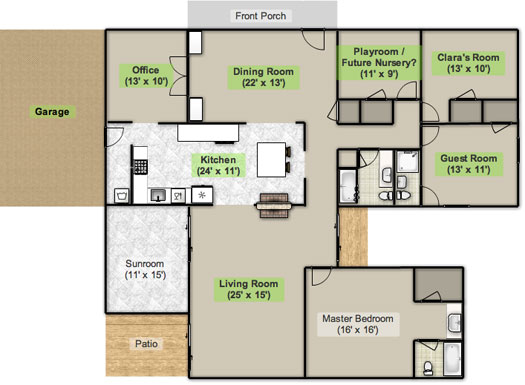 Oh while we're on the topic of someday dreams, we'd love to paint our cabinets white and craigslist our white, bisque, and black appliances and upgrade to stainless steel. When it comes to our counters, we plan to work with the granite that we have, but completely redo the backsplash for a crisper, lighter look. And those florescent tube lights and big brown fan? They gots to go.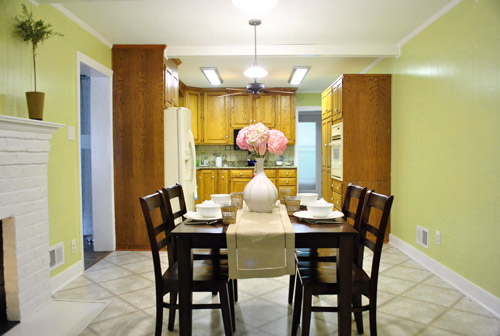 While we're rattling off things on the list, of course we'd love to redo the floors but aren't sure if there's hardwood running all the way under the entire kitchen that we can refinish (we know it runs under part of it, but haven't confirmed all of it) or if we'll have to just redo them with something new entirely. The challenge of that is that we've learned that our floor joists aren't built strongly enough to hold the weight of stone or ceramic tile (I thought slate would be awesome in there, so yeah… le bummer). We've toyed with everything from lightweight cork to some sort of linoleum (Candice Olsen has done some surprisingly awesome kitchens with that on the floor) but we're nowhere near a decision. We'll keep you posted though.
But I digress (who's surprised?). Back to our talk with Nancy Kulik and the big kitchen idea she came up with (pretty much on the spot because she's cool like that). Are you ready? She looked at the new to-scale floor plan that we brought with us (and a few photos) and realized that something was wrong, wrong, wrong on our little whole-house floor plan (seen three photos back, which we did months ago in November). That something? The fireplace is almost in the corner of the room in real life. So the placement of the fireplace in that old floor plan is totally off.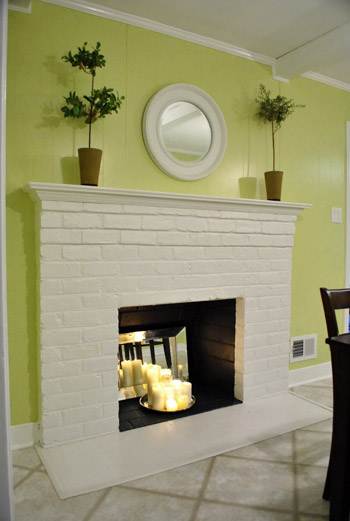 Thankfully it was drawn in the actual correct location in the newer kitchen-only floor plan that we brought with us to our Nancy meeting, but since it's not actually centered on the wall (and practically kisses the door that leads to the hall), no island could be centered on it without nearly touching slash completely blocking that doorway (which we definitely want to keep open). So Nancy suggested something that we never would have thought of ourselves. And I mean never. Brace yourself. She proposed a floating L-shaped banquette that faces the fireplace and the frame wall.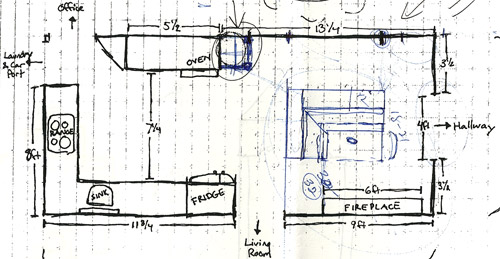 Note: don't mind that vertical line that follows the back of the banquette to the door to the living room, she just dropped that in to tell us that we should line those things up- but the banquette wouldn't be attached to anything, it would just float in the middle of the room to keep things open- just like an island would, but since it would face the fireplace in a way that an island wouldn't it could make a lot more sense.
I'm not going to lie. Both of our first impressions were "thanks, but no thanks." But as she further explained her vision we slowly started to come around. See, I've always adored the cozy-factor that is an L-shaped banquette. And if you search "banquette" some pretty cute images come up on google and Pinterest. A breakfast nook-ish type space like that might not be everyone's cup of tea (there are definitely some die-hard island-lovers out there), but we actually thought it could be even cozier than our previously considered idea of an island. Especially because it would make sense of the off-centered fireplace in a way that an island never could (since it couldn't ever be centered on it or lined up in any real way). So we took Nancy's little scrap paper sketch home and taped out her floating L-shaped banquette idea on the floor: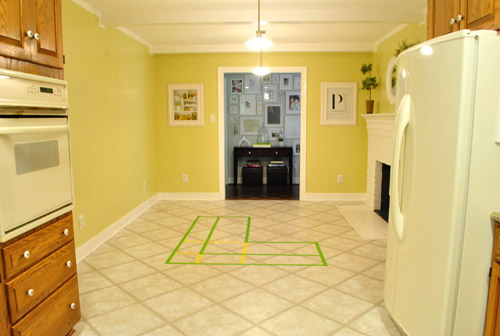 To explain what you're looking at, the smaller L that's being spooned by the bigger L would be the actual bench seating that faces the fireplace & the frame wall (which would make sense of the layout a bit more than a big floating rectangle that doesn't line up with the fireplace at all). And the bigger L would be built-in cabinetry that wraps around the back of the bench seating to create a nice nestled nook that looks as good from the back and the side as the front (and provides a nice amount of concealed storage that's accessible from the back, just like an island would have done).
As for the height, we thought keeping the tops of the cabinetry and the banquette seating the same height as the lower cabinets in the rest of the kitchen would make things feel cohesive and open (many of our inspiration images above have banquettes that are the same height as the base cabinets). And of course knocking out a huge 6 foot wide doorway to the dining room behind the banquette (which will have pretty cabinetry that faces the doorway so it looks good from behind) should keep the flow nice and airy – so nothing feels too boxed in.
I know it's pretty much impossible to picture, so here's John sitting at the fake banquette (although the table would be a smaller pedestal based thing, possibly square, oval, or even round – and possibly white or even a color, but probably not dark brown).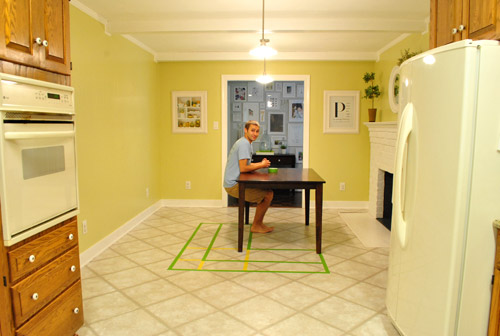 Note: we'll have to move the lighting on this side of the room regardless of an island or banquette creation since it's placed too far apart to make sense either way – and in the case of the banquette we'd center it over the table, not the seating (like many of the inspiration images).
It's admittedly still impossible to picture (and I would bet $20 that nearly everyone reading this is completely not sold on this idea), but here's a round pedestal table tossed in there in case that helps the picture come together for a few of you (since our banquette table will definitely have a pedestal base to make maximum room for legs).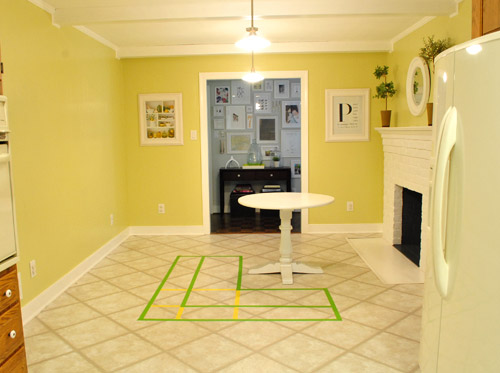 And here's a lower square table (of course too low for a banquette, but this sized top might be right) to possibly help the vision come together a little more. As of now we're both actually bigger fans of a rounded top – like the one above – but who knows where we'll end up.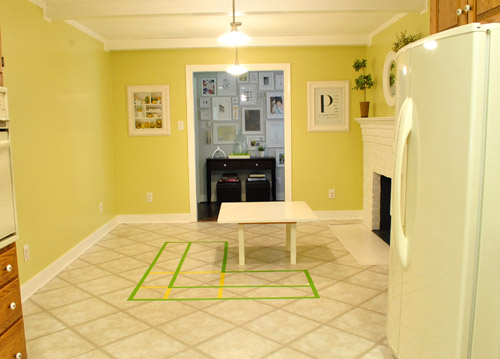 Who am I kidding. This probably doesn't help anyone. And you all think we're crazy to consider this. I know it. And we might be. But we're excited enough about it to at least keep this idea on the table for now. Har-har.
See how the fireplace in the corner almost makes sense in that location with the cozy banquette facing it (which will be lined up with the doorway to the living room, so that doesn't feel random either)? Nope. You still don't see it. Haha. Well in person it actually has a lot of balance and makes considerably more sense than any island shape / placement that we've taped out on the floor over the last eight months (of which there have been many). We might just have to build our cabinet-backed banquette with cardboard or something to try to envision it further. Or use some serious photoshop magic to help picture it (the challenge is finding photos of the backs of banquettes since so many shots are looking into the L-shaped seating nook as opposed to looking over its shoulder from this angle).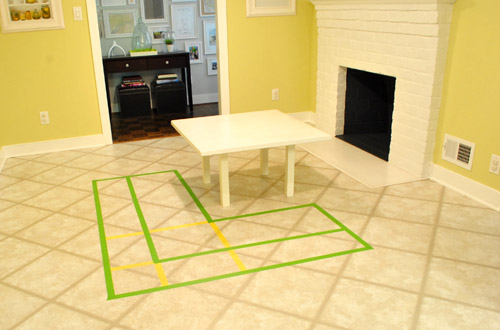 Oh and ignore the crazy white fireplace surround on the floor, since it seems to encroach and crowd the table waaaaay too much. When we redo the flooring in the room that'll be remedied since we have plans to double side the fireplace down the road so you can peer into the living room through it (but will either make it gas or keep it completely inoperable so kiddo(s?) can crawl through the hole like it's a secret passageway – so there won't be a huge tile rectangle on the floor anymore).
I'll leave you with this picture again, because it's the one that makes my brain hurt the least when I try to picture things: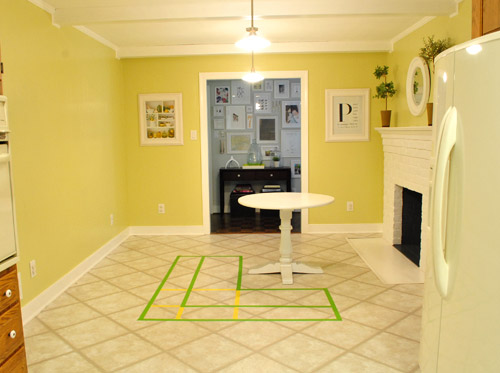 So all of this is to say that we taped off a crazy shape on the kitchen floor and we're seriously considering some sort of cozy banquette-ish breakfast nook as opposed to a centered island with an off-centered fireplace nearby. It should be interesting. And the odds are that we'll end up making some semblance of a decision someday. And we promise to keep you posted. Off to dip back into the aforementioned bedroom project and the office cabinet makeover. Ah DIY, you fickle friend. Maybe next week we'll be less scattered. Who are we kidding? Probably not.