Blogging is sort of a funny hamster wheel because we'll do, buy, install, or build something, blog about it, and then we'll move onto blogging about other projects, purchases, and updates. So it means we're not always great at keeping you posted on those older things that we've already talked about since we're so busy sharing new stuff. Which explains why we get update requests for things in our archives all the time. So here's a big ol' collection of them for you guys, which marks the second one in this series (here's our first one from a few years back, so you can check out if we covered other topics you've wondered about there).
Our Nest Thermostat: This is the most asked about item in our entire house. And the short answer is: we still love it. More than ever. Not only does it save us money, but the features that we mentioned back in July in the original post (how it can sense when we're away and shut itself off to save energy, how it adjusts to know our schedule – like warming the second floor when it knows we're up there, and how we can raise or lower the temperature while laying in bed on our phones) are all awesome. It's one of those life-updates that you notice every day and feel sort of fancy about while also being really practical and convenient.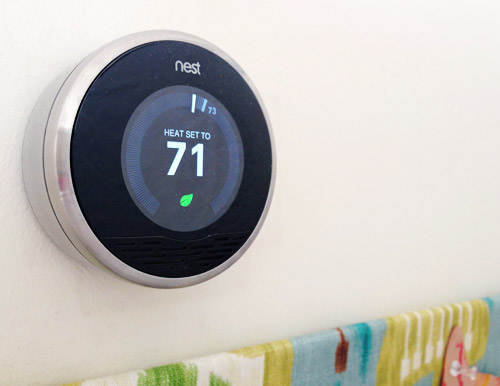 It's hard to quantify how much we save with it since we got it just a few months after our move, but our Nest indicates that we've saved more energy than 70% of other Nest users in Virginia (so it's nice to know that even among fellow Nest users, we're in the top 30% for energy conservation). The auto-away feature alone has been awesome for us, because we used to have to program our thermostat to heat or cool less if we were going away for the weekend and now it not only can sense that we're gone and go on "auto-away" mode on its own, it can even do that on days we're running around all day doing errands. We also really like that we can kick it on from the car (so if we're coming back from a weekend trip and realize the house might be cold since it knows we're away, we can turn it on from afar, so it's warm when we walk back in). In summary: Still truly, madly, and deeply in love.
Our Outdoor Plantings: Whelp, the big holly trees that we splurged on for the most privacy are doing gangbusters (they're big, healthy-looking, and no deer dares to eat them)… but the funny thing is that when we mentioned that we also got a smaller privet bush a bunch of people warned us that it was super invasive and they wouldn't recommend it since it can self-seed and sprout up everywhere. The hilariously ironic update is that it's toast. Completely eaten by deer. It was a veritable buffet. Thankfully the plants came with a one year warranty (even for deer-eating, since they sold this as a deer-resistant variety), so when it gets a little warmer we'll dig up its skeletal body and bring it back to the store in exchange for something that should work better (most likely more of those awesome holly trees). In summary: The privet is done-zo, but the holly is still living la vida loca.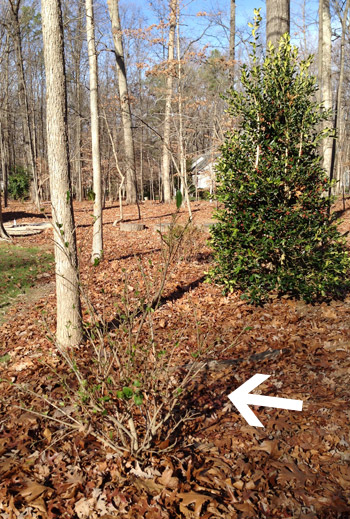 Living With Stairs: We also get asked how we're liking life with stairs (usually from fellow ranch-owners who are considering a move to a two-story home). The adjustment was actually pretty easy, and we're happy to report that life with stairs has been awesome. We never knew we were two-level people (we truly loved one-level living for 7 years), but the main upgrade is that when people come over we only have to run around tidying up the first level since everybody usually stays down there (so there's a 50% shorter mad-dash when people are on the way).
There's also only a half bathroom on the main level (we had three full baths in the main level of our last house, so I was cleaning three showers/tubs). Here we have 2.5 baths, and I love that the commonly used main-area bathroom is just a half-bath for faster cleaning. We've also noticed that the way we live in the house feels a little more separated, in a good way. We rarely have laptops anywhere near our bedrooms, which was a stark contrast from the layout of our last home (the living room was right behind the bedroom, so there were only a few steps between our "work" and "relaxation" zones). It's nice to have more of a division here. In summary: Stairs, we ain't mad atcha. We actually kinda love you.
Living With Old Appliances After Having New Ones: We also get questions like "is it hard to go from living with nice new appliances to using older ones again?" So far living with the old fridge, stove, dishwasher, and laundry equipment hasn't been bad at all. They work and they do the job. Maybe it's just our personality (since we're used to living with not-perfect stuff for years as we slowly work to upgrade them) but they don't seem to bother us too much, most likely because we're comforted by the knowledge that they're not forever (this too shall pass, old dishwasher). Except – bam! – this week our washer broke. Boo! So we're waiting on a repair guy after taking the entire thing apart ourselves, only to discover two rusted bolts that we need to remove to get to the blockage along with a detached belt.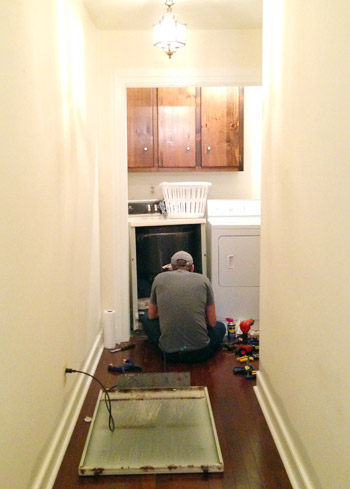 The annoying thing is that those bolts and broken belt are just too far gone (the bolts are rusted and we think the belt might indicate a motor issue) for us to deal with them ourselves without fearing the worst (giant leak, breaking the entire thing, etc) – hence the repair guy who is coming later today. It'll hopefully only be around $75 to repair it, which we still think makes more sense than getting a new one at this point (we'd rather save up more for a truly awesome washer someday – and get a great deal – than rush to buy one right now out of desperation). Of course if he comes out and says "this thing is done" we'll switch into "guess we're getting a new one" mode. We also would eventually like to upgrade to a gas stove, so that's exciting to daydream about. In summary: The washer is bugging, but the rest of the gang is cool for now.
Our Rejuvenated Wood Floors: Folks also ask how our little cleaning/sealing treatment has been holding up in the office, dining room, and living room downstairs – and we're happy to report that seven months later they still look pretty much exactly the same. In summary: No complaints.
Nikon D3200: We're still very happy with our accidental camera update. That post actually has a lot of info about the camera (both in the post and in the comment section) so you'll want to check that out if you're thinking of getting one. We've loved it pretty much for all the reasons we called out in that original post (like the video capabilities, the auto white-balance, etc). In summary: Cheers to you, D3200.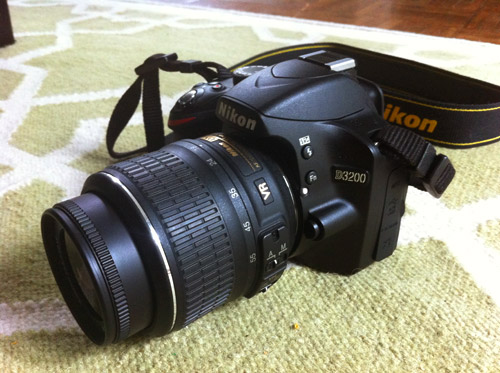 Living Without A Proper Two-Person Office: We haven't loved not having a functional two-person workspace. The way it works now is that John is at the desk in the office with all of his stuff spread out, and I usually work from the kitchen table (which means clearing my stuff-spread off regularly for meals). It hasn't been torture (I don't rage at the kitchen table three times a day or anything) but we're completely aware that it could be a lot more efficient. So we'd love to build systems into the office to make it a lot more functional, and get me out of the kitchen. We've actually been researching a few things and sketching out some plans – so we hope it's on the agenda soon-ish (maybe after the nursery is done). We're totally guilty of putting it off because it's not terrible and it seems like a giant mountain to climb, so quick let's look the other way for one more month… In summary: Not the worst thing that ever happened, but not ideal.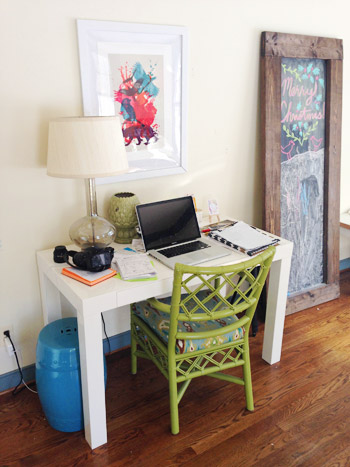 Open Shelving In The Kitchen: We still get a lot of questions about how we like living with kitchen shelves, and the short answer is that we still love them and marvel at how easy it is to grab a plate or unload the dishwasher (hence adding them into this kitchen as well as our last one). We actually expounded upon their virtues in our last update post, so you can read more details right here on that subject. In summary: Open shelves, we just can't quit you.
Our Restoration Hardware Outlet-Steal Of A Table: Since our kitchen table has a raw look to it, people have asked if we've had issues with staining over the last four months or so of everyday use. The crazy thing is that even through grape juice spills and a giant soy sauce explosion, it still looks great. We've also never had issues with water rings or anything soaking into the surface, so I can only explain it as having some sort of invisible matte wax that seals it (it's definitely not anything glossy) so it's more protected than it looks. In summary: So far, so good.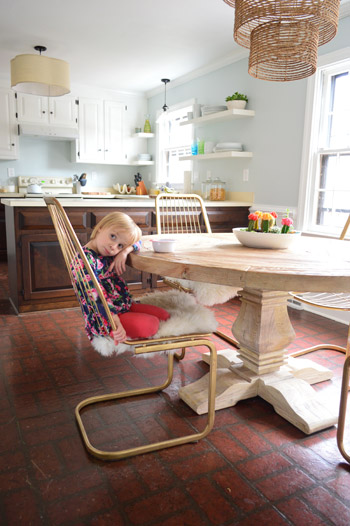 Our Karlstad Sofa: Once again, we get a whole bunch of "how's Karl? still love him?" questions, and the good news is that after years of living with a kid, a dog, and two couch-flopping adults, Karl is awesome. We're really happy with the comfort factor, how the cushions are holding up, and his general overall appearance. I truly believe one of the biggest helps has been our choice of the dark sivik gray cover. It's crazy durable (almost like denim) and Burger's little nails can't get into the tightly woven fibers and pull anything, which has been awesome. It's also machine washable, which has been really handy. We mentioned Karl in our original update post as well, so you can read more about him here. In summary: Karl takes a licking and keeps on ticking. And is sort of a member of the family at this point.
Stenciled Bathroom Floor: We get questions like "is it peeling or flaking after everyday use?" and the resounding update is: huzzah, the floor still looks mint! Even with Burger tapping around it a million times a day with his claws (he loves having his crate in the closet) and us walking in and out to get ready in the morning and at night – the sealer that we put on seems to have done us right. We even got a few drips of paint on it while painting the nearby bathroom, and those popped right off when they were dry thanks to the clear top-coat. In summary: Get on with your bad self, stenciled floor.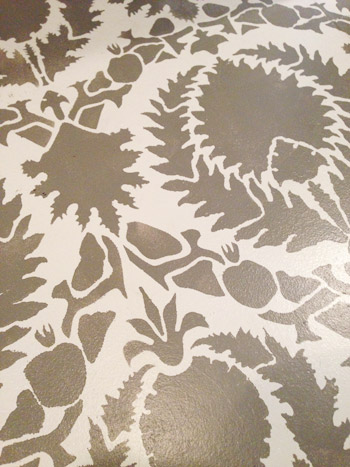 So there you have it… a big ol' brain-dump update. What do you guys have in your house that has either rocked your world or let you down? It's awesome to hear about stuff that you love – and to learn from your "don't go there" warnings.
Psst- In the "previous mistakes and tweaks" category, you can check out this post, this post, this post and our first update post. We definitely don't always make the right calls, but there's something pretty comforting about course correcting as you go (it tends to work out pretty well in the long run for the most part).