As a bunch of you saw on Facebook and Instagram, we went on a giant lumber run, which means there's a whole lotta building that's about to commence in the nursery. But first we have to paint the walls and ceiling, so we hope to knock that out today and tomorrow (and have an update for you guys on Monday). Three cheers for finally saying goodbye to those door-overspray marks on the wall!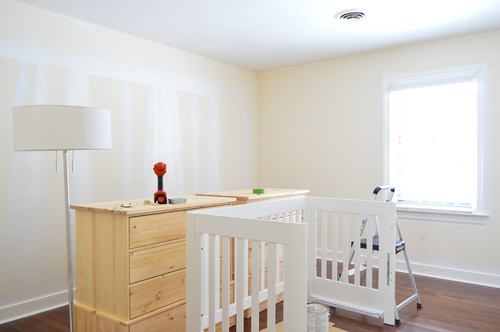 And while we get our paint on, I thought I'd share a nice and easy "anyone-can-do-it" project (involving living things, ahh!). Most importantly: there's a tiny deer living in a tiny glass house in our house.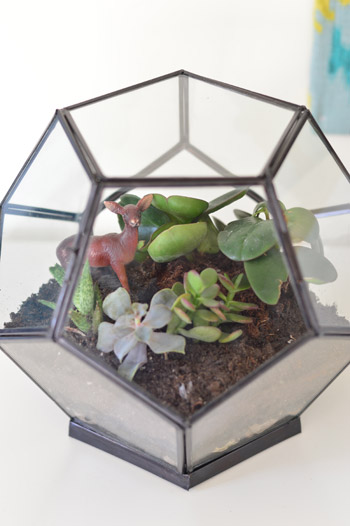 And the good news is that he can't die… but the plants nearby most definitely can.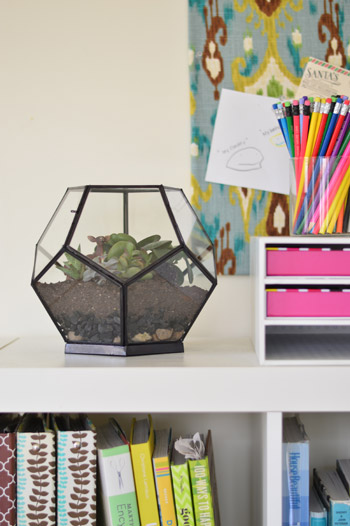 So this is going to be one of those experiments to see if low maintenance plants really exist. Because we all know I don't exactly have a green thumb. Remember when I begged you to help me keep my cacti alive? Well the good news is that they're all still alive and kicking, over two months later.
Wanna know how I'm keeping them alive? By completely ignoring them. 100%. I've only watered them once. In TWO MONTHS! Everyone told me just to give them a drop when the soil feels really dry, so I have truly taken that to heart. And they love me for it. Well, at least they don't hate me (and aren't dying in protest). Some of you even noticed them still alive and kicking in last week's chair post. Werk, little cacti. Werk.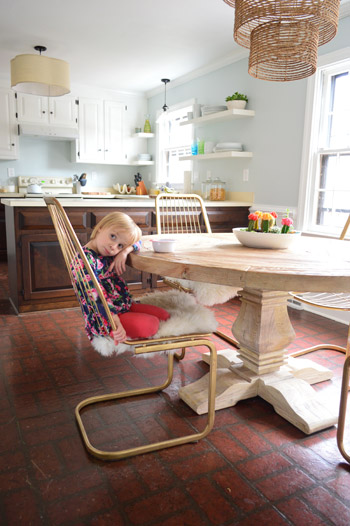 So now that I've had a decent amount of success with that completely no-maintenance planting experience, as you can imagine I practically think I'm a top level botanist. Just kidding, I still have pretty much zero plant confidence (see those succulents on the shelf in the background of this pic? They're fake from HomeGoods). But it did inspire me to try one more "it theoretically should take care of itself" situation on for size. Namely, a terrarium.
It all started when I found this awesome glass container at a lighting shop a few weeks back (The Decorating Outlet here in Richmond). The cool thing is that they usually sell this as a light fixture like this, but this one wasn't drilled to accommodate a light for some reason, so it was marked down to $16. It just sort of whispered "Fill me with a few green things and a tiny plastic deer. You know you want to." So I thought, OK, let's see if this black thumb of mine can create (and hopefully maintain) a terrarium. Like without any actual maintenance.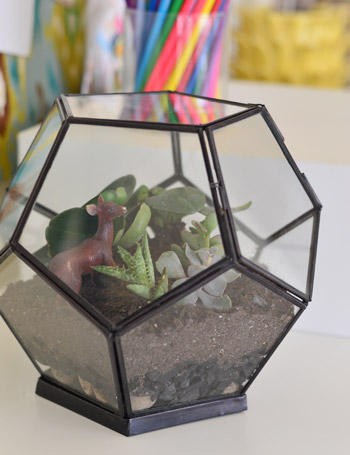 Here's how I made it.
Step 1. Cut a hole in a box. Just kidding. The first step was actually finding a glass container that I liked (you could also try a big glass container like this or an apothecary jar like this). UPDATE: Shades of Light actually sells this exact piece as a terrarium now!
Step 2. I googled around and read about 20 terrarium tutorials. There were a lot of different methods, but the ones with charcoal – like this one – seemed the most self-stable (meaning you didn't have to open them and water them, because the charcoal theoretically should make them into their own little self-sustainable ecosystem).
Step 3. I wrote out a list of supplies I would need: gravel, charcoal, potting soil, and some small plants. I ducked out into the garage to get some bagged potting soil, and just stole some gravel from our driveway to fulfill that requirement. Then I went to Home Depot and grabbed two small succulent containers for around $5 and looked for charcoal (some plant stores sell it) but no dice. So I hit up a local greenhouse (Great Big Greenhouse here in Richmond) and got a tiny bag of charcoal for $1.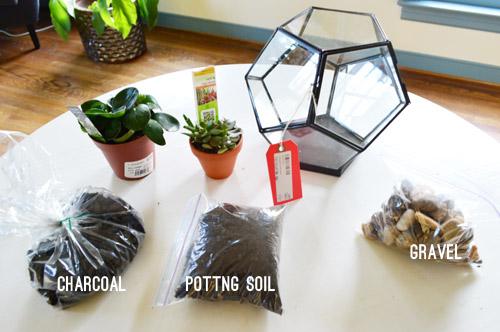 Step 4. I added about an inch of gravel to the bottom of the container.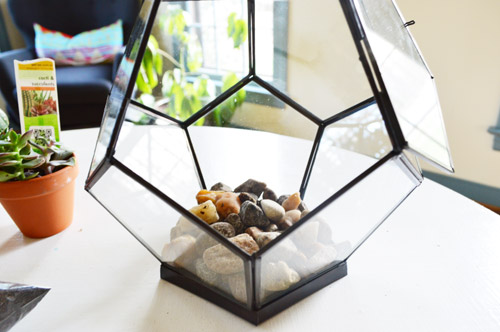 Step 5. I added about an inch of charcoal on top of my gravel layer.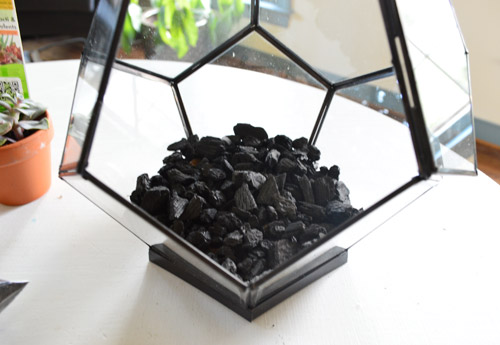 Step 6. I added 2-3 inches of potting soil on top of the charcoal layer.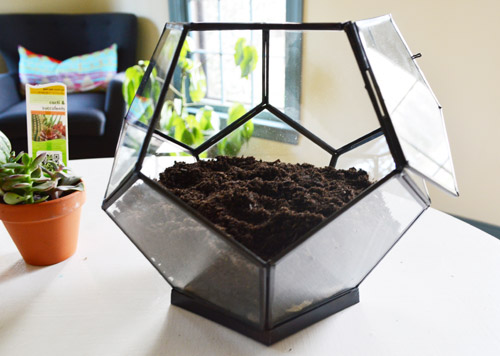 Step 7. In went my plants into the potting soil…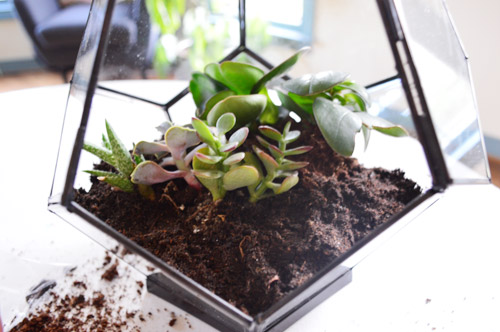 Step 8. And then just for fun, I grabbed Bambi's nephew Bob and stuck him in there.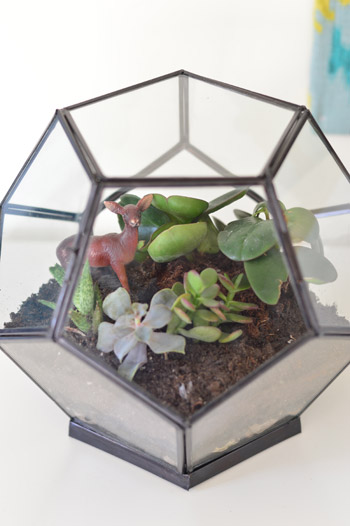 Step 9. I gently misted the plants with water (ok, I dunked my hand in a bowl of it and splashed the inside of the terrarium a few times) and then I sealed everything up and called it good.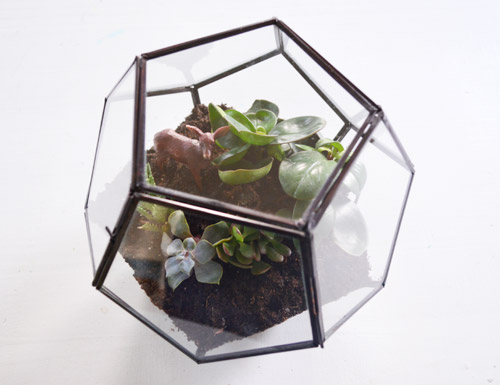 So far it has been over a week and my little guys have been troopers. No drooping (they actually look a little happier than they were in their plastic Home Depot containers) but not a whole lot of action either (there hasn't been a ton of Titanic-esque glass-fogging or anything like that). The jury is still out on whether this will end up being a cold and lonely tomb for them to leave this world, or a happy little place for them to hang out. I'll keep you posted. In the meantime I'd love any and all terrarium tips since you guys did me right with those cacti.
Update: Hilariously enough, thanks to my Instagram feed I learned that Michael over at Inspired by Charm made a similar terrarium from a RedEnvelope kit for $79 yesterday! So you can check his out as a ready-to-assemble alternative. Also, his photos are amazing, and his dome is blinged out in gold. Me-ow.