If we were really on top of our game, we would've started this blog 16 months ago when we bought our beautiful, one-story brick ranch here in Richmond, Virginia. But I guess we were too caught up with home work (literally) to even think about recording our progress online.
When we bought the place in May of 2006, we were its 3rd owners in its 50-year-old history. We were completely charmed by its strong bones, and happily challenged by its complete lack of style (the beautiful backyard was also a plus). We moved in with big dreams of what it could become. And a mere 12 hours after closing, it was already on its way…

Just to get a sense of where we were starting – check out this shot of our old den.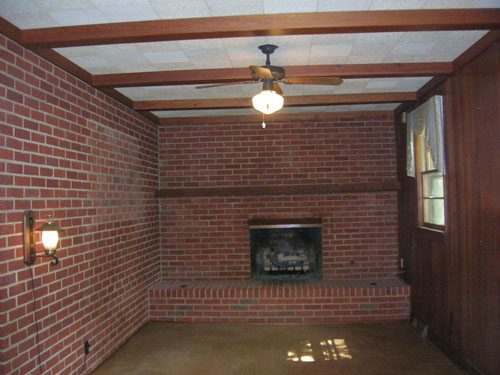 No wonder we often referred to that room as the hunting lodge in the first few weeks of homeownership. But if there's anything we've learned throughout the process of making our old house a home, it's that you should never underestimate the power of a few coats of paint.