We've been keeping a pretty juicy secret from you guys. But don't worry, this isn't one of those I-know-something-you-don't-know posts. We're telling you that we have a secret because we're ready to reveal every dirty detail. Or at least begin to unravel the tangled web of secret traveling that we recently enjoyed. It's the crossover event of the season, and we're not talking about Grey's Anatomy…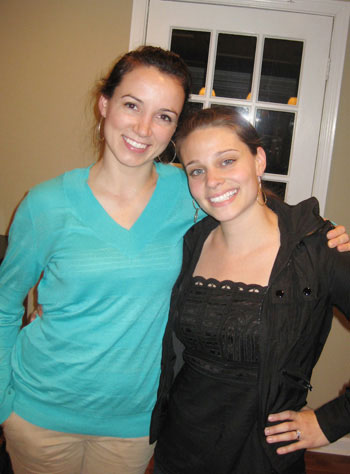 Do you know who that is? Why it's Katie Bower from All Bower Power. After a few months of commenting and emailing back and forth we decided to take our internet friendship to the next level and she actually invited John and I out to her gorgeous home. We jumped at the chance to roadtrip down to Atlanta and House Crash Katie (and her lovely hubs Jeremy) in the flesh, and we ended up spending three super fun days shacking up at Casa Bower, hanging out all day and staying up all night (the boys even played racquetball while we sat on the floor and talked for hours).
But it wasn't all play and no work. On the contrary. Katie and I actually joined forces to make a little decorating video and spent an afternoon rearranging a corner of her bedroom for zero dollars and zero cents (bonus points because we used two power tools to do it). So stick around to see lots of yummy eye candy and even a little step-by-step decorating video that we whipped up thanks to John and Jeremy who were silently taping in the wings.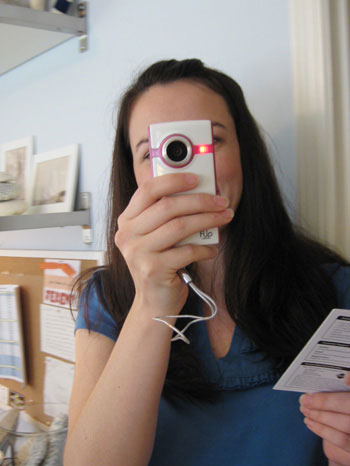 And since we know you guys have been asking to see our closets, we decided to half-fulfill your fantasy while on the road by snapping a few pics of Katie's dreamy dressing room while we were there. We're calling this little feature "Closet Crashing" and we're so excited to continue the snoop-fest in the future. Without further ado, here's Katie's colorful wardrobe full of cheerful attire (arranged by shade of course):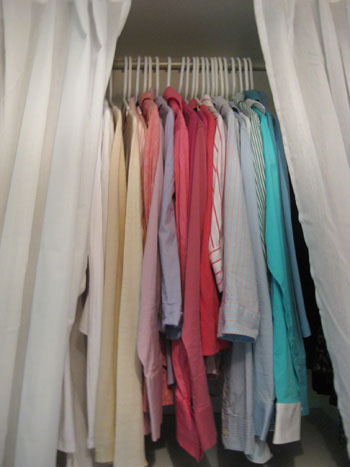 You may notice that it looks a lot like John's closet (except there's a bit more pink) due to the fact that we have the same Ikea wardrobes in our bedroom with white curtains draped in front of them for concealed storage. The reason I say that it looks like John's closet and not mine is because about 99.9% of my clothes are black, so I always photograph John's side since his colorful work shirts are a lot more interesting than my black hole of a wardrobe.
And you may wonder how the lovely Katie stores her jewelry. Here she is modeling her awesome clear Ikea drawers that slide in and out for easy bling-wrangling: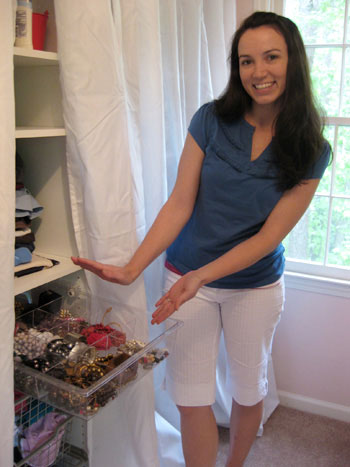 Her baubles are also stored according to color and material, and the awesome wall of wardrobes in her extra bedroom makes it easy to corral tons of stuff with bins, baskets, shelves, and hanging rods a plenty. Of course her organized changing area left me in sheer awe.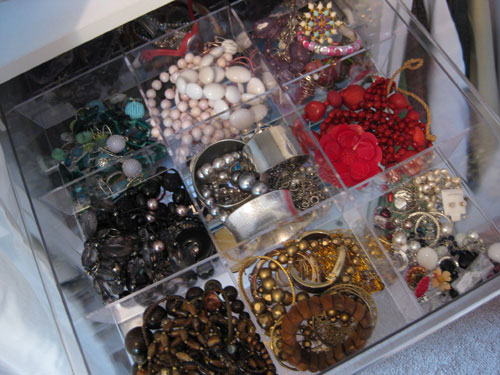 So there's a little taste of the Katie-centric things to come. We really had a blast hanging out for the weekend and we both had our blogs on our mind, so we were sure to snap oodles of photos and put her new Flip video to good use for your viewing pleasure. Stay tuned…