It looks like I'm not the only one with a penchant for white ceramic animals. I just cracked open my new copy of Thom Filicia Style (I highly recommend it by the way- so inspiring!) and noticed a bit of a theme. Dude, the guy has a white ceramic eagle console table base! And a giant white faux gazelle head mounted on the wall! And another giant ceramic eagle for a desk accessory. And a ornery little ceramic bull on a coffee table.
It was a revelation. Thom loves ceramic animals too. In fact, I spotted at least 14 different varieties (!) throughout the gorgeously designed pages of his book. That's gotta be a record or something. And of course we can't forget the famous Nate Berkus ceramic rhino (possibly this $3480 version right here) that pops up in his portfolio all the time. You know, the one that inspired my recent Valentine's Day rhino from zgallerie (for just a bit less)?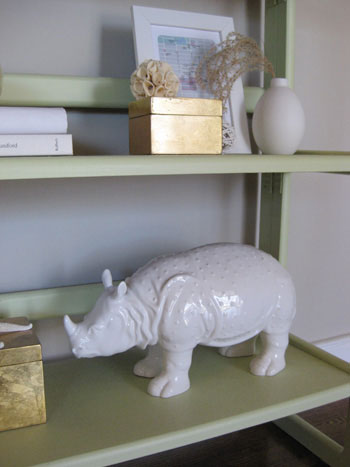 We picked up this handsome pooch for just $29 at HomeGoods last March (around $436 cheaper than this almost identical version from Perch). It was love at first sight.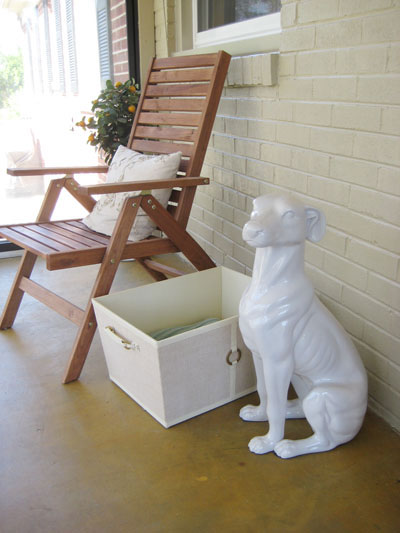 And two years ago we snagged this white iron bull for $25 at a flea market in North Carolina. He even gets festive Christmas ornament earrings every December. If that's not love I don't know what is.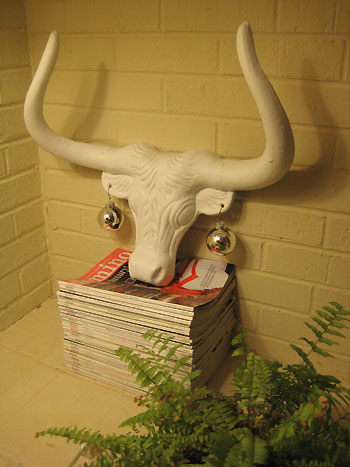 Maybe we should start a Facebook group. Or host a ceramic animal meet and greet. Oh my goodness, how weird would that be? At least we don't have names for them. So what about you guys? Is there anything that you love to collect? From milk glass to Disney paraphernalia, we wanna know what you happily hoard.
Click here for another ceramic animal that really gets my heart pumping. Too bad he's $525.