The toilet in our hall bathroom has rocked a little bit from the day we moved in (the inspector even noted it on our little home inspection form). Some people can fix this with plastic shims or tightening bolts, but we quickly diagnosed the issue as a rusted bolt under the toilet flange. That's a fix that requires removing the entire toilet and replacing the bolt, so it took us a while to get to this to-do task. But here's how I finally decided to seize the day toilet and show this rocking throne who was boss!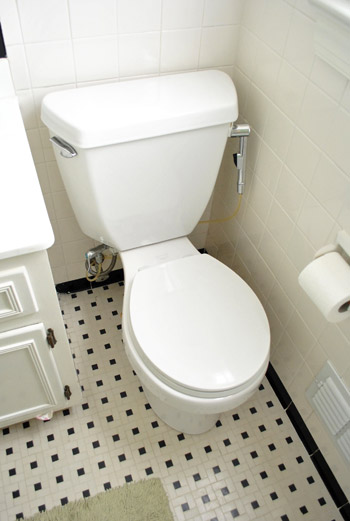 The process is similar to our toilet installation tutorial, but that project didn't involve removing an old toilet first. So today you'll get to see the fun part of removing an old, somewhat grody wax ring (along with some uncomfortable close-ups of the Petersiks' potty). Sounds like fun, right? Don't say I didn't warn you. Let's start with turning off the water.
Materials For Fixing A Rocking Toilet
Removing and reinstalling a toilet involves pretty basic hand tools (no power tools!) that most homeowners will already have around their house. The only thing you'll probably need to buy at the store is a new wax ring kit, which is
Flathead screwdriver
Wrench
Hacksaw
Small putty knife
Bowl, sponge, and/or paper towels
New wax ring kit*
White silicone caulk
*We always recommend buying 2 just in case… and make sure it's the KIT that comes with bolts!
Step 1: Turn Off Water & Drain The Tank
Start by turning your water supply line valve clockwise to turn off the water. Try to do this by hand to avoid breaking the valve. If it's stuck, try spraying WD-40 or even olive oil to lube the connection (don't remove the screw!)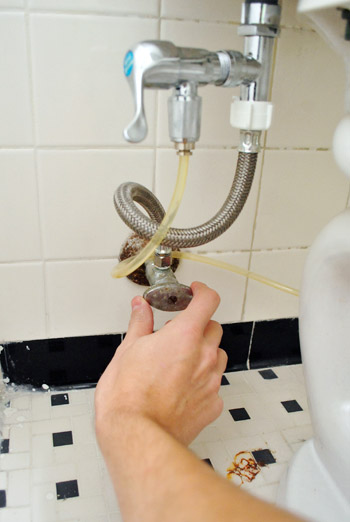 With the water off, flush the toilet to get as much water out of the tank and bowl as possible. Then use towels or a sponge to sop up the extra water by hand. And no, I won't show you a picture of my hand in the toilet bowl.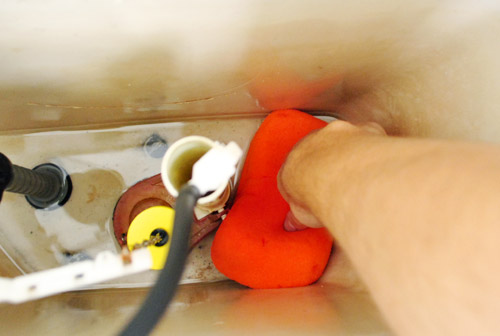 Step 2: Detach The Supply Line
Once things were pretty dry, I unscrewed the supply line from the bottom of the toilet tank. We've got a diaper sprayer attached so ours looks a bit crazier than your average toilet, but the idea is basically the same.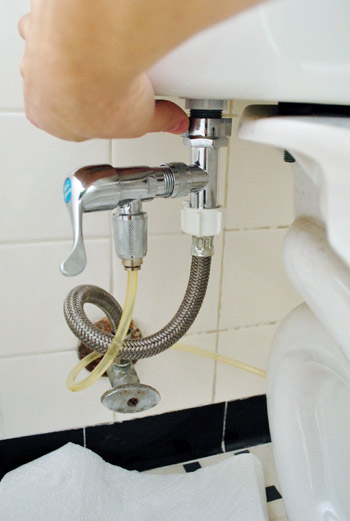 There was a bit of water leftover in the supply line, so I had some paper towels on hand to soak it up.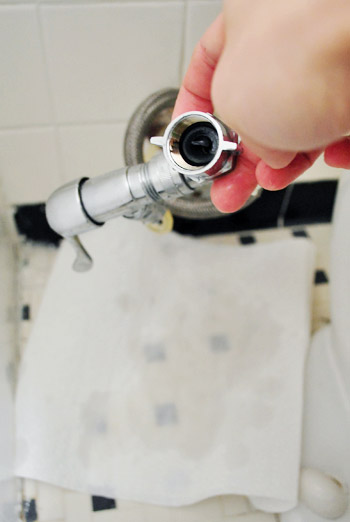 Step 3: Unscrew & Remove The Toilet Tank
Next up was removing the tank, which is bolted to the bowl in three spots. I was pretty much able to do it with a screwdriver all from the top, but I did have to unscrew the nut from the bottom side at one point.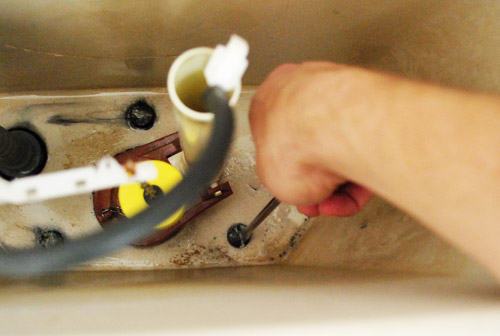 Once it was unscrewed, I lifted it up carefully and set it down somewhere soft and out of the way. In this instance, that meant an old towel in the bathtub. Oh yeah – we're a classy operation 'round here.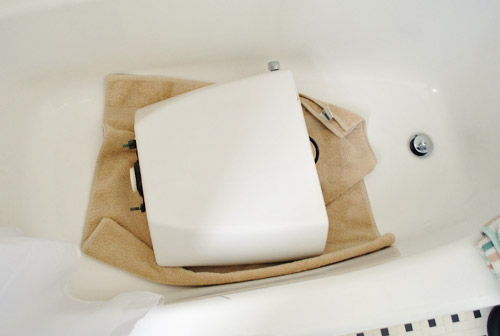 Speaking of classy: here's our topless toilet.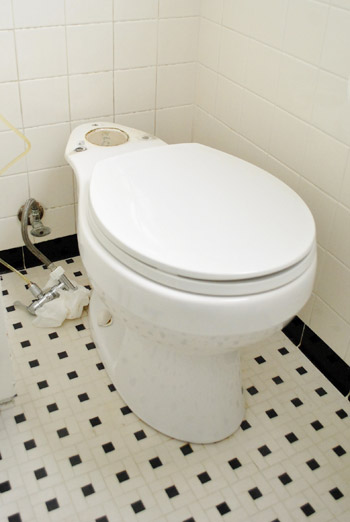 Step 4: Remove The Toilet Bowl
To remove the bowl, I used my wrench to unscrew the bolts on either side – this particular guy was the culprit for the rocking situation that got us into this whole mess: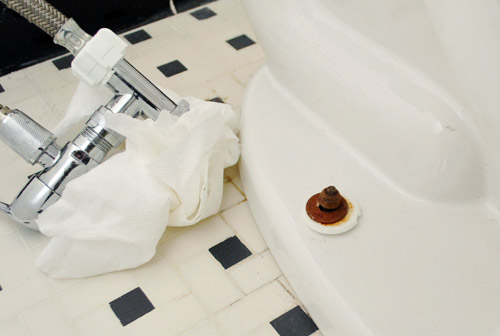 With both bolts unscrewed, I used a gentle rocking motion to detach the toilet from the floor. It's stuck to the floor in place by a wax ring (just wait for that beautiful picture – it's coming up!). But once you've got it unstuck, the bowl comes up pretty easily.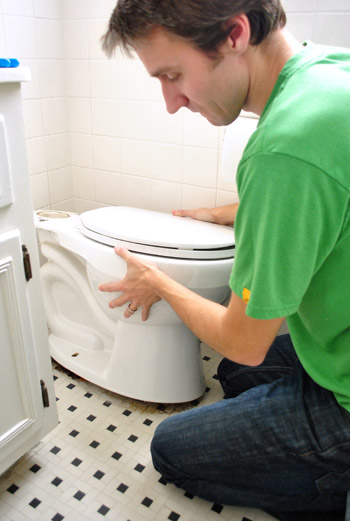 Step 5: Plug The Sewage Hole
And here's that beautiful picture I teased. If you're eating breakfast, you might want to stop scrolling. You can see I plugged the hole with an old rag to minimize the odors creeping back up and assaulting my nostrils. You just have to be careful not to put it in so deep that it gets lost into the sewer system. You might anger the Ninja Turtles living down there.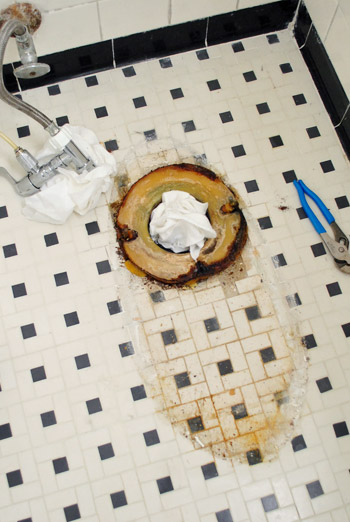 Step 6: Scrape Away The Old Wax Ring
Since the old wax ring had to come up to make room for the new one, I got to scraping it with a plastic putty knife. This is probably the grossest picture of the post, so please accept my apologies. But rest assured that it's just wax and rust – nothing more.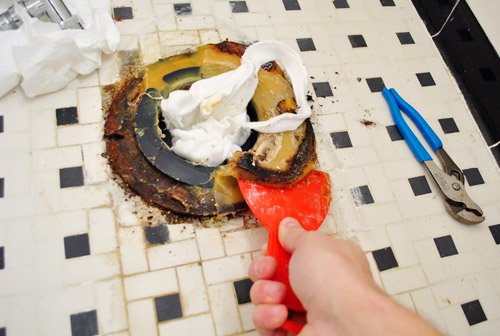 Oh, and I made sure to remove the old rubber reinforcement ring too. This comes in some wax rings, so it shouldn't be left in place (our new wax ring had one in it).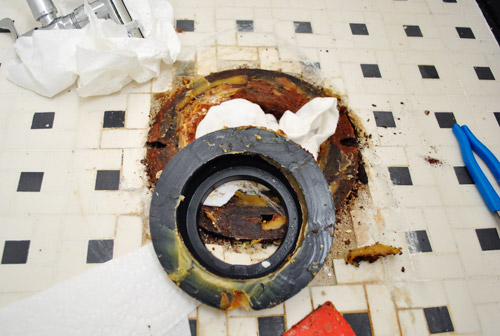 I also had to clean a little bit of the wax off of the base of the bowl too so it was all pretty looking. Well, pretty is probably a stretch.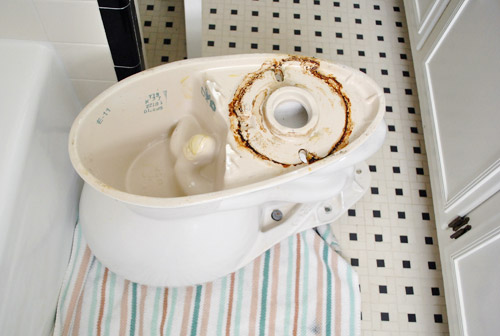 Step 7: Put The New Bolts & Wax Ring In Place
Here's the new wax ring kit. It came with new bolts and everything for a whopping $7 at Home Depot.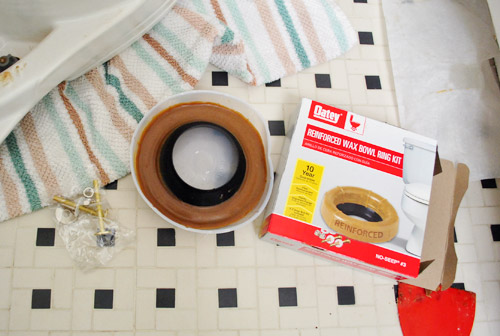 The new ring gets stuck to the bowl, not the floor. I just pushed it slightly down over the opening at the bottom of the bowl. Be sure to have an inquisitive chihuahua double-check your work.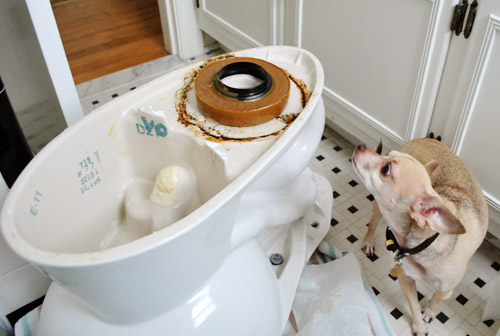 Oh, and of course the new bolts had to go into place around the flange (that's the steel piece attached to the floor – ours is very rusty). And remember to pull up the rag right before you put your toilet back into place (so as not to meet the wrath of Ninja Turtles living in our sewers).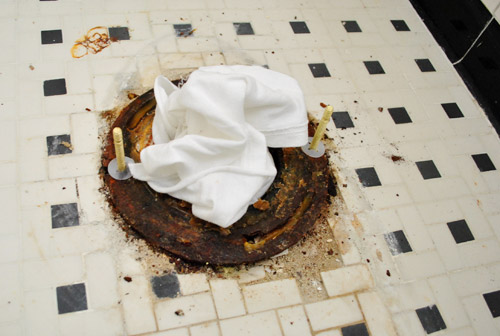 Step 8: Set The Toilet Bowl Back In Place
Then came the tricky part – which I've been known to mess up in the past – putting the toilet bowl back into place. It's tough only because:
They're a bit heavy and
You have to line it up perfectly over the bolts
But if worse comes to worst, you just pull it back up and try again (though if you've squished your wax ring too much you may need to put a new one on). That's why I always buy two wax rings just in case. Better to spend an extra $6 to save a trip to the store (or risk a leaky toilet). Plus you can always return it the next time you're at the store if you don't end up needing it. Oh and this step can be helpful with two people (Sherry did once she was done taking this picture!)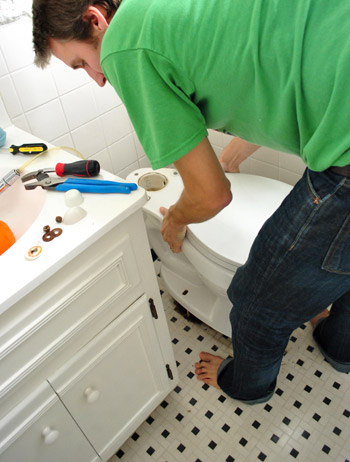 Once we had the toilet placed and straight, well, I sat on it. This little bit of pressure squishes the wax ring into place to ensure that we were getting a good seal. I wish I could say this is the first post that featured a picture of me on the john, but alas…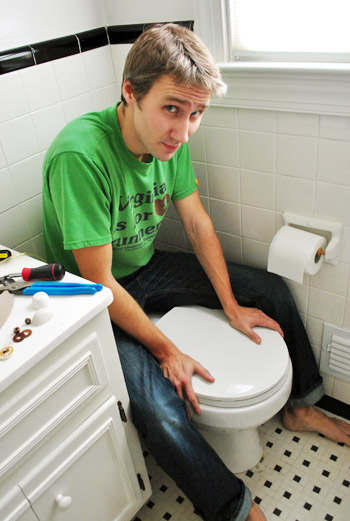 Step 9: Tighten The Bolts
Once it felt pretty set, I went to work bolting it into place. You can see how the new bolts stick up nicely through the holes in the bottom of the toilet bowl. Note: that is not a hairball on the floor, it's a weird rust stain that has been there since we moved in. So we plead the fifth.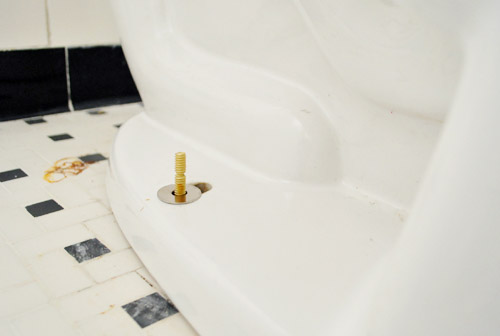 I hand-tightened the nuts most of the way, but used a wrench to finish things off. The thing about a toilet is you don't want to over-tighten because it can easily crack the ceramic. So just be sure to do this slowly and go back and forth tightening each side a few spins for an even installation. You can also break out a level if you really want to make sure.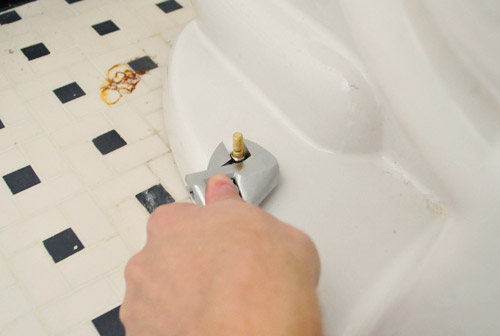 Step 10: Cut Off Excess Bolt Length
Your bolt will likely be a bit too long for those little plastic covers to fit over them, so use a hacksaw to saw off any extra length.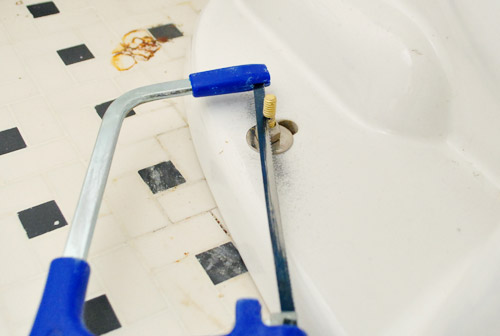 Step 11: Reattach Your Toilet Tank
Bowl securely in place? Check. Not rocking anymore? Check. Now it was time for some tank action. I put the tank back into place on top of the toilet and screwed it in. Again, not too tightly because I didn't want it cracking. But enough so that it felt secure and I didn't think it would leak.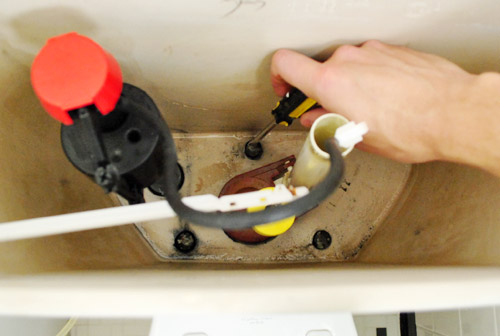 Step 12: Reconnect Your Water Line & Check For Leaks
And last but not least, I reconnected the water supply line so we could refill the tank and bowl. Be sure to check for leaks around the base of the bowl, the bottom of the tank, and where the water line is connected.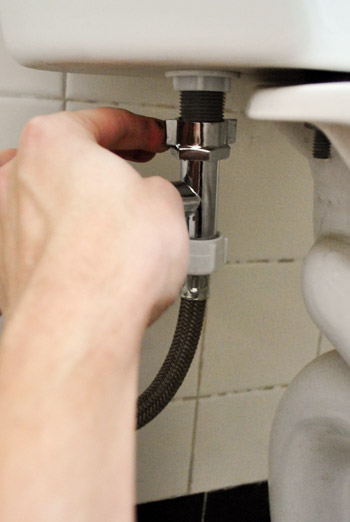 Step 13: Caulk Around the Base Of the Bowl
All of that checked out okay, so I ran a line of caulk around the base of the toilet. I only did it around the front 75% of the bowl so that if a leak were to happen in the future, it could escape out the back and alert us to the issue (that's a little plumber's trick we learned a few years back for ya).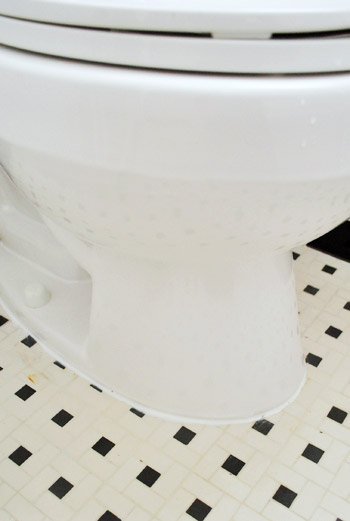 BONUS: Add A Dual-Flush Converter Kit
This is usually where a toilet replacement adventure would come to an exciting conclusion, but we used this as an opportunity to install a dual-flush converter kit to this toilet.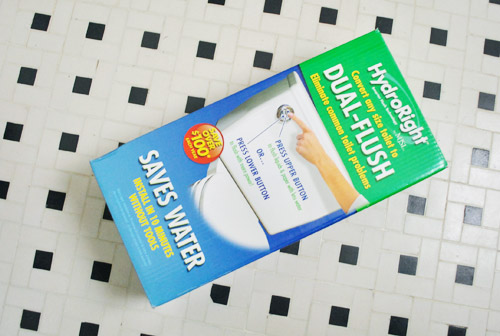 We did this in our last house so you can read our more in-depth dual flush toilet conversion tutorial. But basically, this $25 converter kit lets you take a normal toilet and give it two flushing options: a lighter flush for, um, lighter "activities" and a fuller one for the, you know, other stuff. Hooray for saving water (and money) and pretending your toilet is from the future.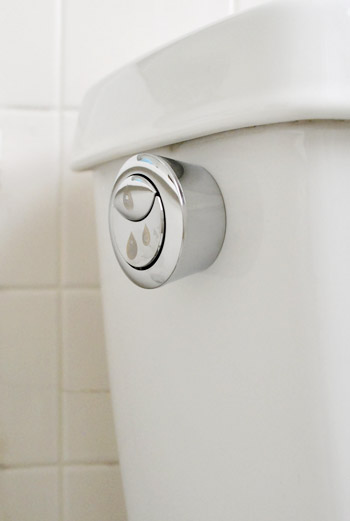 The installation was a cinch compared to the whole wax ring replacement stuff. Here's a shot of the finished product.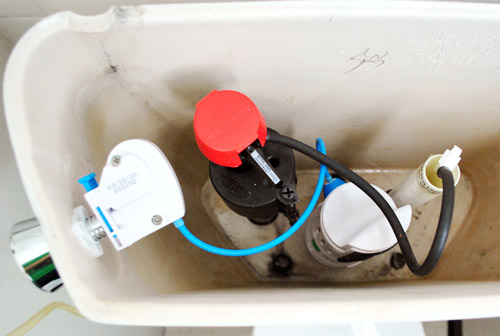 And for the grand finale – and "after" shot of our now fixed, now dual-flushing toilet. Sure, it looks pretty much the same. But just try sitting on it. It's soooooo much better. No more seasick-esque motion. No more shouting a warning to guests who head down the hall to use the facilities.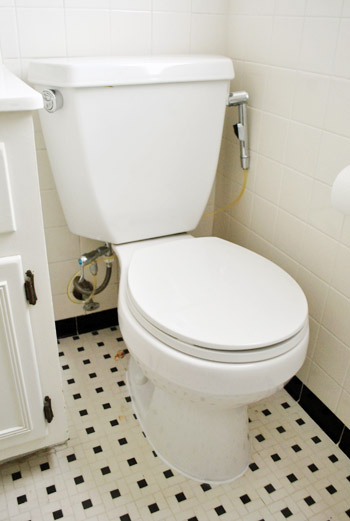 And admit it, that diaper sprayer on the right is hardcore. Like our toilet is wearing a little holster or something…
Psst- Now that I've assaulted your eyes with toilet pictures, check this out (it's much cleaner and sweeter).