Happy Valentine's Day everyone! We're celebrating with Burger, Clara, each other, and a photography crew in our house for the third straight week. But there's a twist today: we're trying not to vomit! Poor Clara got sick the entire evening on Saturday and into the morning on Sunday and now it appears that John and I have the bug… but the show must go on! The good news is that we finished all of our secret projects so we just have to get the last 20 in the can by Friday and we're done-zo. Oh yeah and we're supposed to shoot some cover shots tomorrow (ahhhhhhhhhhhh) but we won't think about that right now. So Happy V-day from our slightly green household to yours! Now let's horse around a little…
I've started to realize that my little self-imposed "Dude, Get On That Already" challenge should probably just be called "So I've Been Hoarding Little Animal Friends And Now I Get To Spray Paint Them." Here's Exhibit A and Exhibit B. Although, in my defense I've apparently been hoarding other things like coat hooks and old light fixtures too, so it's not like I have a spare room full of ceramic animals. Yet. But I did have these guys that we bought for $2.50 each almost exactly a year ago in Delaware in a whirlwind thrift-store-palooza. And then they sat in our playroom for 12 months. Poor guys.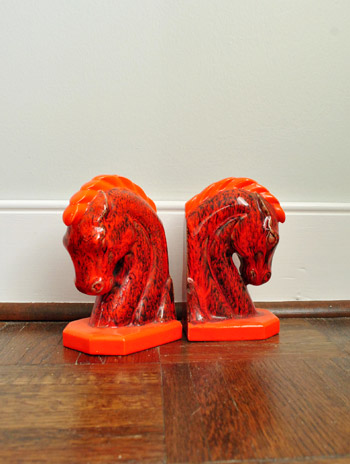 But I had big plans for these little orange and black sponge painted horse heads from the start. First I gave them a few thin and even coats of primer (slippery ceramic things like this usually do best with some spray primer before any spray paint).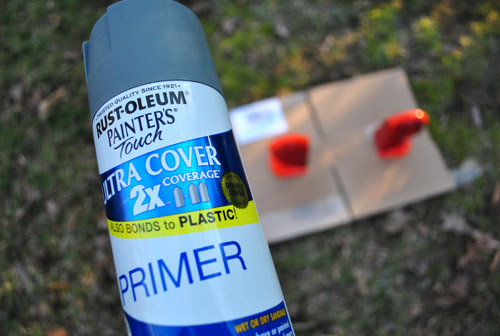 Here they are all primed up and steely gray: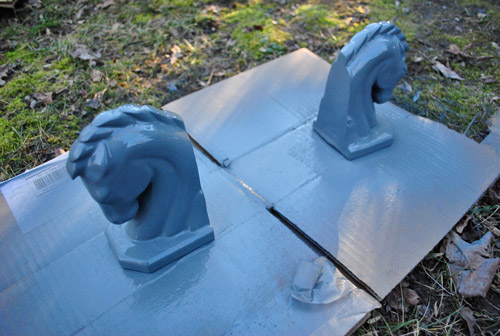 But spring is in the air! So some happy yellow spray paint was just what the doctor ordered.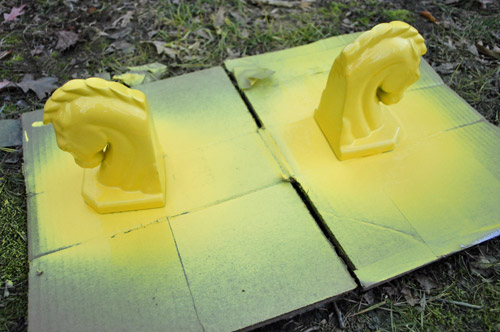 It took about five thin thin thin coats (more of a mist than a real coat of paint). You really want to just hold the can about 12″ away and keep your arm moving the whole time (there are more spray painting tips for ya right here). After a few days of letting them cure outside in the carport I brought those babies in and put them to work: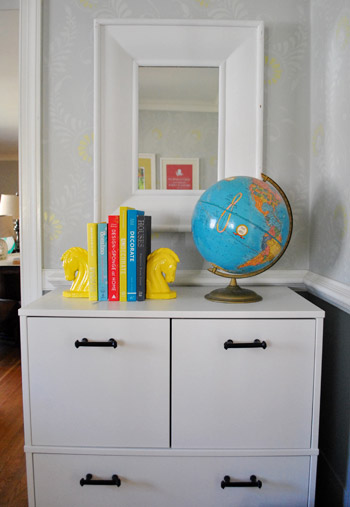 Yeehaw.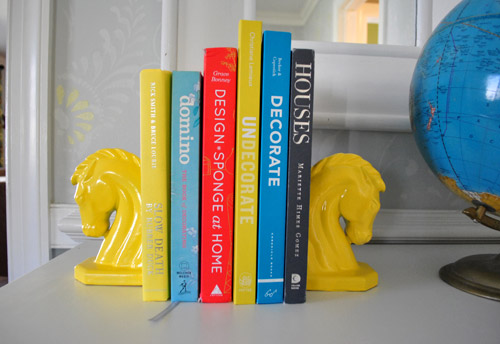 Who's ready for warm weather and cherry blossoms and birds singing? This girl (points to self with yellow spray painted thumbs).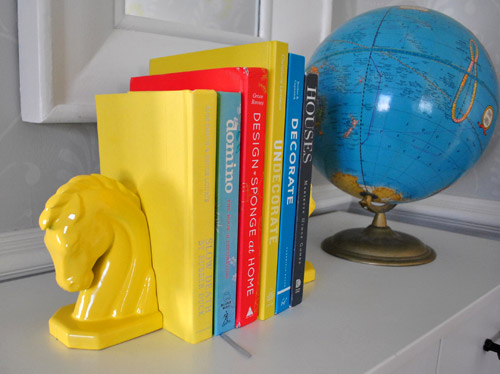 So that's the story of two $2.50 thrift store book ends that sat in the playroom for a year collecting dust. One more thing off the ol' list and out of that room. Hurrah! At this rate the room will be empty and ready for a big makeover in about three years. Haha. Kidding. But I still have a ways to go, which is why I love forcing myself to tackle one small thing we week. It's do-able and not too overwhelming, but it definitely adds up to 4-5 little accomplishments each month along with some other big projects that we're juggling (like zee book and zee kitchen). Did I just get French for a second? Anyway, the weirdest thing is that sometimes these little projects make me beam the most. How strange is that? It's the little things.
What have you guys been up to? Are there any other Dude Get On That Already challengers who have tackled things that need to be cleaned/organized/painted/etc? Anyone else trying not to lose their lunch on V-day? Do tell.