It's time for this week's installment of my strange little self-imposed "Dude Get On That Already" challenge (where I'm attempting to use or donate/craigslist all the random items that we've been hoarding in our full-of-stuff playroom). When I laid eyes on this old bar o' coat hooks that used to hang in our first house's den, I thought it might be just the thing for our laundry room. Clara's coats & hats & gloves + Burger's leash = lots of small things that might be easier to grab/find if we actually had somewhere to hang them. So first we made sure it would fit by holding it up where we thought we could hang it. It fit perfectly, but felt a little heavy due to the dark finish, so…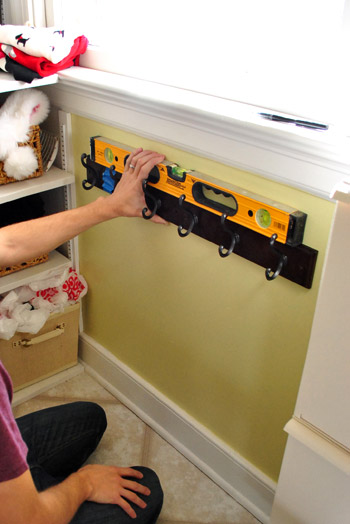 … you know I spray painted that sucker glossy white, right? A few thin and even coats later (I used the Rustoleum Universal stuff with built-in primer) I was left with this guy. I don't know why I'm holding him up sideways in front of the other wall. I blame book craziness (how long can I blame normal weirdness on book craziness? Two weeks? A month? Three years?).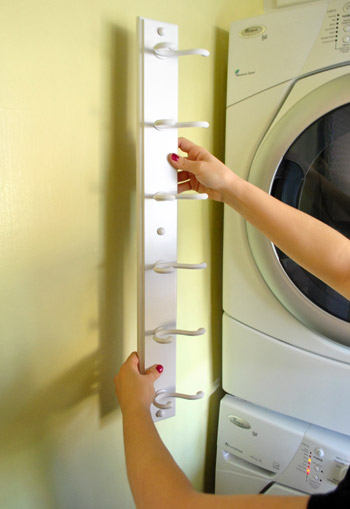 Then it was hanging time: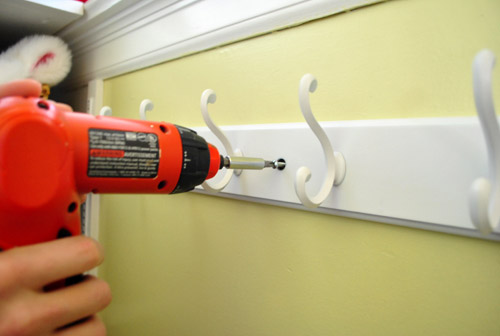 And then came Clara's coats and hats and Burger's leash: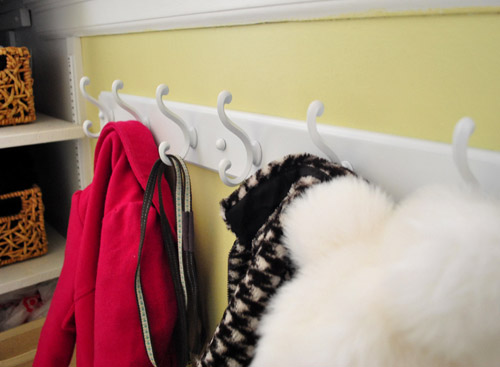 Ta-dahhhhhhh.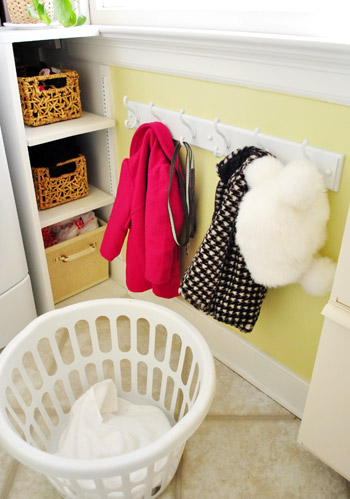 Why didn't we do this months ago? Now there's no more running around to try to locate one of Clara's coats (which used to end up in any number of odd places since it didn't have a designated drop spot like this).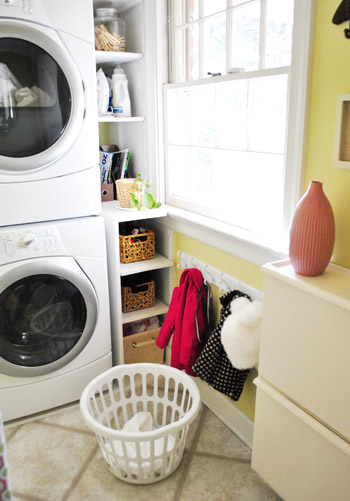 I can even picture her little lunch box and backpack hanging up here someday. Sniffle.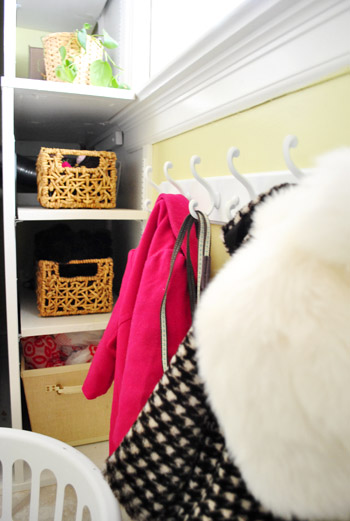 And there's still plenty of space for tucking our laundry basket in there. This tiny 3.5′ wide room (not exaggerating, that's literally the width) is definitely a lesson in figuring out how to get the most organizational bang for our buck. Between the baskets and bins on the shelves that we built next to the washer and dryer to our low-profile shoe caddies made from recycle bins from Ikea by the door, we definitely have squeezed lots of function into this sliver of space.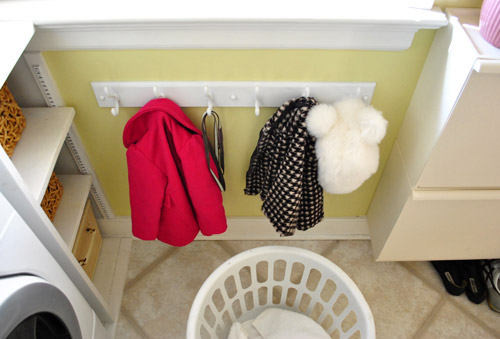 So that's another little project that I can officially check off the list, and one more item out of the playroom! Holla. What are you guys spray painting, hanging, organizing lately? Anyone else have random "Dude Get On That Already" challenge coups to share? Isn't it funny how sometimes it's the littlest projects that make the biggest difference? We've been using these hooks so much for the past few days that we have already wondered aloud several times how we ever lived without them. It's the little things.
Psst- Sometimes you just need your mom, right? More on that over here on Young House Life.