***This post is no longer accepting entries – check who won below!***
Just like the auditions on The Voice, random.org had it's big fancy chair turned around as it blindly chose the winner of this week's giveaway (I secretly picture random.org like Cee-Lo stroking his cat). Anywho, the lucky winner this week is… Aryn (who thinks she might take Zooey Deschanel wardrobe). Congrats Aryn!
It's not quite like the moves like Jagger, but this week you can get the jew-o-o-o-O-o-o-o-els like Sherry. Yep, in honor of Valentine's Day we're gonna give one of you some of the same bling bling (is that still a saying?) that I've bought my Valentine (aka: Sherry) over the past year-ish. First up? LunaCielo, the sweet little shop where I snagged this Cougar-Town-inspired turtle necklace as a "we survived moving" gift. If turtles (or Cougar Town references) aren't your thing, you can use the $100 credit towards anything in this schoolteacher-who-moonlights-as-a-jewelry-designer's shop.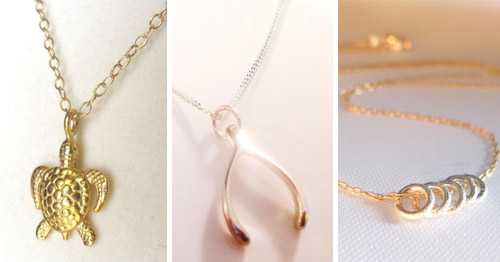 The winner's also gonna get a pair of the Danielle earrings from Kendra Scott that Sherry found under the Christmas tree recently. I bought them for her in turquoise, but you can customize yours in just about any color (and even switch to a silver finish) using the Kendra Scott Color Bar. That even looks kinda fun to me…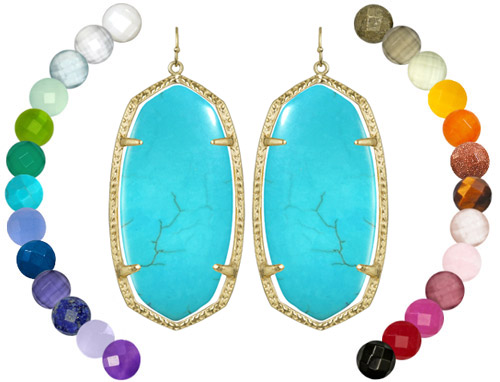 Last but not least is a pair of earrings in your choice of color from our long-time friends at Towne & Reese (remember we crashed their studio last summer?). But the exciting thing about these earrings is that they're named after Clara! Since Towne & Reese bears the names of the founders' daughters, they name each of their pieces after their friends' children – and it looks like we've made the cut in their latest collection. We're flattered to have such a beautiful design share the name of our beautiful bean.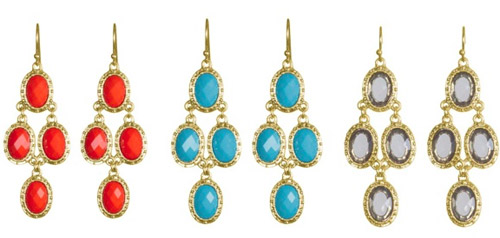 PRIZE: A $100 gift card to lunaCielo, a pair of Danielle earrings from Kendra Scott and a pair of Clara earrings from Towne & Reese
TO ENTER: Comment on this post with the words "I WANT THE JEWELS!" and tell us…
BONUS QUESTION: … what celebrity's style do you most crave for your own wardrobe / jewelry collection? Is there one actress, model, singer, or politician (?) that you'd like to raid the closet of?
GIVEAWAY CLOSES: Wednesday, February 15th at 8pm EST or at 10,000 entries (whichever comes first)
NUMBER OF WINNERS: One
PRIZE SHIPS: The United States or Canada (although we do try to wrangle as many international giveaways as possible)
DISCOUNT: Get 10% off your order from lunaCielo with code YOUNGHOUSELOVE
USUAL STUFF: One entry per e-mail address is permitted. The winners will be selected using random.org and announced on Thursday as an update to this post. That's right, come right back here on Thursday for the announcement of our winner. Good luck…
Note: We aren't paid or perked for hosting these giveaways, we just do 'em to thank you awesome folks for stopping in. See our Giveaway FAQ page for more info. Pics courtesy of lunaCielo, Kendra Scott and Towne & Reese