Looks like I've once again been wrangled into one of Sherry's schemes. This time it's her "Dude, Get On That Already" challenge (apparently the "dude" applies to me also) where she's trying to actually do something with some of the items that we've been collecting hoarding in our spare room. It's a use it or lose it challenge if you will (well, more like a use it or donate/craigslist it challenge). This week's victim: the light fixture that we rescued from a thrift store in Delaware nearly an entire year ago for a mere $19. That guy just sat on the floor of the playroom since then, and it was high time we actually allowed him to do the whole illumination thing again.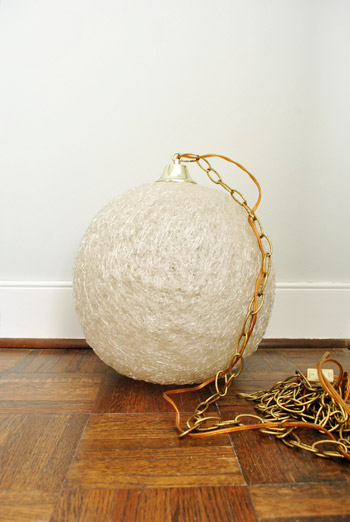 He's made of some sort of resin and basically looks like a big glowing ball of clear spaghetti… but in a cool, kinda '70s way. Update: we've learned form a savvy reader that it's actually called a spaghetti lamp and it's made out of spun lucite. Our plans back in Feb 2011 were to ORB the gold finish and hang it in our master bathroom nook. Fast-forward to now and the plan has shifted slightly. Instead, we've given him a new home in our closet.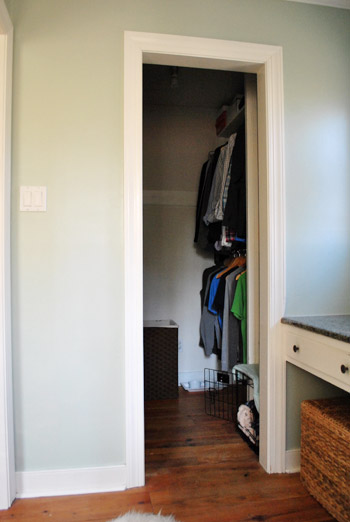 The closet seemed to be the better choice because (1) the bathroom nook is visible from the bedroom and we figured this big round fixture might compete visually with the other big round fixture in the room. And (2) the bare bulb in the closet was Yawn City.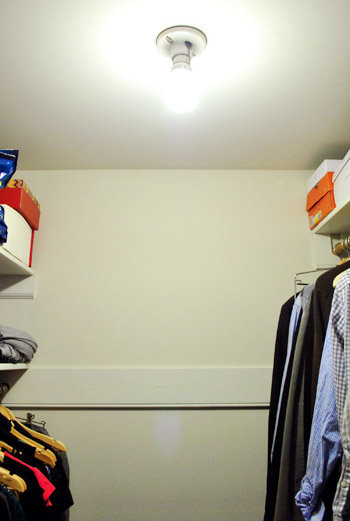 Ahh, much better: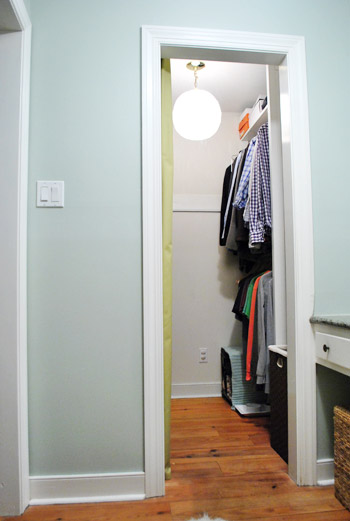 We got on that! Oh happy day! Gotta love using what you have and upgrading a naked old ceiling bulb. We'll dive into more light-related details in a second, but there were some other closet happenings that went on as well…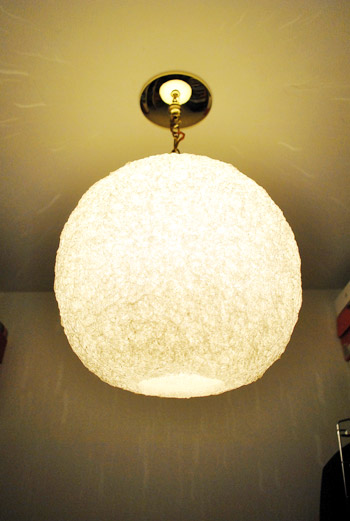 When you last saw our closet a few months after we moved in April, it was looking mighty clean and organized.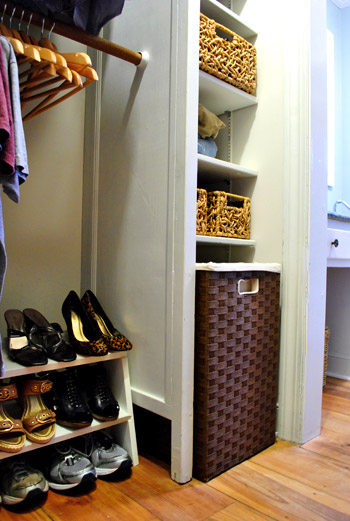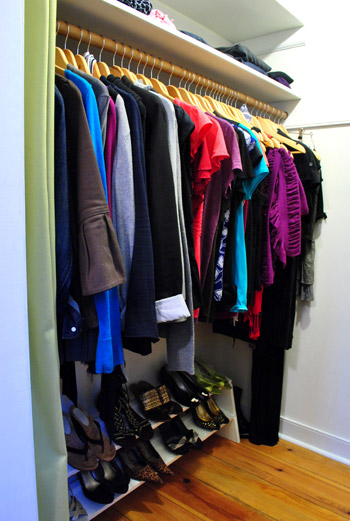 These days, well, let's just say it had gotten a bit derailed thanks to a certain chihuahua we all know and love.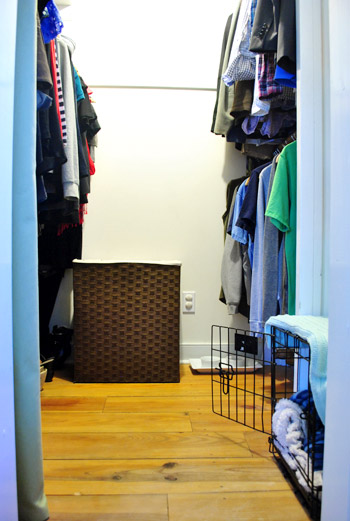 It's actually unfair to place the blame solely on Burger. Sure moving his crate into our closet from the playroom closet meant our laundry basket got displaced from it's nice little nook. But Clara was actually the main reason for the move. We too often found her playing with Burger's food, water, and crate – much to Burger's dismay – so we decided to tuck it away in our room where she doesn't go that often. For some reason Burger enjoys small spaces, so he feels most comfortable with his crate and even his food/water tucked away in a closet or nook (it's just dry food, so there's not any odor and we thankfully don't have any ants/pests that bother it). So after a year of nook deliberating we declared our closet: The Best Nook For The Job.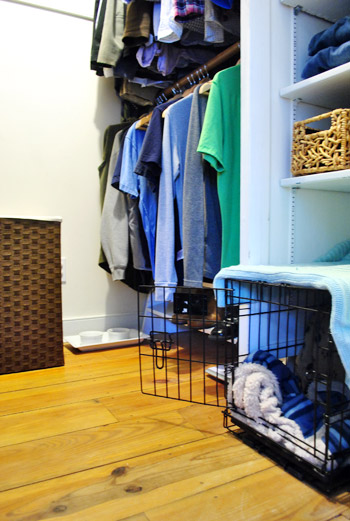 To make a long story long, even though this project started because of a light – we couldn't ignore the other less-than-satisfactory situations going on in here too. And fortunately there was an easy answer. See how much spare room I've got on my side of the closet?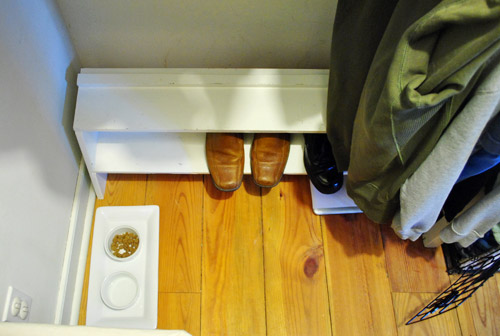 Unlike the lady wife, I don't use my entire shoe rack left here by the previous owners. Yes, I know, I'm such a typical guy – I have one pair of brown shoes and one pair of black shoes and my flip flops and sneakers live in our shoe bins by the door. Meanwhile, on the other side of the closet, Sherry has enough shoes for the both of us. Not that I wear hers. I actually don't think I could walk in any of them.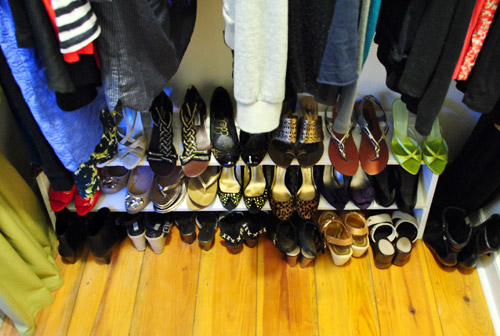 So after a bit of couple's brainstorming (aka: Sherry encouraging me to allow Burger's crate to pilfer some floor space from my side), I plucked out my shoe rack. And after completing the exhausting task of removing both pairs of shoes from it (sheesh, talk about backbreaking DIY) we got down to business.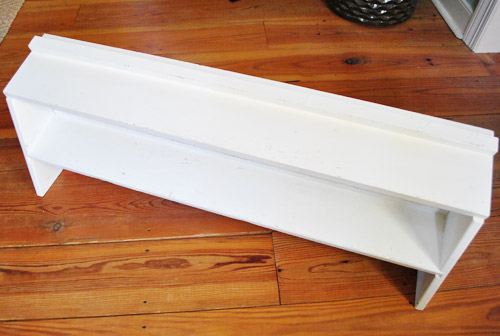 Sherry pried it apart and I cut down the two long shelves by about 14 inches and…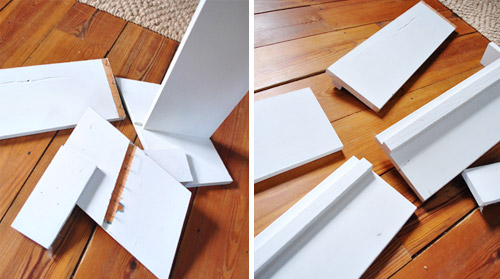 …we nailed it back together, thereby creating a John-shoe-collection-sized rack.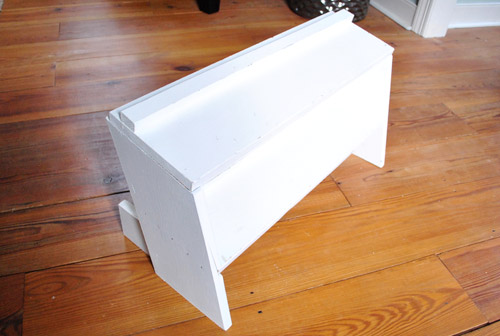 And the smaller rack made space for Burger's crate in the corner. So we're glad we got on that. Why it took us 13 months of living here, I'm not sure.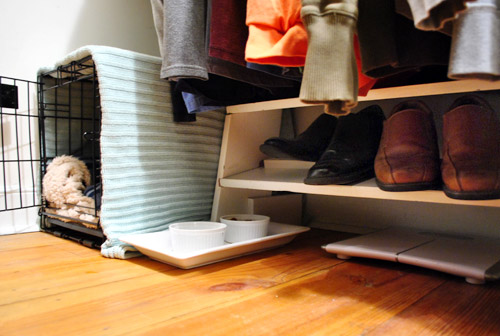 But you know what, I really should let Burger give you the tour – since it's kinda his domain. And yes, this means this post is about to be pretend narrated by a dog.
"Welcome to my bedroom people of the Internet!"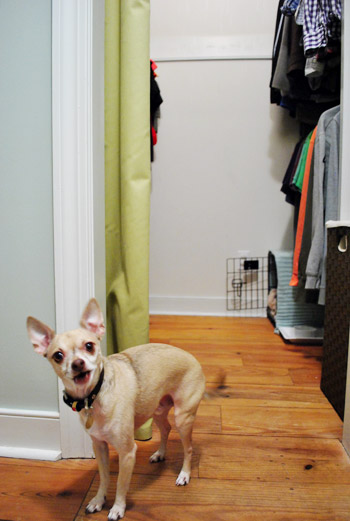 "Here you will find that my crate has been replaced by a clothing receptacle. Apparently my family finds it more important to have their dirty clothes closer to them than their beloved canine."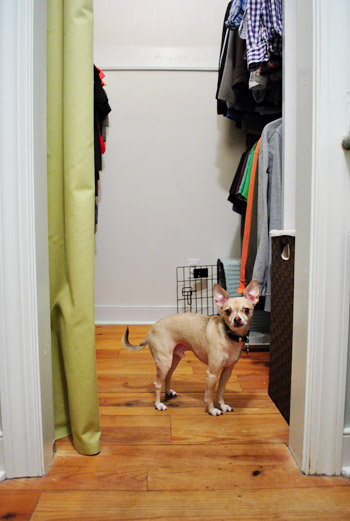 "But that's okay, because now I get more privacy back here in my master suite. Hello? Do you see me here in the back giving you the peeper?"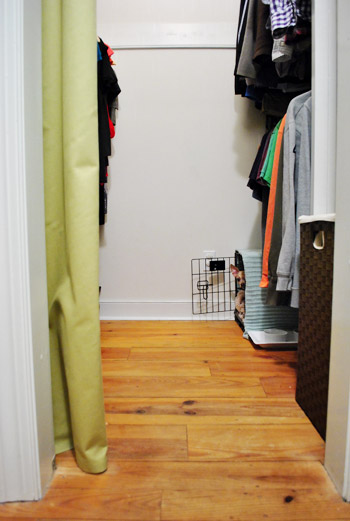 "Conveniently located next to my sleeping chambers are the dining facilities. Why thank you for asking – yes, I do live the life."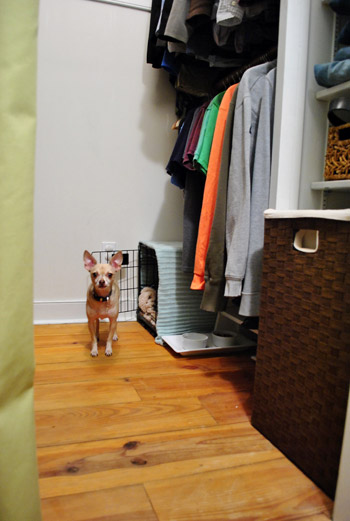 "Speaking of my delicious cuisine, allow me to indulge myself for a moment."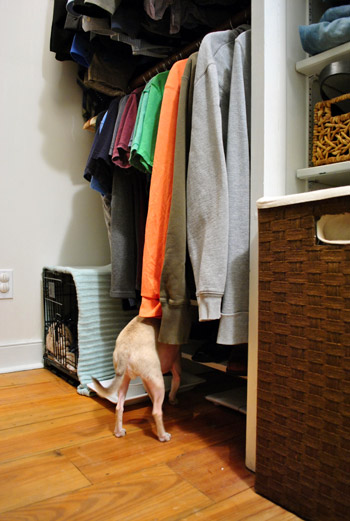 "Actually, I'd much prefer my culinary assistant to hand feed me right now. Oh tiny human! Come hither!"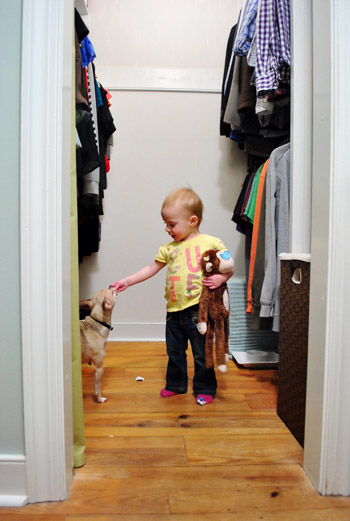 Okay, tour's over. It's John again. That Burger's feisty, isn't he? Anyways, you can see above what we mean when we say that Clara likes to get into his food (don't mind the sticker covered monkey/sock/floor). It's not the worst thing that she likes to feed Burger his food piece by piece… if only she didn't feel the need to swirl each piece around in his water dish first. She gets her strange-ness from her mother I think.
Anyways, this post was supposed to be about a light, right? Sidetracked much? Back to that…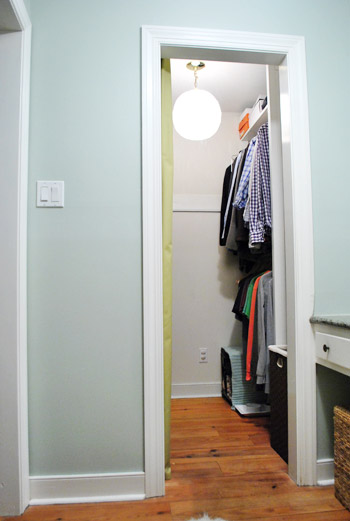 Installation was pretty easy. We cut the plug/cord off and exposed the wires to make it hardwire-able. Then we picked up a kit at Home Depot that would allow us to attach the chain to a crossbar (though we had to hunt down a canopy at a specialty lighting store that would fit). We left everything gold because we figured since it was in the closet it didn't have to match the other fixtures in the room, and we kinda dig the retro gold look for the closet. We can always paint it down the line if we get "the bug" but for now we like him just the way he is.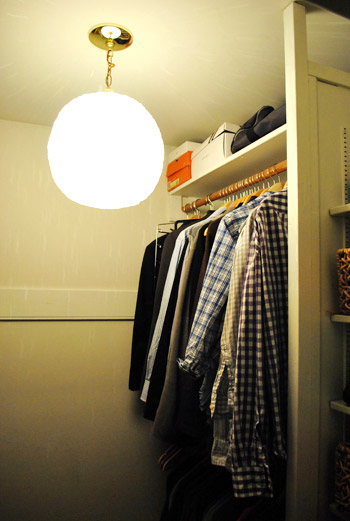 The room isn't really this dark with the light on, I just turned down the exposure on the camera so you can see the texture of the light a bit better. And these pics don't even do it justice. It's super cool looking when it's on. Sherry actually wants to make a video since she says it's so much better in "real life" so you have that excitement to potentially look forward to…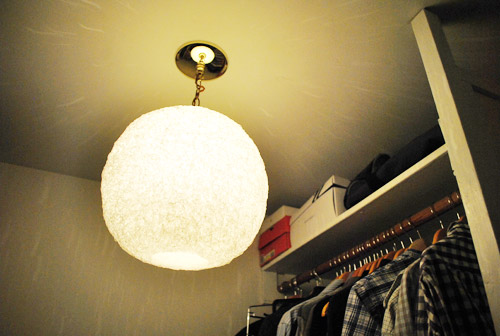 One of the coolest parts are the little streaks of light it casts all over the wall and ceiling. Like little party streamers or something. We almost feel like we should have installed some mechanism to make it rotate like a disco ball. Okay, not really. But that could've been fun…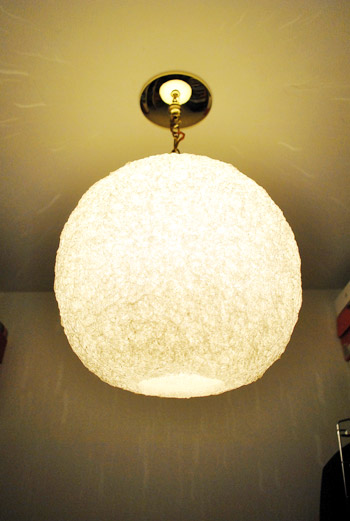 It's kind of a shame that the light spent nearly 12 months in a pile in our playroom. But at least it's hanging up in all of its glory now! Oh and as for how we figured out the right height for it, I just stood under it as Sherry hung it at different heights and we picked one that gave me a little room – so it hangs around 6'4″ from the floor (our ceilings are 8′ high).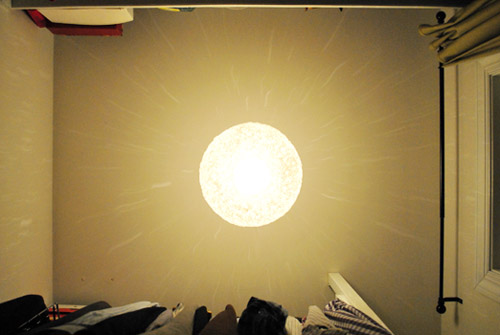 Oh, and if you're at all curious as to what happened to all of the excess chain that we didn't use (it had like 8 feet for swagging) – you can see Clara get her Jersey on with it over at Young House Life today. And yes there's a video. And fist pumping. Predictably, I'm mortified and Sherry's elated.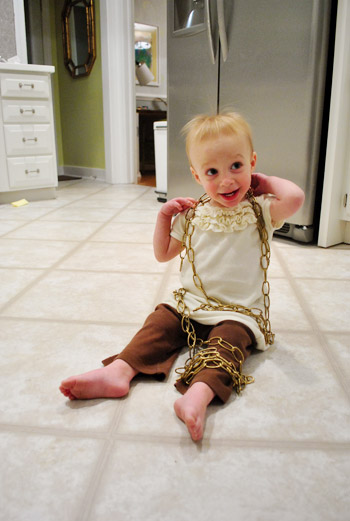 So did any of you guys cross something off your "Dude, Get On That Already" list this week? Did you reorganize a closet or otherwise rope your husband into a challenge? How about ghost writing a blog post for a chihuahua? Just me?