Remember when we took Ed The Bed's top rails off and mentioned needing some finials to finish things off? That's where a finial fashion show comes in. Yup, I'm nerdy like that. I ran out to Home Depot and Lowe's where I bought these four options and I gave them all a spin on Ed to see which ones we liked best. Here's the spread: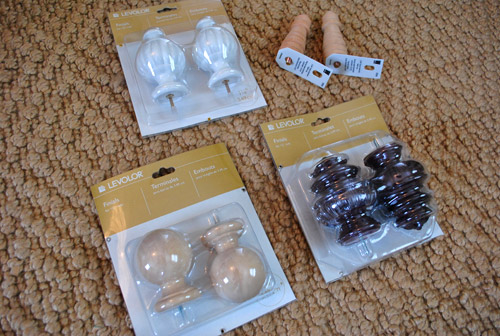 The long wood "finials" on the top right were actually chair legs from Lowe's, but I just wanted to see if something long and lean was the way to go. And you know we like to use "weird" things as other things. So legs as finials wasn't that much of a stretch for us. Unfortunately once John suggested that they resembled "man parts" I just couldn't get past it. What can I say, the idea of sleeping under four willies gave me the willies. So they were instantly eliminated before even partaking in the fashion show fun.
But here are the other three options in place atop one of Ed's posts. The first option was a set of round finials from Home Depot that were actually meant for curtains rods, but the attached screws at the base of each one slipped right into the predrilled holes in the top of Ed's posts.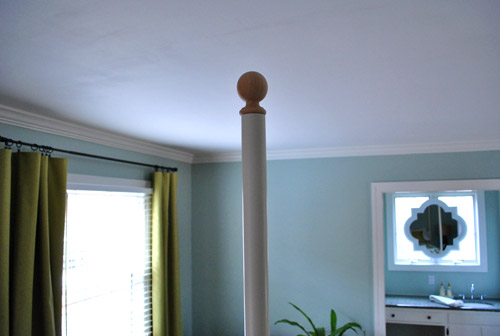 They definitely could work (especially if we painted them white to match Ed), but I thought the basic round ball sort of looked like the top of a banister. You know, kinda "builder." So although it mimicked the shape of our big dandelion-esque light and most definitely wouldn't "not work," we weren't 100% over the moon about them either. Just because they felt like we got banister tops from the home improvement store and tried to play them off as four-poster finials.
These ornate curtain finials (also from HD) felt very heavy, formal, and almost pineapple-ish: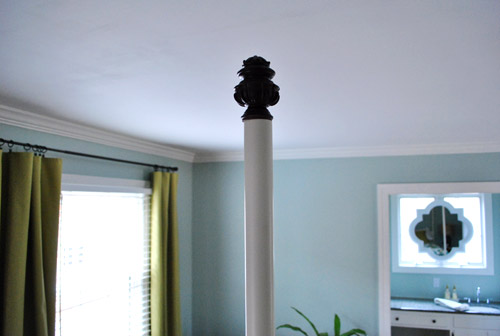 The reason we picked these up to begin with (since you might think they would never work with the modern lines of Ed the Bed) was because we plan to bring in a curvy antique-ish dresser to play off of the more modern chandelier. So we wanted to see if the clean lines of the bed would actually work with something a little formal on top. Of course the dark color threw us off, but painted white we actually thought they'd work. Especially because they sort of tied into the shape of our mirror above the sink in the background too.
These last curtain finials (also from HD) are kind of the compromise between the builder basic round ones and the super ornate formal ones: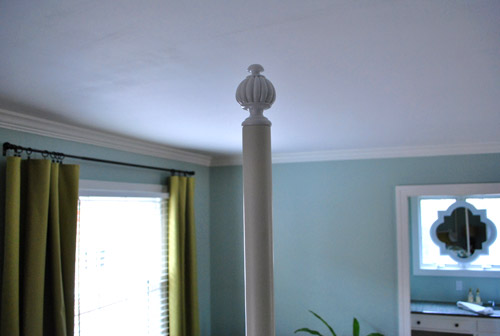 And they were already white (although not a perfect match) so it helped us visualize how they'd work without much effort. We liked how they still had round orbs within them (which subtly mimicked the light fixture) but they also had a semi-old-ish vibe going on, so they would tie Ed into a curvy and ornate leggy dresser if we ever get a hold of one of those (we've been stalking Craigslist like crazy).
When we stepped back, we knew we had a winner. They just felt the best to us after studying them all in person for a while and weighing our options. Here they are from afar: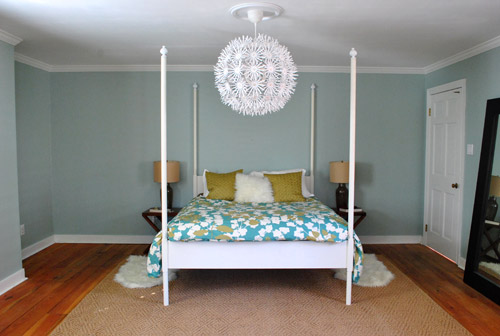 It's like they were made for Ed. Psst- Remember we're contemplating a bedside lamp & night stand upgrade, we're just working with those for now since we have 'em. So we packed up the other finials and back to the store they went. Thankfully I was able to slip one finial out of the top of the packaging without cutting or unstapling anything, which means I could slide each one back in and return them in perfect condition. In fact I remembered to take the picture of them in their packaging after putting each finial back in, so you can see how "mint" they looked. Yes, I'm actually proud of ridiculously random things like that.
Oh but actually adhering the finials was another little challenge. They each had screws that slid right into the predrilled hole on the top of each of Ed's posts, but the hole was a smidge too wide for the screw (so they teetered ever so slightly if the post was jostled). And getting the screw out of the finials and replacing it with something thicker that might have fit Ed's holes seemed like it might take a while. So being the impatient girl that I am, I decided we should try using a ball of poster putty to squeeze the screw through and beef things up, thereby creating a sticky-gum-like effect to hopefully hold things more securaly.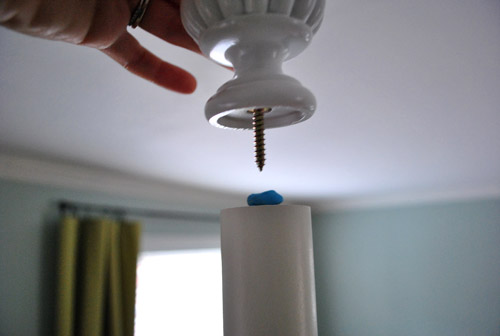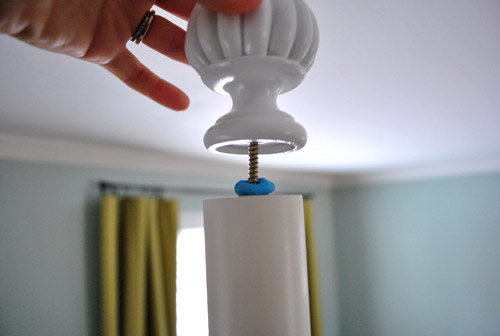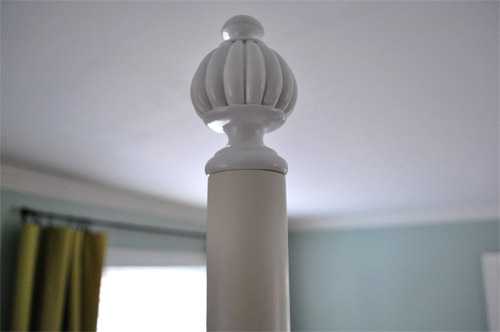 And holy cow it worked. The finials didn't waver back and forth anymore, they were stuck in place for good. Except not really for good, which is good. If we ever change our minds, since poster putty is easily un-stuck, it'll just take a few firm pulls on each finial to remove them without any permanent damage to Ed or the finials themselves.
So there you have it. The easiest and most reversible Ikea Hack ever. Haha. Oh wait- and yes, we still have to paint the finials to match Ed because they're not exactly the same tone of white, so I'll just bring home a bunch of paint swatches to see which one looks most like the paint on the posts and then I'll just get a test pot of it for a few bucks and paint the finials for a more seamless look.
Wait, did you think that was the end of the post? Well… (cue the confetti)… we still have some art to discuss. We gave the ram and two thrift store finds a spin above our bed (I know not everyone would want to wake up under a ceramic ram head but it's totally my idea of a good time). But – sad face – we're thinking they're probably too dinky for that spot.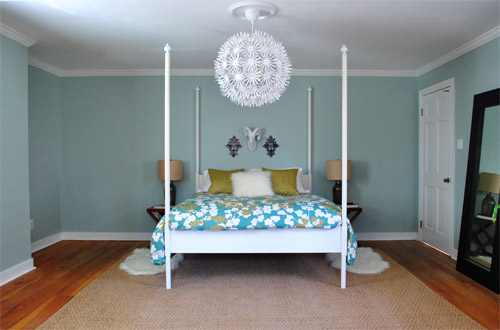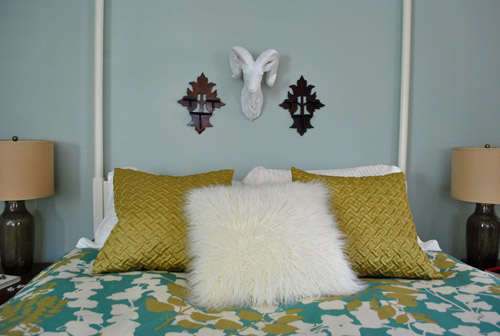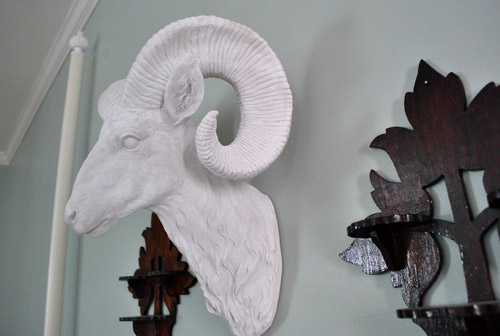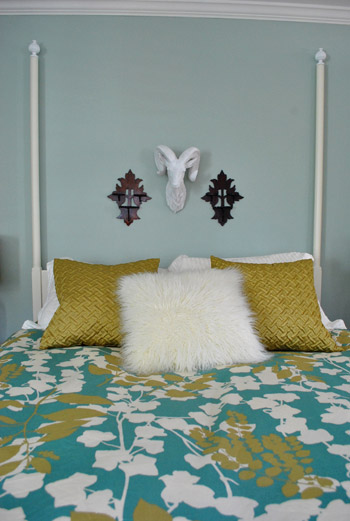 Maybe once we add all the missing furniture and other art into the room they'll feel a bit less teensy, but for now we're not sold. But I like waking up under a ram so they're still hanging there. We're thinking about some giant canvas art or something for that spot down the road. Who knows where we'll end up though.
Oh and here's one of my favorite corners of the room that we realize hasn't been pictured in a while.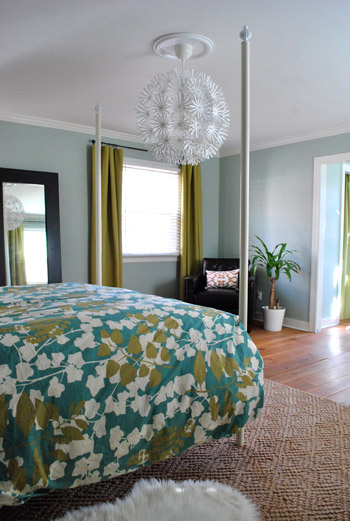 How sweet does that chair and those curtains look through those finial topped posts? I love gazing at it sleepily in the morning. When I'm not smiling up at my ram friend of course.