Okay, make that two night stands. Though technically they're just the living room side tables…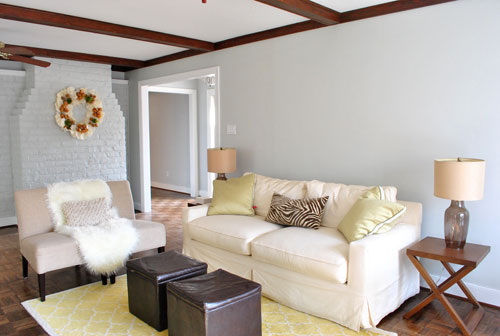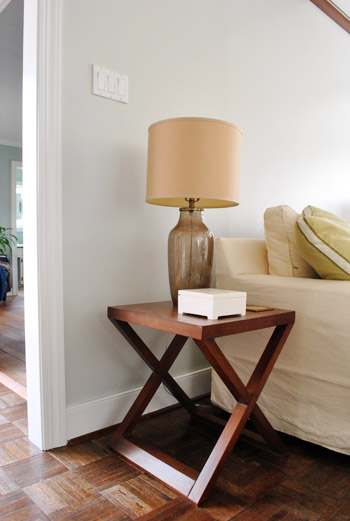 … that were displaced by the arrival of Karl.
So even though they're not technically nightstands, we love our Target tables (from the Victoria Hagan collection, purchased a few years back) and those seeded glass lamps (from the now sadly non-existent Nate Berkus collection at Linens N' Things) too much to let them go unused. So they've now found a new home in the master bedroom. At least for now.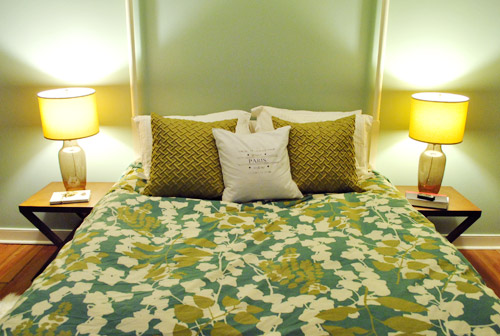 Not only do they start to balance the room more, they're a huge help in the function department. Sherry's poor short arms couldn't take storing her cell phone and magazines on the floor much longer. At first we wondered if they were a little too low, but we've been reading in bed easily thanks to them, and we can also easily reach anything on the table since they're within around 5″ of the top of the mattress, so we just roll over and grab.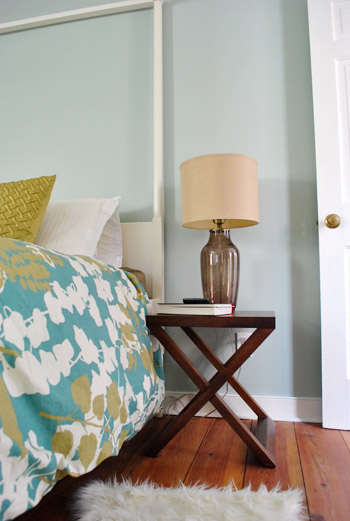 So although they may not be permanent fixtures in our bedroom decor (Sherry has this crazy hankering for eggplant lamps someday, and I, for one, would appreciate a drawer or something in our future nightstands for some extra concealed storage) they were f-r-e-e and they definitely do the trick for now.
And one cool byproduct of our new additions is the way they change the character of the room at night. Using the soft table lamps (instead of the bright white fan lights overhead) cozies up the room big time. It feels a lot warmer, the paint color takes on a greener feel, and there are a few dramatic shadows thrown on the ceiling, courtesy of Ed the Bed.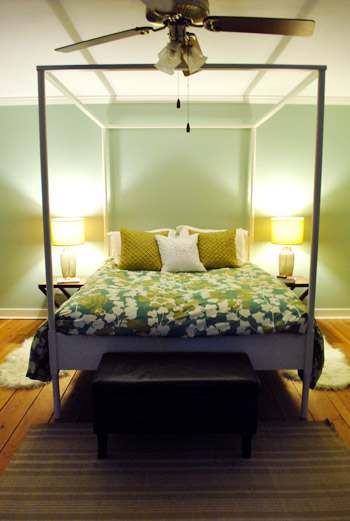 And I can't even begin to express how awesome it feels to be able to turn off the light at night without having to get up and walk over to flip off the light switch on the wall anymore. Now I don't have to fake-sleep so Sherry's forced to do it. Sweet.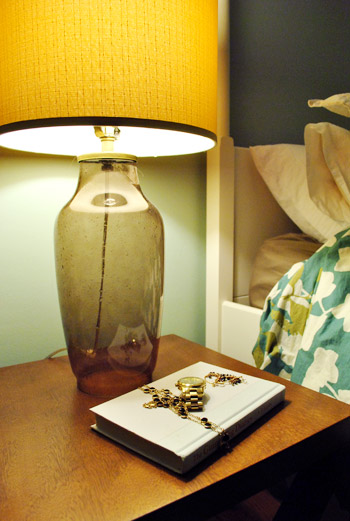 Next on our bedroom lighting to do list: replacing that not-so-purdy fan. We have our eye on something kinda crazy, but it makes us smile so it's a strong possibility.