When Danielle and her husband Nick sent us a link of their newly listed home in gorgeous and charming Church Hill we couldn't just ogle the listing and let it go. We knew we had to house crash them in the flesh and share all of the eye candy with you. They bought it in pretty rough shape in 2003 and they worked with one of our favorite local organizations, Better Housing Coalition, to restore it to a livable condition. Records trace it back to existence as early as 1855 (although it's unclear whether it was burned to the ground in 1865 and rebuilt then). Either way it's extremely old and it needed lots of work when Nick and Danielle purchased it.
After two years of renovation (!) they finally moved in back in 2005 – and they've been loving their first place ever since. Now that her two boys are older they're moving into our neck of the woods (Bon Air) for the schools, but they'll always have a special place in their hearts for the home that they so lovingly revived after years of work. So without further ado, here's Danielle's amazing house (if you wanna move in, click here to contact her realtor).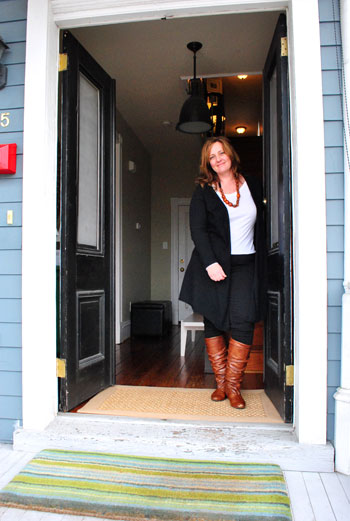 This stately foyer is crowned with a classic Restoration Hardware light fixture. And how amazing are those transom windows above the double door?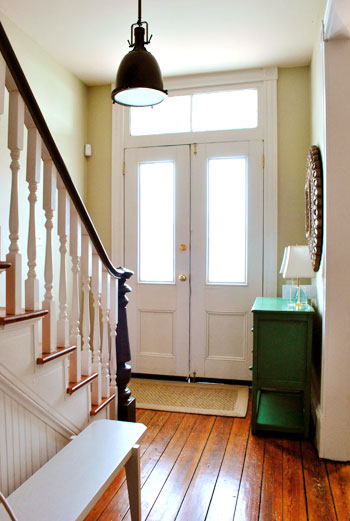 Danielle snagged this stunning mirror from Pier 1 on clearance thanks to a small missing mirrored disk around the perimeter (which she repaired by gluing on a new one). Paired with that showstopping green cabinet it's just about my favorite entryway idea ever. She got that awesome piece from a local thrift store called Class & Trash, painted it Palmetto by Martha Stewart, and then added an antique glaze from Lowe's for depth. Genius right? I'm so in love.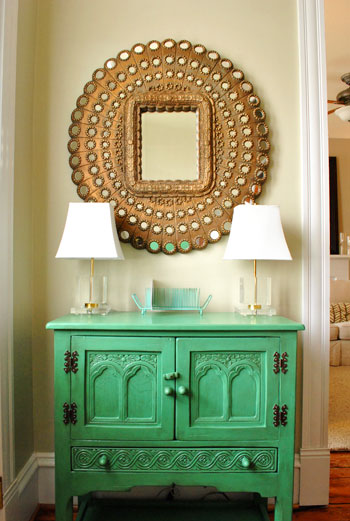 Here's the living room with cheerful yellow accents. We especially loved the side table (snagged on sale from Serena and Lily) and those dramatic floor to ceiling curtain panels (from Pottery Barn).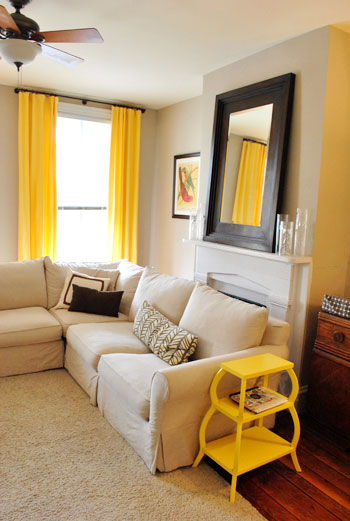 The kitchen is dreamy and Paris-like, complete with granite counters that look like marble, ornate wooden brackets under the counter lip, a classic subway tile backsplash, and charming metal stools from Overstock (which are easy to wipe down when her boys get something sticky on them).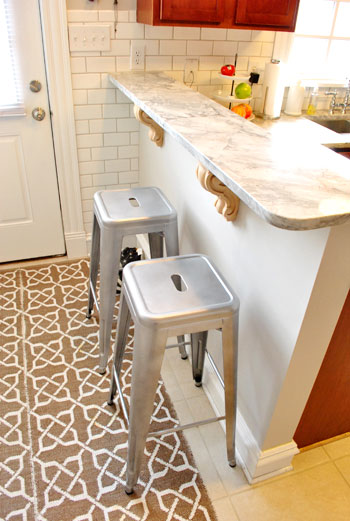 Oh and that rug is actually two runners from Ballard Designs that Danielle stuck together with rug tape to create one larger "custom sized" mat for that area of the kitchen.
And check out their fantastically deep double sink and that gorgeous vintage looking faucet (both from Overstock, seen here and here).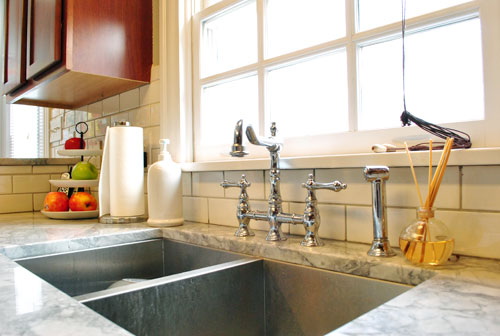 Here's a wider shot of the kitchen which includes the giant bulletin board that Danielle made to showcase all of the sweet art work that her sons whip up. And check out the lovely and industrial pendant light above the sink.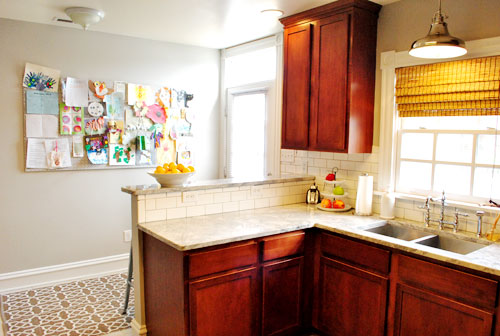 This is the playroom, which is right off of the kitchen. We love the wall to wall seagrass carpet that she had installed – especially paired with the charming patterned area rug from Ikea on top. And the use of those sleek white Ikea bookshelves for toy/magazine/book wrangling (look at all that storage!) was so smart.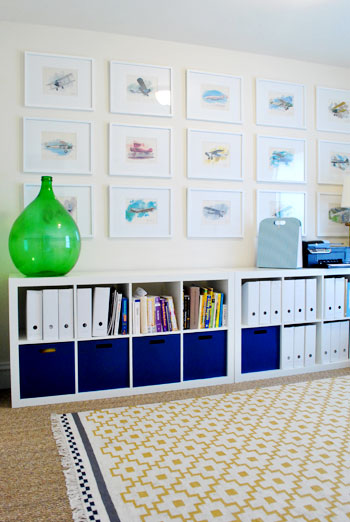 See those lovely prints of planes hanging in a nice neat grid? Danielle's late grandfather was a pilot in the Navy, so her husband surprised her with this gorgeous set of vintage watercolor prints by Nixon Galloway. We're nothing short of obsessed with the whole arrangement. Especially because it's so meaningful to their family.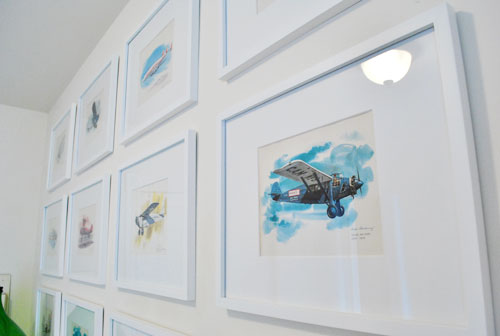 When you travel upstairs there are three bedrooms and two bathrooms (and a charming pooch if you're lucky).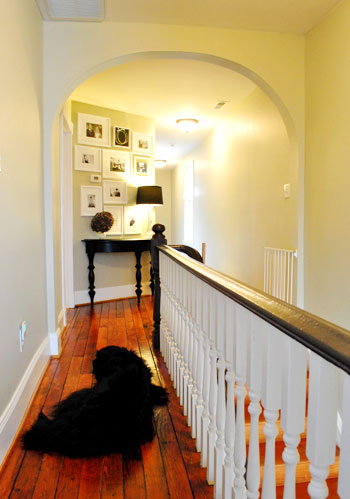 We loved this little "moment" that Danielle created along that diagonal wall with a cabinet and a collection of frames full of meaningful objects like an ultrasound photo, inked baby footprints from the hospital, wedding photos, childrens portraits, etc. And the bold black color in the table and the lamp shade coupled with the black and white prints was the perfect amount of drama and contrast. We also love how the white frames make the thermostat fit right in instead of sticking out like a sore thumb.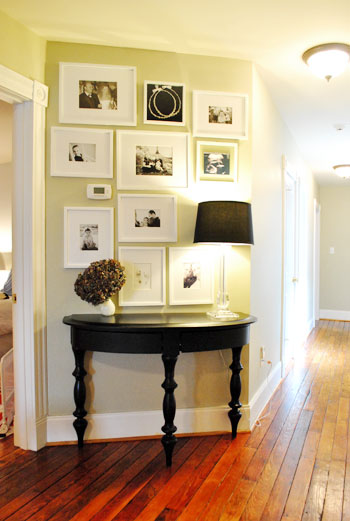 Here's the hall bathroom complete with gorgeous floor to ceiling subway tile (which masked some unsightly wall issues that they had to deal with during the renovation). We loved how the tile goes behind the mirror, which is hung in front of it. Such a pretty look that you don't see every day.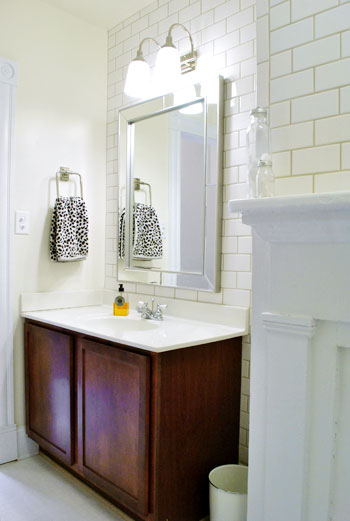 And yes, that's a fireplace mantel in the corner of the shot above. It's non-working but still a stunning architectural detail. Especially for a bathroom!
Here's Nick and Danielle's bedroom, which is warm and welcoming thanks to breezy gray-blue curtains…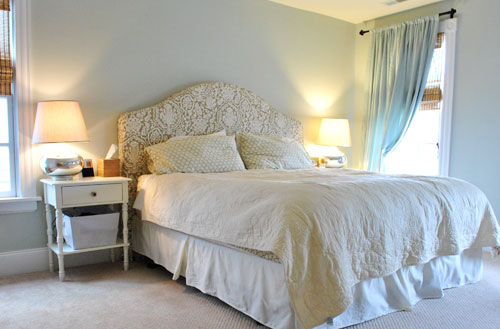 … and a gorgeous printed headboard that Danielle snagged on sale from Pottery Barn (the headboard's patterned slipcover, also from Pottery Barn, was something she found on eBay along with the Crate & Barrel lamps).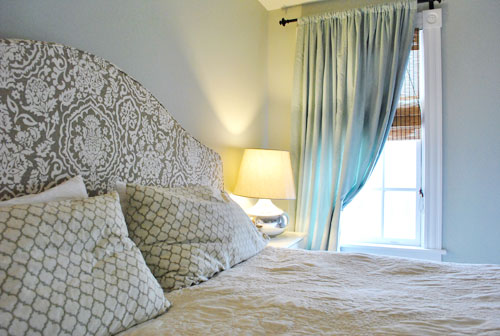 Here's their older son's bedroom, complete with a charming nailhead & denim headboard (from Target) and a fun orange patterned rug (from West Elm).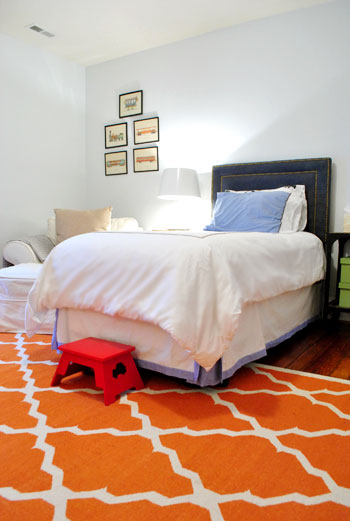 We also thought the planet mobile (from Pottery Barn Kids) and those super fun greek key curtains (from Pottery Barn) were great graphic touches.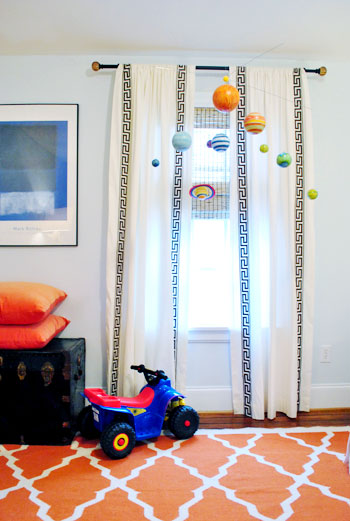 And the long Ikea dresser provided tons of storage while the driftwood lamp on top of it totally had me drooling. Cutest thing ever? There was a little white owl ornament tucked into the lamp's branchy base by Danielle's mom (she did it the last time she came over and they left it there because it made them smile).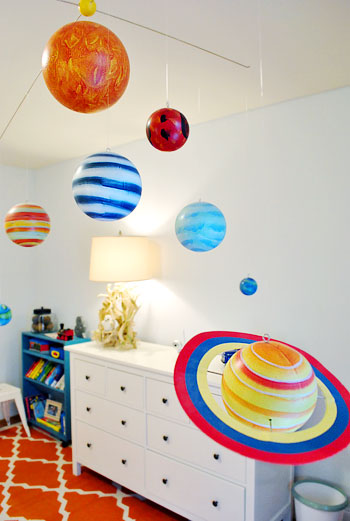 This is the corner of the guest bedroom. Everything from the bold green curtains to that pretty scroll art work on the wall (from Pottery Barn) and the West Elm mini parsons desk was totally speaking my language.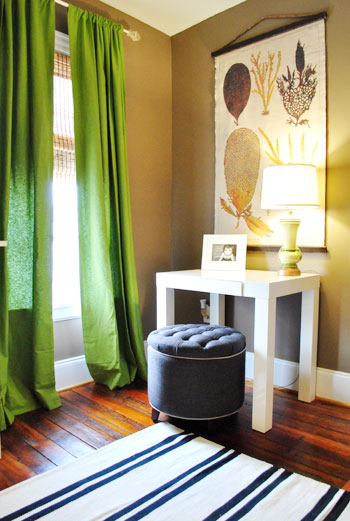 So there you have Nick & Danielle's lovely Church Hill home. We're sending them a big wet kiss for letting us run through and snap some pics for you guys.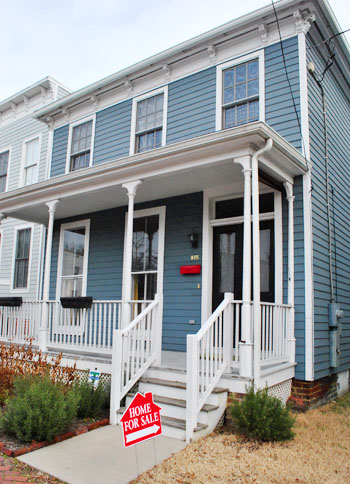 Now let's play the what's-your-favorite-part game. I was enamored with those plane prints in the playroom and the two runners that Danielle rug-taped together in the kitchen. John loved the pops of yellow in the living room and the fun planet mobile in the kids room. Now you.
Psst- Check out tons of other House Crashing adventures here.