We thought we'd wrap up blogiversary week with one last post for anyone else writing a blog and/or trying to make a business out of it. We don't like to think of ourselves as formal blogging experts, but since we always share our learn-as-we-go insights when it comes to home and DIY, we figured it made sense to share what we've learned in the past four years of blogging too. Oh and we included pictures of Burger to help illustrate some points along the way. You know, for kicks.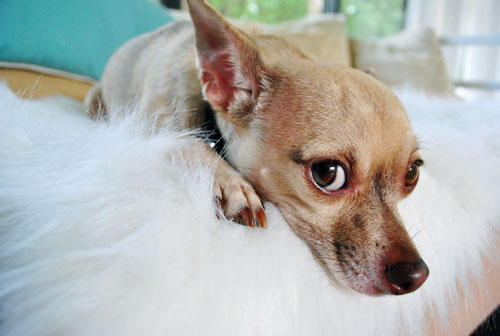 Rule #1: A blog should be born from passion (not a business plan). At least for us, that seemed to work. We write about DIY because we love it, not because we picked it off of a list of "hot topics that might make you money." Writing about what you truly love makes all of the not-as-fun "maintenance" parts of blogging worth it, and helps make the fun parts that much more fun to do.
Rule #2: Blogging is not a get rich quick thing. Again, at least not in our experience. It's more like a write-over-2,000-posts-over-four-years-and-make-a-modest-living thing. So in the beginning you might just be sniffing counting pennies, but remember rule #1… you're doing what you love!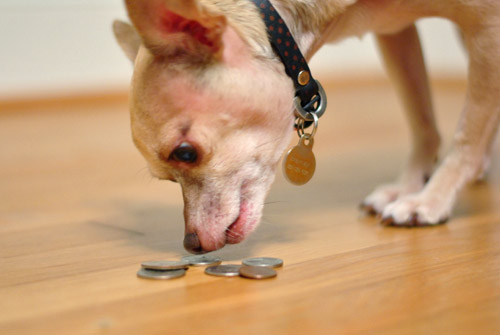 Rule #3: "Success" is an insanely random beast. We have no idea why our little blog grew like it did. There are thousands of amazingly creative blogs out there, so it's not like we think what we do is terribly unique (see this post). Our best guess is that's it's some combination of hard work and a series of lucky breaks (more on that here). Though our geekiness, honesty, and borderline annoying can-do attitude might contribute as well.
Rule #4: Don't try to be anyone but you. This honestly should be rule #1 because it's the first and most important (albeit extremely tried and true) tip that we could ever pass along. Mimicking a blog that's already big won't get you there, nor will acting snarky if you're not (or acting not-snarky if you are?). So if you're not a taco loving chihuahua, don't try to play one on TV on your blog. It's much easier to detect phoniness online than you might think, and people will connect with you more strongly if you're just being good ol' fashioned you.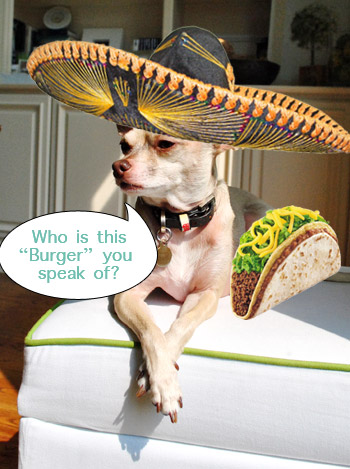 Rule #5: Not everyone will love every post/idea. We're still working on this (hence Goal #4 yesterday) but that old saying "the fastest way to please no one is to try to please everyone" is a famous quote for a reason. There will always be folks asking for more of something while others want less of it. But in the scheme of things, it's your blog. And blogging (like design) is subjective – so there's not one "right way" to do it. It definitely helps to accept that opposing opinions are par for the course, then just hold strong to Rule #4 and you'll be ok.
Rule #6: Blogging is a desk job. As you saw in our pie-chart-tastic post on Tuesday, we spend 80%-ish of our working hours doing something on the computer (writing posts, editing photos, responding to emails, writing columns, answering comments) so even though our subject matter is pretty "active," projects are probably a smaller part of what we do than most people think.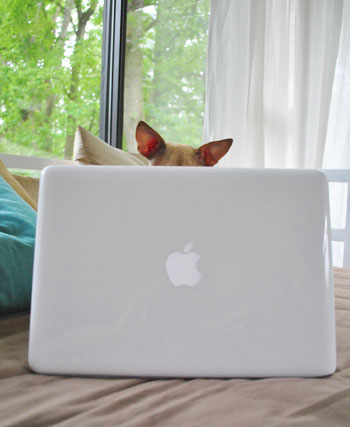 Rule #7: Blogging's also a creative after-hours not-desk job too. Which is our favorite part. The fact that painting a room, building a desk, or creating free art is a part of our job rocks our socks off. And that's a big reason why we keep doing what we're doing, because we recognize how incredibly fortunate we are to get to make a living doing what we love (which brings us back to Rule #1).
Rule #8: You work harder for yourself than anyone else. We've heard this from lots of people who have their own business, and it's 100% true. The pressure is on when things like buying food and paying the mortgage all depend on your "venture." And it's especially hard to unplug when you work from home, since the line between laptop time and family time is blurred (we're still working on it, hence Goal #1 of yesterday's post). Just try to get some fresh air every now and then. We come up with some of our best ideas when we're on a road trip or out walking around the neighborhood.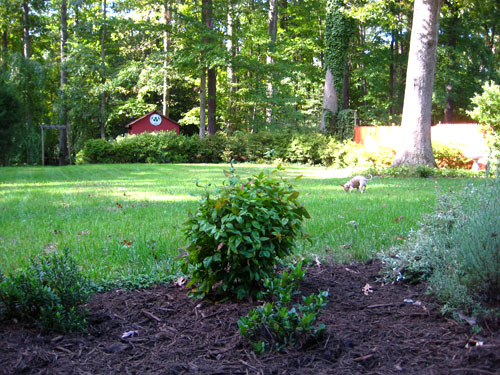 Rule #9: As your blog grows, the expenses will grow too. Many of our friends are surprised to hear that we have business expenses (hence this post on Tuesday), but between paying for hosting, site support, insurance, business fees, accounting, and quarterly taxes there's definitely a price to blogging (not to mention all the projects that we take on, which have to be budgeted for as well). So it might help to prepare for that stuff by learning how to stay organized, track your money, and balance a budget. Heck, getting chummy with an accountant or two can't hurt either.
Rule #10: It's all worth it! So just relax, have fun, and see where you end up. In spite of some of the hard behind-the-scenes stuff about blogging, one thing is for sure: we love what we do. And we wouldn't rather be doing anything else. Seriously. Four years ago when we started this whole shebang we never dreamed that we'd end up here. But we did. And for that we're extremely grateful. So remember to enjoy the ride. Heck, feel free to wag your tail a bit.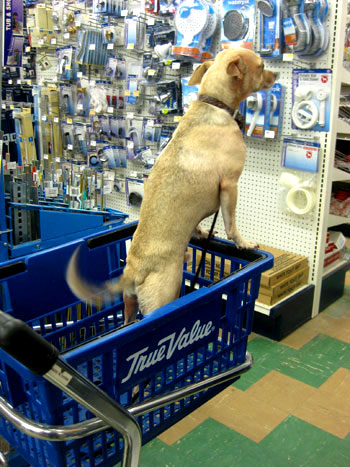 Ok, now we want to hear from you guys. To those who blog, we'd love to hear what you've learned (I'm sure the lessons are completely different for everyone!). And if you're not a blogger, we'd love to hear a few things that your current profession has taught you (are we the only nosy folks who find other people's jobs fascinating?). For example, in advertising I learned to be flexible, not get married to an idea, be passionate, and wing it.
With that, we have reached the end of our big ol' fourth blogiversary. Thanks so much for celebrating with us!
Update – Some of the most frequent requests that we get are for info about professionally blogging (how we made our site, how we grew our following, how we make money, etc) so we shared all of the details about how we started a blog, grew our traffic, and turned it into a full time job.