We did it. Completely out of order. Yup, we finally decided what color to paint the office and went for it. Which would have been a lot easier if we had pinned down our color pick before we built our wall-to-wall two person desk. Oh well, such is DIY life. We didn't want to rush into choosing a wall color and then hate it after we built the desk (which would have meant having to repaint everything again after the desk was built anyway). So we waited. And waited. And discussed. And rediscussed. And waffled.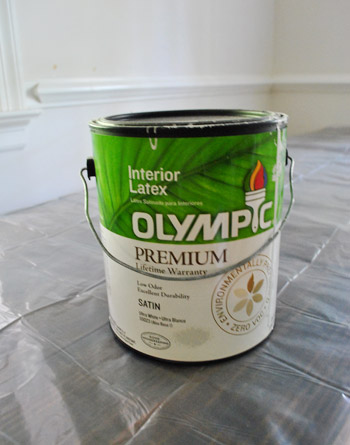 And it's a good thing that we actually did wait. Because before the desk was completed we were considering some dark muddy colors (which you might have seen on the wall here). And after the desk was built we were both 100% sure that we wanted the dark wood desktop to really pop (a dark color on the walls would just make it all blendy and muddy in there), so back to something light and airy we waffled again…
Here's a brief synopsis of our thought pattern:
let's go dark and enveloping!
wait, that + a dark wood desktop = a dark muddled space… we don't want the dark wood to blend into the walls
plus we'll lose light when we convert the carport to a garage so dark walls aren't smart
ooh, but some bright color might be fun!
but the attached kitchen & laundry room are bright cheerful grellow and we don't want the office to compete since it's right next-door
plus we want to add bright colors and bold patterns with upholstery/accessories/art/window treatments/desk chair paint
so bright walls would be way too much with a bunch of bright fabrics/art/accessories, especially in a room where we have to concentrate/work
plus bright walls would be seen from the adjoined dining room which has deep teal built-ins and brightly patterned curtains, and we don't want those to fight for attention
hmm, this is harder than we thought
all we know is that we want the chair-rail and molding to pop, but not too much since that might be too chaotic/in-yo-face
and we don't want something too dark or too bright…
So we actually ended up exactly where we initially were six months ago: Benjamin Moore's Moonshine (color matched to Olympic No-VOC paint in a satin finish). That's the same soft gray that we have (and LOVE) in the living room, dining room, and hallway. Allow me to expand upon those weird stream of consciousness bullets above. We thought about going just a shade darker than Moonshine in here, but realized that we like light and bright workspaces (plus once we convert the carport into a garage – even though we plan to add windows to the exterior walls and door – we might lose a little light).
Some of you might be yawning because you were imagining something like sunny yellow (to tie in the front door)…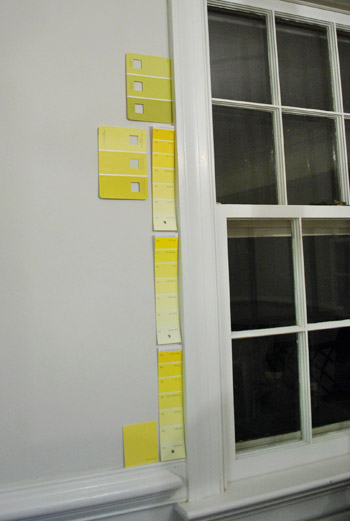 … or green (to tie in some of the tones in the living room curtains) or blue (again, to pick up on the dining room built-ins and curtains)…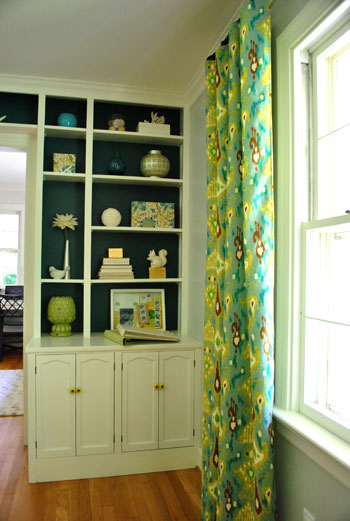 … but after thoughtfully considering belaboring all of those options, we finally decided that going soft gray with the walls will really give us the freedom to bring in some seriously fun brightly colored & boldly patterned fabric (for the two desk chairs and the window treatments) along with some punchy art, bright lamp shades, and even in fresh paint for our desk chairs. We definitely like the idea of some fun cheerful pops of color in the accessories as opposed to all over the walls since we don't want the room to feel too chaotic/hard to concentrate.
Besides, since we already have such a bright greeny-yellow tone in the middle of the house (the kitchen and laundry nook)…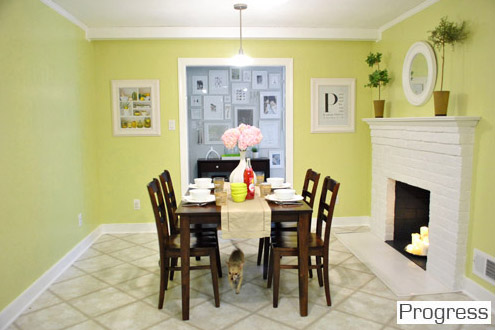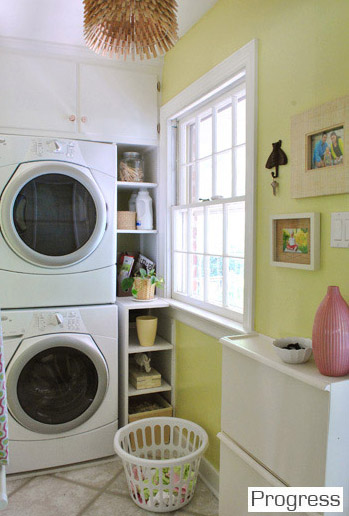 … we kind of love the idea that all of the soft gray rooms lead to the cheerful kitchen in the heart of the house. So we decided that we didn't want some other bright color competing with it since they're next-door neighbors. There's something kind of nice about a burst of happy color in the center of our home with three soft platinum gray rooms around the perimeter (with pops of color in the accessories like the art/rug in the living room and the curtains/built-ins in the dining room):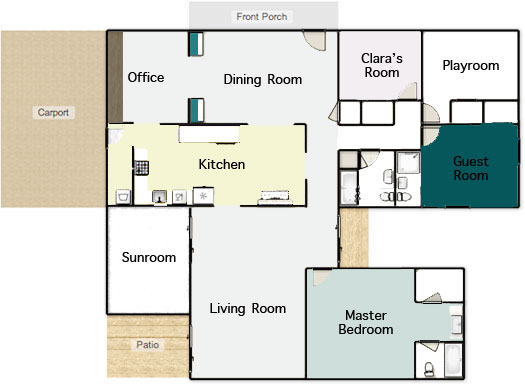 The funniest thing to us is that we only have a few unpainted rooms remaining (the playroom, sunroom, hall bathroom, master bathroom, and guest bathroom). And since those spaces aren't ones that we spend the majority of our time in (meanwhile we practically live in the office), it's kind of ironic that it was one of the last few that we got to. I wholeheartedly admit that the whole house color scheme above might not make much sense to you now, but hopefully once we paint those last few spaces and add touches like wainscoting in the hallway and other major furnishings/accessories that are still woefully missing (window treatments, lighting, rugs, furniture in the playroom instead of junk, etc) it'll make a lot more sense. One step at a time.
Speaking of which, our office painting method was slow & steady. First we cleared the room.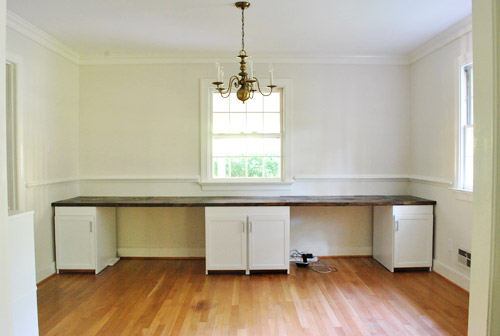 Which of course meant the dining room got full of offset office stuff:
Oh and while the office was cleared we snapped some pics of the desktop since so many of you wondered where the seams fell. We had to highlight them with a white line in photoshop to help you out (they're actually really subtle in real life, so they were impossible to see from this distance without some white-line help):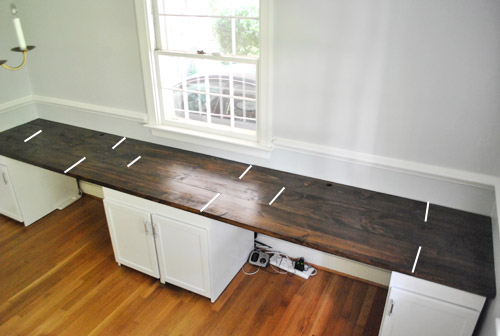 As you might notice, to the right of both of our laptops (when they're actually on the desk) there aren't any seams, so we don't have any lumpy-bumpy seam-related writing issues (we write on pads and notebooks anyway, so I don't think it would matter).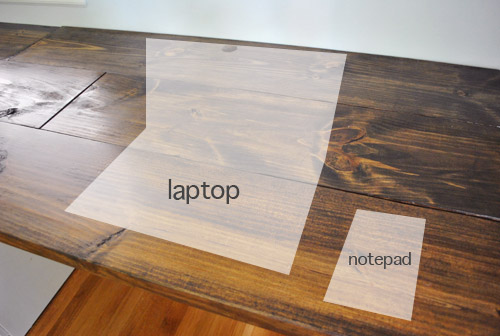 Oh and didja notice the holes in the back of the desktop behind both of our computer areas? Let's have a little side chat about those, shall we? First we made a pilot hole where we wanted them to be (John used a paper template so they were both spaced the same distance from the wall):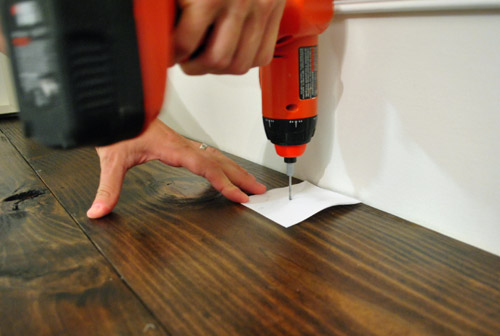 Then John used a 1 1/2″ bit…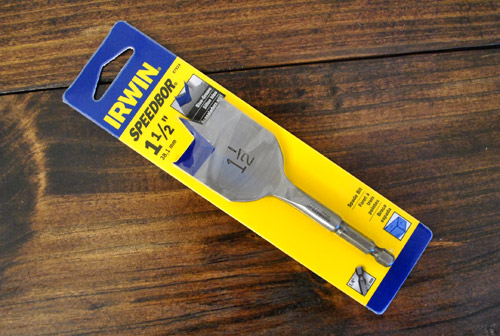 … to drill a nice ol' hole for all of our cords (for desk lamps, computers, the home phone, etc):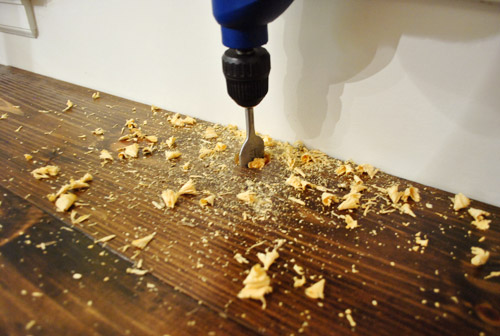 And John was a smartie pants and taped a cup under the hole to catch shavings, which was a huge time saver when it came to clean-up: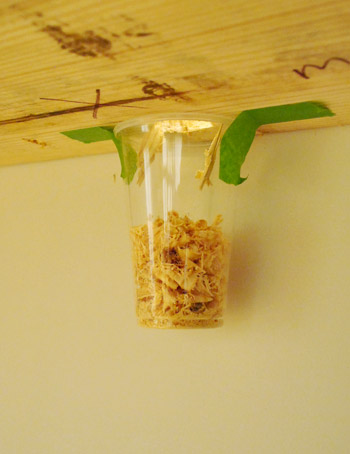 But of course the wood was unstained, so I used a little craft brush to get in there with some dark walnut Minwax to blend the hole in a bit better (we sanded things first, just to keep them nice and smooth so we don't get splinters while retrieving cords):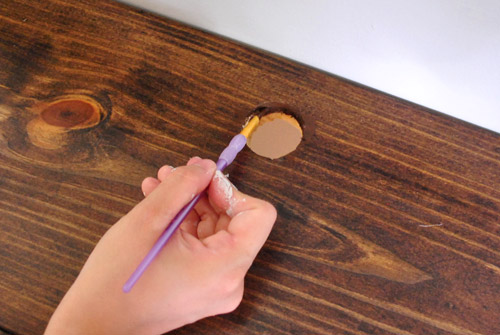 So that's how those handy holes came to be. As for how we painted the wall behind the built-in desk, the entire thing actually slides away from the back wall, so we slowly slid it out towards the middle of the room…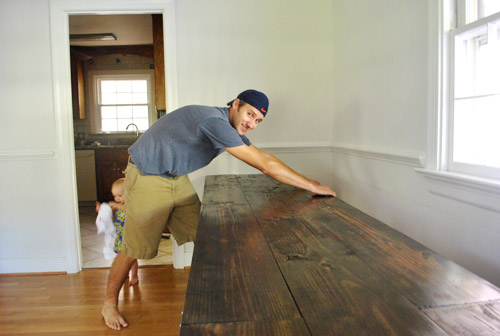 … and covered it with a giant drop cloth to protect our beloved dark wood desktop. That way we could roll/cut in behind it and then later push it back into place and paint the two sides of the wall that it blocked while it was pulled forward.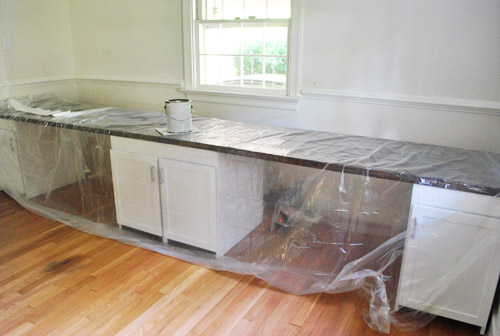 As is our tradition, John got his roll on while I did tons of cutting in (thanks to that chair rail, two doorways, and two windows). About two coats and four hours later she was looking like a soft fluffy cloud. Ugh, but ignore the light fixture. That thing's having surgery as we speak- er, write. More on that soon.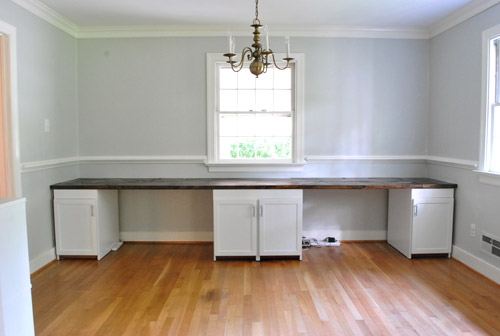 Then we just pushed the desk back against the wall and loaded everything back in there. The walls look a smidge blue-gray in these pics, but in real life they're a true gray color (not icy blue or anything close to purple at all). Oh yeah but remember that everything on the desk is just sort of tossed there, so the leaning frames won't stay (we need height, so we'll probably hang some over-sized art on the walls) and everything else will likely evolve as we settle in a bit more.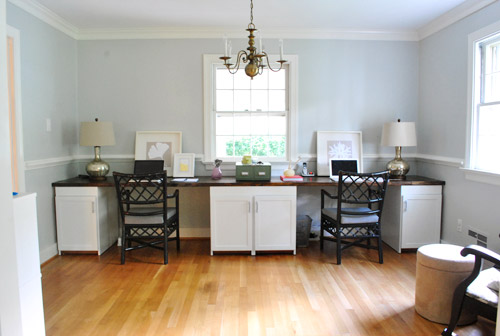 The lamps are from HomeGoods but we're not sold so they might go back. We're thinking we may use new lamp bases or shades as a place to add color along with art, paint on those desk chairs, patterned window treatments, etc. But thankfully we're still as enamored with the wall color as we were when we chose it for the hallway frame gallery (the color reads more true to life in this pic)…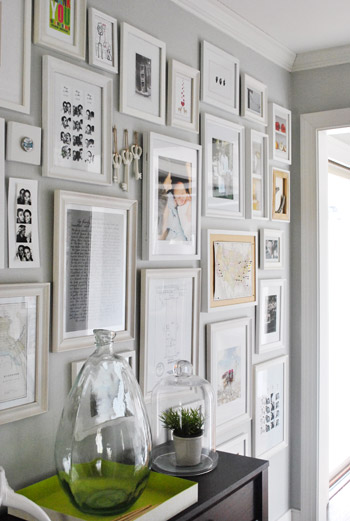 … and we definitely still love it in the dining room…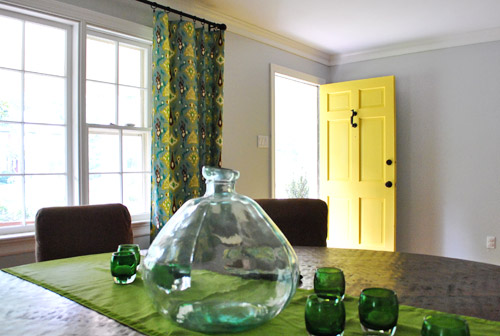 … and the living room too…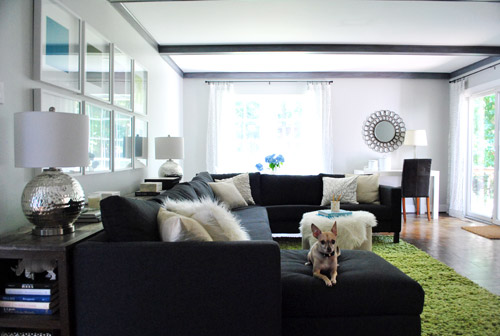 We especially appreciate how it makes the super thick crown molding and the nice chunky chair rail pop without being too high-contrast (which would also compete with our big beautiful desktop). Of course the chair rail will make a lot more sense when we hang proper art instead of leaning too-small stuff it in front of it.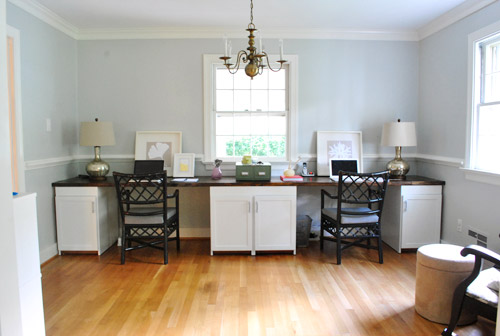 And we love that this phase of the office upgrade was $0 since we still had a bunch of paint leftover from painting the dining room (we bought three cans back in January when we initially planned to paint the living room, hallway, dining room, and office all that color – and finally completed that initial plan this weekend). Only seven months later. Haha. Oh and we owe you a wide shot from the dining room of the fresh paint job, but since we're making those aforementioned light fixture tweaks, we can't shoot one quite yet. Soon!
But wait, there's more than just a paint plan in here. We actually love the idea of adding a subtle tone on tone stencil around the entire room above the chair rail (hooray, no more desk shimmying necessary). We don't want anything with too much contrast since it'll compete with the dark teal built-ins and the fun curtains in the nearby dining room, but we're seriously considering something like this with just a softer gray color for the feather part over our Moonshine walls (although I love the pop of yellow, so we might try it and bag it if we step back and it's too much):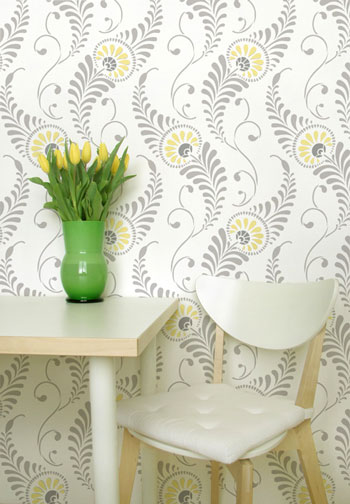 At 54 honking dollars it's hardly a drop in the bucket (the stencil is over two feet tall and almost two feet wide to hopefully make the project go faster/smoother), but we figure that we did snag six cabinets for $6 and we built a 13 foot counter for $27… so maybe we should just bite the bullet and spend $54 for something we love. Any type of wallpaper (even the cheap stuff at Lowe's and Home Depot) would be way more than $54 for the entire room above the chair rail, so I guess that's another way that we're rationalizing our possible purchase. Haha. We shall see. You know we'll let you know when we make a final decision. We've never done a giant repeating stencil like this on a wall (we did stencil the floor of our first house's sunroom) so that should be interesting too. And who knows, maybe I'll find it as soothing as my little potato stamp project in Clara's closet (I enjoyed that repetitive motion more than a person probably should).
Did anyone else paint their walls or drill holes into something this weekend? Or move a giant 13 foot desk? Or figure that we might be painting or drilling holes? Or dream that we had a secret son that we never told anyone about (two different commenters had that dream last week – crazy!). Oh and we painted this room four hours before my mom came to town for the weekend from NY. Nothing like a little en-route visitor to light a fire under ya.
Psst- You can see some mom-visit pics over on Young House Life today. Clara does not have a healthy fear of alligators. At all.