Our entire approach to renovating our new house from afar has changed pretty dramatically since February when we first started house hunting, including a period in which we didn't think we'd be tackling any major projects at all. And lots of you have been asking for a rundown of what we're doing now, what's left, and how long we think this house reno might be. So today we're taking you down that rabbit hole and sharing how our plans shifted quite a few times – and where we ended up. Plus, why packing all of our belongings was a more intense process than we expected, and an update on our move date. Oh and what really makes for an "adult" kitchen?
You can also find this episode on your favorite podcast listening app, like Apple Podcasts, Google Podcasts, TuneIn Radio, Stitcher, and Spotify.
What's New
This is what our office looks like at the moment, now that most of our stuff is packed up and on its way to Florida in the Pod. What you see remaining are some of the items we sold to the new owners (like the big floating desk & desk chair). Obviously the computers and as many plants as Sherry can fit in the car will ride with us to Florida on our moving day. That should be interesting…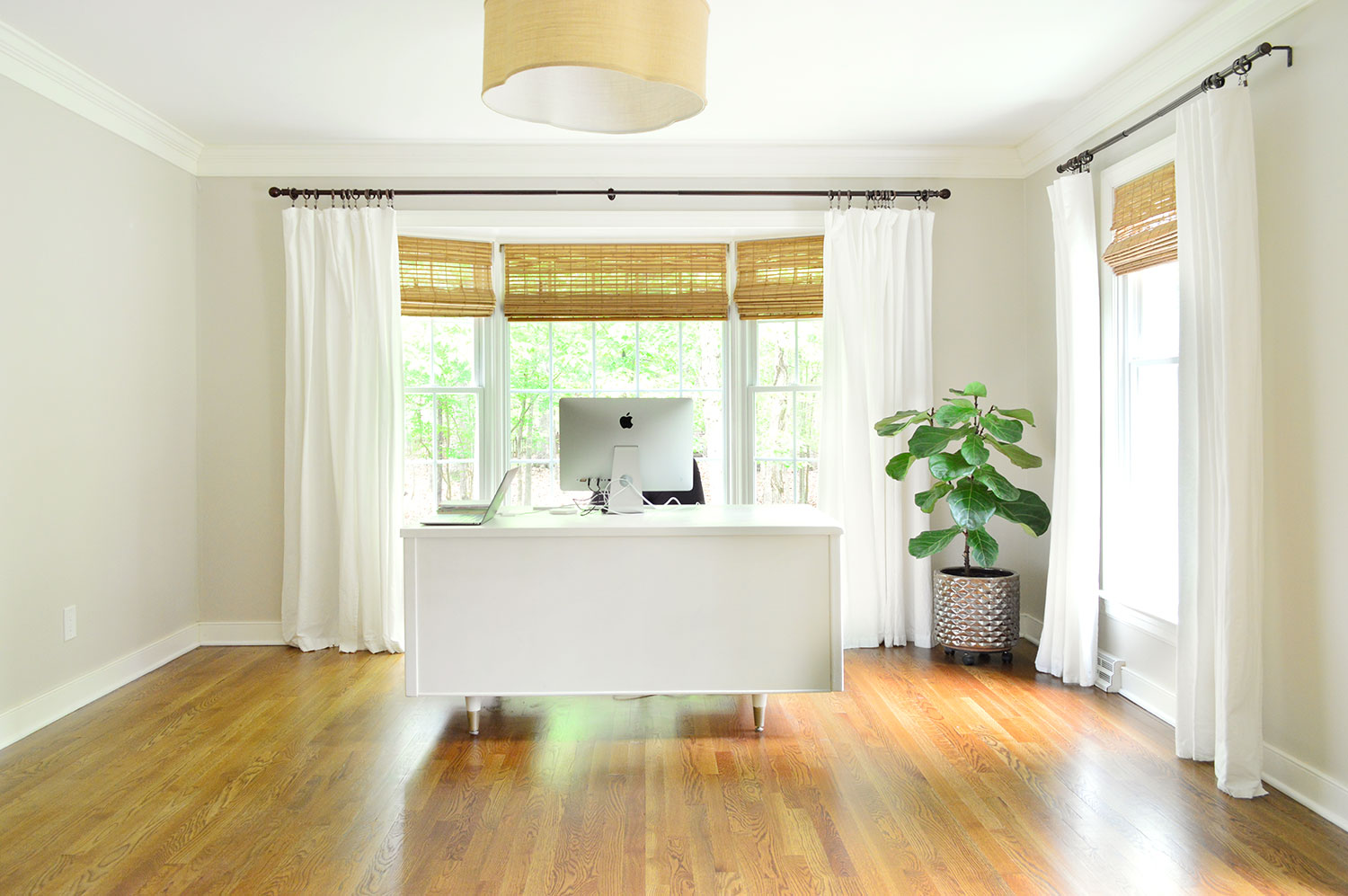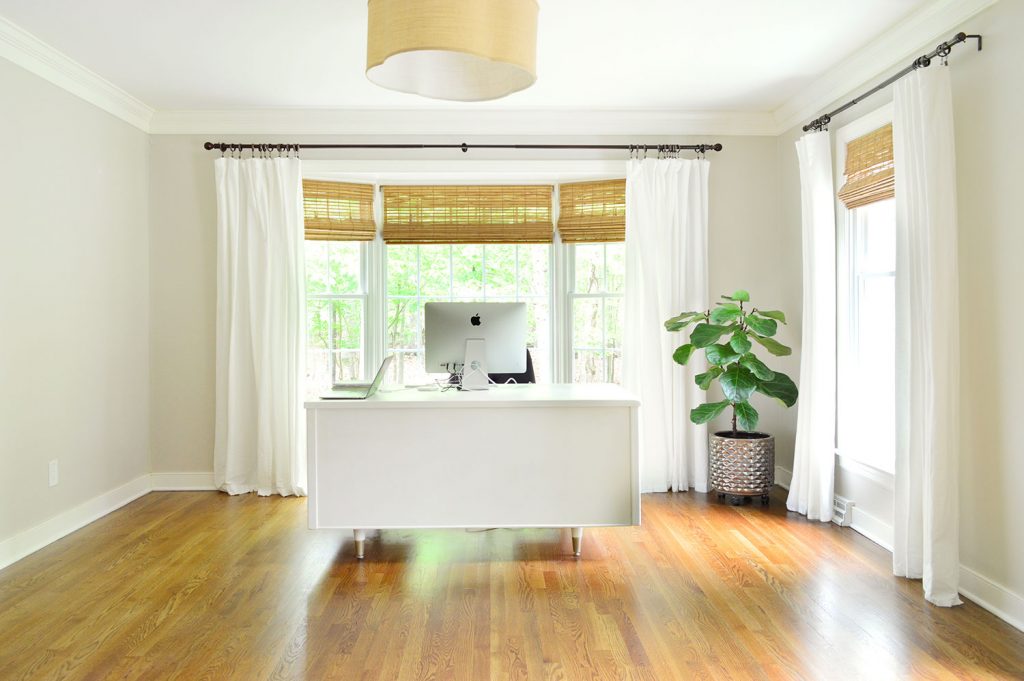 We'll be sharing a full video walkthrough of the whole house so you can see what stayed and what's packed up in the pod – along with a final video house tour that we filmed right before our early March house showings this Wednesday on the blog.
If you missed our episode about how we decided what furniture to bring and what to leave, it's covered in "How Exactly Do You Downsize Your Stuff?" (Episode #169). We asked ourselves four different questions that made it surprisingly easy to make the choice. And man did it feel good to get all of our keepers into a single pod.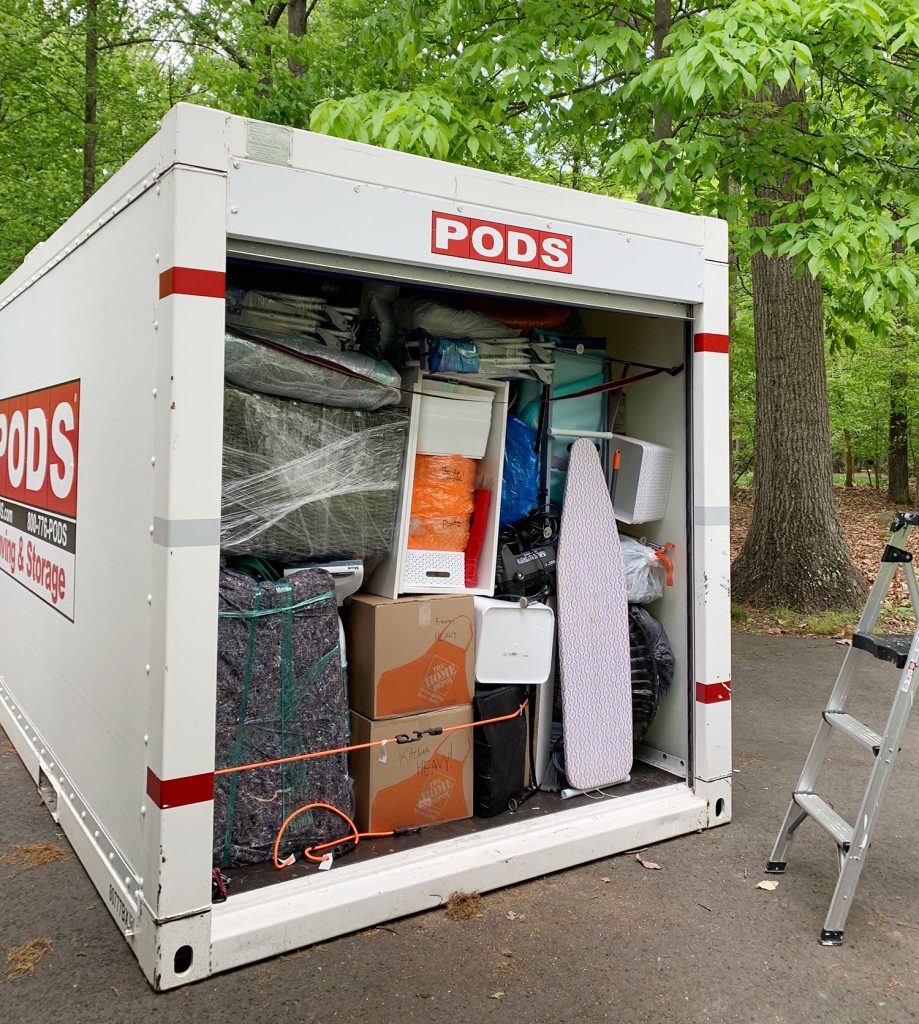 That's what our PODS container looked like as we got the last few items packed. It was quite the puzzle!
And because we had heard some horror stories from you guys about things shifting during transport and wedging the door shut (one person said the pod pros had to come out and tear the door off!) we made a makeshift cardboard barrier at the back of ours to prevent items from sliding against the door. Here's hoping!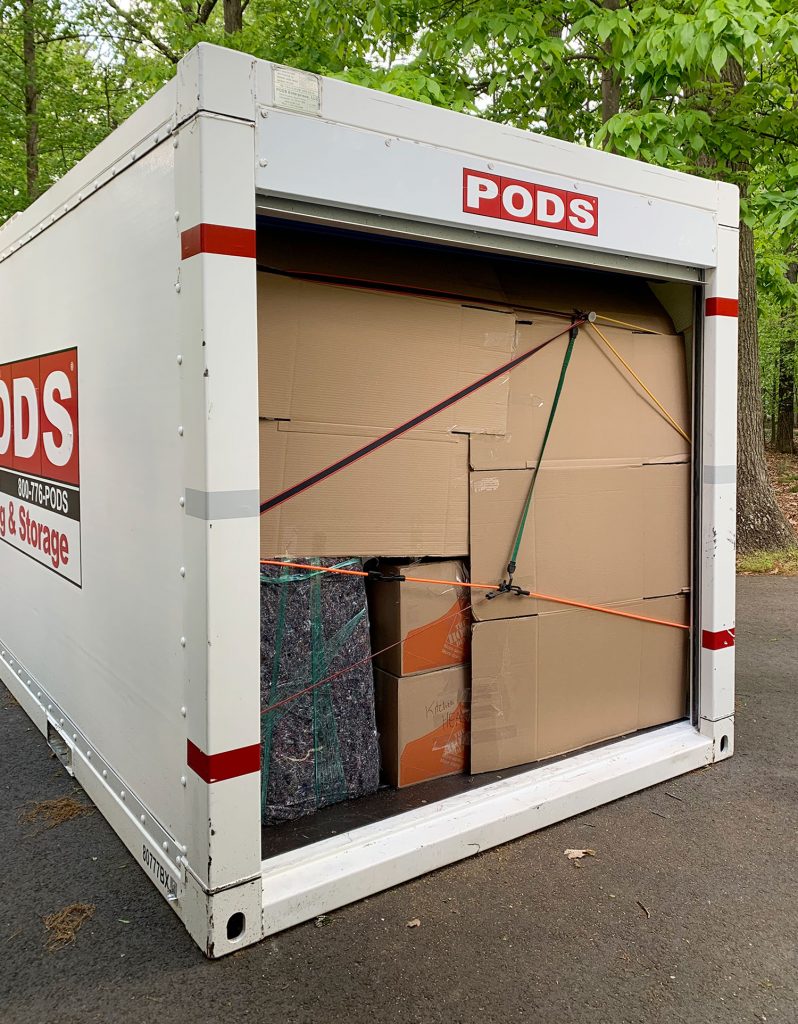 We definitely were a bit more neurotic about packing ours than we probably had to be (we also heard from people who said they pretty much just threw things in there and it was perfectly fine). But as a sort of "best practices" guideline (because I am John "Rule Follower" Petersik, we did try to follow the official Pods packing video.
And as promised in the podcast, if you're moving or packing anytime soon, here are some of the supplies that we found especially helpful:
And don't forget to check out our inspiration photos for our Florida House if you missed them!
What's In An "Adult" Kitchen?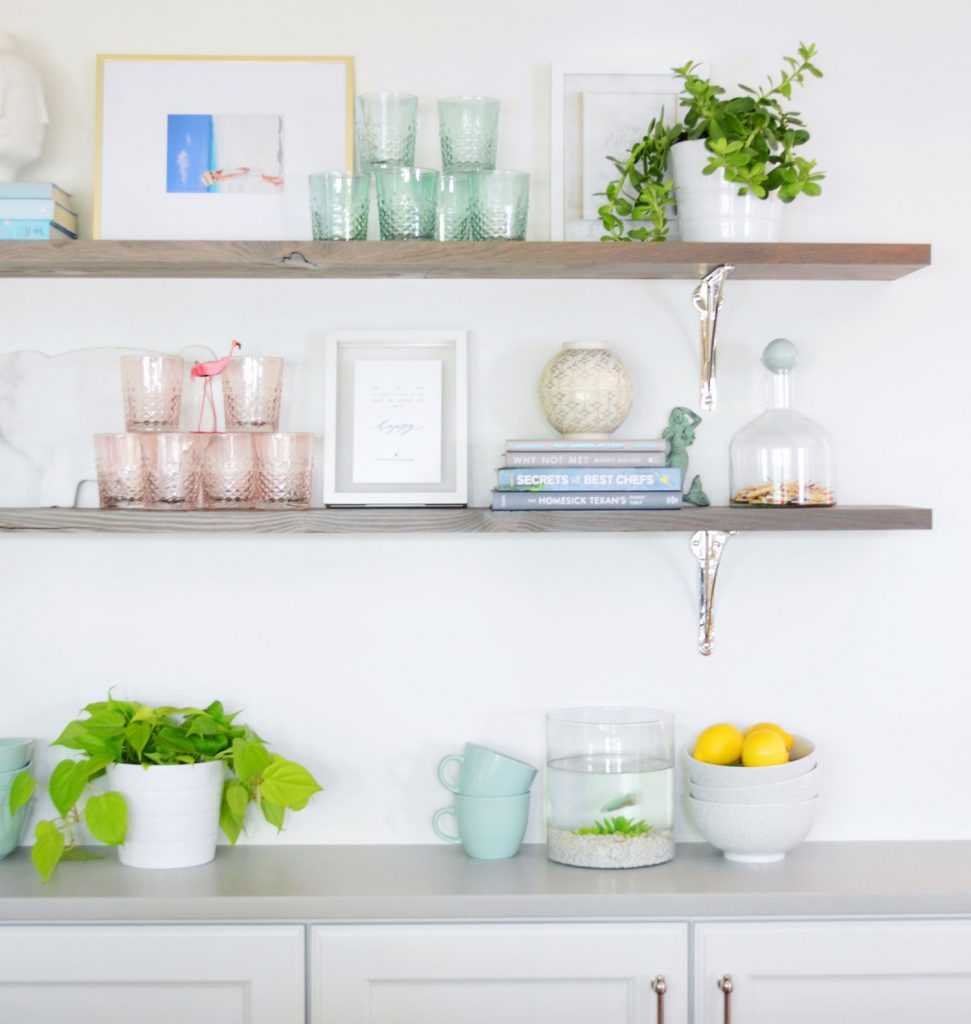 If you want to check out the entire article that Sherry quizzed me on this week, check out 5 Thing Every "Adult" Kitchen Has, According To These Pros from The Kitchn. Reminder: We don't think an adult kitchen actually HAS to have any of them, but it was interesting to see what they listed.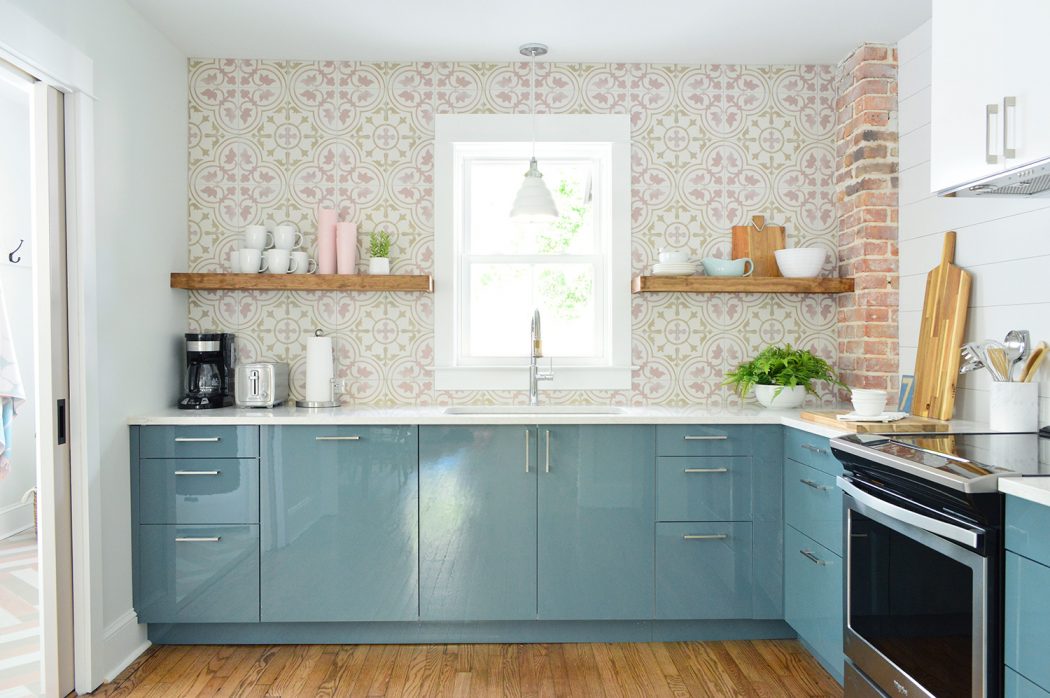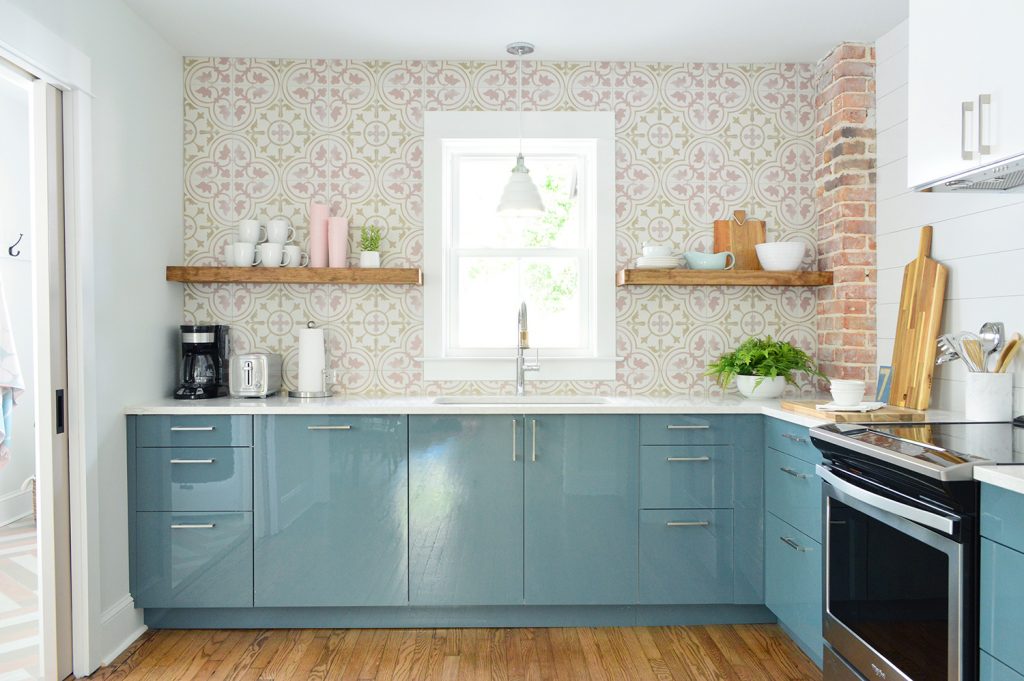 Oh, and here's the link to that cutting board / charcuterie board from Ikea that we used in both duplex kitchens (it's leaning up there on the right side of the photo above). It's such a great size (HUGE!) for only $20!
Our 4 Phases Of Changing Renovation Expectations
In case you missed last week's post with all of the before photos of our Florida House, be sure to check them out along with the video tour. You can see why it definitely didn't match our initial plan to buy something that didn't require much renovation (hello missing floor boards and broken-down bathroom!).
And if you didn't see this series of IG stories, we got tons of feedback that it was especially helpful when it came to understanding our plans and the actual size of the rooms in our new house (it's hard to grasp the scale of a room without furniture).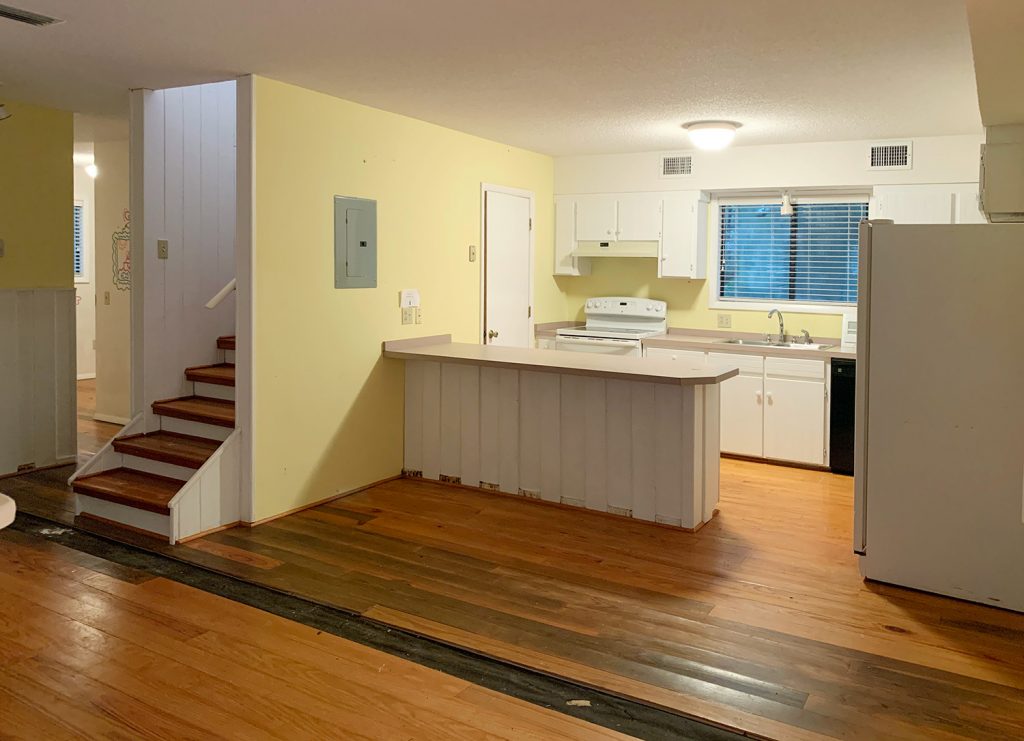 But even though we toggled back and forth between a few different approaches to tackling this reno from afar, we're thrilled about where we've ended up because we'll have a comfortable & livable space when we move – but there's still plenty to do when we get there. First thing on the list is a phase one reno of our mauve-countered kitchen…
We're Digging
Here are some sample pages from The 50 States (find it locally) book that our son and I are really enjoying. I think we've made it to Hawaii so far on our routine of reading one spread per night. I also just noticed there's an Activity Book (here's where you can buy it locally).
If you're looking for something we've dug in a past episode, but don't remember which show notes to click into, here's a master list of everything we've been digging from all of our past episodes. You can also see all the books we've recommended on our Book Club page.
*This post contains affiliate links, so we may earn a small commission when you make a purchase through links on our site at no additional cost to you.