Oh happy day! Blayne just sent us the after pictures for her recent living room makeover and we couldn't be more excited to share them. You may remember that we whipped up this custom mood board for her a little over a month ago. Here's the before picture to refresh your memory: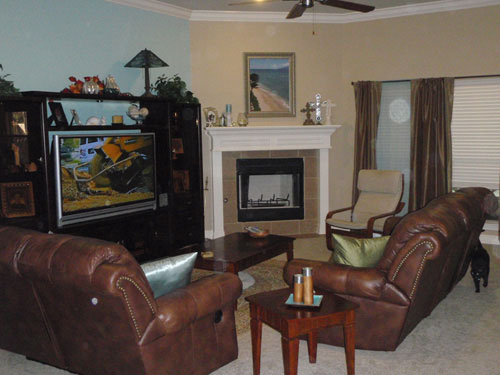 And here's the mood board we whipped up for her (see more details here):
Here's the lighter and brighter after thanks to a new furniture arrangement, a blue fireplace accent wall, breezy curtains, a punchy graphic rug, and a few fabulous accessories: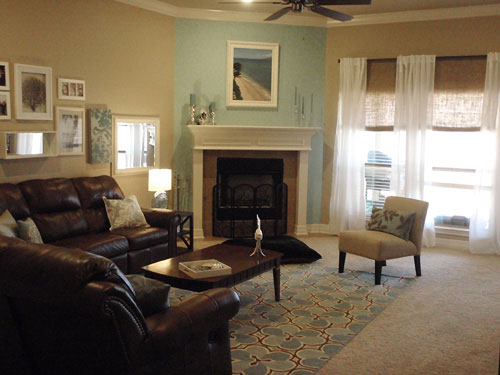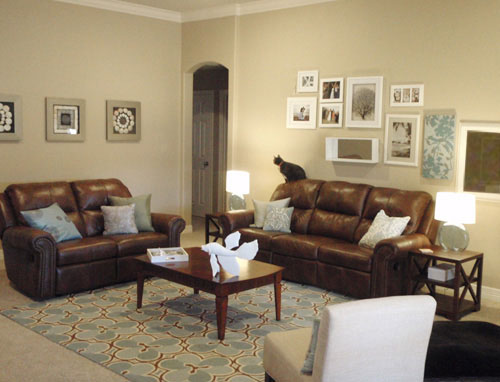 We were especially inspired by Blayne's request for a room that "feels beachy in the sense that you would feel like if you looked out the window you might see the ocean." And this breezy bay of windows makes the room feel light and airy and oh so stunning. The fact that they're $9.99 Ikea panels paired with some discount store bamboo blinds is the icing on the cake.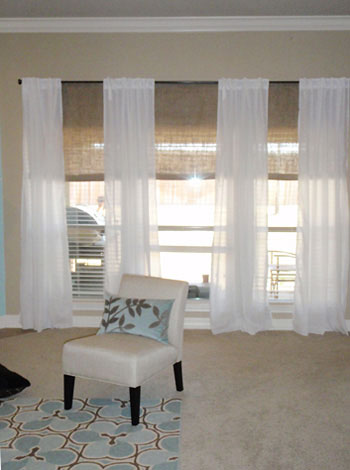 Here's what Blayne had to say about her living room makeover:
"I was amazed at how much bigger and brighter it looks! And my husband loves it too. Yay! I was so excited to show it off that I invited some friends over last night. Everyone loved it. A few people who had never been over before commented that they loved the way the living room and bedroom were decorated (thanks John and Sherry!). I'm so happy to come home to this gorgeous room!" – Blayne
So what do you guys think? Didn't Blayne do a steller job with her living room?! Oh and do you remember her bedroom makeover from a little while ago? It just feels so good to help such a lovely lady spiff up two of her rooms. Hooray for after pictures!
Update: We sadly can no longer find the time to take on client commissioned mood boards (we now whip up general inspiration boards instead) but if we ever reinstate them we'll make a big announcement!